This Christmas, the Advent surprise is … you made the calendar yourself
In simpler times, the thrill of Advent calendars involved finding a picture of a Christmas tree or holly sprig hidden behind the cardboard door. But then the tradition was hijacked by upmarket retailers, and you came to expect a craft gin miniature, artisan cheese or mindfulness tips. This year, though, traditionalists are fighting back.
Craft store Hobbycraft reports bumper sales of calendar-making kit, while Scandinavian retailer Flying Tiger Copenhagen is enjoying a run on its pakkekalenders – the Danish take on Advent, which involves wrapping and displaying 24 individual presents.
"It is cost-effective if you make the Advent calendar yourself," says Katherine Paterson, customer development director at Hobbycraft. "That's one reason, but it's not the main reason: personalisation is the driving force behind this trend."
Hobbycraft has seen a 6% increase in the number of people attending its calendar-making workshops this year with sales of its starter kits, which range from cardboard boxes costing £4 to £15 for a pre-primed wooden house, up 53%. Customers are fine-tuning their makes to family members' tastes, Patterson explains, giving the example of Nespresso coffee pods and even lottery tickets being used.
There is little sales data available on the size of the UK craft market, but it is estimated that a broad church of hobbyists, which includes knitters, embroiderers and model-makers, spend close to £3bn a year on projects.
DIY Advent calendars are an extension of a Christmas cottage industry that includes cards, crackers and even personalised tree baubles this year. More than 12,000 people have attended workshops in Hobbycraft's stores this winter as they prepare to tackle projects ranging from crackers to a papier-mâché stag's head.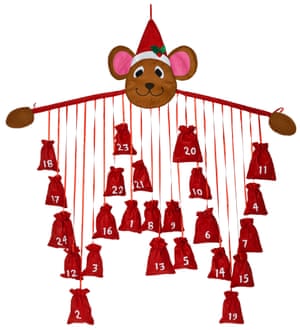 "People get into crafting because it is a good antidote to tech," says Paterson. "It's like the whole hygge thing. People are making time to do something they enjoy, like holding a wreath-making evening with friends as a social thing."
Over the past decade the notion of what constitutes an Advent calendar has changed dramatically. The most previous generations could hope for was cheap chocolate. Upmarket brands such as Selfridges and Space NK opened the floodgates at the start of this decade by creating luxury iterations that cost more than the average person's entire Christmas shopping budget.
Calendar inflation means that this year you can spend anywhere between £1 – on a Cadbury Dairy Milk-filled calendar in Tesco – and £349 for a porcelain Villeroy & Boch advent calendar tree in Harrods. Other variants are aimed at the UK's growing number of vegans and even at pets.
The Danes use their imagination to create predictably chic pakkekalender (pronounced pack-eh-calendar) wall displays with Pinterest, full of pictures of gifts wrapped in brown paper and hung artfully from twigs or on ribbon. Flying Tiger Copenhagen says it had ordered four times as many of its ready-made pakkekalendars this year as it had anticipated that the trend would catch on in the UK. It has also expanded the range of inexpensive gifts, such as £1 pens and toys, that can be used to fill them by 30%.
"Our order quantities for the traditional Danish Advent calendar were increased by 300% versus 2017," said Flying Tiger Copenhagen's head of commercial Darryl Nash.
"We have already seen a surge in sales, which indicates that these predictions were correct."
Source: Read Full Article