The best things to see and do in Melbourne in March
By Martin Boulton
Sampa the Great, Atlanta Eke, Kate Mulvany, Jacob Collins Levy, and Lorinda May Merrypor are all part of the action in Melbourne this month.
There's really no better time than Autumn to be out and about, enjoying Melbourne. From galleries to gigs, there's lots to see and do in March.
After a delayed start, Lorde's hugely anticipated world tour arrives in town, the Brunswick Music Festival runs until March 13, and there are delicious treats to be found at the annual Melbourne Food and Wine Festival later in the month. The Age has compiled a list of festivals, art exhibitions, concerts, literary events, musicals, and more, and it's all happening this month.
The Peninsula Picnic
Mornington | March 25 | Tickets from $89
Pack your picnic rug, hat and sunglasses, the Peninsula Picnic returns to Mornington Racecourse with a terrific line-up headlined by The Temper Trap. Enjoy this celebration of the region's very best local wineries, restaurants, and vineyards, while also hearing great live music from Josh Pyke, indie-powerhouse Tia Gostelow, the Queen Of Hearts Mariachi Band, and Tahls.
The Temper Trap headline The Peninsula Picnic in Mornington.Credit:
Ability Fest
Birrarung Marr | March 25 | Tickets from $89
Ability Fest returns to Naarm/Melbourne's Birrarung Marr, where revellers can enjoy great music while celebrating diversity and inclusivity. Australia's first all-accessible music festival, Ability Fest raises funds for the Dylan Alcott Foundation and is leading the way for inclusive events, using music to help normalise disability. This eclectic line-up features Hilltop Hoods, Sampa The Great, Meg Mac, Broods, Alex Lahey, Telenova and Deathrays.
Sampa The Great is part of an all-star music line-up at Ability Fest.Credit: Aart Verrips
Brunswick Music Festival
Brunswick | March 5 – 13 | Ticket prices vary, plus free events
Opening with its Sydney Road Street Party on Sunday, March 5, Brunswick Music Festival is bursting with a huge array of ticketed and free entertainment. Live music includes Camp Cope's final Melbourne show, Mdou Moctar from Nigeria, Brooklyn-based outfit Crumb, Melbourne's own CIVIC and British producer Leon Vynehall. The festival hosts International Women's Day events on March 8, and ends with a free Music For The Mob celebration of First Nations artists on Labor Day, March 13, in Gilpin Park.
Melbourne band CIVIC will launch new album Taken By Force at this month's Brunswick Music Festival.Credit:Marcus Coblyn
French Film Festival
Various locations | Until April 5 | Check program for ticket prices
Now in its 34th year, the Alliance Française French Film Festival is one of Melbourne's most popular cinema events. Discover a new school of emerging French talent, including newcomer Paul Kircher's performance in Winter Boy, Céline Devaux's directorial debut in the wickedly funny Everybody Loves Jeanne, and the 2023 Oscar contender for Best International Feature (France) Saint Omer from filmmaker Alice Diop, featuring Kayije Kagame.
Melbourne Food & Wine Festival
Fed Square and other locations | March 24 – April 2 | Ticket prices vary
A 10-day feast bringing the best culinary delights from Australia and the world to your plate. Fed Square is the home of this year's festival, but this celebration of food and wine is spread across the city. Special guests include Curtis Stone, who will bring his lauded Los Angeles restaurant Gwen to Melbourne for the first time, Yoshihiro Imai cooking at Embla, and Alla Wolf-Tasker taking the reins of the World's Longest Lunch.
Port Fairy Folk Festival
Port Fairy | March 10 – 13 | Ticket prices vary, plus free events
Away from the city, the picturesque township of Port Fairy has been hosting one of Australia's largest family-friendly festivals since 1977, and features a huge program of exhibitions, workshops, theatre, film, a writers' program, roving performances and community market. A stellar line-up of Australian and international performers includes Early James, 19-Twenty, C.W. Stoneking, Eilen Jewell, Emma Donovan, Eric Bibb, Liz Stringer, Billy Bragg, Steve Poltz, Sally Seltmann, the Waifs, Charles Jenkins, William Crighton and Radical Son.
FRAME: A biennial of dance
Various venues | Until April 2 | Ticket prices vary
A new pilot festival for Melbourne, this biennial of dance takes place throughout March and features a stunning array of performances, plus talks, workshops, film and public programs. The inaugural FRAME offers an program features works by Arts House, Bunjil Place, Chunky Move, Dancehouse and more. FRAME represents dance artists across all forms, practices, cultures, histories, disciplines, aesthetics, and experimentations.
Atlanta Eke is revisiting 2014's Body of Work for FRAME: A biennial of dance.Credit:
Don Quixote
Arts Centre Melbourne| March 15 -25 | Ticket prices vary
The Australian Ballet's production of Don Quixote recreates Rudolf Nureyev and Robert Helpmann's 1973 film in this wildly colourful spectacle.
Don Quixote is a multi-sensory feast, and the State Theatre stage will be filled with everything from flowers to candles, evoking the bustling streets of Spain.
Marcus Morelli and Benedicte Bemet perform in The Australian Ballet's Don Quixote.Credit:Simon Eeles
Melbourne, Cheremushki
Playhouse | March 22 – 25 | Tickets from $35
Who would have thought a Russian operetta from 1958 would ring so true today? This three-part operetta from Victorian Opera takes you into a world where social challenges, including income inequality and a housing crisis are examined through a lens of comedy, satire, and magic.
Ngaiire x MSO
Hamer Hall | March 18 | Tickets from $49
Hailing from the Eastern Highlands and New Ireland provinces of Papua New Guinea, Ngaiire has built an impressive musical career that defies genre. This one-night-only event will draw on Ngaiire's innovative fusion of electronic neo-soul, gospel and R&B, arranged for orchestra by award-winning composer Alex Turley, for an all-out concert featuring soulful pop bangers.
Cruel Intentions: The '90s Musical
Athenaeum Theatre | Until March 12 | Tickets from $79
Based on the 1999 Hollywood film starring Reese Witherspoon, Sarah Michelle Gellar and Ryan Phillippe, this stage adaptation of Cruel Intentions will draw you deep into the manipulative world of Manhattan's most tempting liaisons. Featuring Drew Weston as Sebastian, Kelsey Halge as Annette Hargrove, and Kirby Burgess as Kathryn. This cult classic comes with back-to-back iconic songs, including the Verve's Bittersweet Symphony, and Placebo's Every You and Every Me. Happy Hunting.
Cruel Intentions: The '90s Musical stars (left to right) Drew Weston playing Sebastian, Kelsey Halge playing Annette Hargrove, and Kirby Burgess as Kathryn.Credit:
& Juliet
Regent Theatre | Until March 31 | Tickets from $69.90
Award-winning jukebox musical & Juliet will hit the Regent Theatre this month to unravel what could have been in the classical Shakespearean tale. Specifically, what if Juliet found Romeo dead, but decided to spare herself and become a pop star instead? Indigenous star Lorinda May Merrypor will lead the Australian version of the Broadway hit.
Lorinda May Merrypor will play the lead role in & Juliet in Melbourne.Credit:Eugene Hyland
Mary Poppins
Her Majesty's Theatre | Until April 30 | Tickets from $59.90
The Disney stage show returned to Her Majesty's Theatre at the very end of January after first making landfall in 2010. This time, Australia's leading lady of musical theatre, Marina Prior, features in two distinctly different roles: Miss Andrew – Mr Banks' evil former nanny who replaces Mary Poppins – and the Bird Woman.
Marina Prior at Her Majesty's Theatre, where she will return to play Miss Andrew and the Bird Woman in Mary Poppins.Credit:Scott McNaughton
Sam Jinks: Hope in the Wilderness
Collingwood | Until March 11 | Free
Acclaimed sculptor Sam Jinks has launched his first Melbourne show since 2009 at the Sullivan+Strumpf gallery in Collingwood midway through February. Jinks' incredibly lifelike figures depict the human form with simple, striking realism.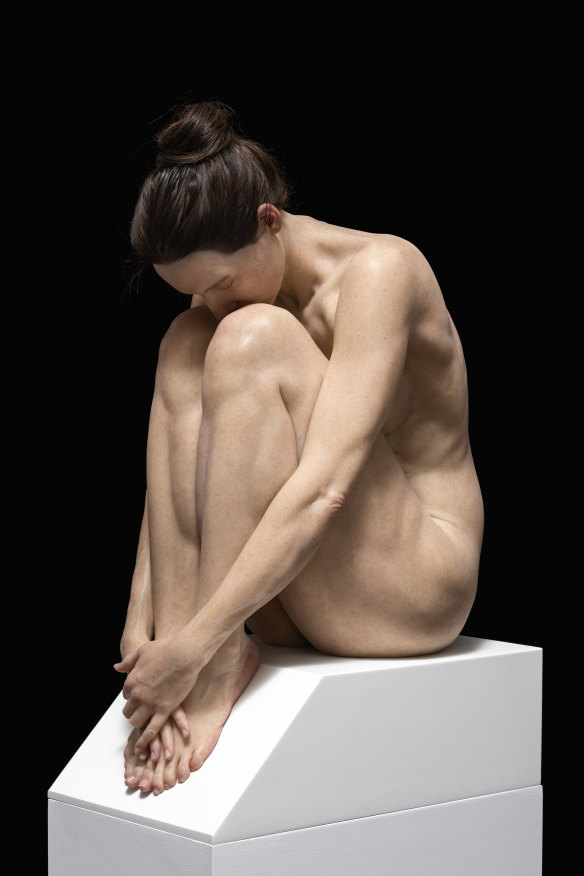 Sam Jinks' Seated Woman (2022) sold for more than $100,000 at Sydney Contemporary last year.Credit:
Hayley Millar Baker: Nyctinasty
Preston | Until March 26 | Free
Gunditjmara and Djabwurrung artist Hayley Millar Baker's cinematic film Nyctinasty explores "the delicate balance between the physical world and the spiritual realm". It was first shown at the National Gallery of Australia and will soon be at Gertrude Contemporary in Melbourne's north.
A still from Hayley Millar Baker's video work Nyctinasty, 2021, installation view.Credit:Hayley Millar Baker and Vivien Anderson Gallery.
A Female Gaze
MARS Gallery | Until March25 | Free
A Female Gaze brings together the works of seven established and emerging Australian artists. Spanning a range of stylistic approaches, exploring the myriad ways that female subjectivity can take shape.
Eliza Gosse, She'll Be Happier With A Hoover, 2022, showing as part of A Female Gaze at MARS Gallery
Callum Morton: Inside Out
Melbourne | Until April 15 | Free
EastLink Hotel sculptor Callum Morton has a new exhibition at the Anna Schwartz Gallery on Flinders Lane. It features six large-scale paintings which consider how spaces and times become lost or hidden.
Callum Morton, seen here with his 2018 work Monument #32 Helter Shelter, has new work showing at Anna Schwartz Gallery in March.Credit:Steven Siewert
Bikini Kill
Forum Theatre | March 7, 8 | Tickets $89.90
Fronted by singer, artist and feminist activist Kathleen Hanna, Bikini Kill is the infamously fierce, punk band credited with instigating the Riot Grrrl movement in the early '90s with their political lyrics, zines, and confrontational live show. Their best-known song, Rebel Girl, became a feminist punk anthem. After reuniting in 2019, this is the band's first Australian show in more than 25 years.
Kathleen Hanna on stage with Bikini Kill at the Hollywood Palladium in 2019.Credit:Debi Del Grande
Carly Rae Jepsen
Forum Theatre | March 13, 14 | Tickets $99
Possessing a buoyant set of dance-floor tunes, pop's ambassador of love will blow you away with emotionally potent songwriting and feel-good live performance. Supported by one of Australia's most exciting emerging pop acts, Memphis LK, this promises to be a night of joyous, danceable grooves.
Carly Rae Jepsen comes to the Forum Theatre for two nights this month.
Supersuckers
Hotel Westwood, Footscray | March 12 | Tickets $54
When asked about the Supersuckers – the self-professed greatest rock 'n' roll band in the world – late Motorhead frontman Lemmy Kilmister said: "If you don't like the Supersuckers, you don't like rock 'n' roll." Originally hailing from Tucson, Arizona, founding member Eddie Spaghetti uprooted the band and hit the road for Seattle in 1989. The trio's legendary live show is a wild concoction of good ol' country vibes and truckloads of rock.
Eddie Spaghetti brings the greatest rock 'n' roll band in the world, Supersuckers, back to Melbourne this month.Credit:
Lorde
Sidney Myer Music Bowl | March 10 – 11 | Tickets from $99.90
For the first time in six years, globally renowned New Zealand singer and songwriter Lorde returns to Melbourne for two shows as part of a world tour. Released last year to critical acclaim, Lorde's chart-topping third studio album Solar Power followed her 2017 album Melodrama and 2013 smash hit, debut album Pure Heroine. A dual Grammy Award winner, Lorde will be joined by special guests MUNA and Laura Jean.
Earthless
Corner Hotel, Richmond | March 19 | Tickets $59.90
Formed in 2001 in San Diego, and citing Japan's Blues Creation and Krautrock band Amon Düül II as early inspiration, Earthless have risen to the top of the hard rock/heavy psych scenes in recent years. Comprised of guitarist Isaiah Mitchell, drummer Mario Rubalcaba (Rocket From the Crypt), and bassist Mike Eginton, Earthless deliver a spellbinding performance.
Florence + the Machine
Rod Laver Arena | March 8 – 9 | Tickets from $119.90
Florence Welch has a voice and stage presence that simply has to be seen to be believed. Welch last toured Australia with her band in 2019, wowing audiences with her breathtaking vocals and powerful songs. Latest album Dance Fever topped the charts at home in the United Kingdom last year and won widespread critical acclaim around the world.
Florence + The Machine play two nights at Rod Laver Arena this month.Credit:
Ash
Croxton Bandroom | March 24 | Tickets $70
Celebrating 30 years of music, Northern Ireland's Ash bring their punky pop genius back to Melbourne with their Teenage Wildlife Tour. Supported by Melbourne's own power pop trio Moler.
Nosferatu
Malthouse Theatre | Until March 5 | Ticket prices vary
Based on a 1922 silent horror film about a vampire, the latest show to hit the Malthouse Theatre is set in a Tasmanian mining town. Locals hope to restore it to its past glory, and hope comes in the form of a billionaire stranger wanting to relocate there.
Jacob Collins Levy, star of Nosferatu at Malthouse Theatre.Credit:Kristian Gehradte
The Mousetrap
Comedy Theatre | Until March 19 | Tickets from $59
Agatha Christie's The Mousetrap is a long-running West End whodunnit that has enjoyed immense popularity over the years. After a police sergeant arrives from London with shocking news of murder, seven strangers caught at a remote countryside guesthouse must find out the culprit among them.
Cast members of Agatha Christie's Mousetrap (left to right) Anna O'Byrne, Alex Rathgeber, Adam Murphy and Laurence Boxhall.Credit:Justin McManus
Bernhardt/Hamlet
Southbank Theatre | March 4 – April 15 | Tickets from $49
Anyone who witnessed Kate Mulvany monstering the stage as Richard III for Bell Shakespeare will be intrigued to see what she makes of Theresa Rebeck's Bernhardt/Hamlet. The idea of a woman playing Hamlet never seemed scandalous to Sarah Bernhardt, who made the role her own a century before gender-blind casting became commonplace. Rebeck's playful engagement with theatre history presents the kind of juicy histrionic challenge Mulvany thrives upon.
Kate Mulvany plays famous actress Sarah Bernhardt in Bernhardt/Hamlet.Credit:Jo Duck
Prima Facie
Arts Centre | Until March 25 | Tickets prices vary
The Melbourne Theatre Company's latest production is a courtroom drama about criminal defence barrister Tessa (Sheridan Harbridge) who goes from representing men accused of sexual assault to becoming a victim herself.
Sheridan Harbridge as Tessa: "The emotional impact of the show really does colour my own daily life."Credit:Brett Boardman
Geoff Dyer – The Last Days of Roger Federer
The Wheeler Centre | March 9 | Tickets $30
Geoff Dyer is the award-winning author of more than 20 works of fiction and nonfiction. His new book, The Last Days of Roger Federer sets his own experiences of late middle age against the last days and last works of writers, painters, footballers, musicians, and tennis stars who've mattered to Dyer throughout his life. He joins host Ramona Koval live in Melbourne as they explore ageing, endings, and how to go on living with art and beauty.
English author Geoff Dyer will be in conversation with Roma Koval at The Wheer Centre.Credit:
Alexander McCall Smith
Capitol Theatre | March 15 | Tickets from $27.50
The author of over one hundred books, Alexander McCall Smith is one of the world's most prolific writers. His work includes the Corduroy Mansions series, the Isabel Dalhousie novels and the world's longest-running serial novel, 44 Scotland Street. To mark the release of three new books, McCall Smith returns to Australia to reflect on his expansive career, from children's books to best-selling detective novels, sharing stories from his life in literature.
Parrtjima – A Festival in Light
Fed Square | March 10 – 11 | Free
For the first time and exclusively to Melbourne, Parrtjima – A Festival in Light will deliver its immersive light installations outside the Northern Territory. Grounded transforms Indigenous artworks and stories into a large-scale animated sequence that is projected onto the ground, accompanied by an atmospheric soundscape. Grounded encourages people to interact with the installation, to step in and become a piece of the stunning art, and discover the Dreamtime stories and song lines presented by the artists.
Parrtjima – A Festival in Light.Credit:
Mobile MESS: Getting Started
Abbotsford Convent| March 11 | Tickets $16.50 per child (parent/guardian attends free)
MESS is the Melbourne Electronic Sound Studio and this workshop for children aged 8 to 12 investigates the scientific nature of sound and how we use electricity to create music. Through hands-on activities and interactive experiments using synthesizers, budding musicians can create wild sounds and make beats across various machines and devices. All materials are provided for the one-hour workshop.
Your Body: An Evening of Discovery
Palais Theatre | March 25 | Tickets from $76.41
Health expert and television presenter Dr. Michael Mosley takes you on a fascinating journey of discovery about your own body, delving into the body's intricate, and little understood inner-workings. This informative new show will help you gain a deeper understanding of how your body works, and how diet, exercise, and sleep can lead to overall improved wellbeing.
Dr Michael Mosley presents Your Body: An Evening of Discovery at St Kilda's Palias Theatre.Credit:
National Trust Vintage Clothing Sale
Abbotsford Convent | March 25 – 26 | Gold coin donation
Featuring an incredible range of quality pre-loved vintage and designer clothing, accessories, jewellery, hats, bags, shoes, linen and haberdashery, this annual sale raises vital funds for the National Trust. A truly amazing collection of fashion, curated by a team of dedicated volunteers for one weekend only, from 10am to 4pm each day.
A Celebration of Persian Culture
Sunshine Library | March 18 | Free
As part of Brimbank Writers and Readers Festival, join Hamed Allahyari in conversation with food writer Dani Valent about their new book Salamati, a celebration of Persian culinary culture. Be inspired by stories about Hamed's journey to Australia from Iran and how he brought the love of his country's cuisine with him. This event will also include a cooking demonstration. Valent is a regular contributor to The Age's Good Food section.
A cultural guide to going out and loving your city. Sign up to our Culture Fix newsletter here.
Most Viewed in Culture
Source: Read Full Article