Riley Keough Details 'Complicated' Relationship with Priscilla Presley After Battle Over Lisa Marie's Estate
"There was a bit of upheaval," admits Keough as she opens up about her mother's death, the public legal battle over Graceland and where she stands with her grandmother now.
Riley Keough is opening up about her famous family and where she and grandmother Priscilla Presley stand now, following the death of her mother, Lisa Marie Presley, earlier this year and subsequent legal battle over Lisa Marie's estate.
The legal drama between Priscilla and her granddaughter began back in January, shortly after the passing of Lisa Marie, who died on January 12 at the age of 54, after being rushed to the hospital following a cardiac episode. Priscilla challenged a 2016 amendment made to her daughter's will that removed Priscilla and Lisa Marie's former business manager, Barry Siegel, as co-trustees. In their place, Lisa Marie named her children, Riley and Benjamin Keough, the latter of whom tragically passed away in 2020. Subsequently, Riley remained as the sole trustee to Lisa Marie's estate, which includes Graceland.
Priscilla, 78, and Riley, 34, eventually settled their dispute over the control of Lisa Marie's trust. Per TMZ, Riley is now a substantial owner of the Elvis Presley Graceland Estate, but according to the settlement, Priscilla will be allowed to use it as her final resting place.
"When my mom passed, there was a lot of chaos in every aspect of our lives. Everything felt like the carpet had been ripped out and the floor had melted from under us," Keough said in a new Vanity Fair cover story. "Everyone was in a bit of a panic to understand how we move forward, and it just took a minute to understand the details of the situation, because it's complicated. We are a family, but there's also a huge business side of our family. So I think that there was clarity that needed to be had."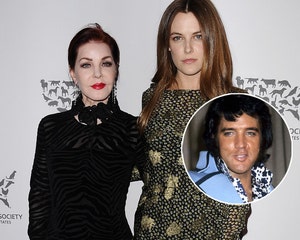 Priscilla Presley Says 'Elvis Would Be Proud' of Riley Keough Settlement Over Lisa Marie's Trust
"Clarity has been had," she added, before addressing her current relationship with Priscilla.
"Things with Grandma will be happy. They've never not been happy. I'm trying to think of a way to answer it that's not a 20-minute conversation," she continued. "There was a bit of upheaval, but now everything's going to be how it was. She's a beautiful woman, and she was a huge part of creating my grandfather's legacy and Graceland. It's very important to her. He was the love of her life."
Saying anything suggesting otherwise would make her "sad," Keough said she firmly believes all Priscilla wants "is to love and protect Graceland and the Presley family and the legacy" because it's "her whole life."
Keough also believes Priscilla will be buried at Graceland, saying a plot is hers "if she wants to be."
"Sharing Graceland with the world was her idea from the start," she continued, before adding, "I always had positive and beautiful memories and association with Graceland. Now, a lot of my family's buried there, so it's a place of great sadness at this point in my life."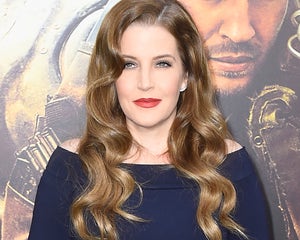 Lisa Marie Presley 'Feverish for Months' Before Death: Coroner
Noting she's been "through a great deal of pain" in recent years following the deaths of both her mother and brother Benjamin — who died in 2020 — Keough told the publication "parts of me have died and I've felt like my heart has exploded." She added, however, "I have strengthened the qualities that have come about through adversity."
Reflecting on her late mom's life, Riley acknowledged it wasn't "easy" and was one marked by "treachery" and a "lack of real love and real friends."
"People were just coming for her since she was born — wanting something from her and not being totally authentic. She had to develop very thick skin," she added. "She was a very powerful presence and extremely loving and extremely loyal and sort of a lioness — a fierce woman, and a really wonderful mother. I think that would be my summary because I'm her daughter. She was the best mom."
Read Vanity Fair's full cover story here.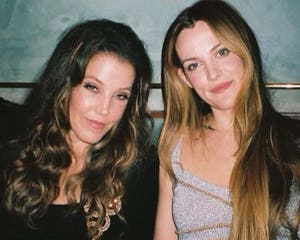 Riley Keough Shares Photo From Last Time She Saw Mom Lisa Marie Presley
Source: Read Full Article