Outlander: Roger and Brianna's Giant Fight Deviates From the Books in a Pretty Awful Way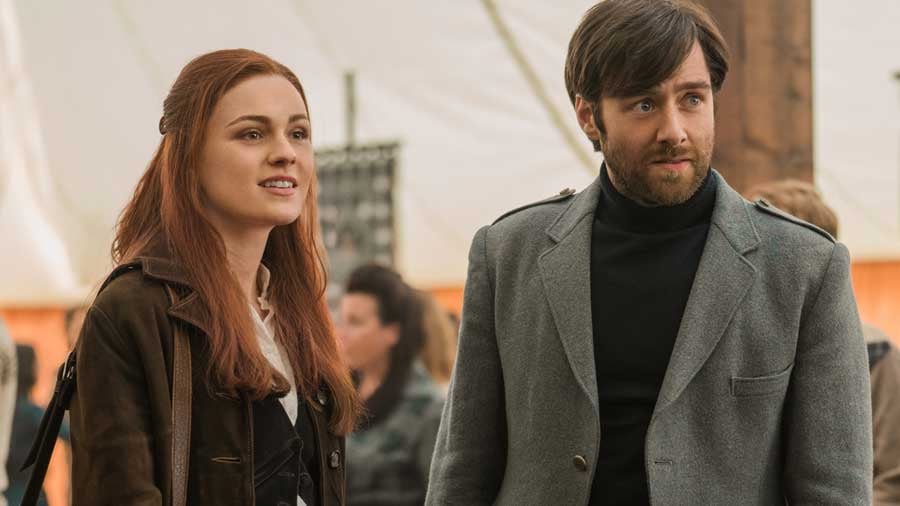 After two episodes focusing solely on Jamie (Sam Heughan) and Claire (Caitriona Balfe) in 1760s America, Outlander's third episode, "The False Bride," finally checks back in with Brianna (Sophie Skelton) and Roger (Richard Rankin) in the 1970s. Sadly, by the end of the episode, their relationship has taken quite the turn.
Warning: Spoilers for the most recent episode of Outlander ahead!
Upon selling his father's house in Inverness, Roger travels to America to see Bree in Boston and take her with him to a Scottish festival in North Carolina where he's performing. Things are going really well for them until Roger asks Brianna to marry him. She doesn't exactly bolt because she obviously loves Roger, but Brianna is decidedly not ready for that kind of huge commitment, and she rejects him. She doesn't see why they can't still sleep together, though, and that's when Roger really loses it.
"You don't want to marry me, but you'll f*ck me?!" he yells. "If all I wanted was to have my way with you, I would've had you on your back a dozen times last Summer."
Source: Read Full Article