Nick Jonas Made Quite A Bold Move The First Time He Met Priyanka Chopra
Their love story is oh-so-very modern in more ways than one. First, he slid into her DMs. Then they began a text flirtation. The first time Priyanka Chopra and Nick Jonas actually met, though, according to a new interview with the couple in Vogue, Jonas made a decidedly chivalrous — albeit somewhat cheesy — move, and the rest, as they say, is history. Well, history and tabloid headlines.
So, it's not exactly clear when and how Chopra initially piqued Jonas' interest, but he made his move on the actor via Twitter on Sept. 8, 2016, the Vogue interview revealed. The couple shared a mutual friend in Chopra's Quantico costar, Graham Rogers, and after Jonas sent his friend a text that simply said, "Priyanka. Is. Wow," he decided to send her a message on social media.
"I'm hearing from a few mutual friends that we should meet," his DM read. Later that day, Chopra replied, "My team can read this. Why don't you just text me." Yup, he got her digits — just like that.
After texting back-and-forth for a few months, the pair finally crossed paths in-person at Vanity Fair's Oscar party in 2017, the publication noted. Jonas was at the bar when he got a glimpse of his would-be fiancé, and sporadically made a pretty public showing to get her attention.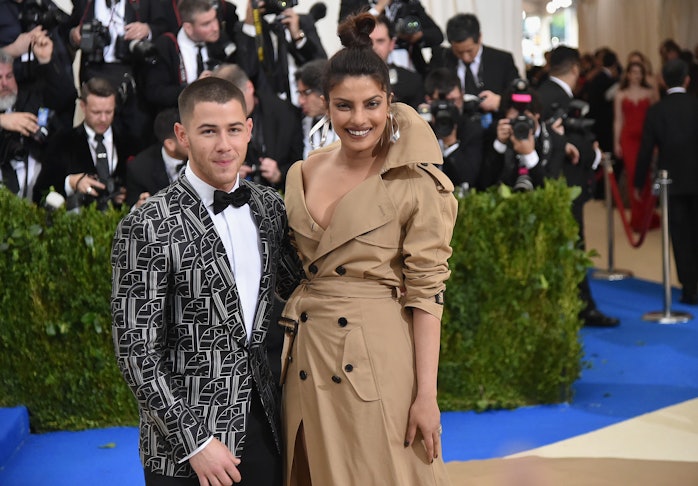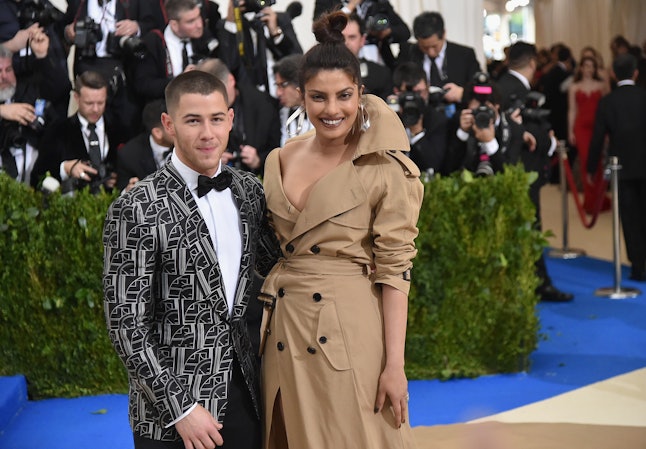 As Jonas recounted,
Is that not straight out of a big-screen rom-com? The man got down on one knee, in front of who knows how many people, and said, "You're real. Where have you been all my life?" The unbridled romance of it all is almost too much to bear.
Chopra only had about five minutes to entertain his gesture at the time, she said, but their stars would align again before the 2017 Met Gala a few months later. A week before they were paired up by Ralph Lauren on the red carpet, Chopra and Jonas got a drink together and later ended up at her apartment.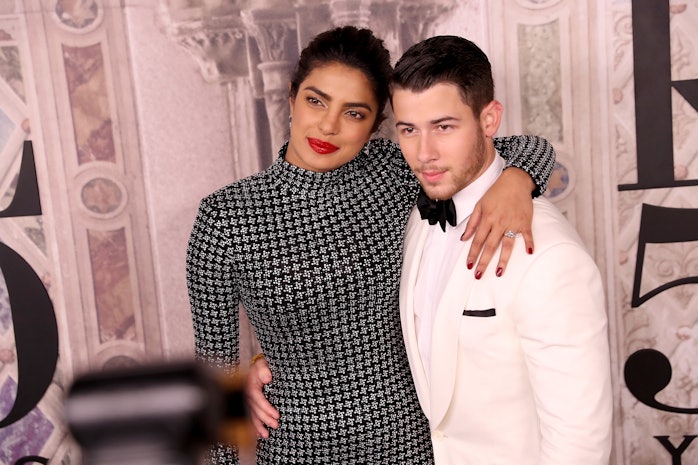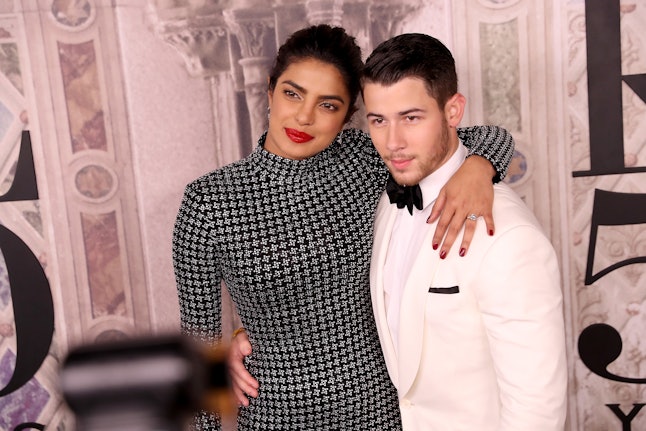 Now, before you start raising your eyebrows, you should probably know that Chopra's mom was there when she and Jonas stopped by. Oh, and she was wearing her nightgown. So, yeah — Jonas met Chopra's mother in all of her bedtime glory on their very first date.
"We hung out for a couple of hours," Chopra told Vogue. "He patted my back before he left." Hah! Wow. A pat on the back. Jonas added, "There was no kiss. There was nothing … "Your mom was in the house!" he exclaimed to Chopra. "I thought it was a respectful first night." Yes, yes, very respectful, indeed. "It was too respectful if you ask me," the bride-to-be joked.
Following their at-home hang and the subsequent Met Gala, things took off between the two. Jonas apparently told his mom he was going to marry Chopra after their third date, and now that's actually happening. All because Jonas first tried to shoot his shot in Chopra's DMs. Ahh, love.
Source: Read Full Article