Get Cozy With The Warmest Holiday Pajama Sets From Walmart.com
If the family portraits shared across various social media networks since Thanksgiving serve as any proof, you're probably thinking that standard attire for the holiday season is formal, buttoned-down, and dolled-up. We're here to tell you that everyone is doing the holidays completely wrong. The unspoken truth — one we all know deep down — is that comfy holiday pajamas are really the only way to get into the festive spirit.
The holidays deserve only the softest, smoothest, most snuggly attire and science says, those are festive pajama sets. If you're wondering where you'll find sleepwear in a variety of styles and fabrics, from silky and soft to thick and fuzzy, the answer is Walmart.com.
We can't think of a better place online that gives you the opportunity to add coziness to your cart and deliver it to your doorstep in just a few days. Yes, with their free two-day shipping you can get these just in time! Scroll on for a list of the our favorite pajamas for you and your loved ones, curated to put a smile on your face and add some Z's to your night.
Nothing Says 'Happy Holidays' Like A Classic Pair Of Plaid PJs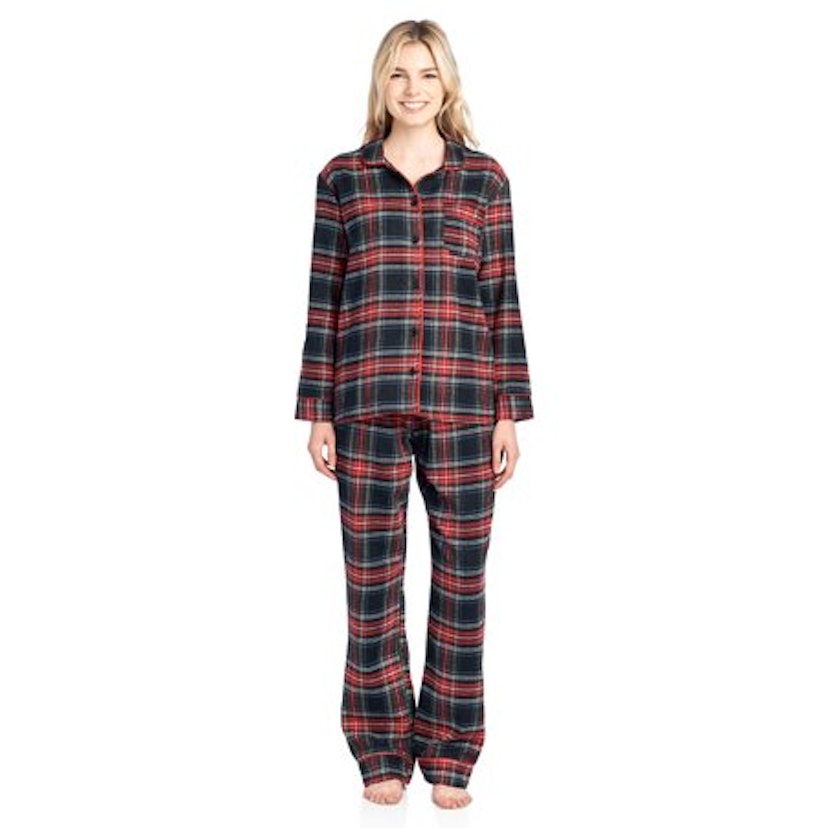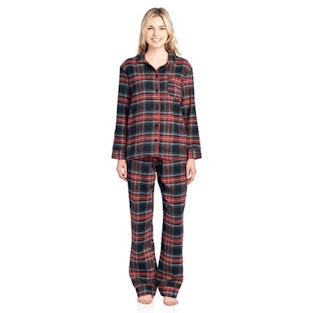 Ashford & Brooks Women's Flannel Plaid Pajamas Long Pj Set
$42.99
Walmart
First things first, there's the holiday classic that should be everyone's arsenal: flannel plaid pajamas.
Embrace Your Inner Winter Queen With This Furry Set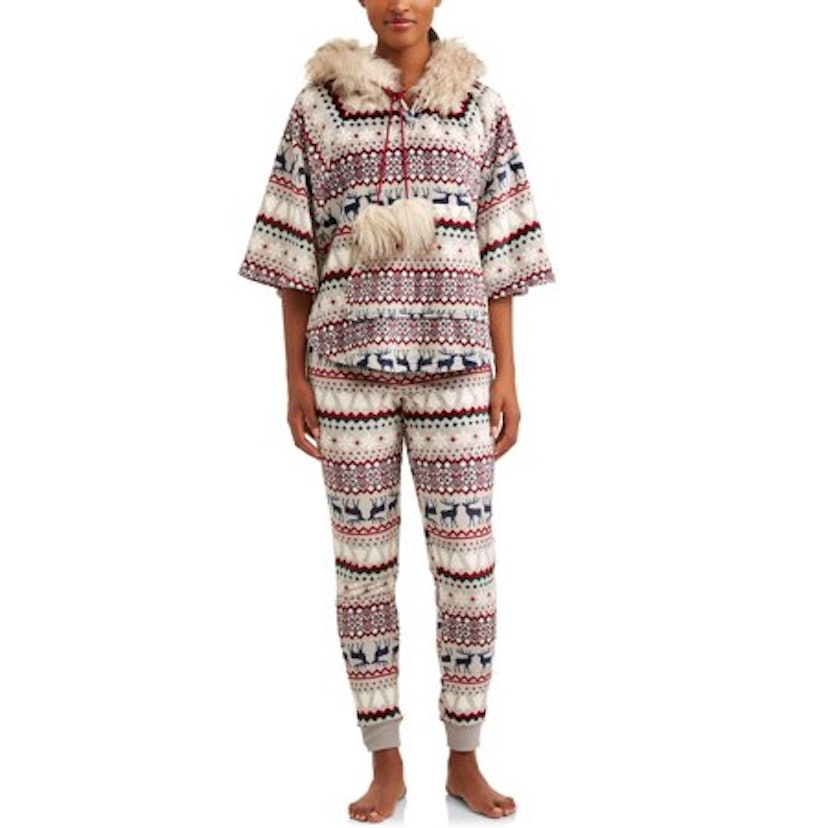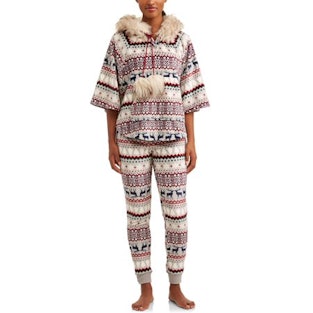 Secret Treasures Jammers Women's Faux Fur Trimmed Hooded Pajamas
$9.99
Walmart
Okay, this is giving us fair isle vibes and we are into it. This fur-trimmed pajama set will have you feeling like a winer queen before bedtime.
Take A Walk On The Wild Side With This Leopard Set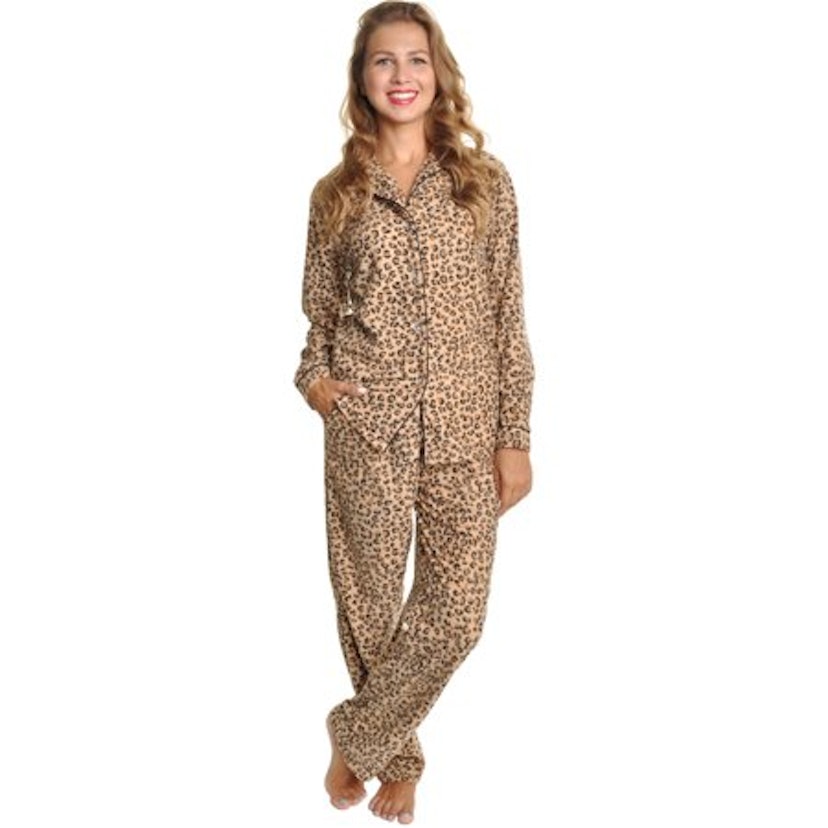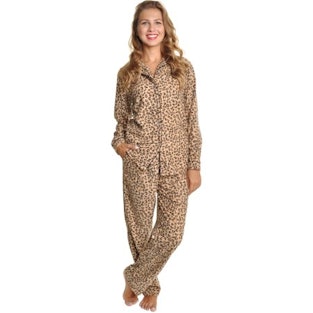 Angelina Brown Leopard Fleece Long Sleeve Pajama Set w/ Long PJs Pants Sleepwear
$32.99
Walmart
The exact opposite of a dull roar: bring both fierceness and comfort to the bedroom with this fleece leopard-print set.
A Plaid PJ Set With A Hoodie? Say No More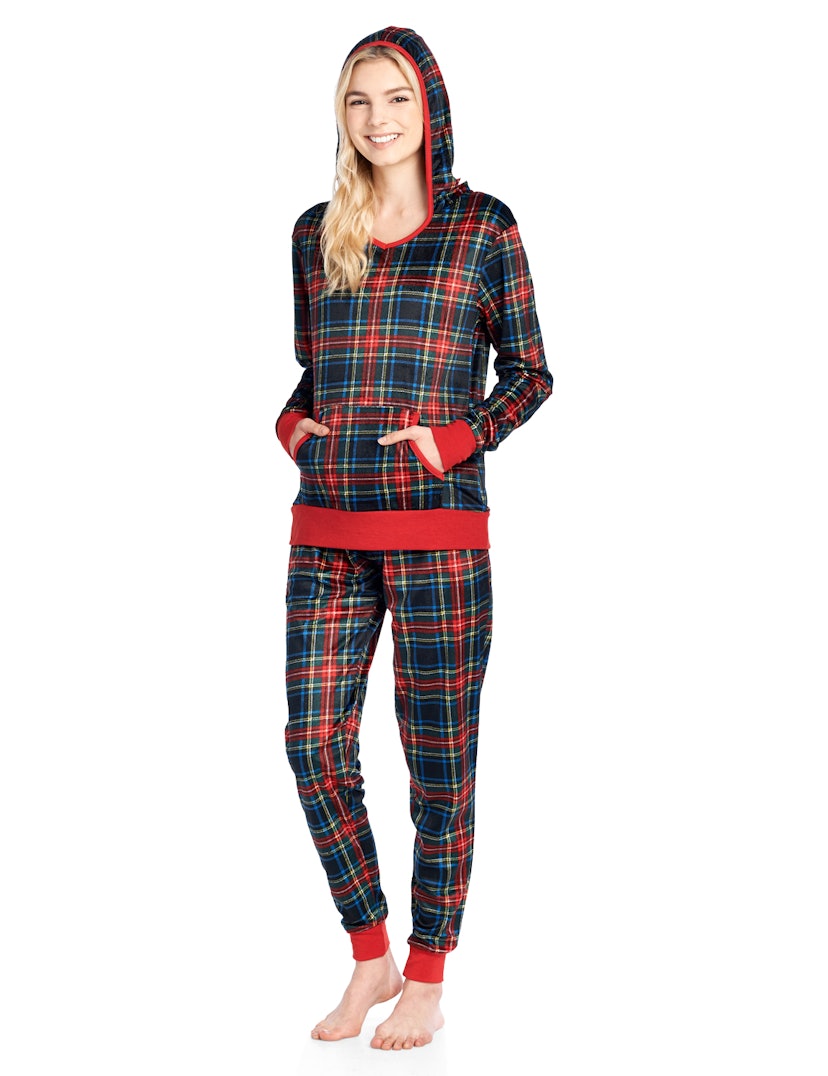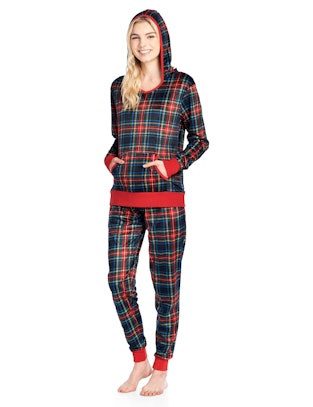 Ashford & Brooks Women's Mink Fleece Hoodie Pajama Set
$34.99
Walmart
For an even cozier upgrade on classic plaid PJs, this set is fleece lined — hello comfort! Plus, there's a hood for the ultimate stay in bed all day vibes.
Relive Your Childhood With A Plush Onesie Like This One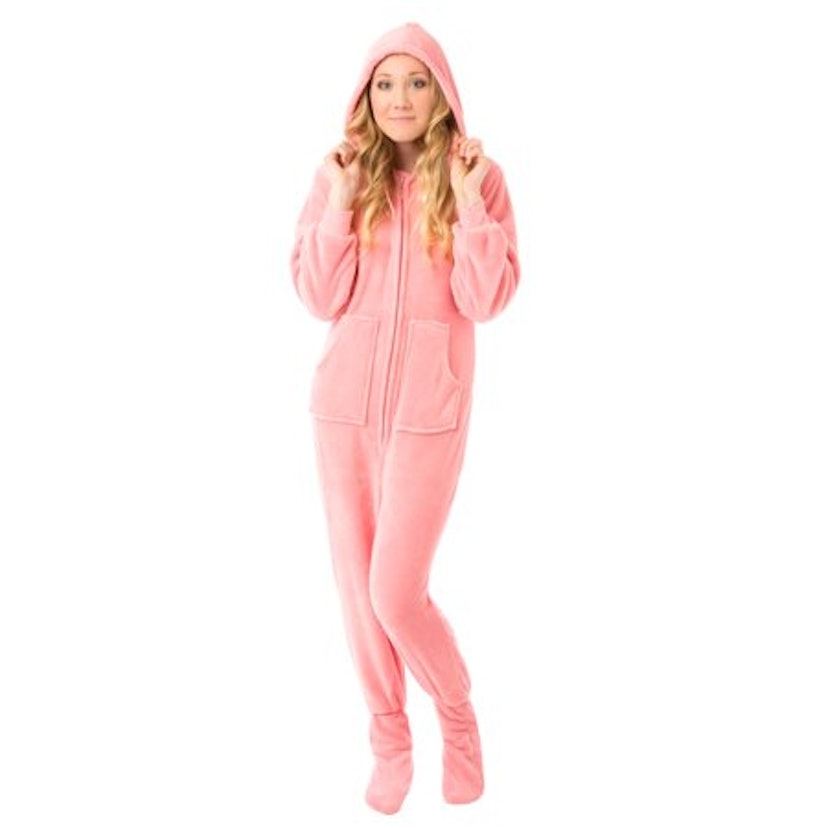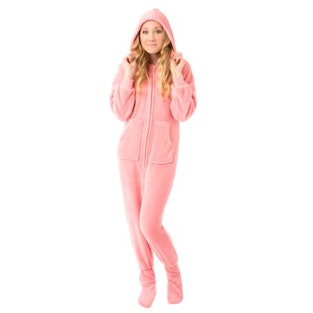 Big Feet Pjs Pink Hooded Plush Adult Womens Footed Pajamas Sleeper
$54.99
Walmart
If you thought we'd never pass up an opportunity to wear footed pajamas as an adult, you were right! Pick up this set to feel plush from head to toe.
This Subtle Flannel Set Is As Cozy As It Is Cute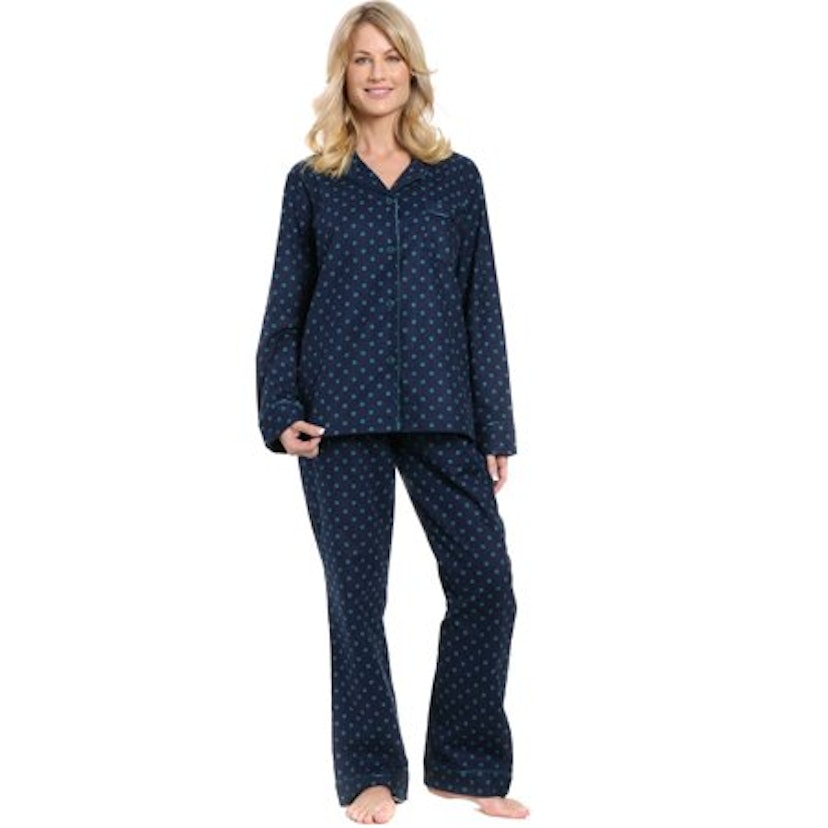 Noble Mount Womens Premium 100% Cotton Flannel Pajama Sleepwear Set
$29.99
Walmart
This navy two-piece looks just as cozy as it feels, with 100% cotton and a super cute polka dot design.
Missing The Snow? Wear This Cozy Onesie All Winter Long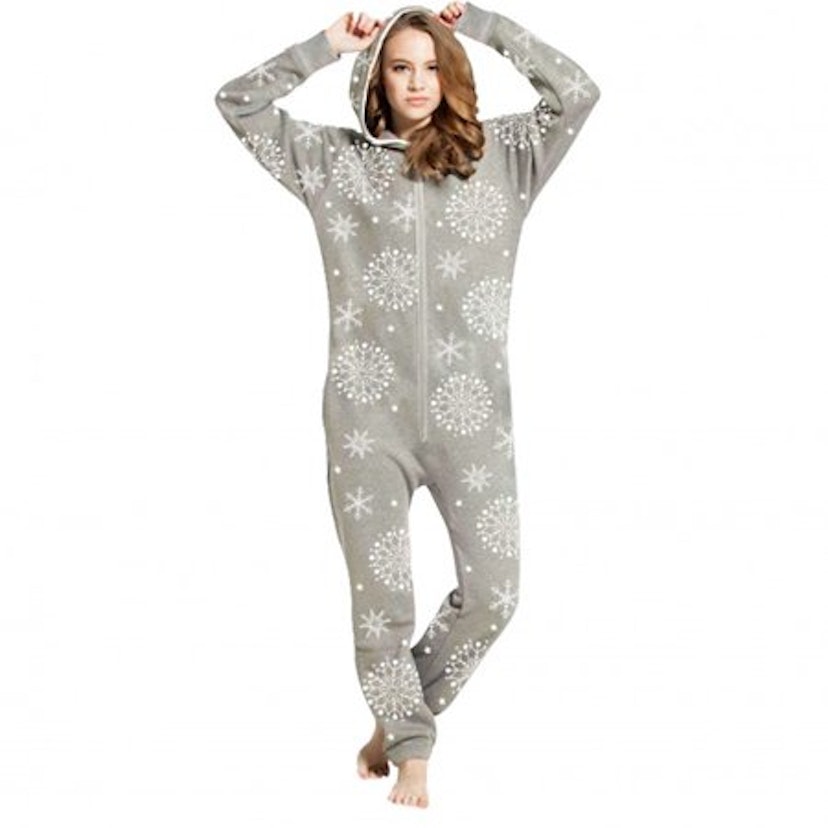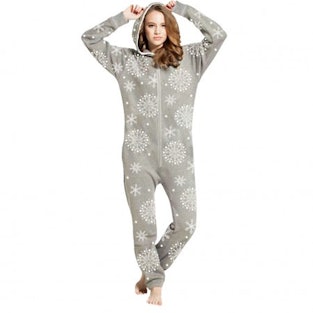 SkylineWears Women's Fleece Onesie One Piece Pajama Jumpsuit
$25.99
Walmart
Let it snow! With this fleece onesie, who needs to leave home for a little fun in the snow? Stay in, cozy up, and enjoy the holidays in comfort.
Get A Little Fancy With This 100% Silk Pajama Set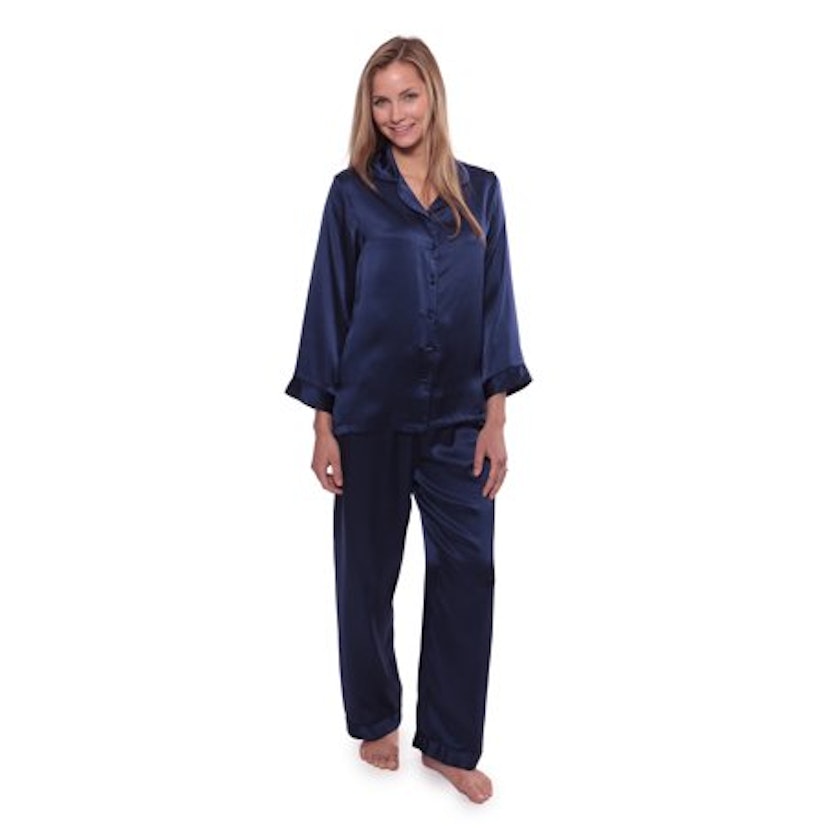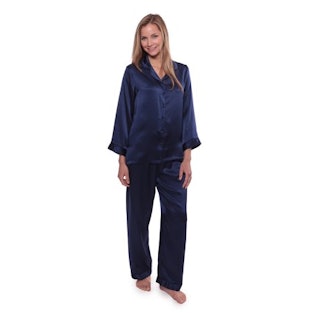 TexereSilk Women's Luxury Silk Pajama Set
$124
Walmart
Real pajama enthusiasts know the collection is not truly complete without a luxurious silk pair to make the other sets jealous.
Go All The Way Festive And Try The Holly, Jolly PJ Set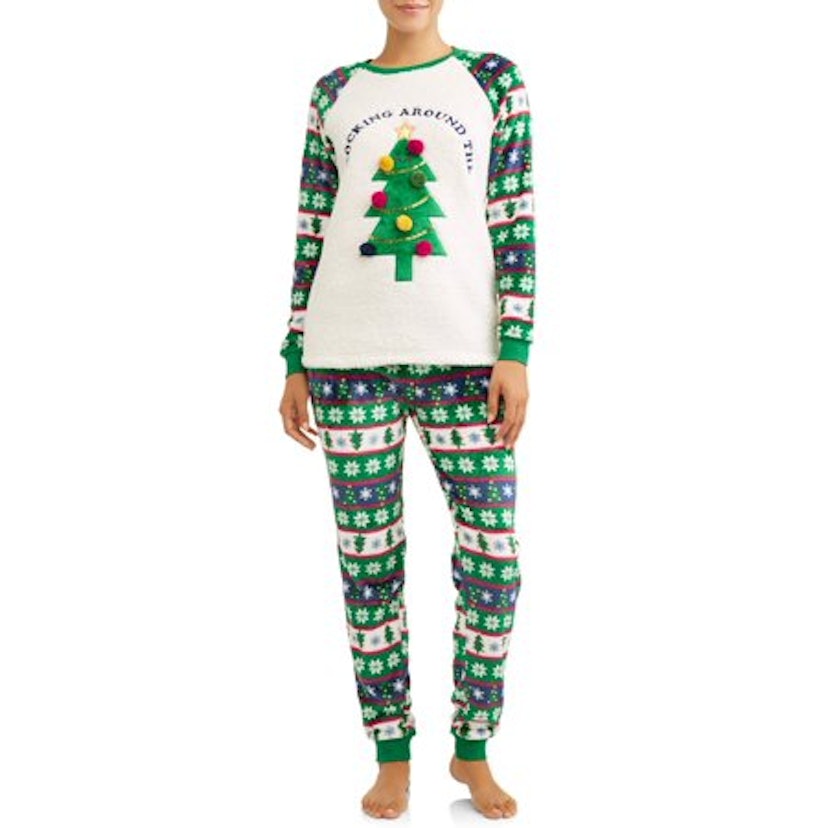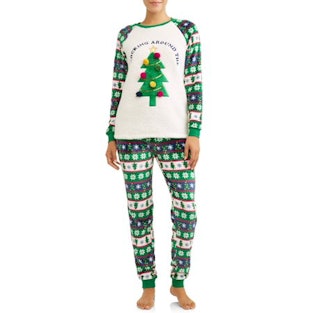 Jammers Women's and Women's Plus Tree Plush Twosies Set
$12.99
Walmart
In closing, the holidays are an amazing opportunity to create a strong cozy-but-chic brand and it's only right to celebrate it with a festive pajama set like this one.
Bustle may receive a portion of sales from products purchased from this article, which was created independently from Bustle's editorial and sales departments. This article reflects price at publication and may change.
Source: Read Full Article