From Necklaces to Statement Earrings, This is the Bridal Jewelry Worth Splurging On.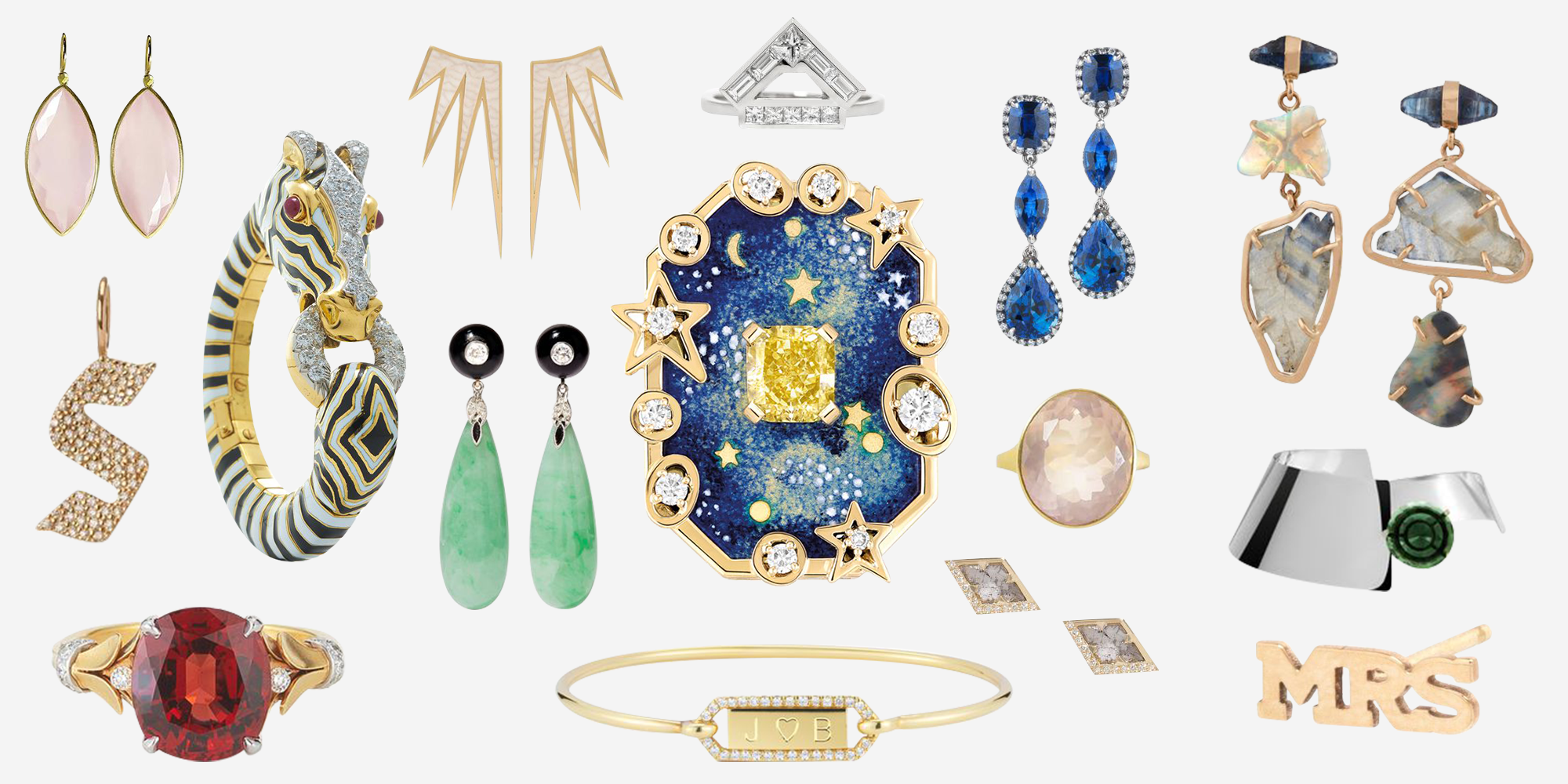 Investing in a sparkling statement (or two) for the aisle is the height of luxury, and opting for something that feels inherently new rather than something borrowed is undeniably fashion-forward. Balance a piece or more from the top trends of the season with heirlooms and family jewels that will mean something on the day-of. When styling your look, keep in mind that jewelry should complement, without overpowering your gown's silhouette and aesthetic. When it comes to jewelry, editing is key; don't wear a necklace if it competes with your neckline, and don't feel the need to don everything and the kitchen sink. Sometimes, it's all about one stellar piece, and your engagement ring. Here, the bridal jewels to covet for this wedding season–from the latest diamond cuts to new tones and textures.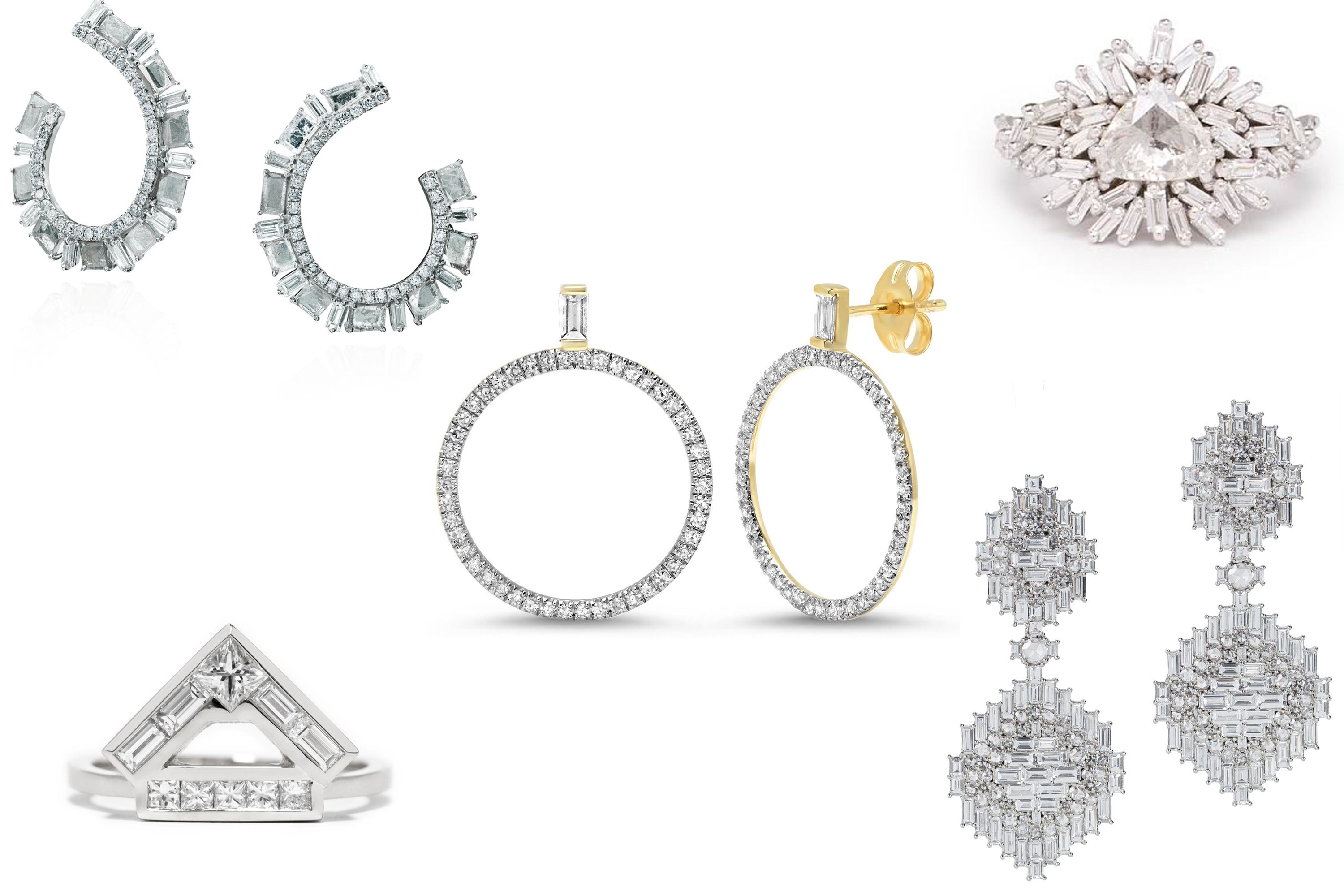 What was once thought of as a cut that only served to flank a larger center stone has now taken center stage–and the result is super sparkly. Think bursts of diamonds that will dance on your skin all night long, and a look that feels clean and modern, with an element of interest.
Nina Runsdorf One-Of-A-Kind Baguette Slice Diamond Hoop Earrings, $12,500, modaoperandi.com; AZLEE Glow Diamond Ring, $2,900, azleejewelry.com; Eriness Diamond Baguette Loop Earrings, $2,000, eriness.com; Suzanne Kalan One of a Kind Fireworks Ring, $10,000, suzannekalan.com; Nam Cho Platinum detachable and convertible "Navajo" earrings, $122,980, mitchellstores.com.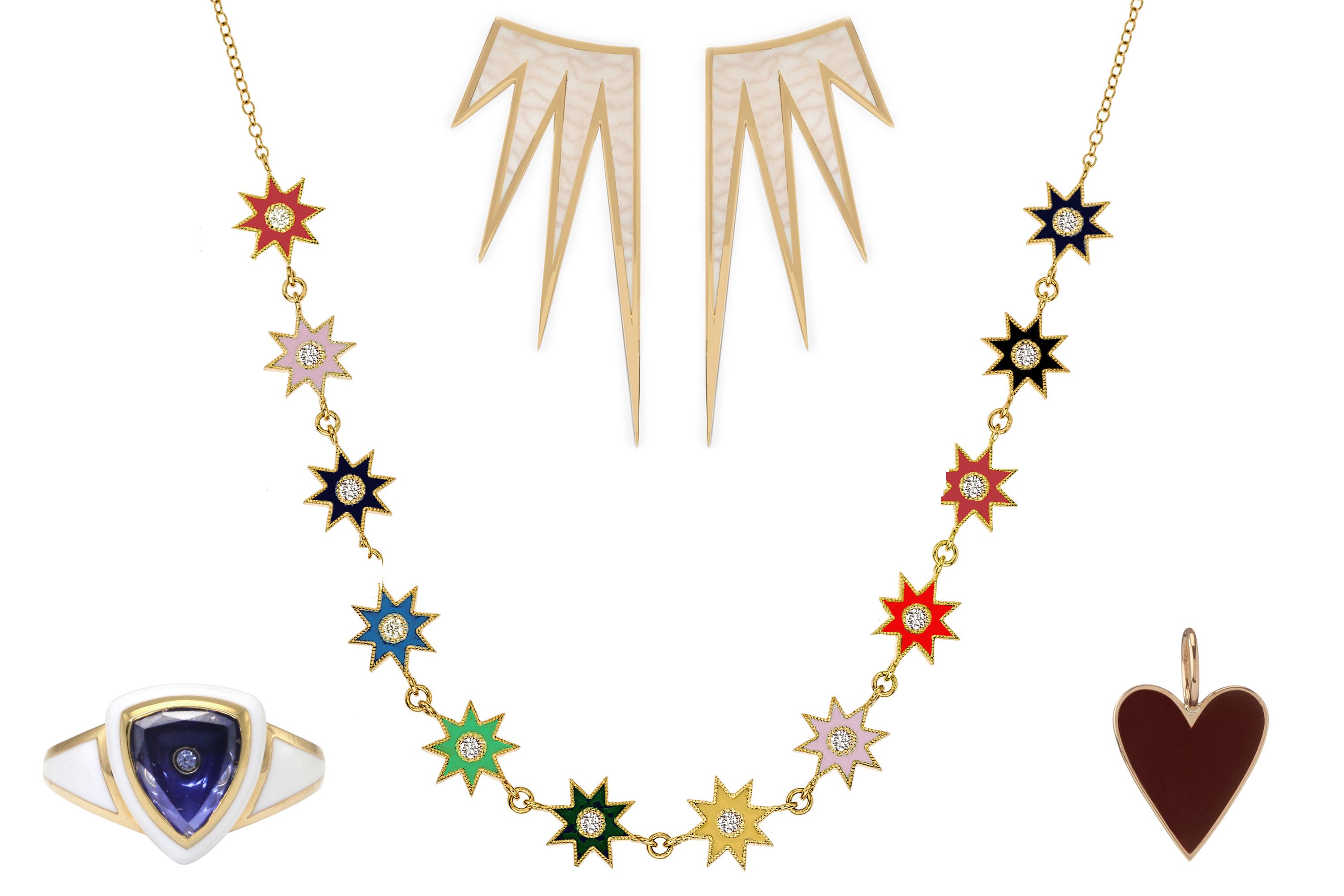 Enamel pieces are the jewelry that you didn't know you needed…until now. Whether it's a bright colored necklace or a non-traditional engagement ring, these modern pieces feel transitional from your wedding day into your day-to-day.
Santo by Zani 18 kt yellow gold and white enamel signet ring with diamond and sapphire, $4,450, santobyzani.com; Colette 18 kt yellow gold and multicolor enamel star necklace with diamonds, $4,375, modaoperandi.com; AZLEE "Electric Diamond Earrings" 18 kt yellow gold and enamel, $2,270, azleejewelry.com; Jennifer Fisher gold border enamel heart charm, $550, jenniferfisherjewelry.com.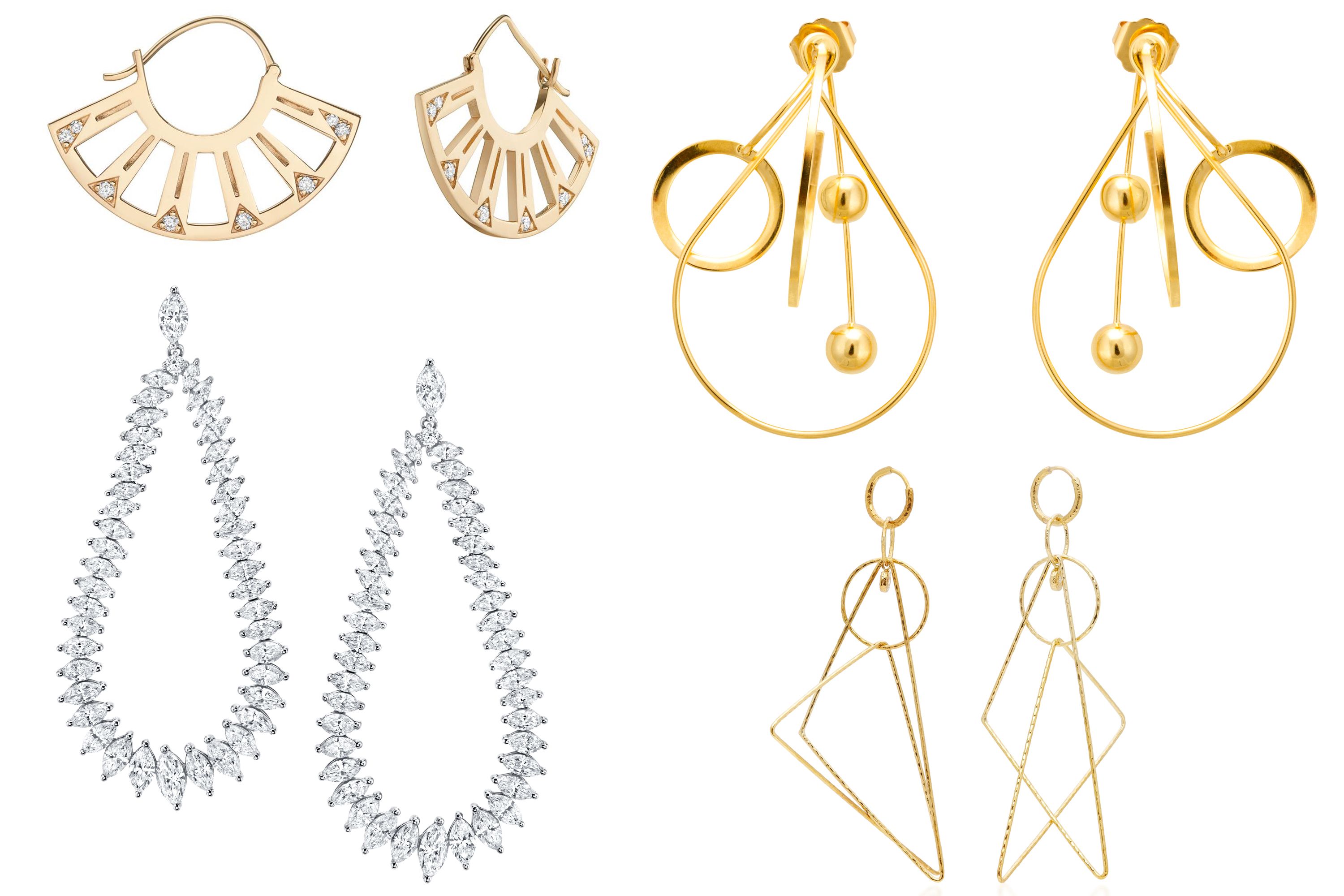 Clean, sleek lines that play up your best features–but do not overpower–are the perfect add on to a simple, minimalistic wedding gown.
Selin Kent "Helia" semi-hoops, $2150, selinkent.com; Mounser "Elliptic Sculptural" hoop earrings, $275, mounser.com; Anita Ko marquis diamond eternity hoops 18 kt white gold, $29,300, anitako.com; Octavia Elizabeth "The Gabby" hoop + "The Whimsy" 18 kt, $3,500, modaoperandi.com.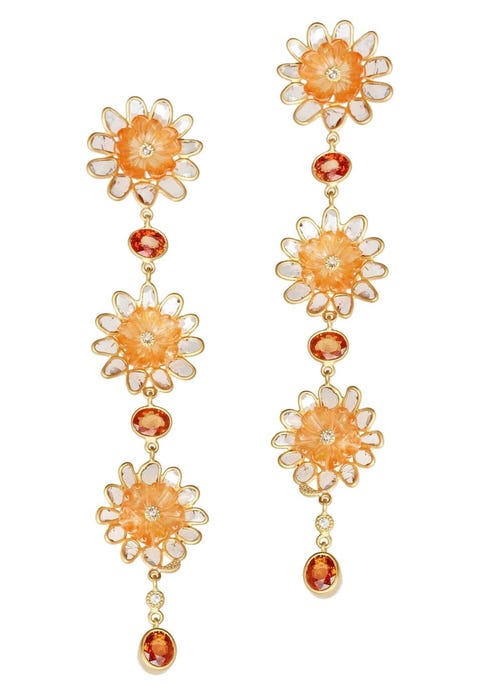 Florals are going nowhere–you heard it here first. Invest in an organic motif for the aisle, with a small dose of soft color. Trust us, you'll find yourself wearing these long after your wedding day.
Coomi Affinity 20K Earrings in Carnelian, $19,000, www.coomi.com.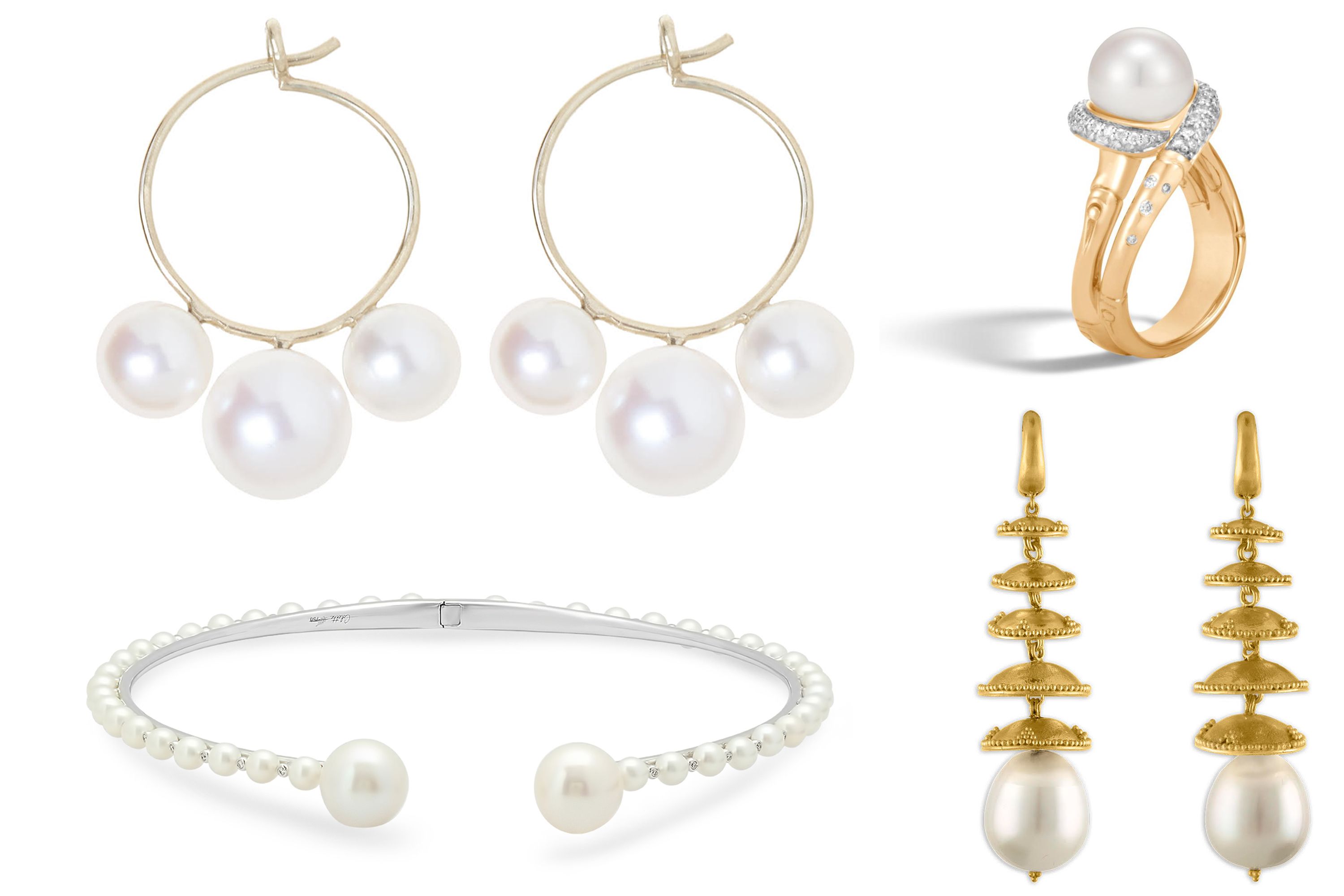 Add some punch to your heirloom pearls with these modern twists on the classic strand we love. Think of it as a perfect mix of something old and something new.
Nanna Geller "The Alice" hoops 14 kt gold and freshwater pearls, €480, nannageller.com; John Hardy "Bamboo Ring" with pearl and diamonds, $3,200, johnhardy.com; Colette 18 kt white gold hinged pearl and diamond choker, $8,780, colettejewelry.com; Prounis Jewelry granulated "Pagoda" drop earrings, price upon request, prounisjewelry.com.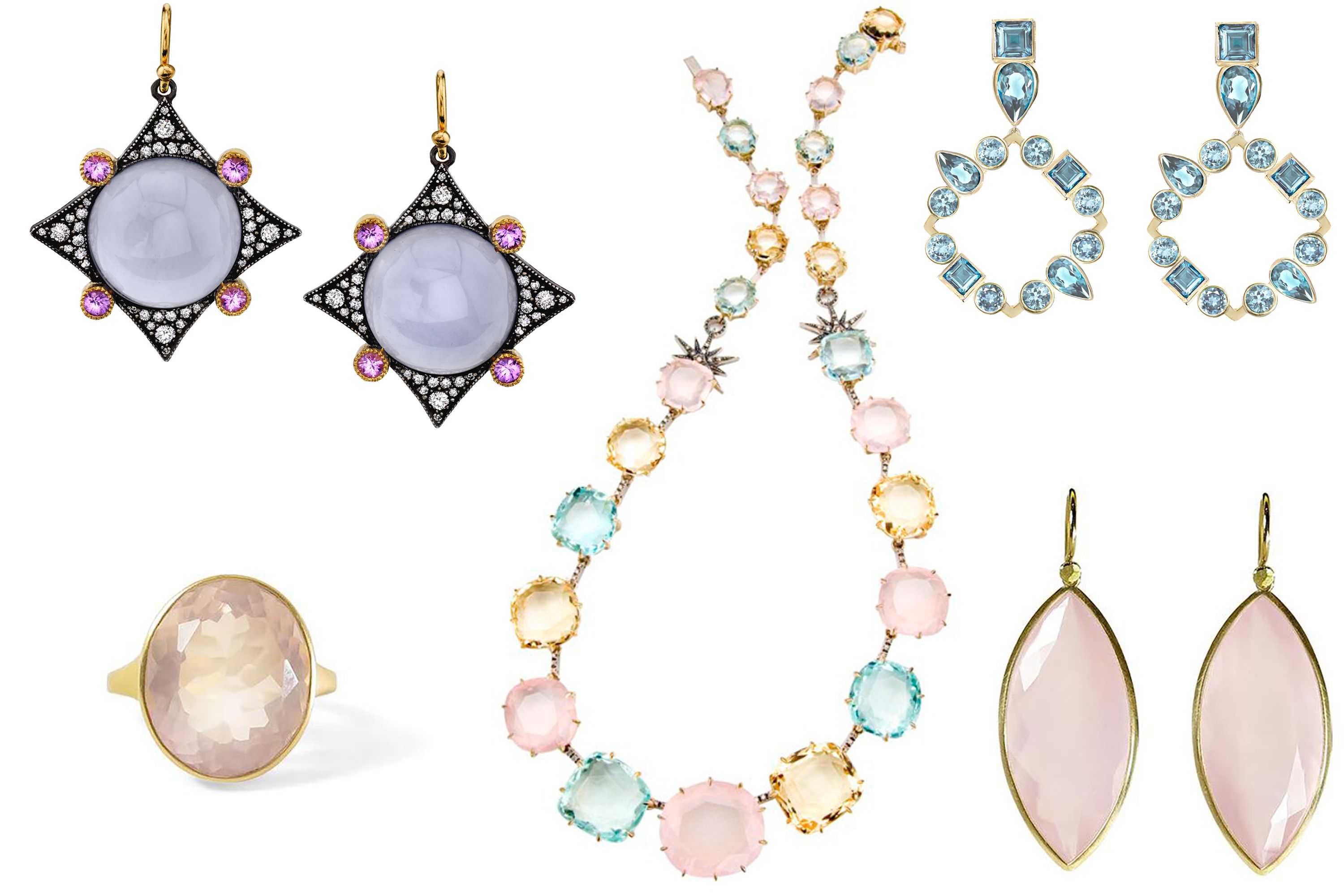 This all-season approved palette will warm up your wedding look and enhance any colors in your gown and beauty. Expert tip: choose the tone that best suits your eye color and skin tone.
Arman Sarkisyan 22 kt gold and silver earrings with chalcedony center, pink sapphires, and diamonds, $7,980, foxsseatle.com; HStern "Moonlight" 18 kt yellow gold necklace, $31,000, hstern.net; Ilana Ariel "Stepping Stone" flower earrings, $2,500, ilanaarielcollections.com; Monika Krol 18 kt faceted oval rose quartz ring, $1,590, augustla.com; Lola Brooks 18 kt faceted rose quartz navette earrings, $1,600, augustla.com.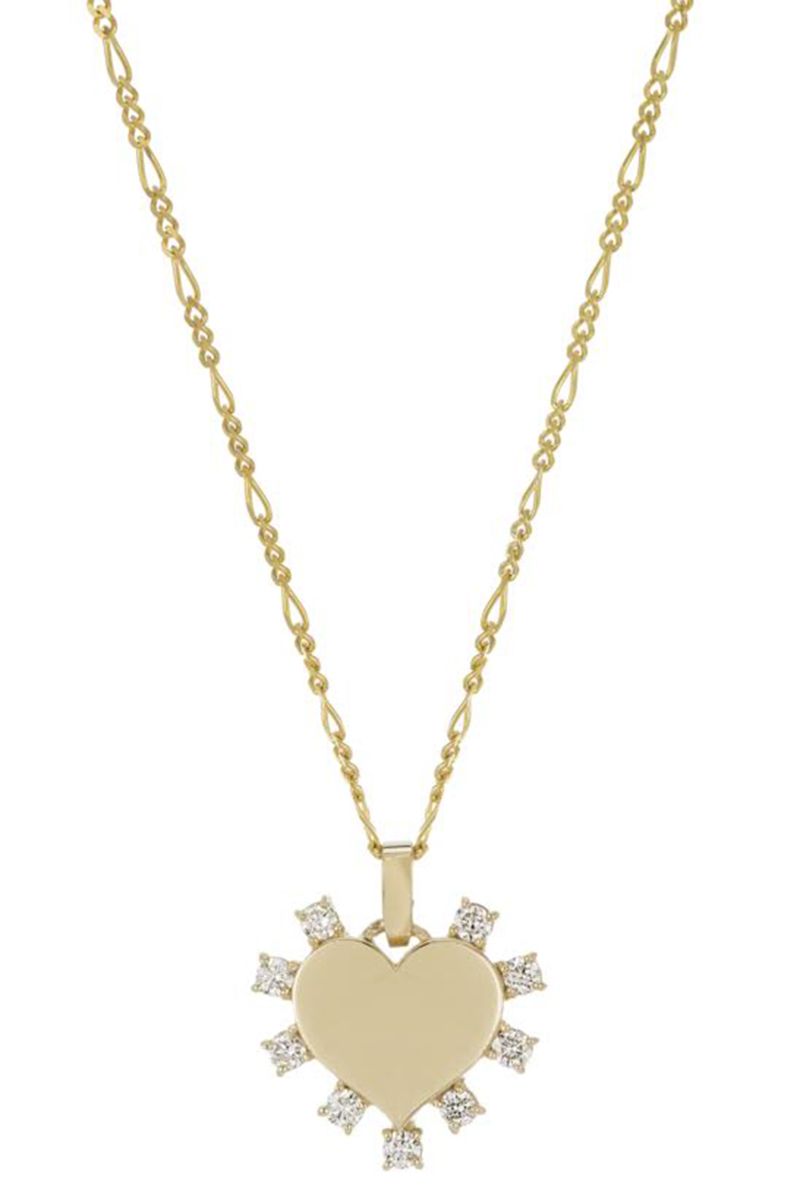 Make your deep V neckline even more impactful with an eye-catching pendant–or, for a fashion-forward take, where this piece backwards to highlight the look of a plunging, open back.
Ariel Gordon diamond heart carousel necklace, $1,525, arielgordonjewelry.com.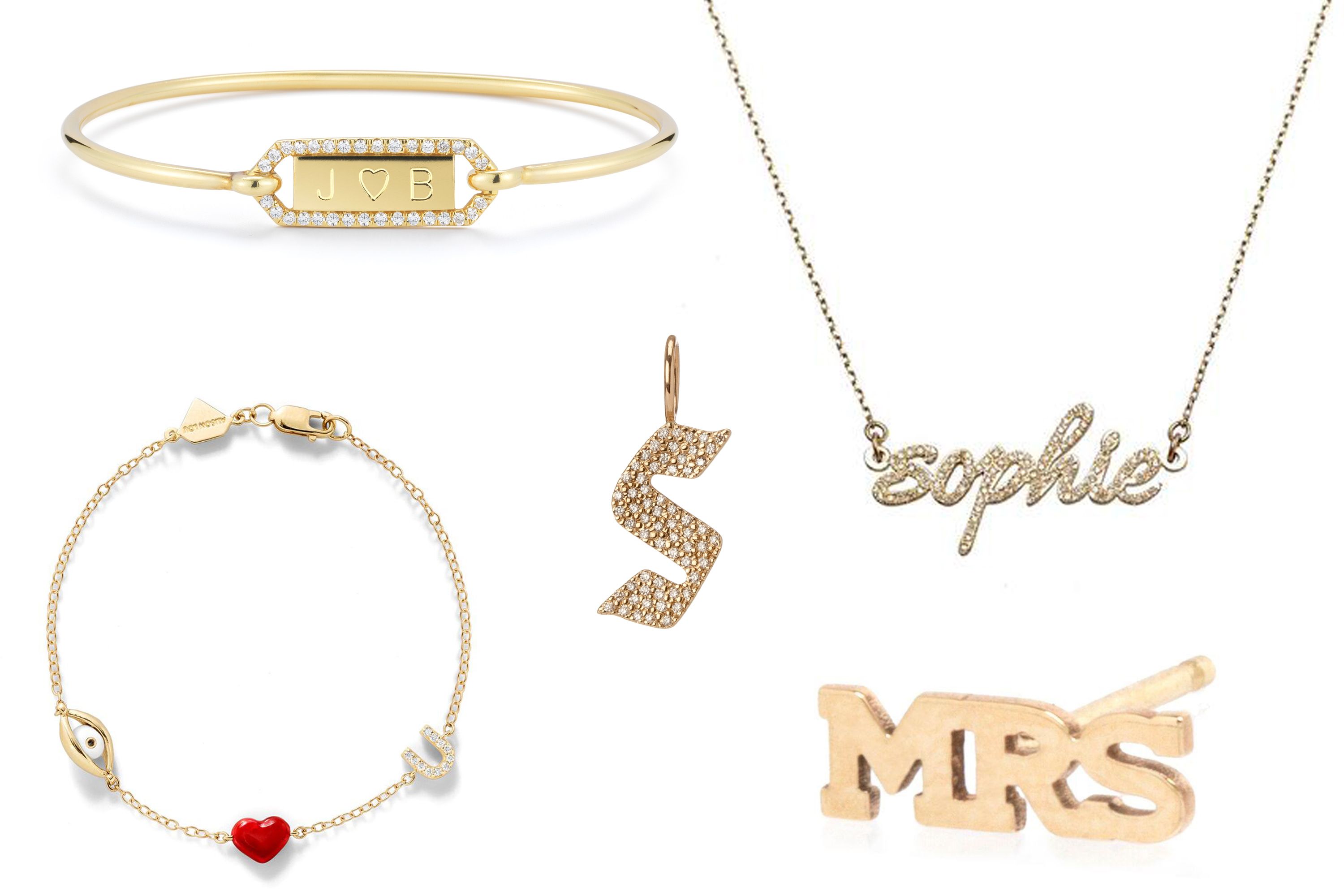 Not looking to take the aisle all-too-seriously? Wear your hubby's initials, your new monogram, or flaunt your new title as "Mrs." Whatever moniker you choose, this is a playful way to add a personalized touch to your wedding day jewels.
Jemma Wynne 18 kt yellow gold prive personalized diamond bangle, $3,360, jemmawynne.com; Jennifer Fisher medium gothic letter with diamonds, $3,500, jenniferfisherjewelry.com; Bianca Pratt Jewelry custom nameplate necklace with diamonds, $5,717, biancaprattjewelry.com; Alison Lou "Eye Love U" bracelet, $1,785, alisonlou.com; Zoe Chicco MRS. stud earring, $135, zoechicco.com.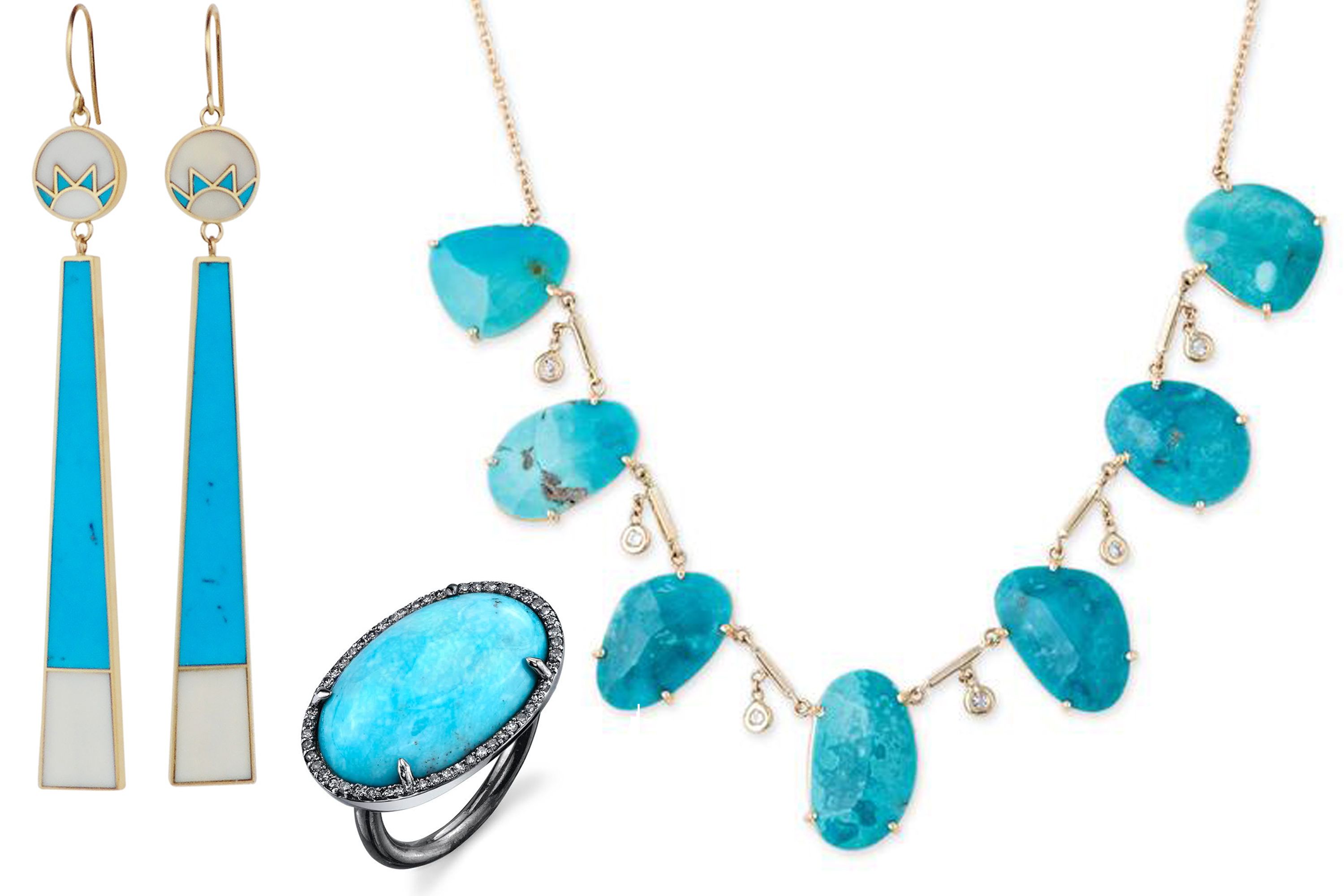 Sapphires are timeless–but more on that later. Think of turquoise as the new something blue, and the stone that pairs best with pure, crisp whites. Think of this as the more laid-back of the blues–this tone perfectly suits beach, mountaintop or desert affairs.
Me&Ro 18 kt yellow gold turquoise and ivory inlay sun earrings, $8900, meandrojewelry.com; Sheryl Lowe Jewelry Turquoise east west ring, $ 1,500, sheryllowejewelry.com; Jacquie Aiche "Freeform" turquoise + diamond drop necklace, $6,250, jacquieaiche.com.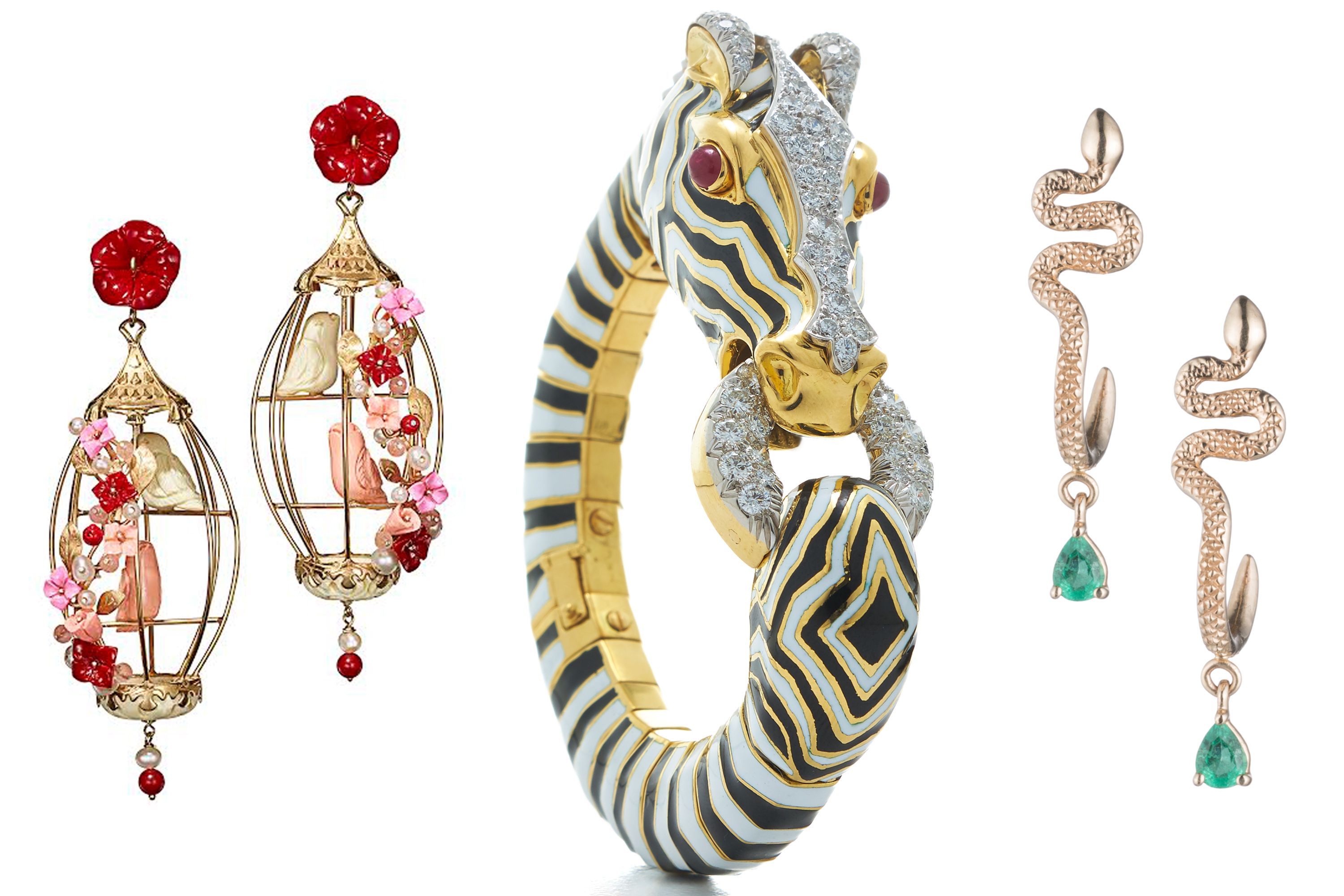 David Webb may have kicked off this animal-inspired jewelry trend but we aren't mad about the rise in cute animal baubles. Embrace your wild side on your wedding day for a look that feels Gucci-esque and eclectic.
Of Rare Origin The Aviary Collection "Lovebird Earring" natural and composite coral, bone, agate, chalcedony and pearls set in 18 kt yellow gold vermeil, $1850, ofrareorigin.com; David Webb Zebra Bracelet cabochon rubies, brilliant-cut diamonds, black and white enamel, 18 kt gold, and platinum, $69,500, davidwebb.com; Nora Kogan "Lottie" hoops $1,100, norakogan.com.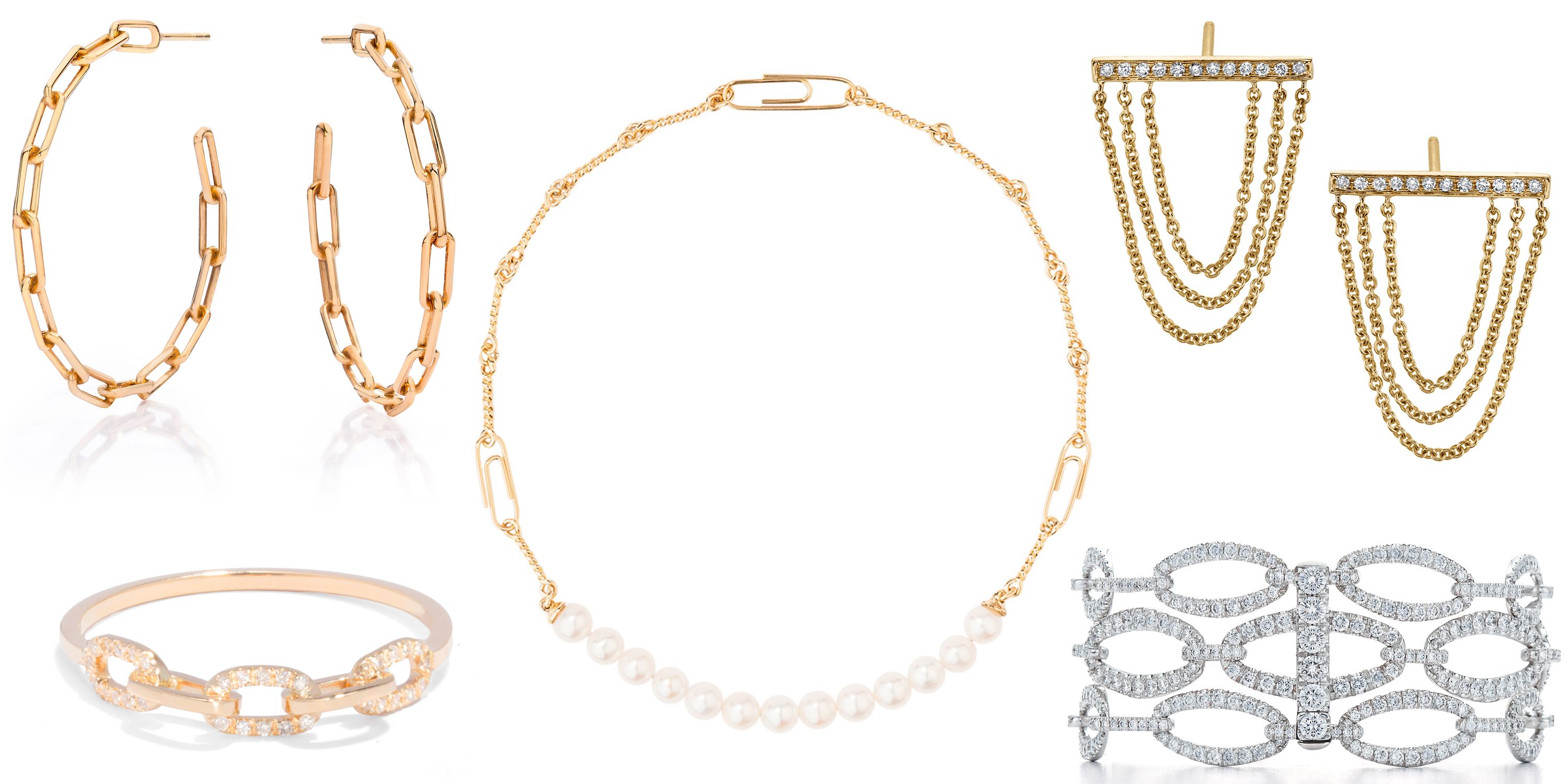 Sharp column gowns and minimal silhouettes look best when paired with edgy accessories like bold gold cuffs or dainty links that feel modern yet timeless.
Walters Faith chain link hoops, $1,850, waltersfaith.com; Tilda Biehn 'Aurora' link band, $1,400, tildabiehn.com; Aurelie Bidermann necklace, $585, aureliebidermann.com; Sydney Evan triple-chain bar earrings, $1,100, sydneyevan.com; Kwiat 'Madison Avenue' bracelet, $46,000, kwiat.com.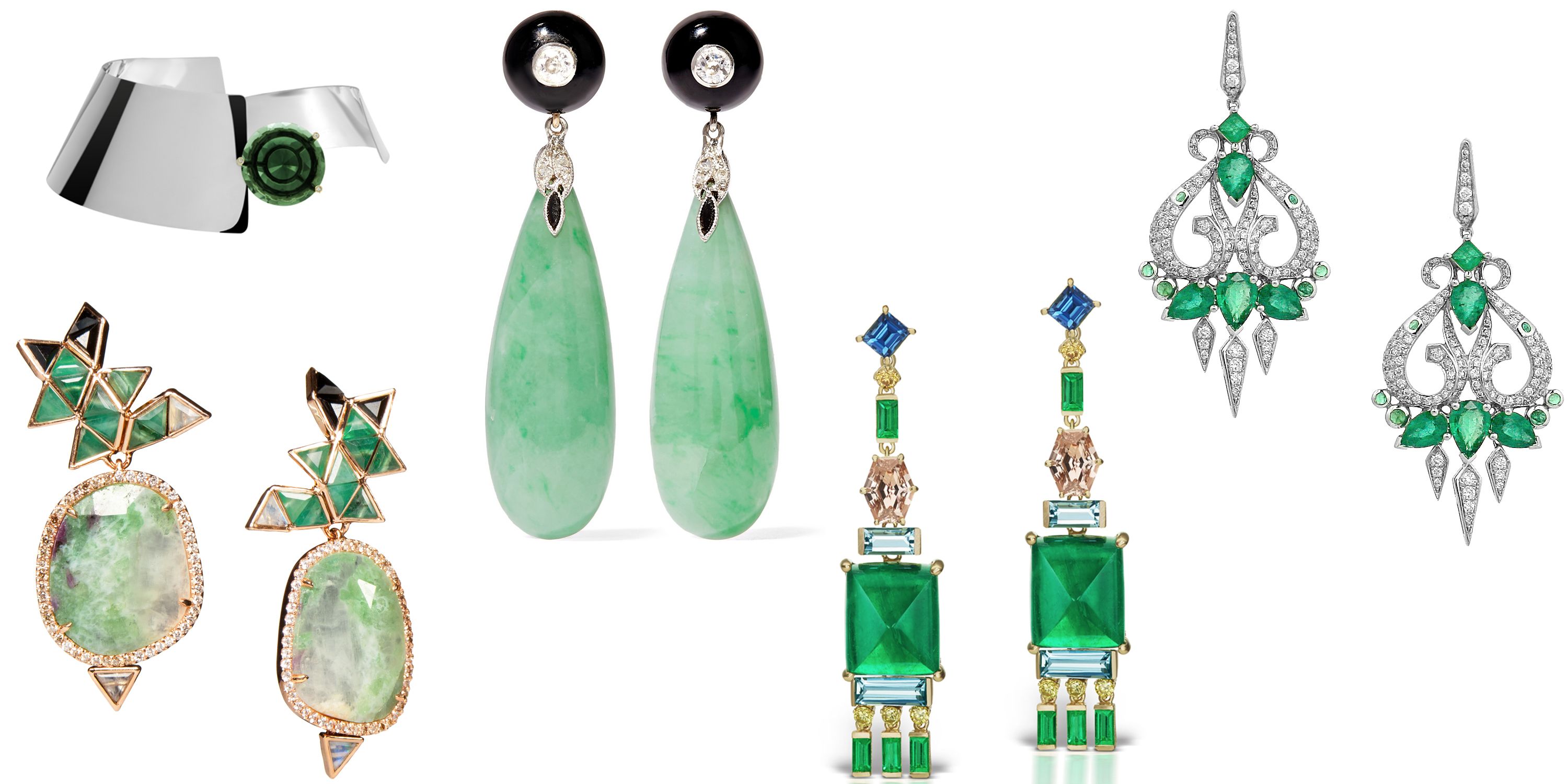 While something blue will always be a requisite bridal extra, green baubles compliment most eye colors as well as gowns from traditional to super-sleek.
Delfina Delettrez collar, $780, +44 20 7629 5550; Nak Armstrong one-of-a-kind emerald earrings, $12,850, nakarmstrong.com; Fred Leighton jade drop earrings, $7,815, fredleighton.com; Jane Taylor Jewelry emerald tassel earrings with blue sapphires, vivid yellow diamonds, champagne diamonds and aquamarine, $132,000, janetaylor.com; Stephen Webster chandelier earrings, $30,000, 310.246.9500.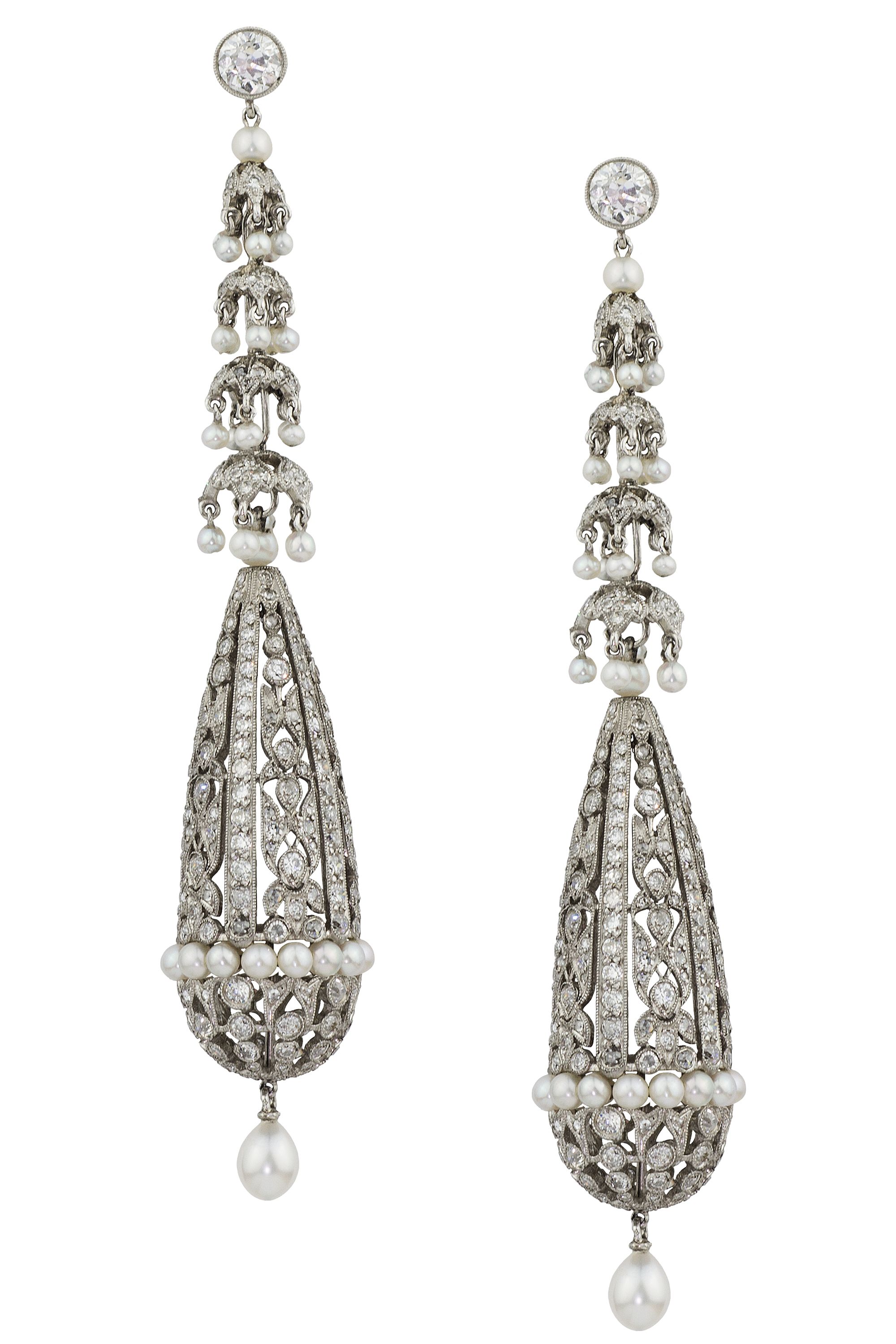 If you lack an heirloom to wear down the aisle but are after something vintage in feel, a piece of estate jewelry with historical significance is the chic way to go about something borrowed.
Stephen Russell diamond and pearl earrings, price upon request, stephenrussell.com.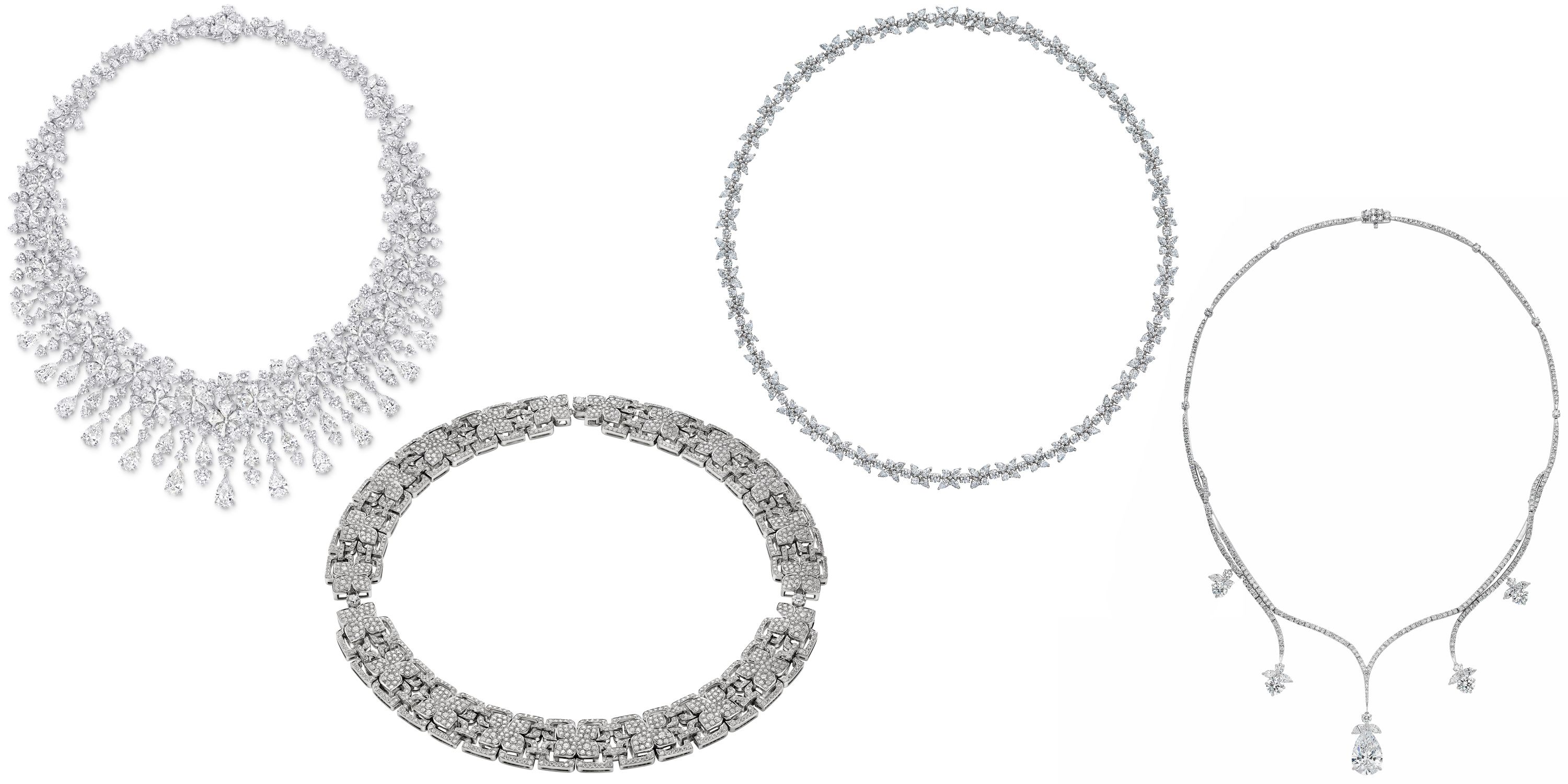 Pendants pair well with deco sheaths and plunging necklines, but uber-luxe chokers and collars suit necklines from strapless to athletic crew necks to deep cut V's.
Graff 'Carissa' diamond necklace, price upon request, graffdiamonds.com; Bulgari 'Giardini Italiani' diamond necklace, price upon request, 800-BVLGARI; Tiffany & Co. necklace in platinum with mixed-cut diamonds, $100,000, tiffany.com; Forevermark by Leo Schachter pear drop necklace, price upon request, forevermark.com.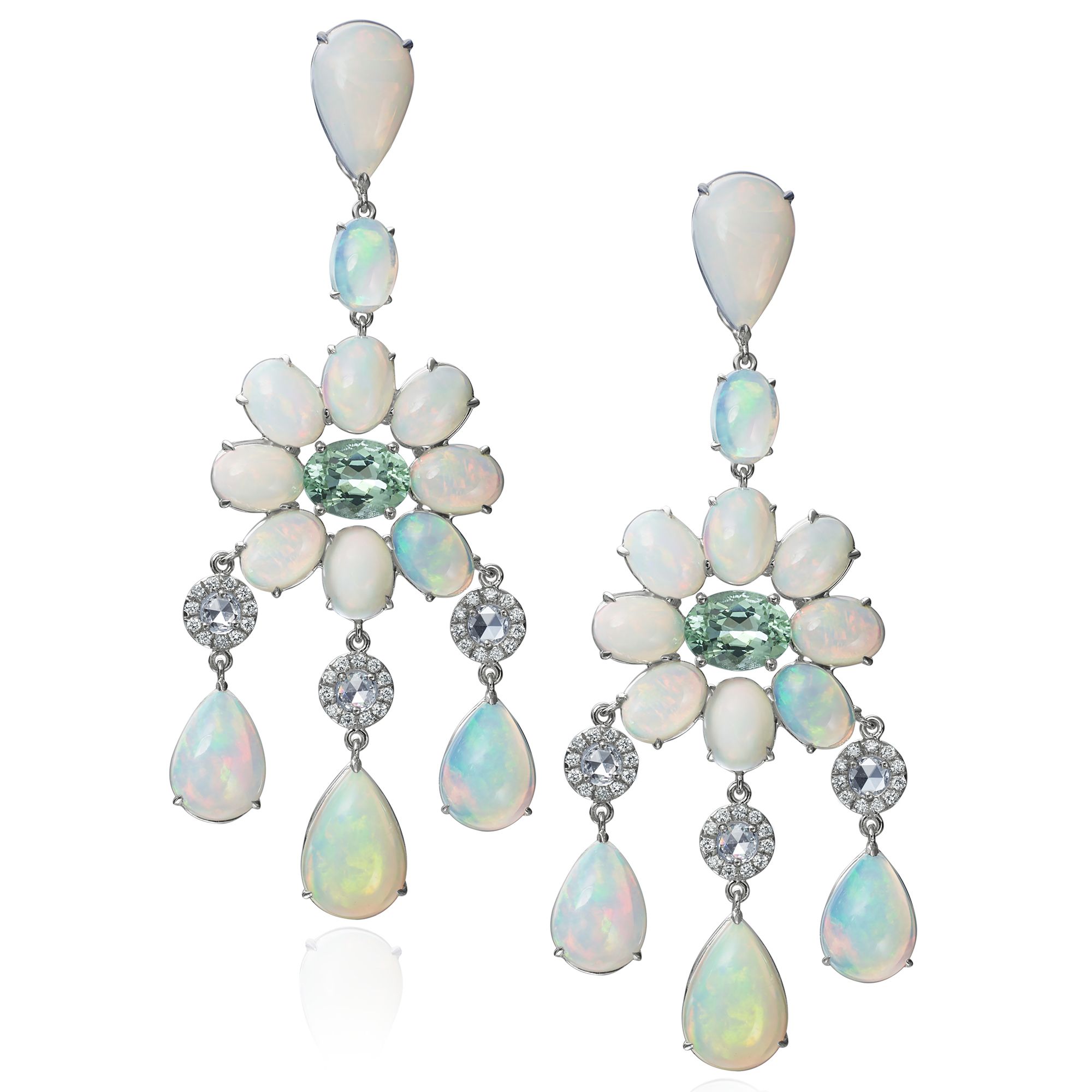 Moonstones (and opals) pick up subtle color variations in soft-colored gowns–from blush to champagne to platinum grey–and feel a bit more fresh than classic diamonds.
Nina Runsdorf earrings in 18K white gold, blue moonstone and rose-cut diamonds with pavé diamonds, $29,150, nsrjewelry.com.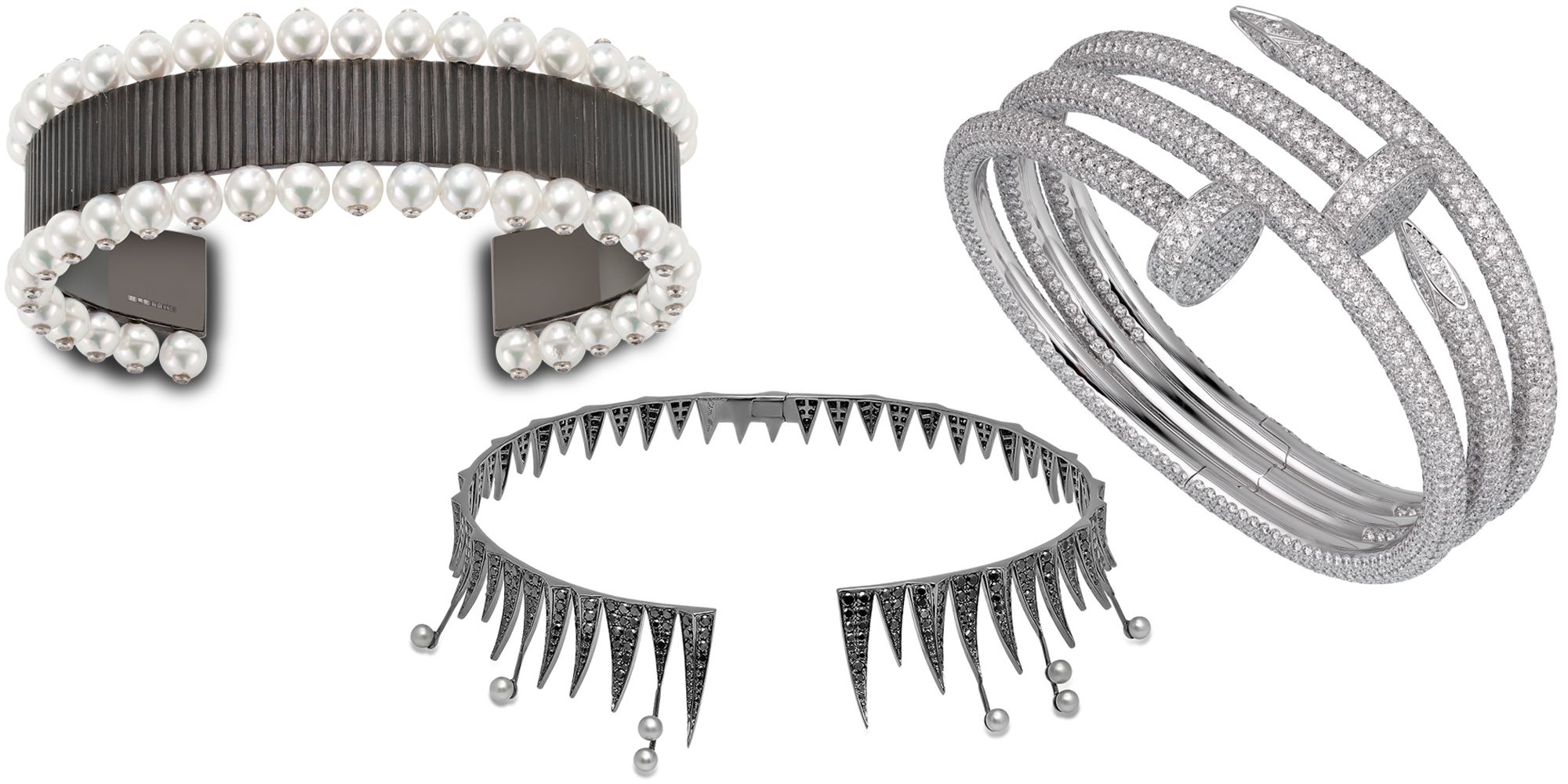 Fine jewels with a tough side–like black diamonds, dagger finishes and edgy motifs–are right for the bride looking for more of a fashion moment than a fairy tale feel.
Solange 'Chromophobe' bangle, price upon request, solange.co.uk; Colette black diamond and pearl-tipped choker, $9,280, colettejewelry.com; Cartier 'Juste un Clou' bracelet in 18k white gold and diamonds, price upon request, cartier.us.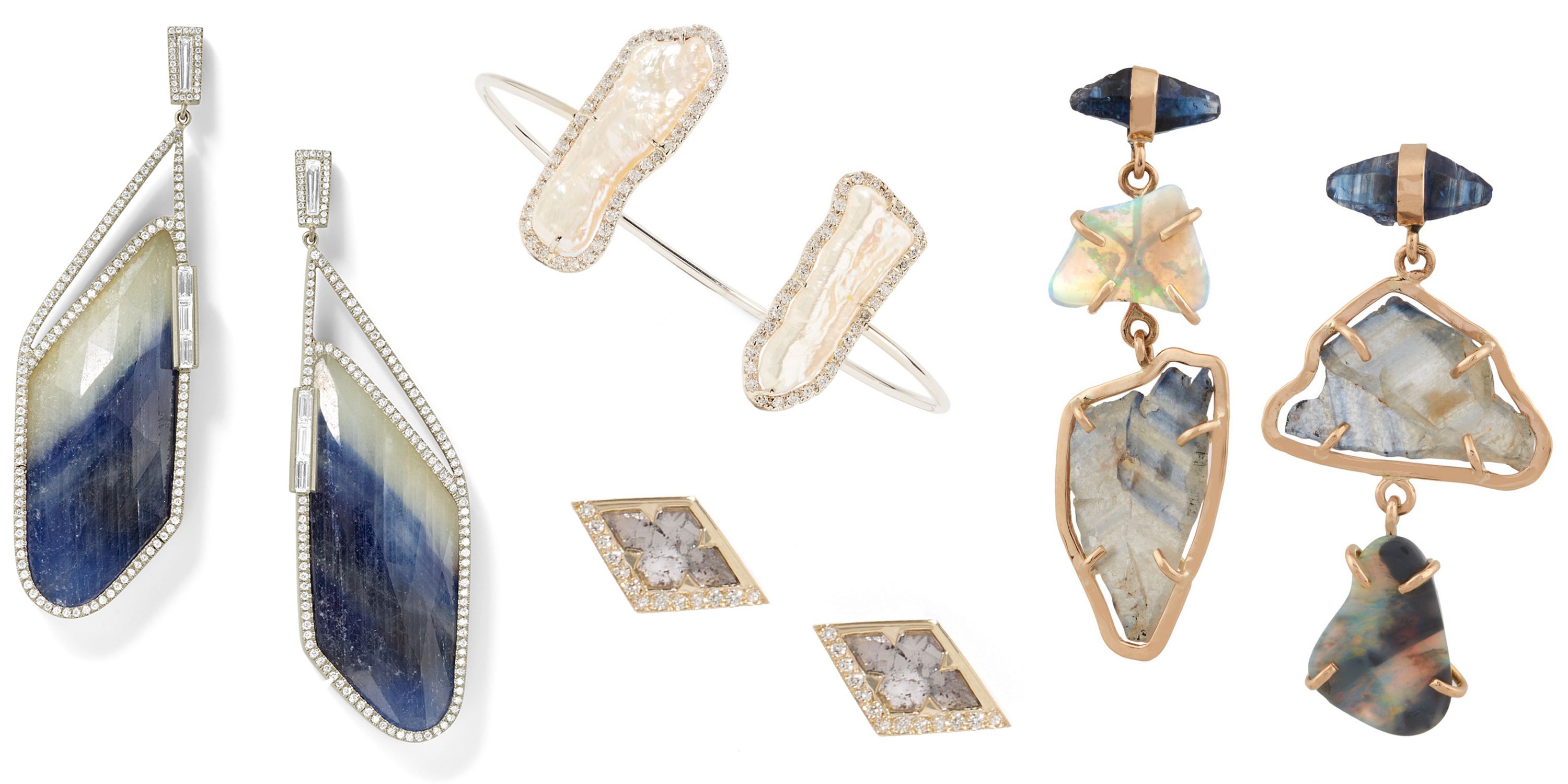 Diamond slices, mother of pearl, rutilated quartz and raw stones feel undeniably boho, but the fine nature of these pieces still feel polished for a more formal approach to dressing for the beach, the desert or a woodland wedding.
Monique Pean blue striped sapphire slice and white diamond earrings, $25,890, moniquepean.com; Kimberly McDonald white gold, pearl and diamond cuff, $8,930, kimberlymcdonald.com; AZLEE diamond slice studs, $3,810, azleejewelry.com; Melissa Joy Manning raw sapphire and opal earrings, $4,175, melissajoymanning.com.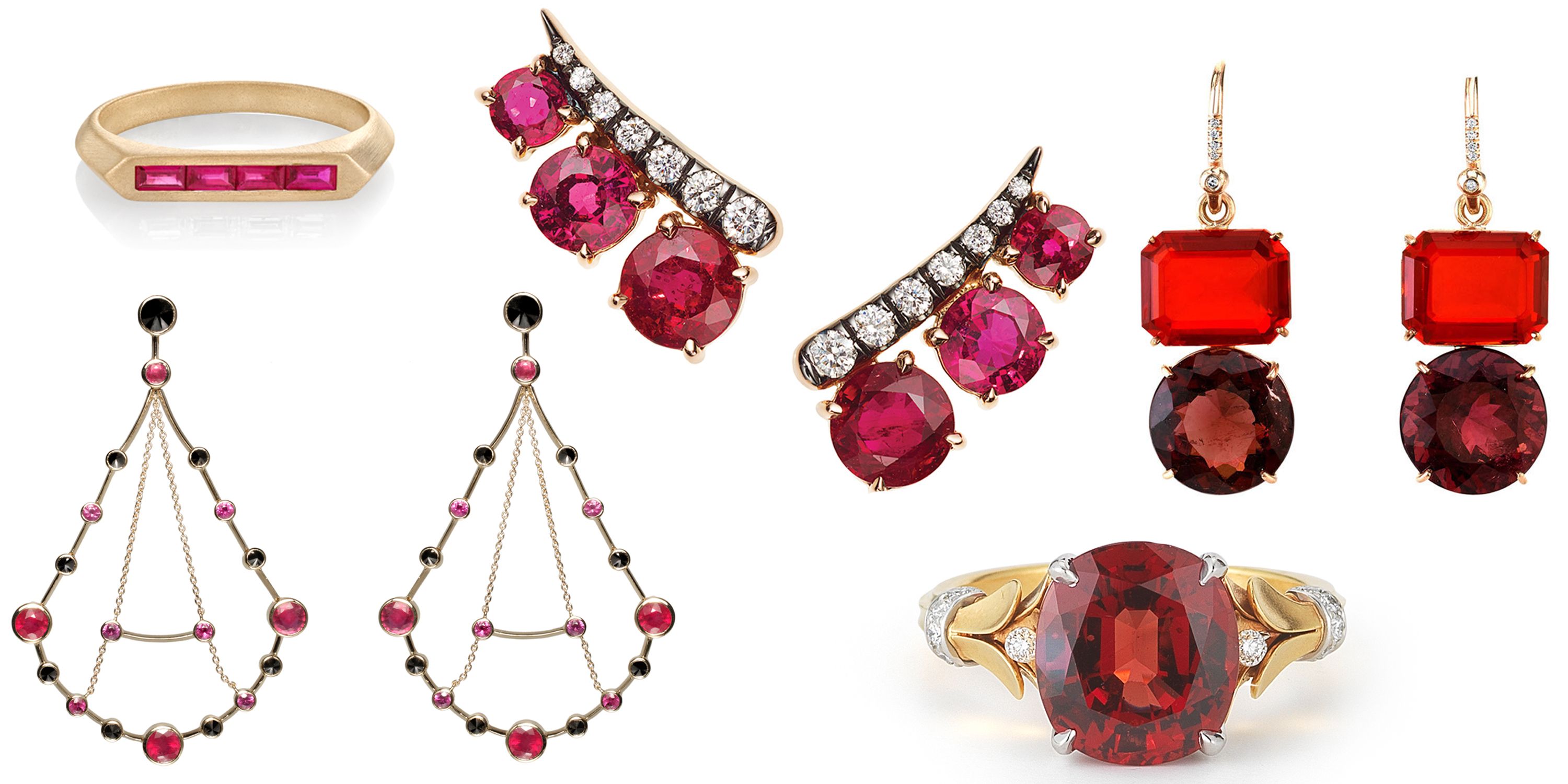 Julia Robert's role in Pretty Woman put rubies on the map, and the bold-toned stone is a hot alternative to cool-hued extras. These are the timeless, sparkling alternatives to a bold lipstick choice or a scarlet manicure; trust us, opt for rich garnet baubles and nude nails instead.
Lizzie Mandler ruby baguette band, $1,150, lizziemandler.com; Ara Vartanian yellow gold earrings with rubies and inverted black diamonds, $11,300, Broken English; Jemma Wynne rose gold ruby and diamond ear climbers, $5,880, jemmawynne.com; Irene Neuwirth fire opal and pink tourmaline earrings, $14,180, ireneneuwirth.com; McTeigue & McClelland ruby and yellow gold engagement ring, price upon request, mc2jewels.com.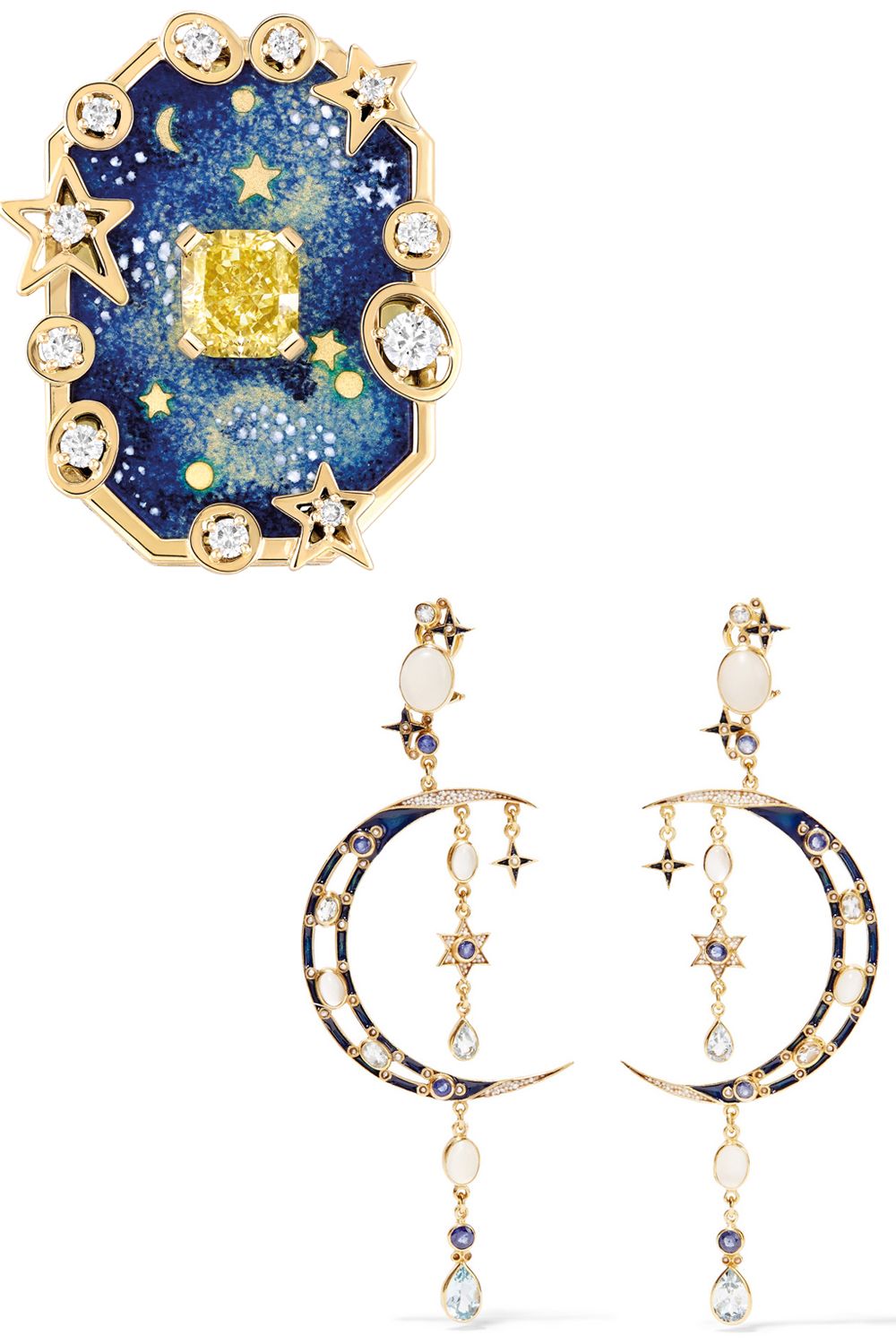 Celestial-inspired jewelry feels as romantic as a floral motif, but with an element of whimsy–and a cheeky nod to your dreams of the perfect day.
CHANEL Fine Jewelry 'Vendôme Comète' ring in yellow gold and "grand feu" enamel set with a 1.5 carat cushion cut yellow diamond and brilliant cut diamonds, price upon request, chanel.com; Percossi Papi chandelier earrings, $1,400, percossipapistore.com.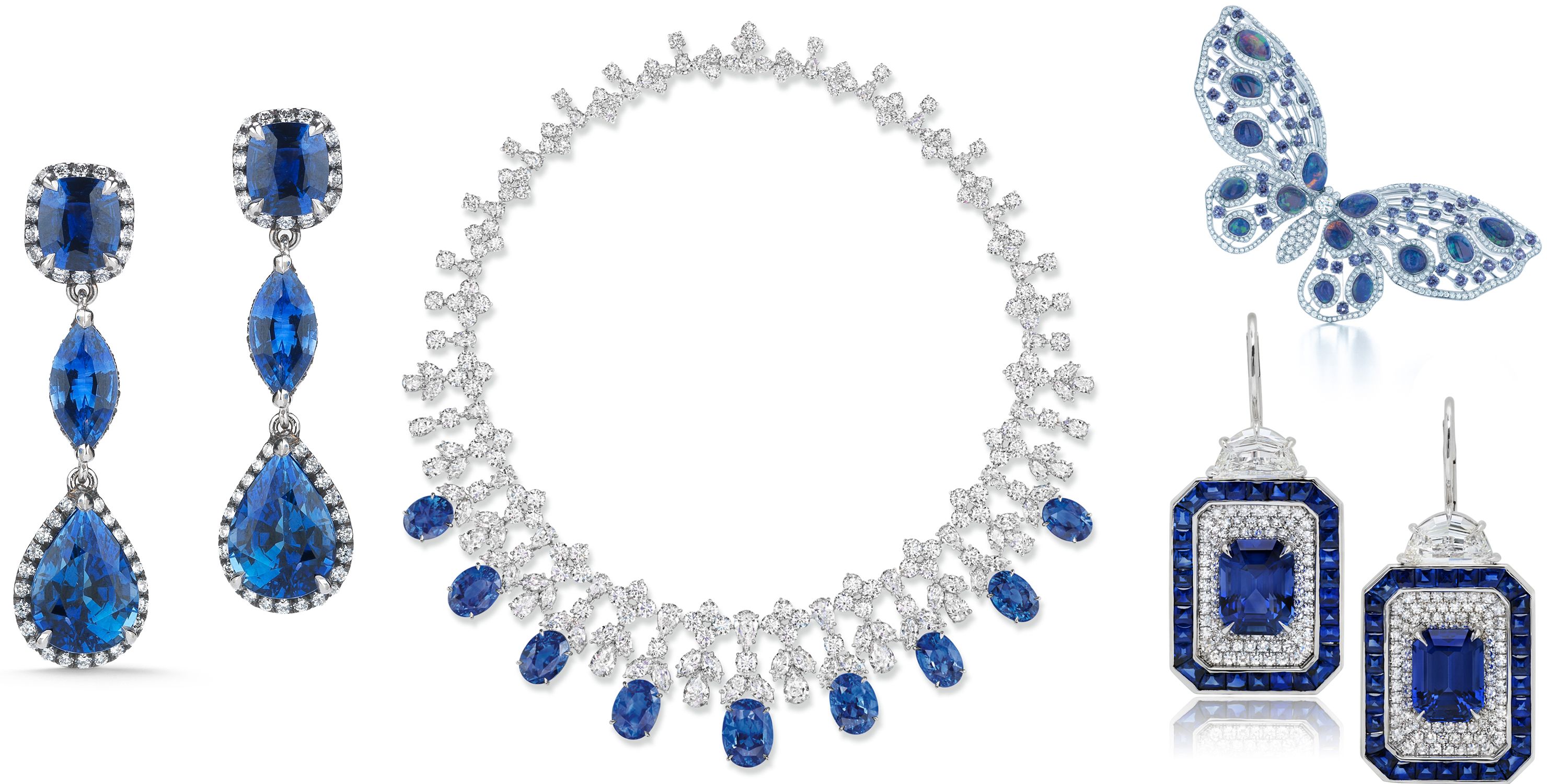 A sentimental 'something' can be both thoughtful and meaningful on the day-of, but a bold sapphire statement will likely result in awe-inspired gasps and dropped jaws rather than happy tears.
McTeigue & Mclelland sapphire and white diamond earrings, price upon request, mc2jewels.com; Harry Winston Incredibles sapphire and diamond necklace set in platinum, price upon request, 212.399.1000; Tiffany & Co. butterfly brooch with black opals, Montana sapphires and diamonds set in platinum, $110,000,tiffany.com; Martin Katz sapphire and diamond drop panel earrings, price upon request, martinkatz.com.
Source: Read Full Article