Butcher, baker and revenue-maker: Crickhowell named UK's best high street
HJ and D Webb and Sons (motto: everything for your home and garden) has been trading in the market town of Crickhowell since 1936. As you pass the shop's windows, the eye is caught by items ranging from comfy sofas to chainsaws.
Mike Webb, who runs the store with his two brothers, said: "Shopworkers and workers do what they do because they love it. That makes a difference. Everyone pulls together. When we did a litter pick and clean-up in the high street recently more than 150 people turned out. I think our regular customers and our visitors feel that this is a special place."
Crickhowell High Street, in an ancient town in the Brecon Beacons national park in Wales, was particularly jolly on Friday, having been crowned the overall winner in the government-run Great British High Street Awards 2018.
At a time when many high streets up and down the UK are in the doldrums and struggling to survive, Crickhowell (Welsh name: Crug Hywel) is bucking the trend.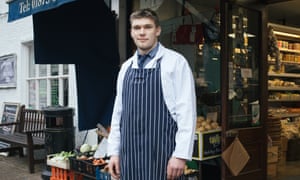 Every shop is occupied and when plans to move a national supermarket into a disused pub on the high street were afoot, the town fought back. It argued that nine shops, among them two butchers, a baker and a florist, would be hit. The town won the day.
"We are competitors but we work together," said Raymond Grenfell, the owner of Grenfell's & Sons grocery store. He intended to stay just six months. That was 50 years ago.
Emma Corfield-Walters, the owner of the Book-ish book shop, was given an individual High Street Hero award for the role she has played in making the street so vibrant. "I put it down to people power," she said.
"It was a matter of explaining to people what they did when they spent money in their local economy." For example, if the 2,000 people who live in the town spend just £5 extra every week in a local shop it instantly generates £500,000 over a year. Add on to that the spend from visitors and people passing through and just a few pounds here and there makes a huge difference. "We're not saying don't go to a supermarket [the nearest are in Abergavenny six miles away]. But we're saying also spend here. People have embraced that."
Cynics may claim the town's high street is thriving because of its well-heeled residents.
Corfield-Walters insists thatisn't fair: "Like any town we have our social issues. And the shops haven't come in on a wave of money. Some have been here for generations."
MT Cashell, the butcher's, for example, has been in the town for 44 years. Josh Cashell, 22, was serving Black Mountain beef and Crickhowell lamb chops on Friday. He conceded it might be possible to buy meat cheaper elsewhere. "But the quality won't be as good. You may get some things cheaper in a supermarket but it won't be as good. Our meat comes from a few miles away."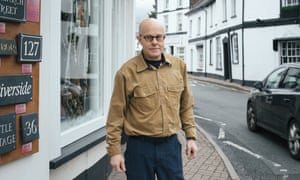 Elsewhere in the UK, high street stores are being battered by a raft of threats, including a major change in shopping habits. Consumers are buying more online – about a quarter of fashion is now sold on the internet –and choosing to spend more on experiences such as leisure and holidays.
Stores have also faced a big increase in business rates, higher labour costs as a result of a rise in the national living wage and a squeeze on spending power, with real wages still lower than before the financial crisis a decade ago. According to the British Retail Consortium, about 85,000 retail jobs have been lost this year.
In Crickhowell, there is a determination to find new ways of thriving. After the supermarket plan was defeated, a limited company with 273 shareholders was set up to renovate three shops – among them a zero-waste shop called Natural Weigh – and three flats. The re-imagined Corn Exchange opened in July.
Dean Christy, the managing director of the Corn Exchange Crickhowell, said he believed what had been achieved could be copied elsewhere. "It helps if there's a threat like the supermarket plan and you need the opportunity. But more than anything you need passion."
Overall Best UK High Street winner:
National Best High Street winners:
England: Altrincham Town Centre

Scotland: High Street, Alness

Wales: High Street, Crickhowell

Northern Ireland: Portadown Town Centre
Rising Star High Streets:
England: Burnley Road, Todmorden

Scotland: High Street, Newport-on-Tay

Wales: High Street, Cowbridge

Northern Ireland: Bow Street, Lisburn
Source: Read Full Article