7 Stocking Stuffers For Your Dog Who's Been A Good Boy All Year Long
This year, you plan on crushing it in the Christmas gift department. You bought something sweet for everyone in your family, and you've crossed off your besties from your shopping to-do list as well. Now, you have to find something particularly special for your adorable fur baby, because let's be honest: They're the most fun to shop for! Your pup has been good all year long, and truly deserves the world. (They're always on Santa's "nice list," after all.) Of course, a new sweater, box of holiday-inspired treats, or squeaky toy is always an option, but you want to go all-out with the stocking stuffers for your dog.
It's safe to say your pup is your best friend, and will wag their tail at whatever present you decide to give them, but you're looking for that extra special tail-wagging-jumping-for-joy combo that comes with pure excitement. Whenever your dog is happy, it makes you happy.
To make sure you and your pup have a very merry Christmas this year, consider purchasing any of these seven gifts for your dog's stocking ASAP. Just don't forget to post a cute pic of your puppy with their stocking on Instagram, and caption it with, "Happy Howlidays!"
1

Your Pup Will Stay Cozy (And Look Super Fresh) In This Hoodie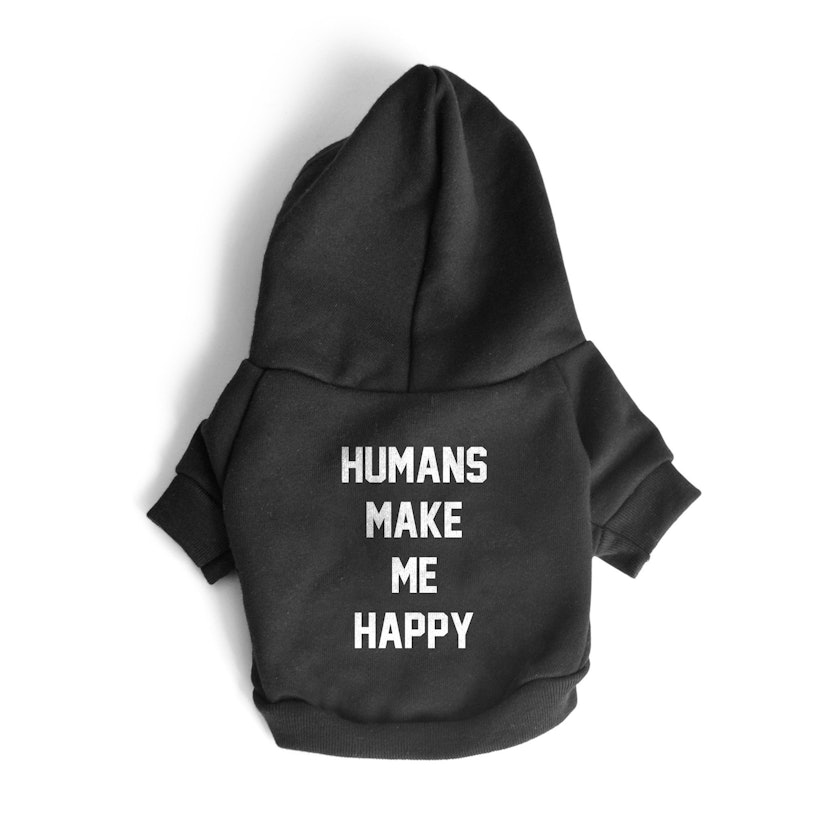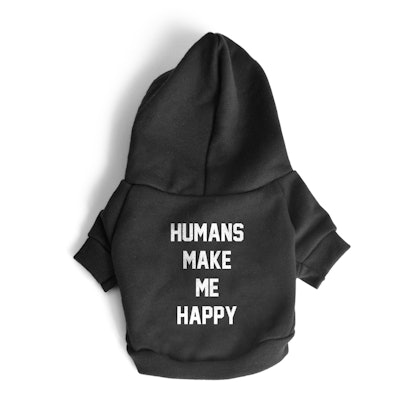 Humans Make Me Happy | Dog Hoodie
$36
Puppies Make Me Happy
Taking your pup for a walk in the winter would be incomplete without this adorable hoodie. The message is clear: You make your dog super happy, but the feeling is mutual — you don't know what you would do without your furry best friend.
2

Fill An Entire Stocking With Holiday Toys Just For Your Fur Baby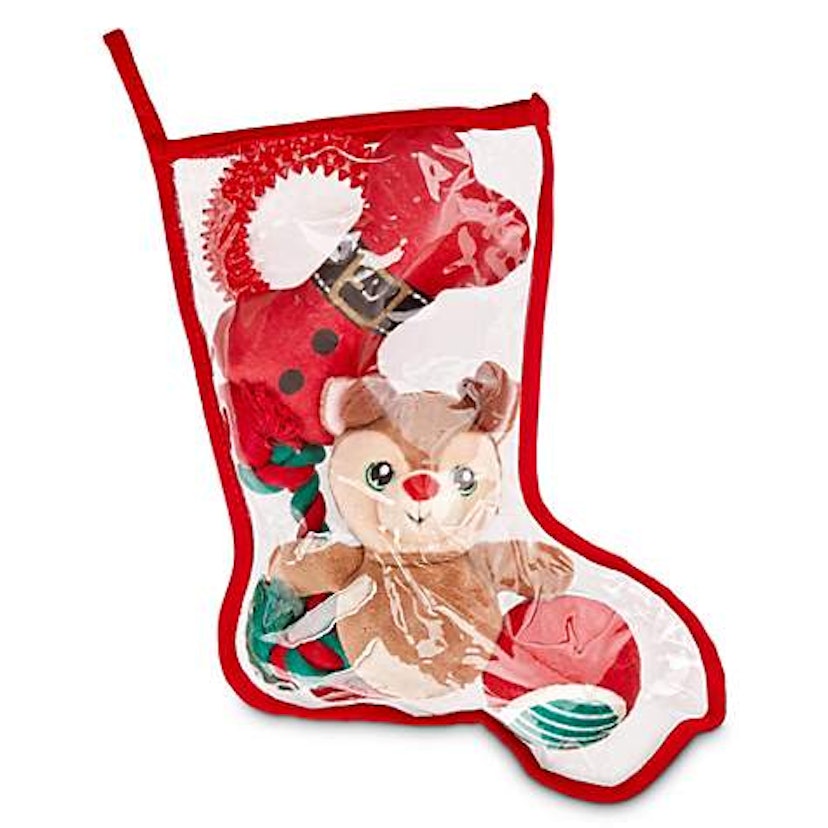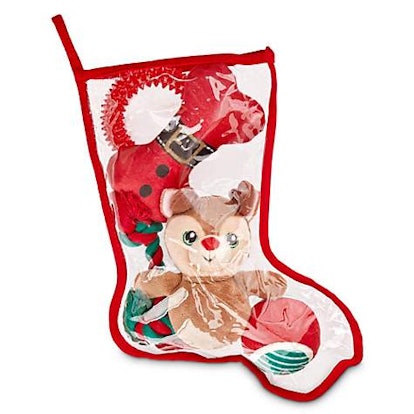 Holiday Tails Nice List Stocking Stuffers Dog Toy Gift Set
$5
Petco
Your pup's stocking has already been pre-stuffed with this cute toy set from Petco. The set includes a rope toy, rubber ring, tennis ball, plush bone, and even a cute little reindeer. There's something in here for every dog's taste, so your pup is sure to find his or her new favorite toy just in time for the holidays.
3

Snuggling With Your Pup Will Be So Festive With These PJs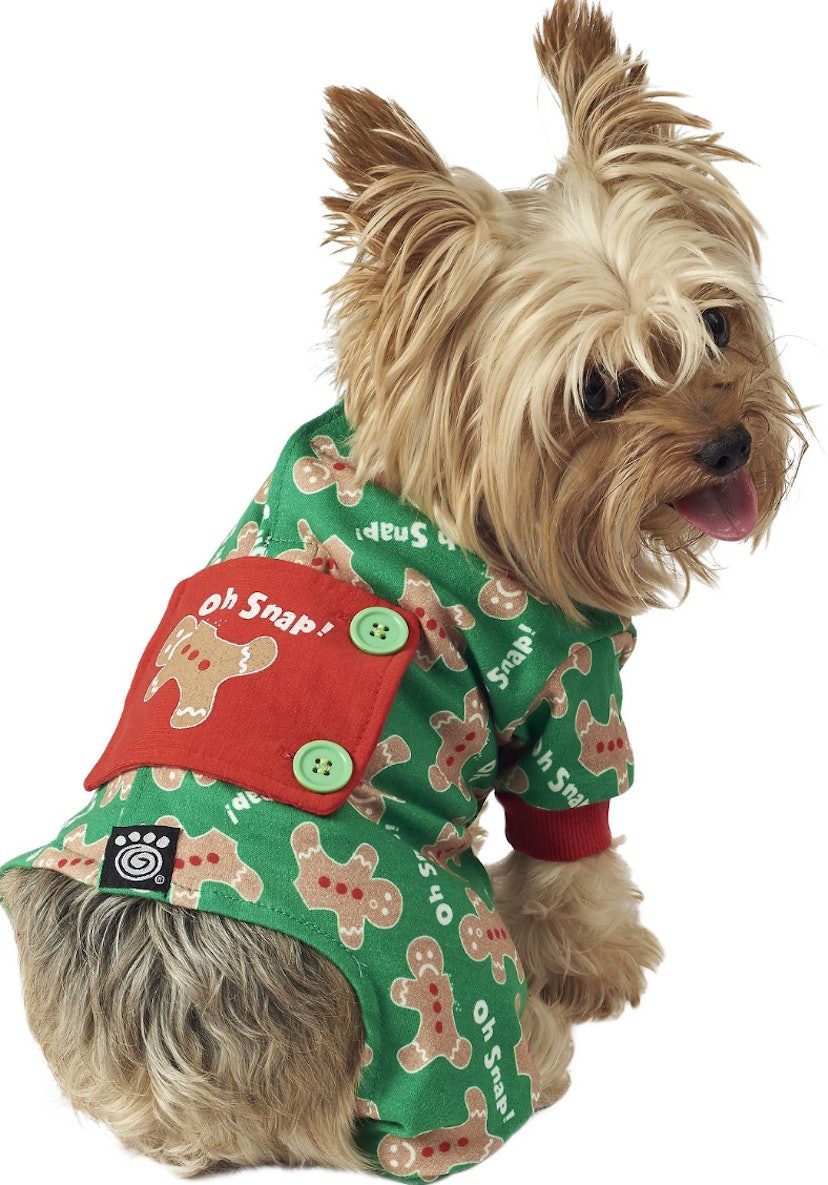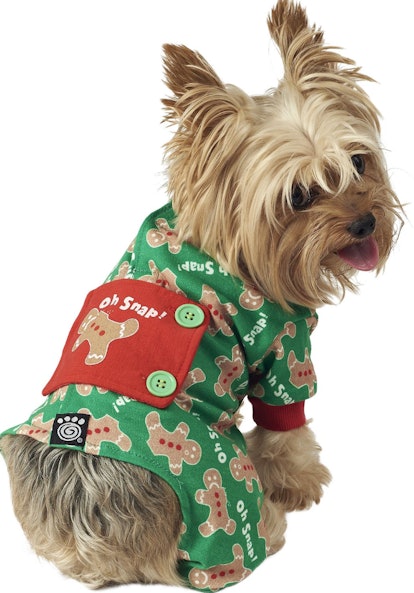 PetRageous Designs Oh Snap! Gingerbread Dog Pajamas
$17.25
Chewy
These gingerbread-printed dog pajamas are just too sweet for words. You'll both be looking cozy in your festive PJs when you're all curled up on the couch watching your favorite holiday films. Your dog will look so cute, you just might have to treat him or her to their very own gingerbread dog treat.
4

Rein In The Holiday Fun With This Reindeer Toy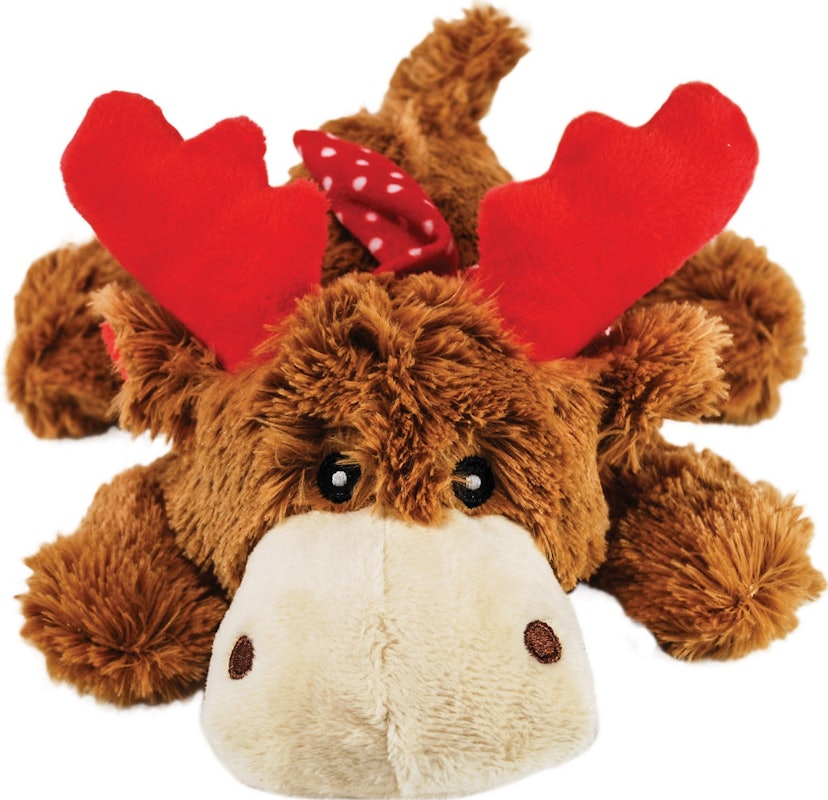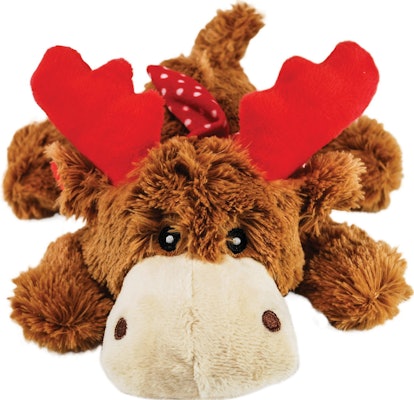 KONG Holiday Cozie Reindeer Dog Toy
$9.99
Chewy
Your dog can have their very own fuzzy friend with this reindeer toy from Chewy. The festive reindeer is cuddly for when your dog's ready to nap, and also has a squeaker inside for when it's playtime.
5

These Gingerbread Treats Were Made For All The Good Boys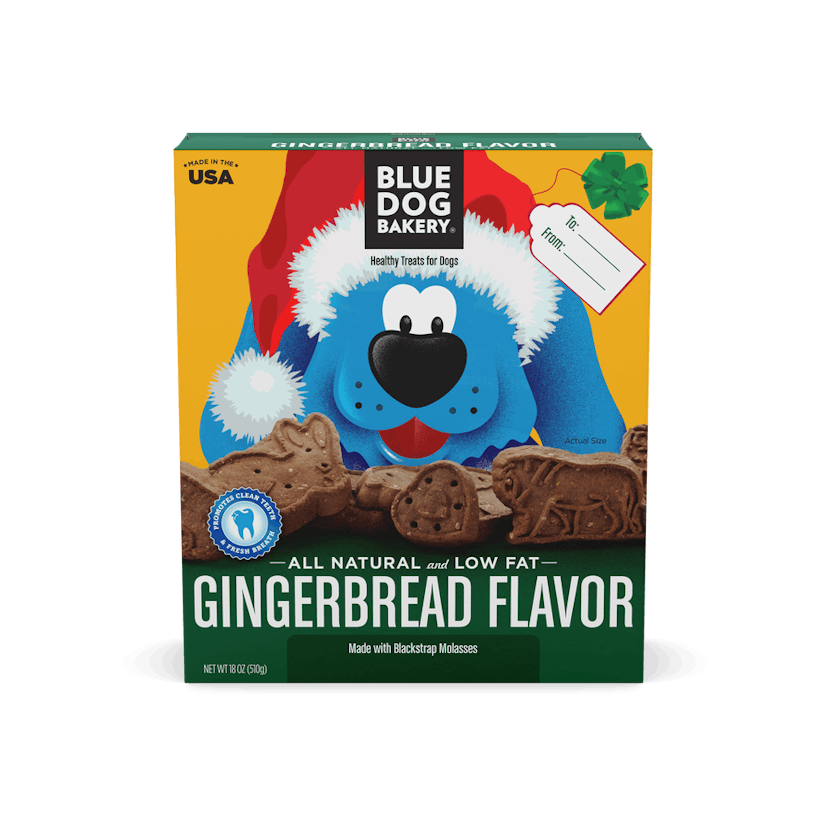 Blue Dog Bakery Gingerbread Cookie Dog Treats
$11.75
Chewy
As excited as you are to bake Christmas cookies this season, your pup can also get in on the fun with these gingerbread cookie dog treats from Blue Dog Bakery. Flavors like gingerbread and pumpkin will make the winter so sweet for your fur baby. In fact, you can host your very own cookie party together that Santa will want to invite himself to.
6

Have A Cozy Night In With This Wintery Toy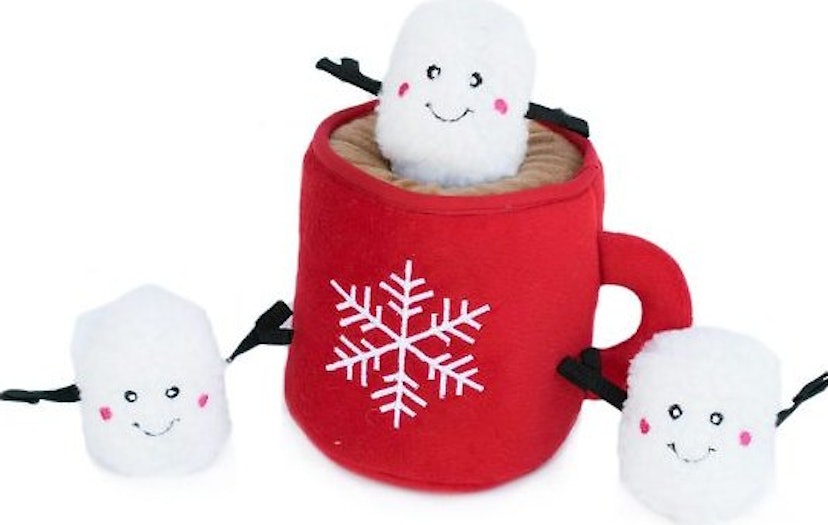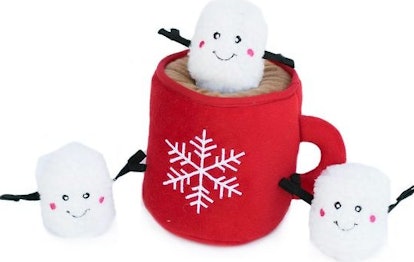 ZippyPaws Burrow Squeaky Hide & Seek Plush Dog Toy, Hot Cocoa
$7.99
Chewy
Maybe I'm a little bit biased as a cozy drink lover, but this is the cutest dog toy I think I've ever seen. You and your fur baby can enjoy a comfy night in together. You'll have your mug of peppermint hot cocoa, and your dog can enjoy their new squeaky toy (in addition to those gingerbread dog treats). Sounds like a winter dream come true to me!
7

Your Pup Can Jingle All The Way With This Toy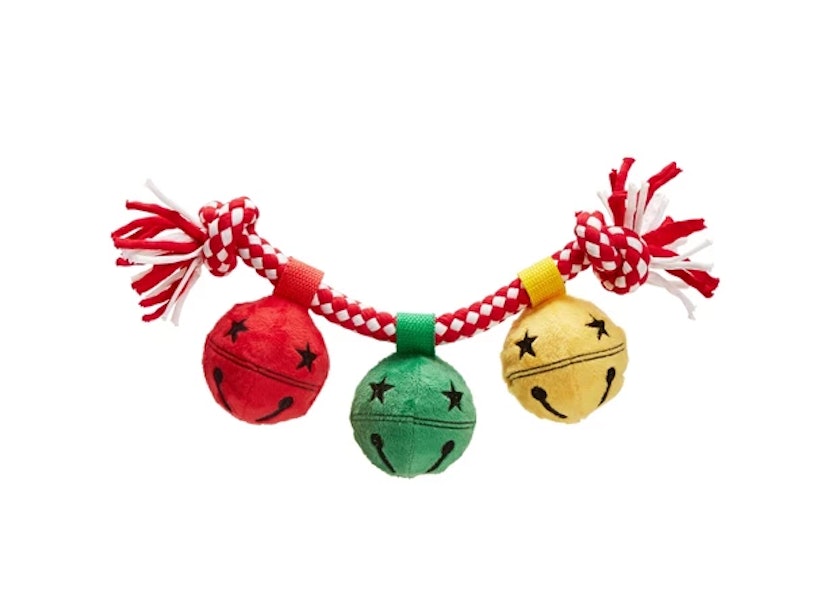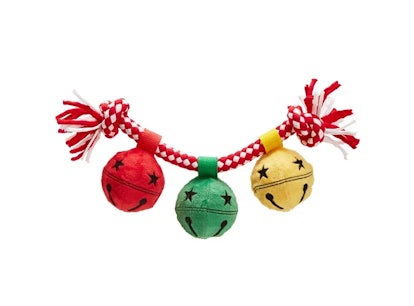 BARK Christmas Bells Dog Toy – Jinglin' Bells
$9.99
Target
It wouldn't be the holidays without the jingle bells. This festive toy is both great for playing a game of tug-of-war together, and ringing in the spirit of the season with some music. With this toy, your pup will be spreading holiday cheer left and right.
Source: Read Full Article