Ranking All The Stouffer's Frozen Dinners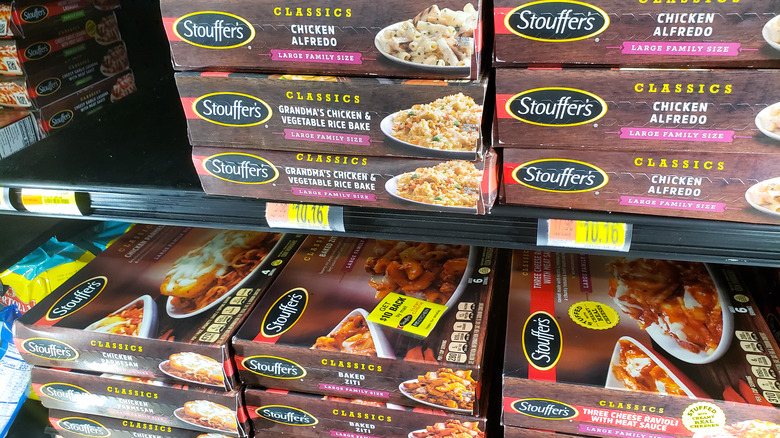 It's not exactly a secret that frozen dinners aren't necessarily the epitome of fine dining. Typically, a homemade meal or ordering in from a restaurant is going to taste better. However, as anyone with a busy schedule knows, those options aren't always feasible, and a frozen dinner can really come in handy sometimes. And fortunately, frozen dinners have really come a long way over the years, so there are some pretty tasty options, especially from one brand in particular.
Whether you just want a simple dinner to yourself, or are too tired to whip up a big dinner for your entire family, Stouffer's is pretty much the way to go. But, there are definitely a ton of options for Stouffer's frozen dinners at the grocery store, and it's easy to get overwhelmed. So, to save you some time, you can simply keep reading for a ranking of all the Stouffer's frozen dinners. You're welcome.
Stouffer's Chicken Parmesan falls flat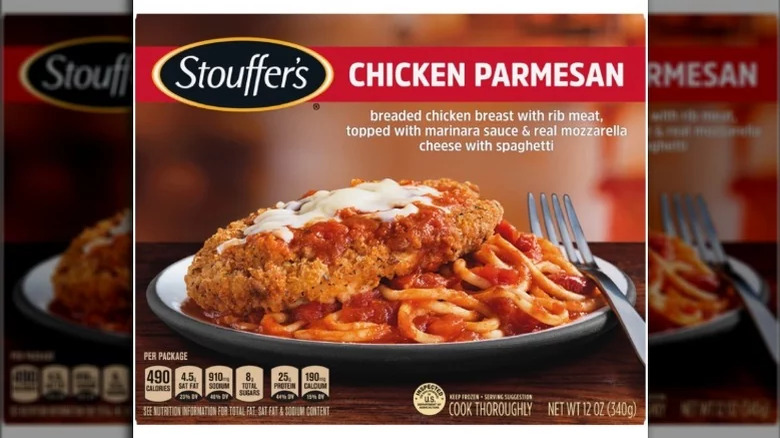 It's pretty much common knowledge that Italian food is some of the best cuisine out there, and is definitely deemed as some of the most decadent as well. So if you've ever gotten a craving for chicken parmesan but didn't want to spend a ton of money at an Italian restaurant, or hours in the kitchen whipping it up, you might have been tempted to buy the Stouffer's version. Their chicken parmesan might look tasty, but don't be deceived. At the end of the day, trying to microwave, or even cook something in the oven that's supposed to be crispy and fried typically doesn't work out.
One review of Stouffer's Family Sized Chicken Parmesan puts it well. "The chicken and the pasta were both mushy and the sauce had no taste to it at all," the reviewer wrote. And that's exactly right. If you're really craving chicken parmesan, then it's probably better to just order in from a restaurant, or even try making it yourself than buying the Stouffer's version.
Stouffer's Italian Sausage Pasta isn't very good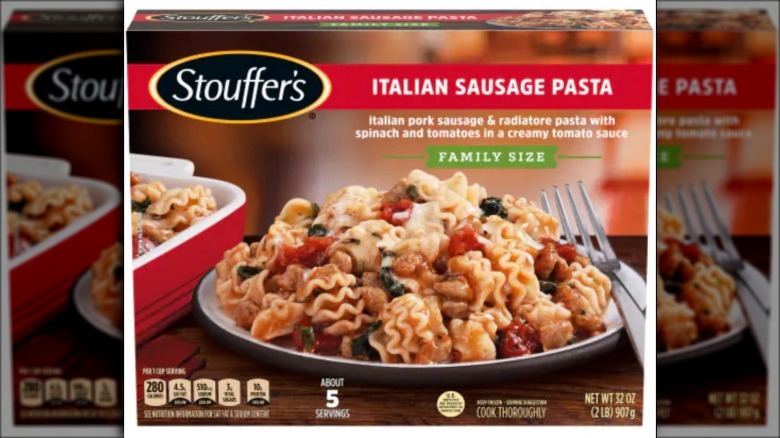 Much like the Stouffer's Chicken Parmesan, the Stouffer's Italian Sausage Pasta just isn't worth your time. Sure, it's pretty quick and easy to make in the microwave, but that doesn't mean you should. There are plenty of similar recipes out there if you're seriously craving Italian Sausage Pasta, because it's not a frozen dinner you should waste your time with for several reasons. While Stouffer's as a brand does have a lot to offer, this dish in particular is one of their worst.
One reviewer for Stouffer's Italian Sausage Pasta didn't hold back. "The pasta is gummy and the sauce has very little taste," they wrote. "The sausage is almost non-existent and very bland. This was one of the worst frozen dinners we've ever eaten." Yeah, that doesn't sound too appetizing. Seriously, you're better off whipping this up yourself, even if you don't fancy yourself a chef.
Stouffer's Baked Chicken is pretty blah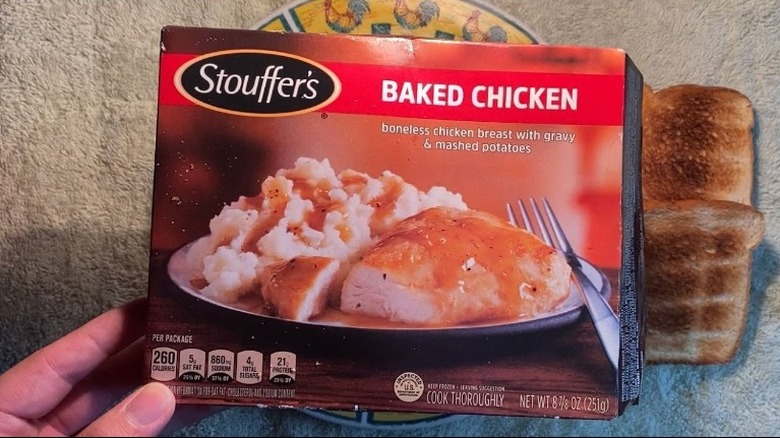 Sometimes there's really nothing quite like a good, home cooked meal. If you grew up eating a delicious chicken and potato meal on Sunday nights, then Stouffer's Baked Chicken frozen dinner might seem pretty appealing. After all, a tender chicken breast with gravy and mashed potatoes doesn't sound too bad, does it? But, this is one Stouffer's meals that is better left in the freezer section of the grocery store.
In this meal, there isn't too much flavor, but the real issue comes with the chicken. As the chicken is really the main component of the meal, you would expect it to be tender and juicy, but that's pretty much the opposite of what it is. According to one review of the meal, it's actually pretty gross. "The chicken has been modified to be pieces and parts of chicken breast molded into a patty that doesn't even remotely taste like a true chicken breast," the reviewer shared. "The texture is just weird and rubbery." And really, who wants that?
Stouffer's Chicken and Mushroom Marsala is OK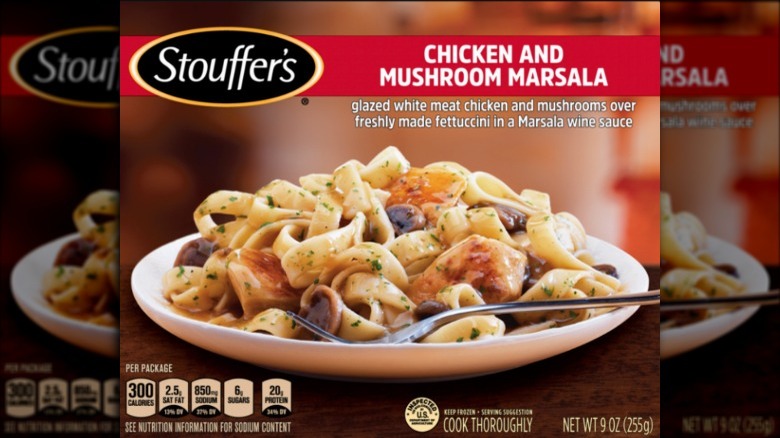 Chicken marsala is definitely not a super easy meal to make on your own. So, if you get the itch for a chicken marsala, you might find yourself turning to a frozen dinner option, such as Stouffer's Chicken and Mushroom Marsala. And that's not necessarily a bad thing, but it's not the best, either. The problem with Stouffer's Chicken and Mushroom Marsala is that while the overall flavor is pretty good, there's some inconsistency with how much chicken you'll actually get in your dinner. And if you're in a hurry and just need a filling meal, it can be super annoying to not get enough protein on your plate.
As one reviewer put it, Stouffer's did a pretty good job with this one, but it isn't their best. "I found the sauce and mushrooms to have good flavor," the reviewer opined. "The chicken I had was also tasty and tender, but the problem is that I only received one piece of chicken and then a smaller half piece. Disappointing because I found myself wanting more." Though this meal is far from Stouffer's worst option, it's also not a safe bet if you are super hungry.
You could do better than Stouffer's Baked Ziti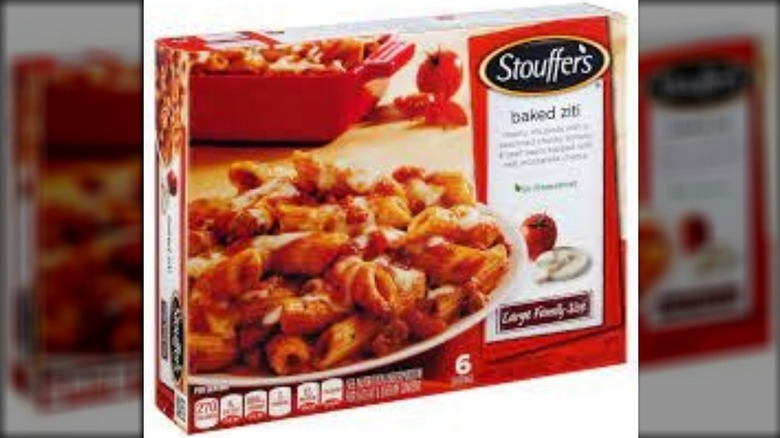 When you think of a meal like baked ziti, you probably imagine it to have a decent amount of pasta in there. After all, it's the main component in the dish! But unfortunately, Stouffer's Baked Ziti is more soup than pasta, and not in a good way. While the overall flavor of the dish isn't bad, this meal probably isn't what you imagine it to be once you heat it up.
One reviewer shared that she and her husband were seriously disappointed in the dish and its lack of pasta. "After cooked, our pan of 'baked ziti' was entirely full of sauce … we both scooped some into our bowls and barely got 3 or 4 noodles each," she revealed. "The flavor wasn't bad at all, but overall disappointed that the star of the dish was nowhere to be found." Honestly, who doesn't love a good pasta? No one! So when you expect a delicious filling pasta meal and end up with something that more closely resembles soup, it'd be pretty annoying.
Stouffer's Chicken Lasagna isn't great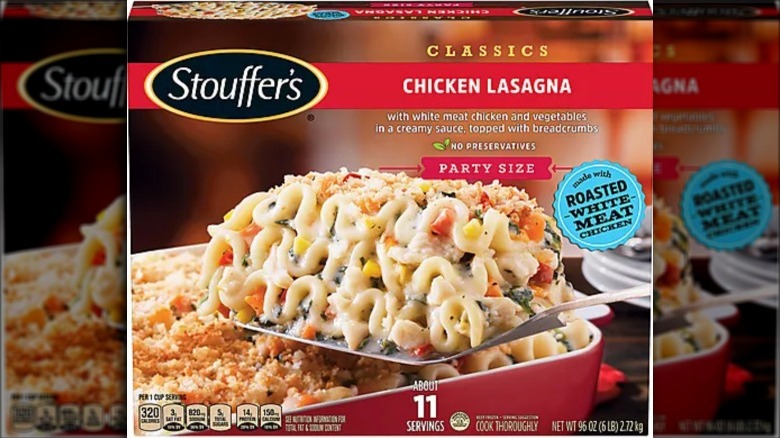 You might think that lasagna is the best frozen meal to get because it seems almost impossible to mess up. But, that's not exactly the case when it comes to Stouffer's Chicken Lasagna, which is tasty, but still not their best. With chicken, lasagna noodles, and vegetables all in a creamy sauce, it seems like the perfect combination. But very rarely will you get a serving where the ingredients are perfectly balanced.
One review of Stouffer's Chicken Lasagna paints a clear picture of why this dish is just mediocre. "It would be really good if the chicken was doubled and the onion was cut in half, so many onions that it leaves an onion aftertaste in my mouth for hours," the reviewer lamented. Seriously, the dish just isn't the best. Additionally, another review stated that the meal made her daughter's stomach hurt, which isn't exactly what you want to hear. So, while the chicken lasagna isn't Stouffer's worst frozen dinner, it's also probably not something you want to risk trying unless you're just really craving it. But, you've been warned.
Stouffer's Chicken à la King is decent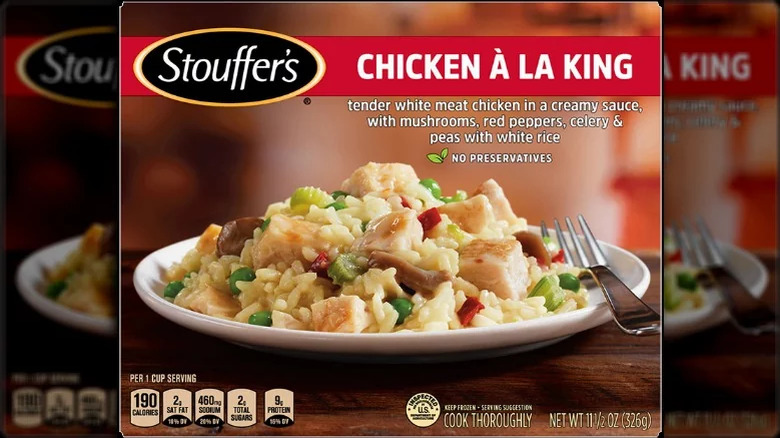 One Stouffer's meal that falls in the middle is definitely the chicken à la king. In case you aren't sure what chicken à la king is, the Stouffer's version is chicken in a cream sauce with some vegetables and white rice. Basically, it's your classic chicken and rice dish, so it can be a great option for a weeknight dinner, or even lunch if you want something to really fill you up. And honestly, the chicken à la king from Stouffer's isn't the worst thing they have to offer.
Overall, the dish is pretty tasty, which makes sense as chicken and rice seems pretty hard to mess up. However, to be fair, not everyone loves this dish from Stouffer's. "There was a fair amount of tender chicken in it, but the overall taste was very bland," one reviewer wrote. But another raved about the meal, writing, "This is the best Stouffer's dish there is." So, you might love Stouffer's Chicken à la King, but it also might disappoint you. Either way, this one might be worth a try.
Stouffer's Escalloped Chicken & Noodles might surprise you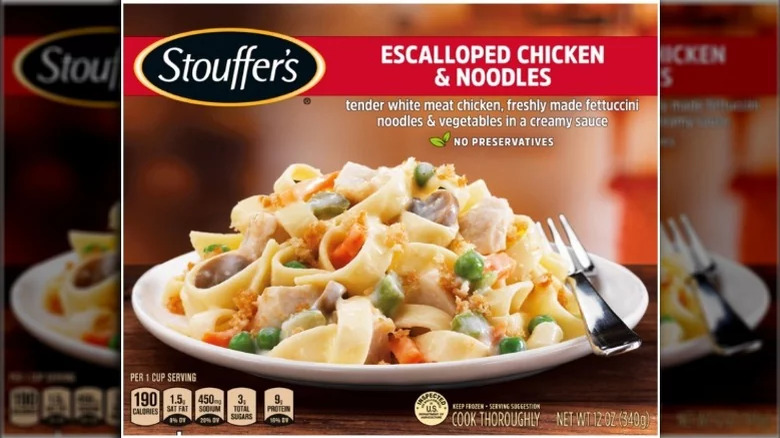 For a simple and classic meal, you might want to try Stouffer's Escalloped Chicken & Noodles. This is essentially chicken, vegetables, and fettuccine noodles all covered in a cream sauce and topped with breadcrumbs. Honestly, it sounds pretty basic but delicious, and that's exactly what it is for the most part. While this dish won't be winning any culinary awards, it's still pretty good and might actually surprise you.
But there's definitely some inconsistency in the meals. While some people can't get enough, others have some critiques. According to one review, this is Stouffer's best meal. "I buy 10-12 of these at a time when I can find them," the reviewer gushed. "They're delicious." But another added that they enjoy the meal, but typically have to jazz it up a bit on their own. "This is a good casserole, but it is really bland," they revealed, adding that they would add some seasonings to it before serving. "This was so mouth-wateringly delicious we wanted seconds," they concluded of the new concoction. For the most part, Stouffer's Escalloped Chicken & Noodles will probably please everyone in your family, but beware it might need a little more seasoning.
Stouffer's Grandma's Chicken & Vegetable Rice Bake is simple yet tasty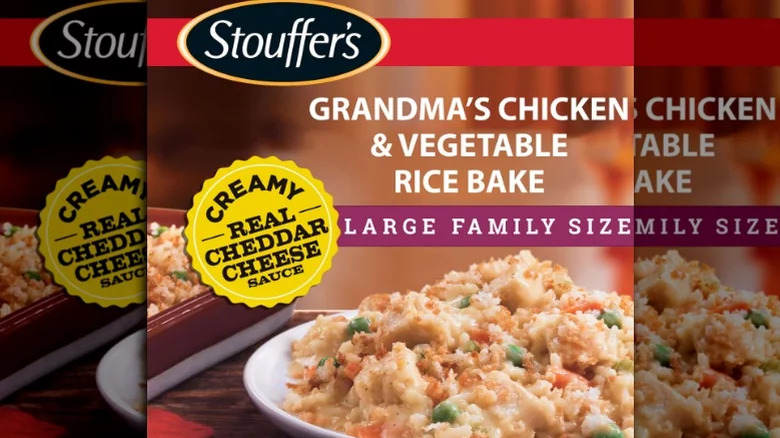 If there is one Stouffer's frozen dinner that sounds like the epitome of comfort food and home cooking, it's Stouffer's Grandma's Chicken & Vegetable Rice Bake. When you hear that, you probably imagine some version of this meal that your own grandma used to cook you when you visited her, and that's exactly what this meal tastes like. Well, sort of. It's not perfect, but it's pretty darn good for a frozen dinner, and if you've had a rough day and just need something warm and filling, then this is perfect.
Stouffer's Grandma's Chicken & Vegetable Rice Bake is exactly what the name would imply: chicken, rice, and vegetables all in a creamy, cheesy sauce and baked together with breadcrumbs to top it all off. Sounds delicious, right? Well, it mostly is. While most of the reviews are good, some people did call out the inconsistencies in the frozen dinner. "But this time I bought it there was ONE piece of chicken, and probably four peas in the whole container," one reviewer explained. But for the most part, the taste is on point and you should definitely give this frozen dinner a try.
Stouffer's Macaroni & Beef is comfort food for anyone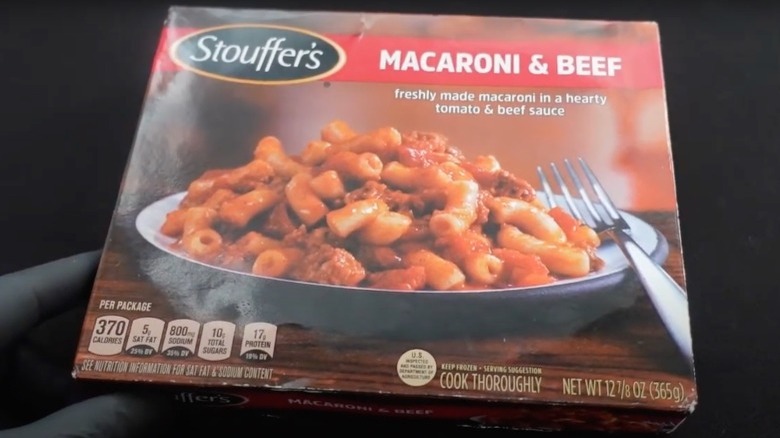 While this might not be the best meal Stouffer's has to offer, it's still pretty tasty. The Stouffer's Macaroni & Beef is exactly what you think of when you hear "Macaroni & Beef." Simply put, it's macaroni noodles in a beef tomato sauce. Basically, it's like spaghetti with meat sauce, but with a different shaped pasta noodle. That said, it's still delicious and pretty hard to mess up, making it one of the best Stouffer's frozen dinners you can buy.
As one reviewer put it, this frozen dinner is definitely a prime example of just how tasty Stouffer's can be. "The recipe is a perfect balance of sweet tomatoes and spices," they explained. "There's plenty of meat and the portion size is just right." If you want a filling meal that's also super yummy and easy, then this could be your answer. And this dinner gets bonus points for being so comforting, too. It's basically like an elevated hamburger helper in half the time, and who wouldn't want that?
Stouffer's Fish Filet is impressive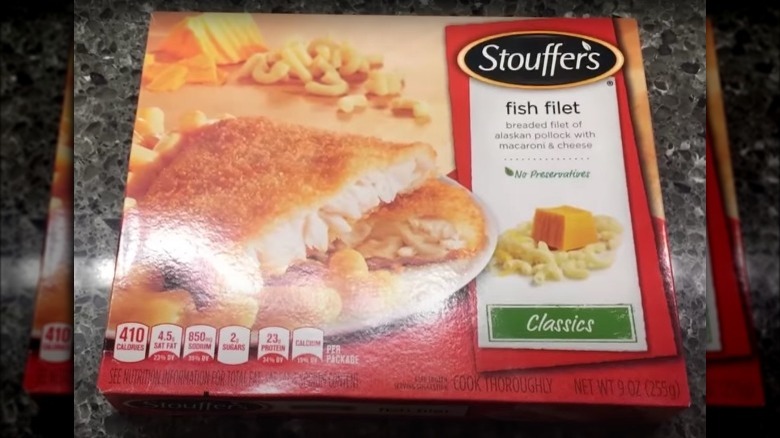 Okay, okay, so a frozen fish dinner might not sound all that enticing, but Stouffer's honestly nails this dish. The Stouffer's Fish Filet is exactly what you want when you're craving fried fish, and it also comes with a side of their macaroni and cheese, which you'll see is honestly amazing on its own. So, don't be afraid of buying a frozen fish dinner, because this one will definitely change your assumptions about just how good it can be.
The Stouffer's Fish Filet is pretty simple: It's just a nice piece of Alaskan Pollock, lightly battered and fried, served with the macaroni and cheese. It's not too heavy, not too light, and seriously flavorful. Want more proof? One person claimed it was almost perfect. "Flaky and moist. Happy it's Pollack as it is a favorite mild fish. Wished it came with a side of tartar sauce but luckily I had some," they wrote in their review. So, if you want to give it a whirl, just make sure you have some tartar sauce because that's pretty much the dish's only fault.
Stouffer's Chicken Fettuccini Alfredo is yummy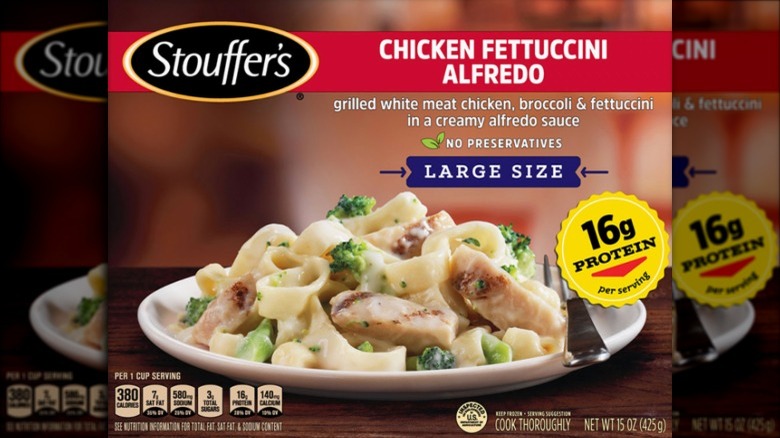 Stouffer's definitely offers a ton of Italian offerings, so what's their best? The Stouffer's Chicken Fettuccini Alfredo is seriously tasty. Honestly, though, it's pretty hard to mess up Alfredo, so it makes sense. Still, this frozen dinner from Stouffer's comes with chicken, fettuccine noodles, and broccoli all in a rich and creamy Alfredo sauce. It's definitely one of Stouffer's best offerings, so if you've got an Italian craving and not a lot of time on your hands, this is one of your best bets.
As reviewer shared, it's honestly the perfect meal. "It is very creamy, has plenty of chicken for a lunch," they opined. "It is perfect for a lunch or lite supper." However, other reviewers noted that the broccoli was sometimes pretty bad. "I love this meal, but lately the broccoli is almost all stems that are too tough to eat," another critic explained, and others agreed. Still, the meal is definitely tasty, but you might want to add in your own broccoli if you want some vegetables to go with it.
Stouffer's Salisbury Steak is super flavorful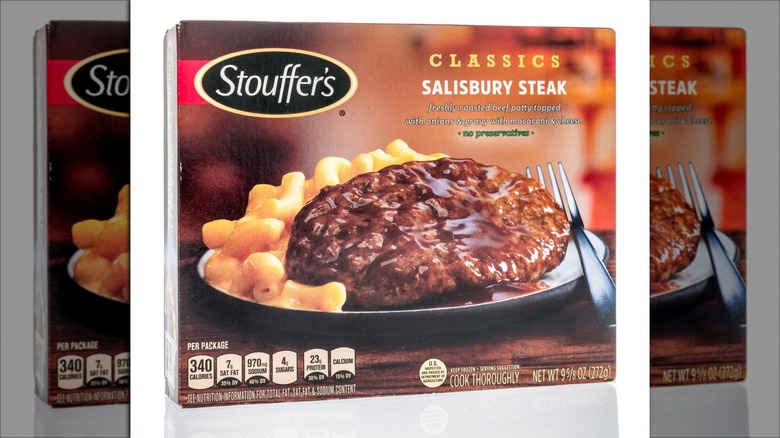 Even if you aren't a big meat eater or have never had a Salisbury steak before, you should give the Stouffer's version a chance. Yes, Salisbury steak might not sound all that good or look very appetizing, or be at all what you consider to be a nice meal, but the Stouffer's version is very flavorful and impressive. In case you don't know what a Salisbury steak is, it's basically just a hamburger patty covered in onions and gravy, and the Stouffer's version also comes with a side of their macaroni and cheese. Basically, Stouffer's Salisbury Steak is super filling and the perfect meal for just about anyone.
According to one review of the frozen dinner, Stouffer's Salisbury Steak was not only delicious, but also pretty good quality. "I was a little skeptical to try it because I'm very picky when it comes to frozen meat dinners … after my first bite … I was hooked!! Very tasty!" The reviewer also went on to add that they were impressed it was made with 100% beef. So yes, it's worth a try.
Stouffer's Macaroni & Cheese is actually so good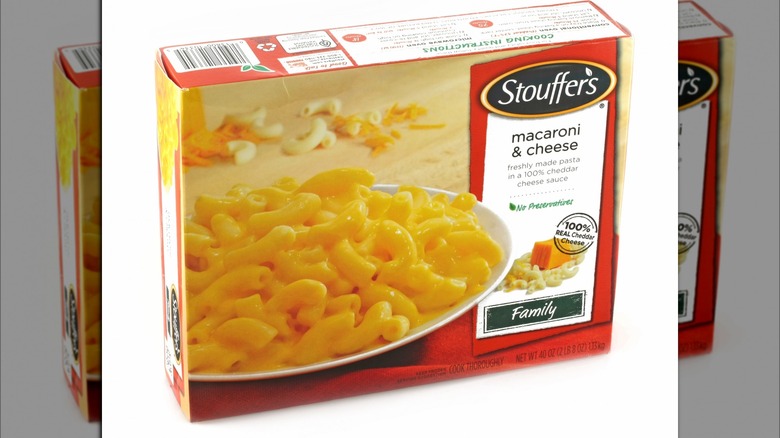 Finally, to save the best for last, Stouffer's Macaroni & Cheese is probably the best frozen dinner they offer. Yes, whether or not you consider mac and cheese to even be a full meal or not, this dish is the most satisfying, filling, cheesy, rich, and delectable dinner Stouffer's has to offer. It's just a classic macaroni and cheese, made with a real cheddar cheese sauce. Stouffer's Macaroni & Cheese is exactly what you want from a mac and cheese, but you can just put it in the microwave, so it's super easy to make. It's a win-win.
Don't believe it? Well, just read this one review and you might change your mind. "I've had Macaroni & Cheese in restaurants famous for the dish," they explained. "I've prepared Macaroni & Cheese from the recipes of Famous Chefs. They've all been disappointments when compared to Stouffer's Macaroni & Cheese." So there you have it! If you only try one Stouffer's frozen dinner, make it their macaroni and cheese, because you won't be disappointed.
Source: Read Full Article