Krispy Kreme's Holiday Items Are Back, and One of the Donuts Looks Like Santa's Belly
One of the most entertaining and fun traditions of the holiday season involves wearing an ugly sweater to a party with a bunch of other people dressed in ugly sweaters. Now, you can wear your ugly sweater and eat it, too, if you will. Krispy Kreme's holiday donuts are back, including the brand new Ugly Sweater Donut.
Krispy Kreme describes the donut as a "tasty new take on the festive ugly sweater trend." The donut is dipped in green icing (the sweater, of course), and then sprinkled with confetti and topped with candy pieces shaped like reindeer and penguins. Just imagine the Instagram opportunities!
View this post on Instagram
What's better than shopping in your pajamas? Shopping in your pajamas with doughnuts. #CyberMonday
A post shared by Krispy Kreme Doughnuts (@krispykreme) on
The returning Santa Belly Donut is jolly on the inside and out. It's filled with chocolate Kreme and the outside is decorated to look like—you guessed it—Santa's belly. Another holiday offering is the Holiday Plaid Donut, which is one of the Original Glazed donuts dipped in icing and decorated in a red and green plaid design. There's a pattern here…perhaps you should enforce Krispy Kreme-inspired attire at your next holiday get together. Guests can pick the donut that matches their outfit best, and then eat it, of course. Sounds like my kinda party!
Krispy Kreme's holiday menu also includes a chocolate iced donut with holiday-color sprinkles. Not as festive as the others, but it still sounds delicious.
Make sure to pick up the holiday sweet treats at a participating Krispy Kreme ASAP, because they're only available through December 24. These are the perfect Christmas morning breakfast, so definitely get a dozen before they're gone!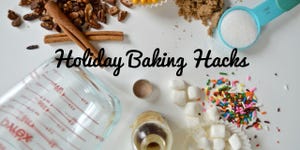 Source: Read Full Article