Do You Need an ID to Buy Groceries? According to Donald Trump, You Do
Grocery stores are perennially among the most loved retailers in America, but that's only when pollsters ask everyday Americans. If they asked Donald Trump, he probably wouldn't be able to name a grocery store. That's because he might not know what a grocery store looks like. Based on some very public comments, we're guessing Trump has never been grocery shopping.
What did Trump say about buying groceries?
During a 2018 rally in Tampa, Donald Trump called for requiring picture ID to vote, just like when you buy groceries.
"If you wanna go out and buy groceries, you need a picture on a card, you need ID. You go out and you wanna buy anything, you need ID, you need your picture. In this country, the only time you don't need it, in many cases, is when you want to vote for a president, you want to vote for a senator, you want to vote for a governor or a congressman."
Huh?
While he's right when he says you often don't need an ID to cast a ballot, you definitely don't need an ID at the grocery store. Cashiers aren't going to ask for identification if you're buying milk, bread, and cheese. Unless you're paying by check or purchasing alcohol, cigarettes, or cold medicine, you can leave your photo ID at home.
What was the reaction when Trump talked about groceries?
As it tends to do, the internet called out Donald Trump in brutal and hilarious fashion. Twitter was ground zero for the snarky comments, including one that incorporated an Arrested Development GIF:
Potential 2020 election foe Michael Avenatti used Trump's comments as a way to play up his everyman status.
In a more measured response, Racked noted that the voter ID argument is one people who believe voter fraud is out of control tend to make.
Are there any states where you need ID to vote?
Donald Trump wants to require photo ID for all voters in every election, but most states already require identification.
Georgia, Indiana, Kansas, Mississippi, Tennessee, Virginia, and Wisconsin require a photo ID, according to the National Conference of State Legislatures. Only 16 states and Washington, D.C., don't ask for any ID before you vote.
Donald Trump's lack of grocery store knowledge is typical for politicians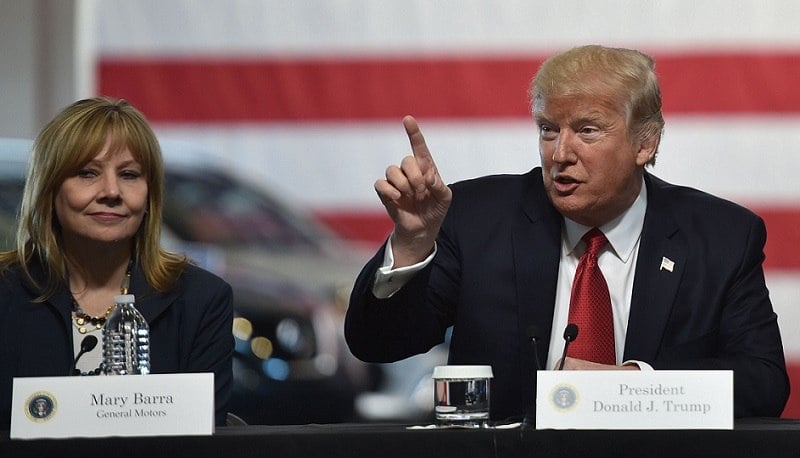 Donald Trump's lack of grocery shopping knowledge is common for politicians. | Nicholas Kamm/AFP/Getty Images
Based on his absurd comments, it seems obvious Trump has never been grocery shopping. Which, when you consider he almost always eats fast food, never has to cook, and is no stranger to weird comments about food, isn't all that surprising. Plus, several notable politicians who preceded him displayed the same lack of knowledge, including presidents.
While campaigning for re-election in 1992, President George H.W. Bush was amazed at what electronic barcode scanners can do, according to The New York Times.
Rudy Giuliani wildly underestimated the cost of bread and milk during his 2007 presidential campaign, according to The Washington Post.
During his first presidential campaign, Barack Obama commented on Whole Foods' prices at an Iowa rally. The state didn't have a Whole Foods at the time.
Source: Read Full Article