20 Whole30 Dessert Recipes To Add To Your Rotation *Now*
Desserts are delicious. End of story. So if you're doing a strict diet like Whole30 that doesn't necessarily encourage traditional desserts, you need a handy little list of the best Whole30 desserts to add to your repertoire instead. Keep reading.
Before you dive in, the Whole30 basics: "The Whole30 diet is a restrictive meal plan that focuses on consuming only unprocessed foods for 30 days," Erin Palinski-Wade, RDN, tells WH. "The goal is to 'reset' your body to curb cravings, reduce inflammation, and improve energy versus focusing on weight loss." Overall, any processed foods, breads, cereals, rice, oats, beans or legumes, dairy-based milk, yogurt, or cheeses are off-limits.
It's definitely a more restrictive diet, which isn't always the way to go depending on your relationship with food."Dieting can lead to thinking with a restrictive mindset, which can unfortunately set you up for making poor choices long term," Marisa Moore, RDN, tells WH. Basically, proceed with caution and definitely consult a doctor before you dive in.
All that said, if you're set on trying out Whole30, here's what you can cook up when it comes to Whole30 and desserts: soft serve ice cream, fudge, fruit bakes, puddings, smoothies, and more. *Licks lips*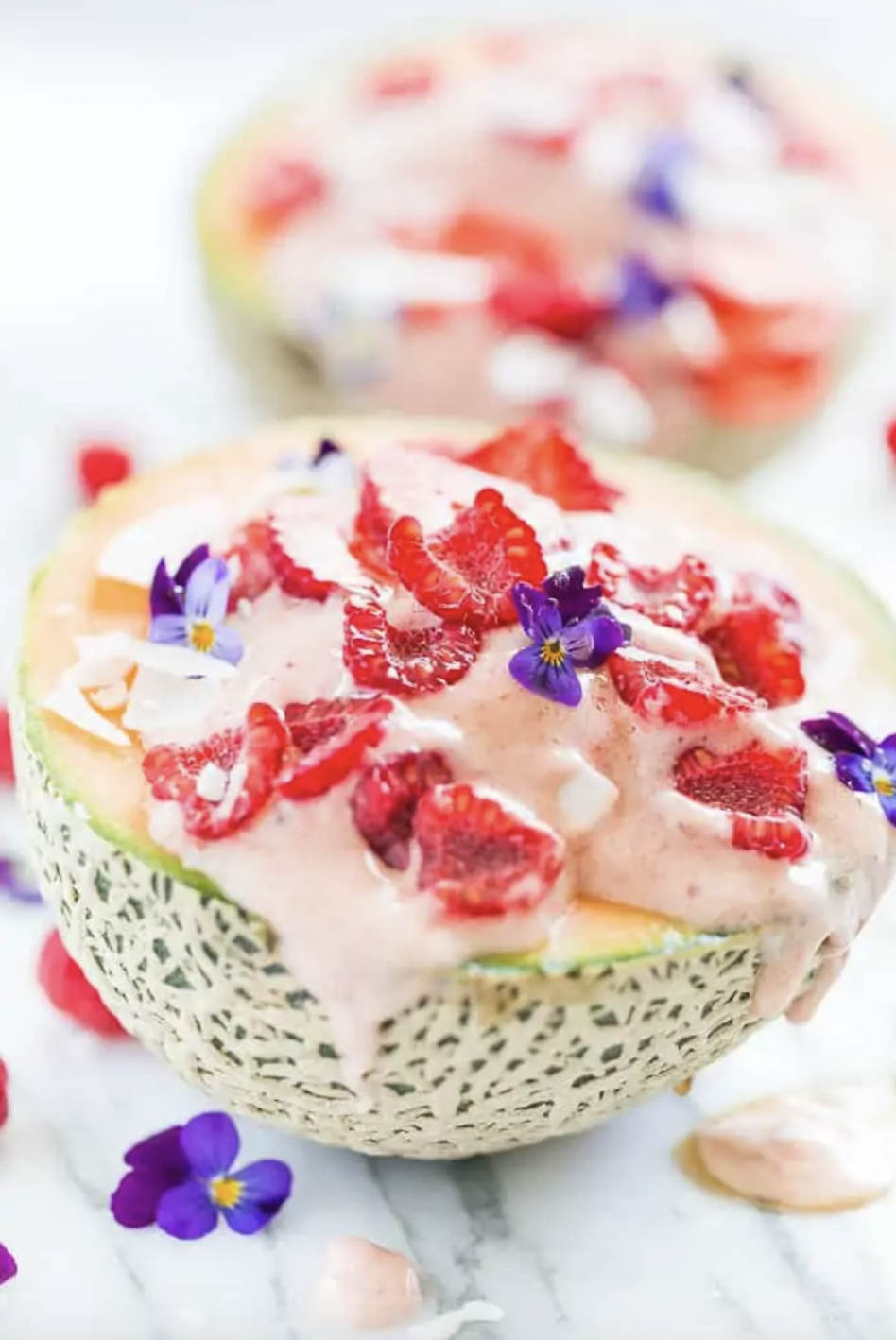 While this beautiful-looking cantaloupe bowl *looks* like real ice cream, it's actually a dupe.Made up of fresh strawberries, bananas, and cantaloupe, this sweet treat creates a soft serve-like (and yummy) texture.
GET THE RECIPE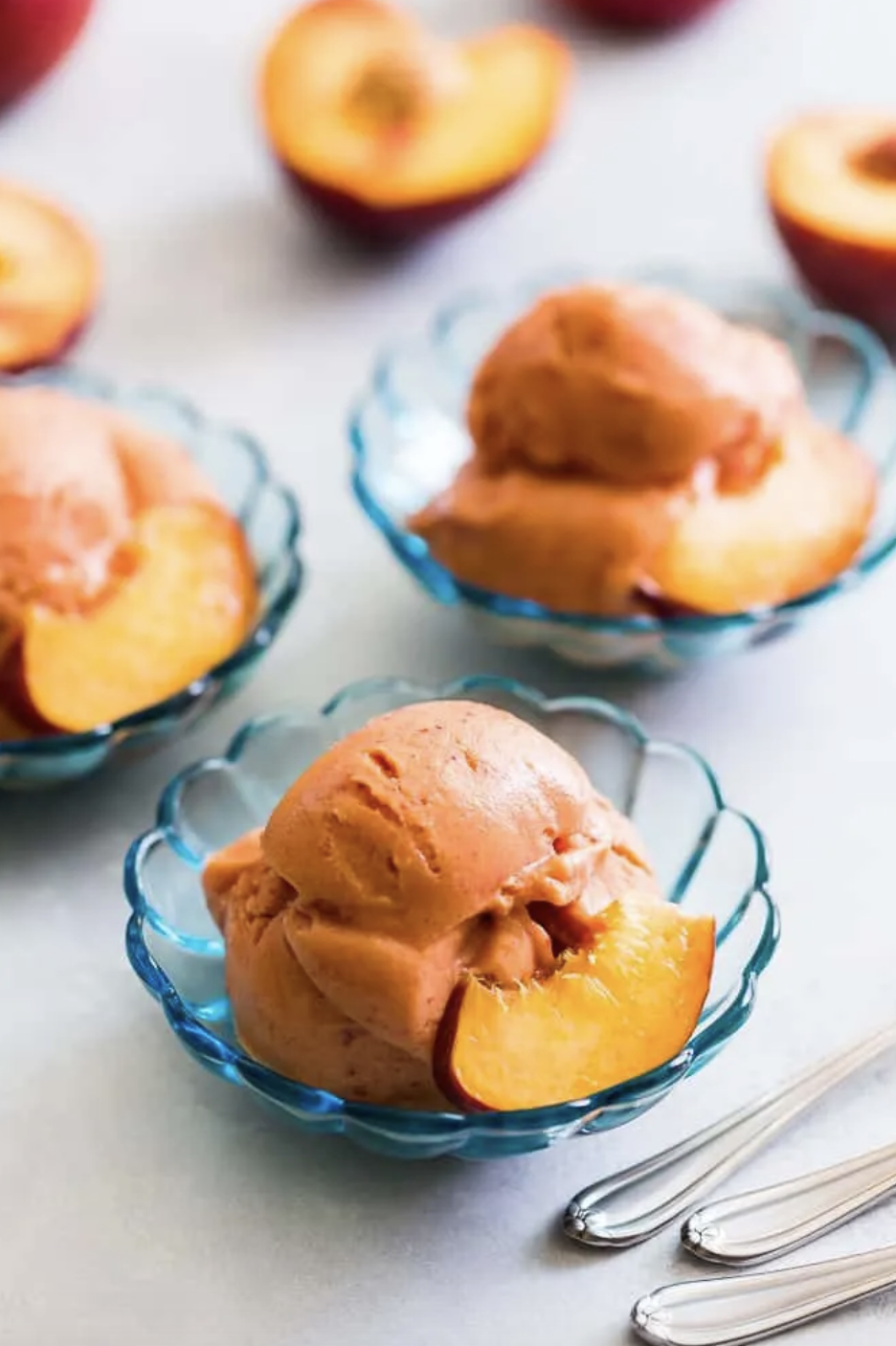 Yum! Another alternative for traditional ice cream, this peach-based soft serve is absolutely everything. And it's only three ingredients: peaches, cinnamon, and lemon juice. You know you love an easy recipe.
GET THE RECIPE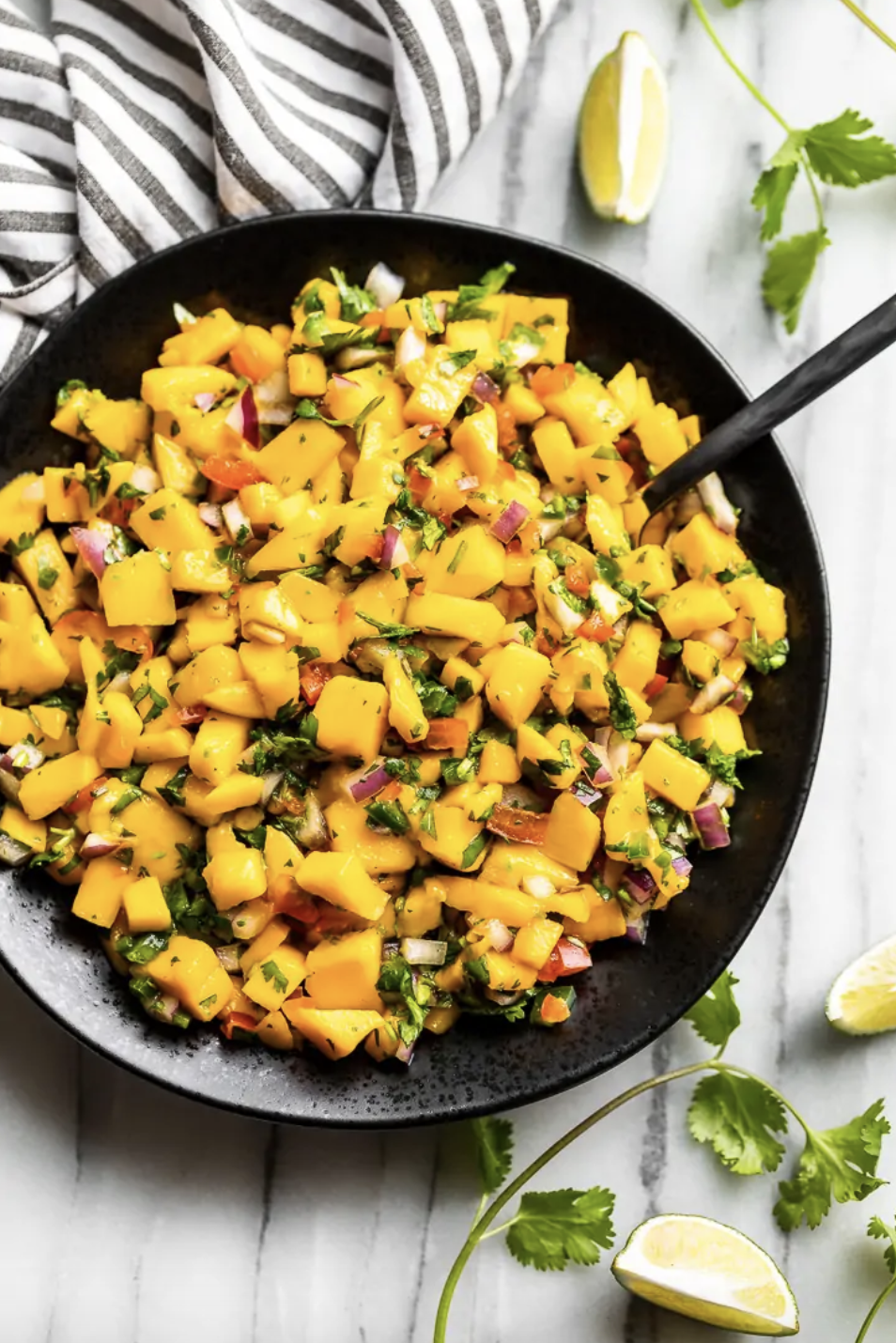 This five-ingredient mango salsa is a sweet and spicy combo. For a little bit of kick in your dessert, try this super-quick salsa with savory ingredients like red onion, cilantro, peppers, and more.
GET THE RECIPE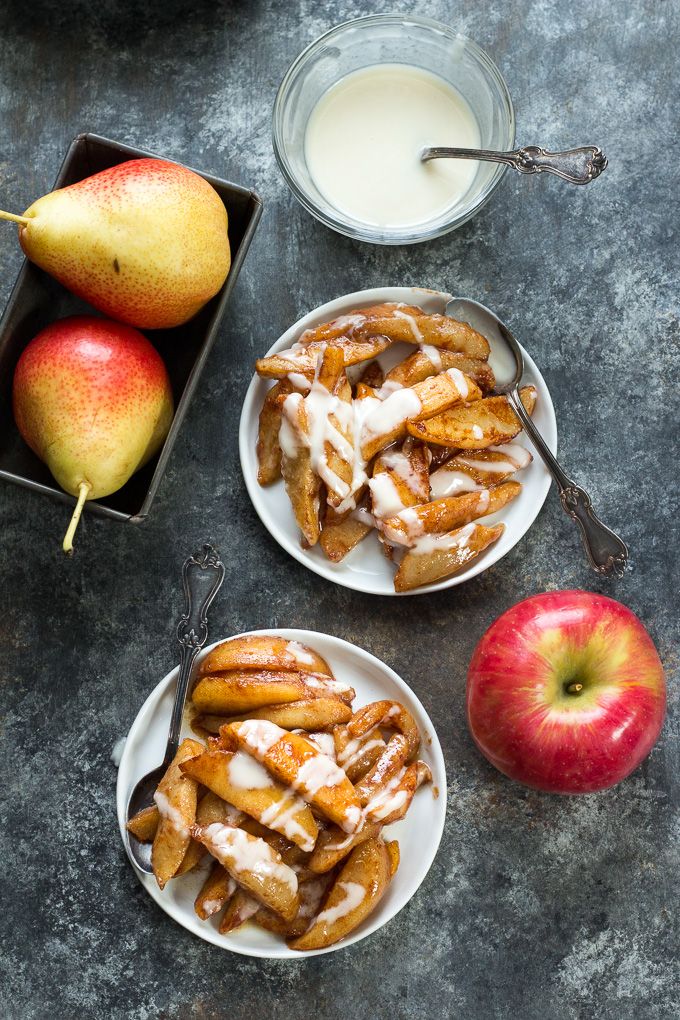 If you're craving apple pie, this dessert will taste similar—in it, you'll be sautéing apples and pears in coconut butter and cinnamon. Soft-textured and sweet, this is a dessert dish you'll definitely drool over.
GET THE RECIPE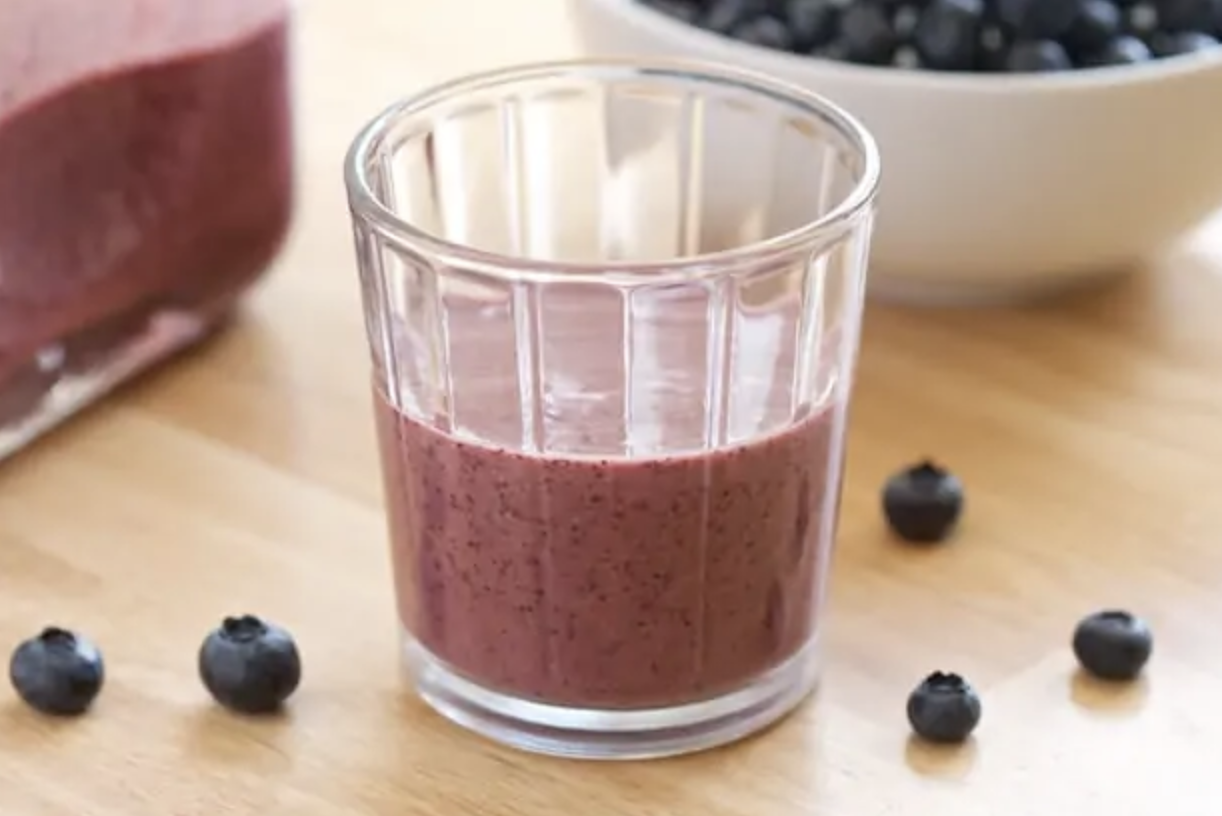 Want something sweet and fruity for sipping? Made with blueberries, coconut milk, peaches, and more, it's the perfect refreshing dessert or energy-revving afternoon snack.
GET THE RECIPE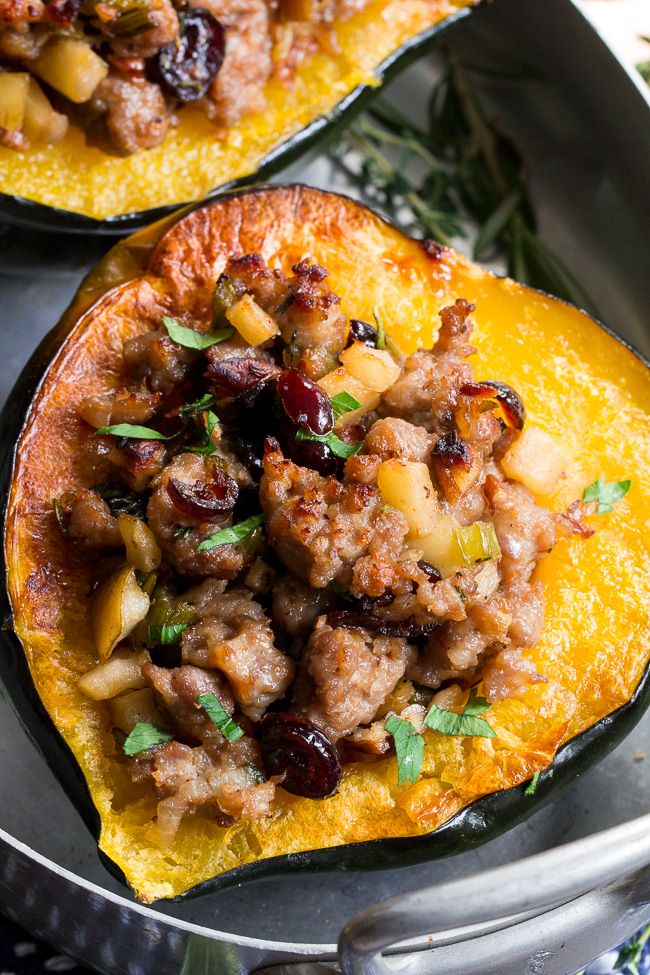 A little bit of a sweet-savory combo, this stuffed acorn squash is the perfect addition to your Whole30 dessert repertoire. In it, you'll get sweetness from the squash and cranberries, crunch from the apples, as well a salty-savory from the sausage.
GET THE RECIPE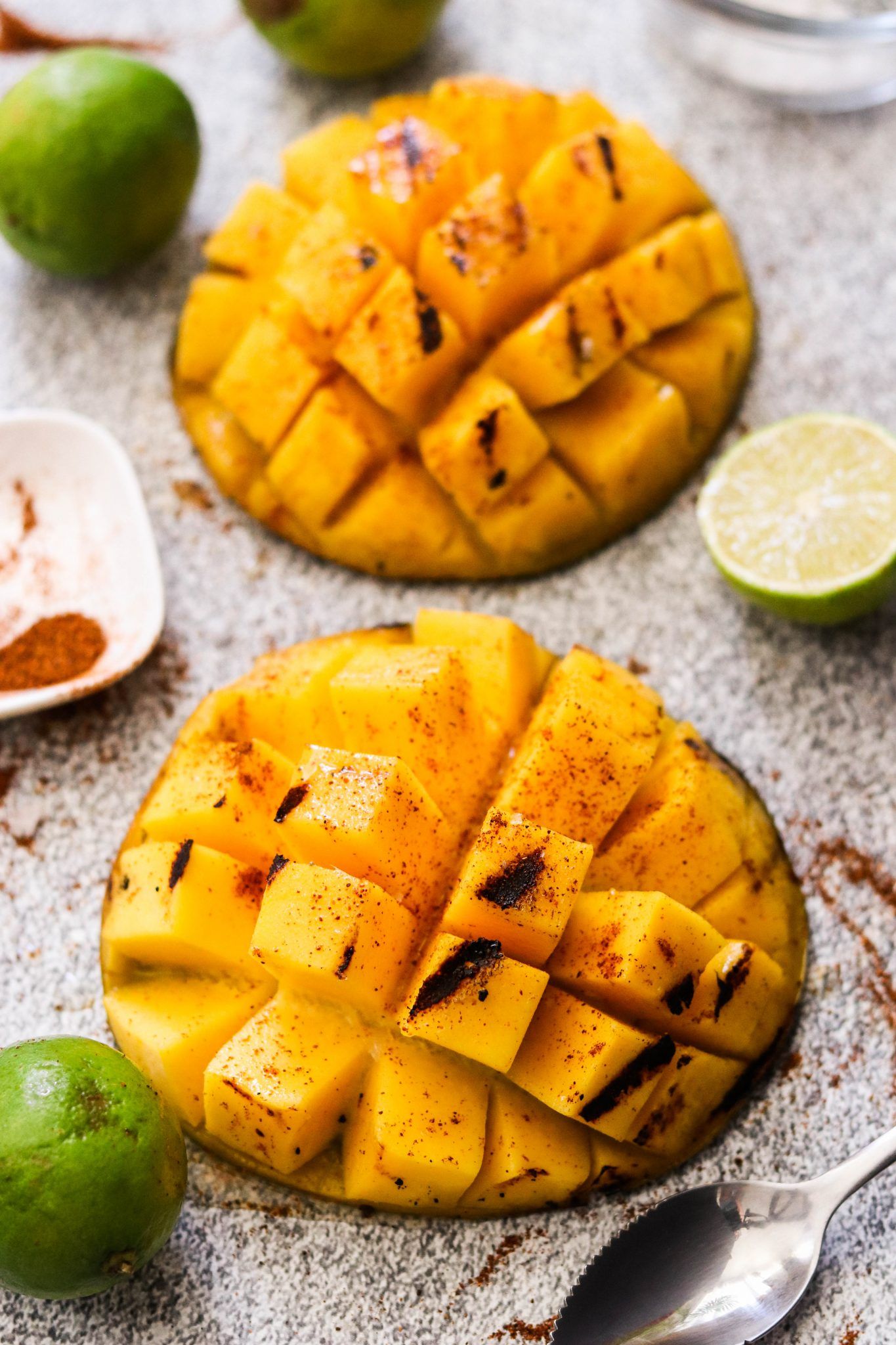 Trust that these chili lime mangos with grill marks are totally *chef's kiss*. From the charred taste from sitting on heat to the ancho chili powder bringing spiciness to the sweet flesh of the mango, this dessert is one to dive into spoon-first and savor ASAP.
GET THE RECIPE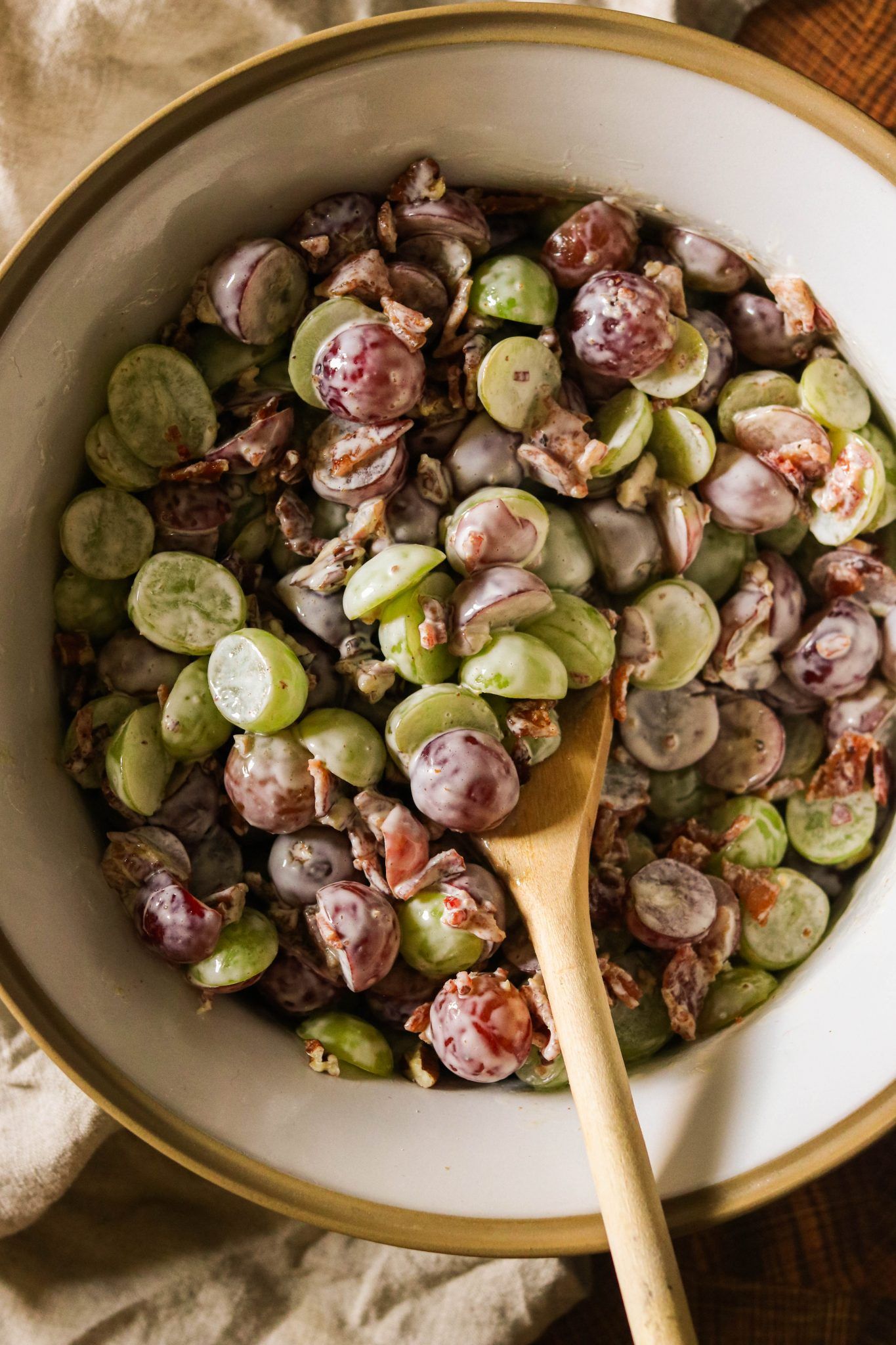 Honestly, sometimes grapes are so sweet they taste like candy—which is why this creamy grape salad with pecans makes for the perfect dessert on Whole30. All the recipe calls for are grapes, bacon bits, pecans, apple cider vinegar, and a bit of mayo.
GET THE RECIPE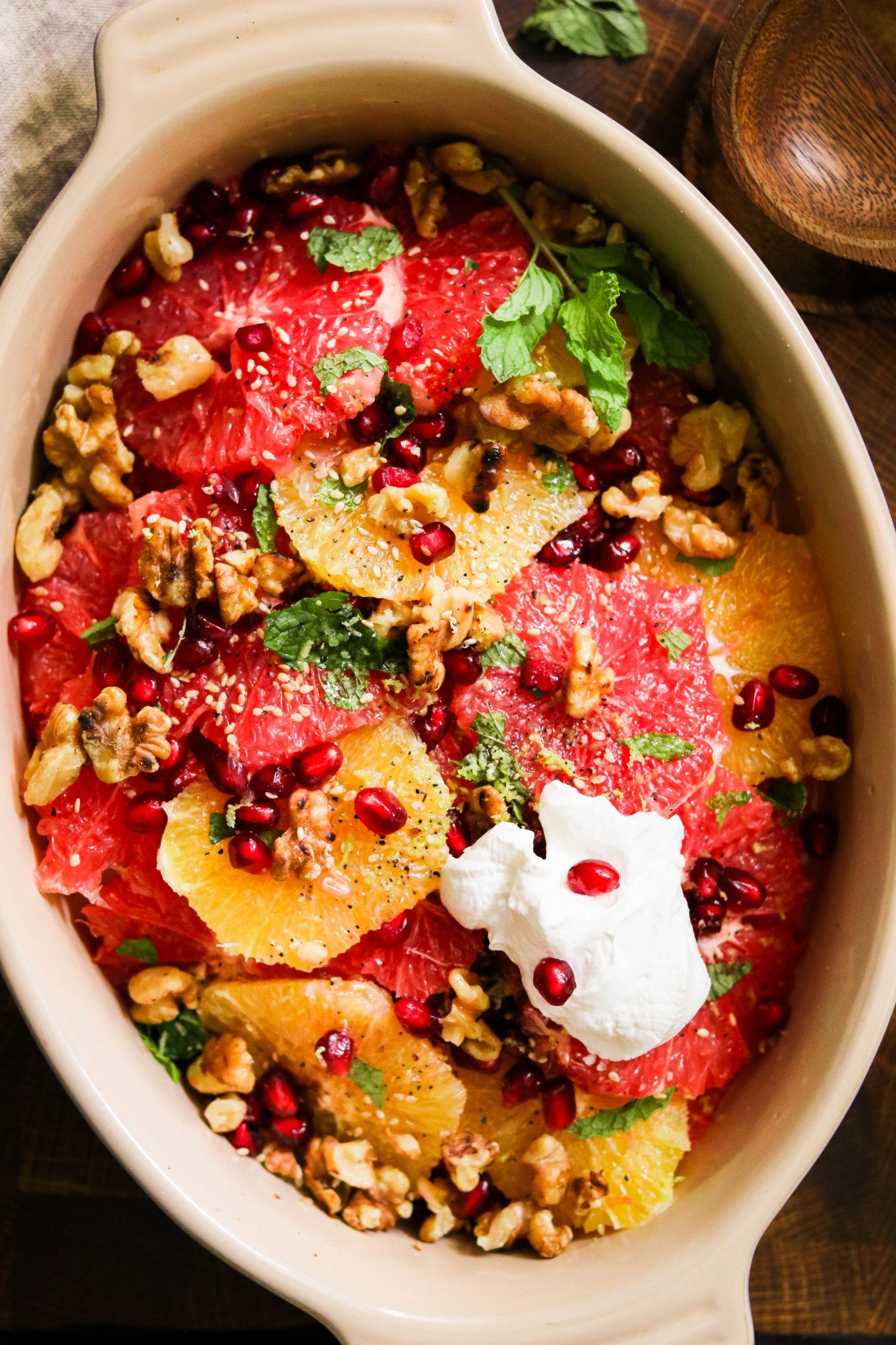 Combine yummy citrus fruits like oranges, grapefruit, lime zest, and pomegranate seeds for the most delicious, antioxidant-packed bowl.
GET THE RECIPE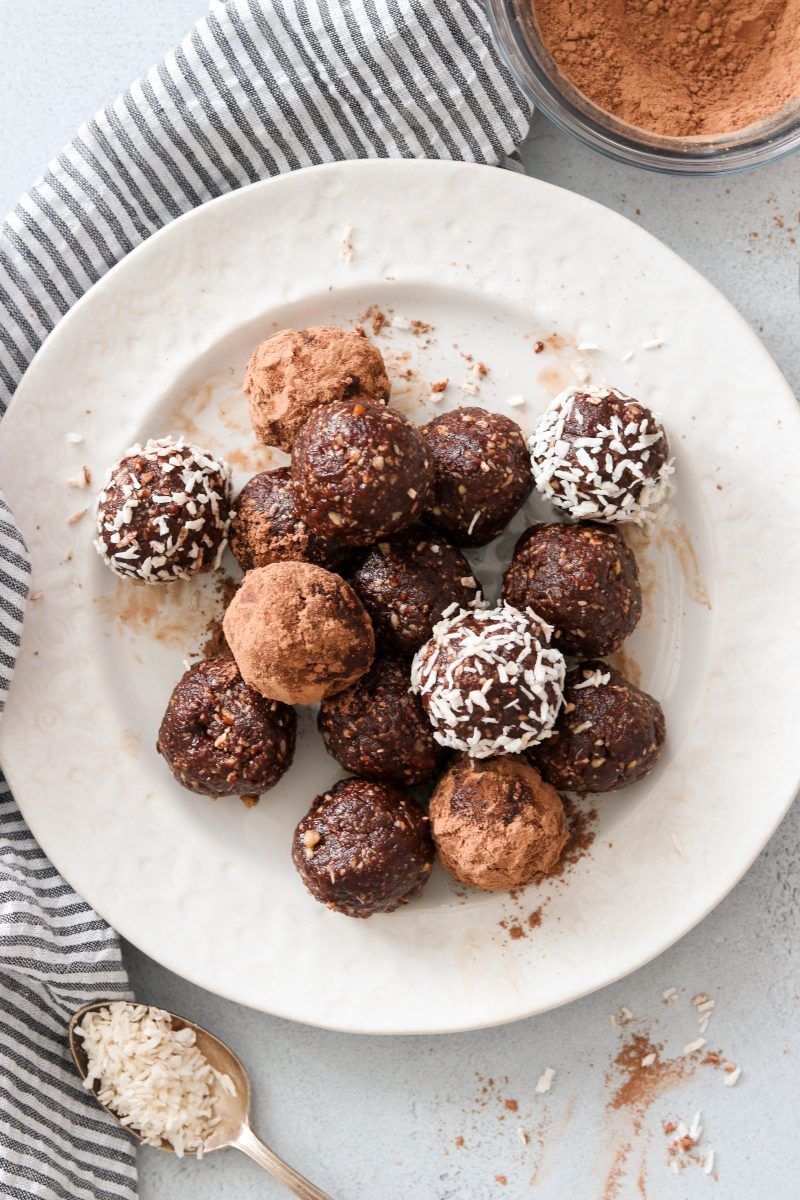 A combo of mushroom powder, nuts, dates, shredded coconuts and more, these chocolate-flavored energy balls are great snack or dessert inspo while you navigate your Whole30 eats. Make them whatever size best suits you and preserve in the refrigerator for up to one week.
GET THE RECIPE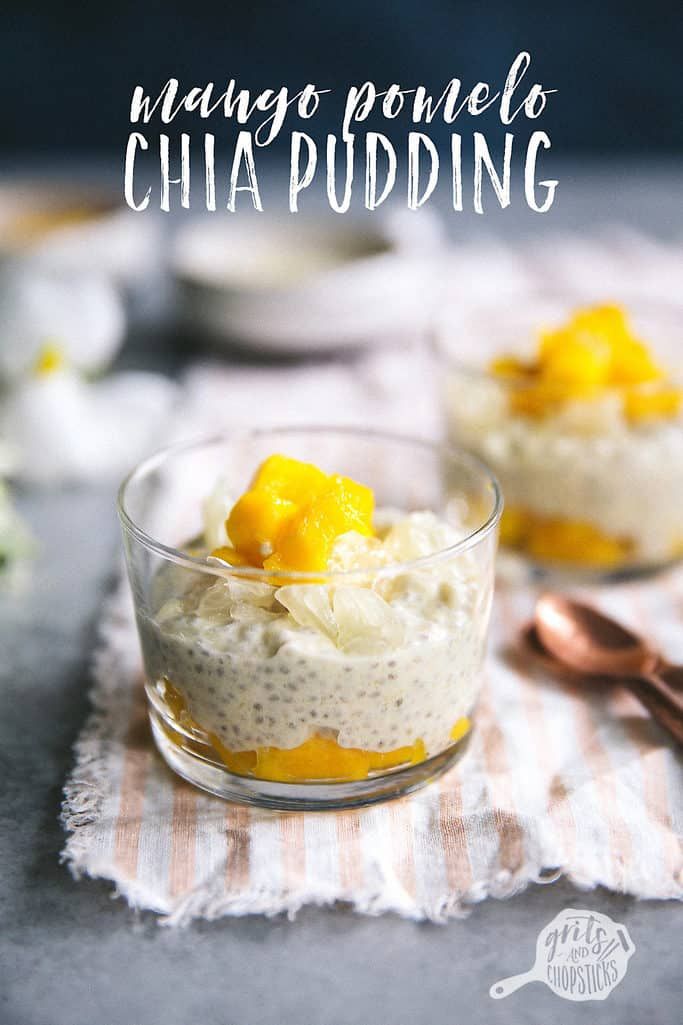 If you haven't tried pomelo, the citrus fruit, it's time to do so by re-creating this mango pomelo chia pudding recipe. From the sweetness of the coconut milk to the tanginess of the fruit, a cup of this recipe is a delightful way to wake up the tastebuds.
GET THE RECIPE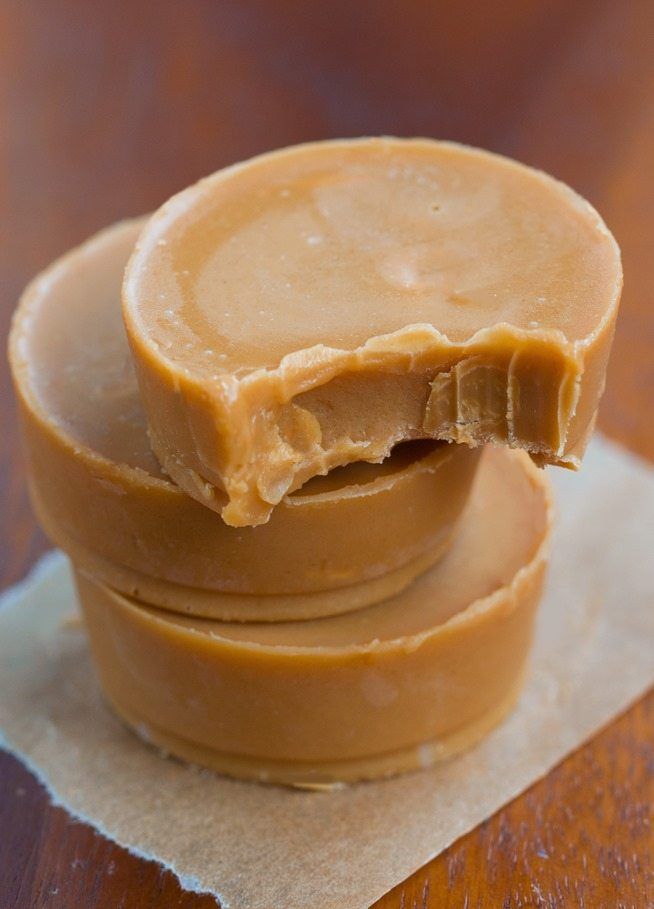 If you love nut butters, you're gonna be veeery into this dessert option. It's an almond butter fat bomb, which tastes like a Reese's cup-esque, satisfying treat. (Plus, all you need is almond butter and coconut oil.)
GET THE RECIPE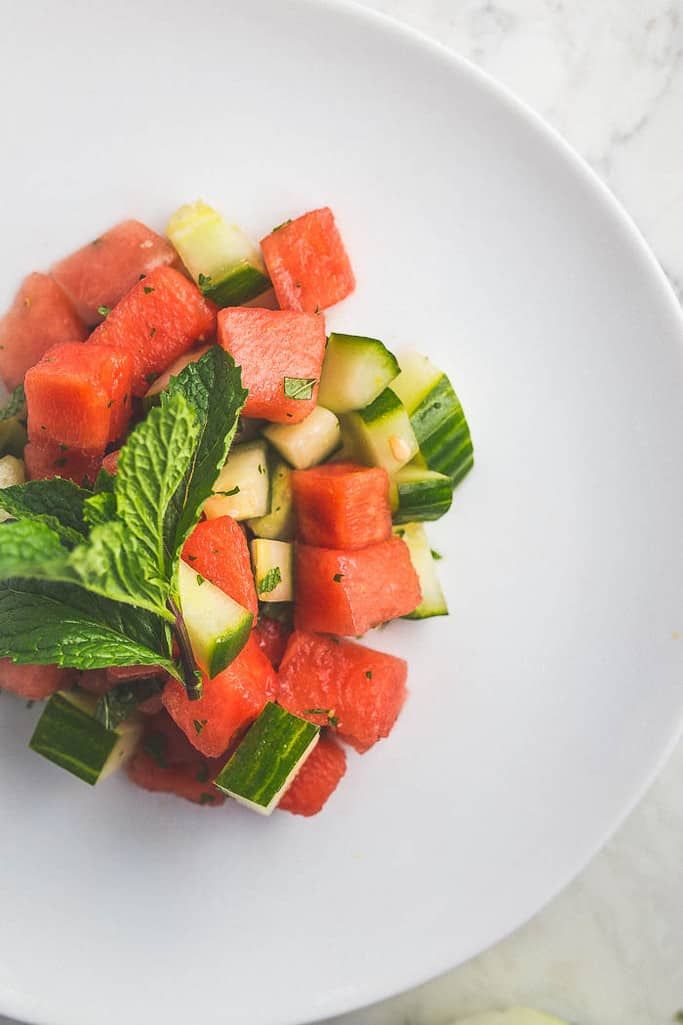 This recipe is super-simple and great for when you're in the mood for something sweet, but still easy. All you need are four ingredients: watermelon, cucumber, mint, and lime. Oh, and 5 minutes.
GET THE RECIPE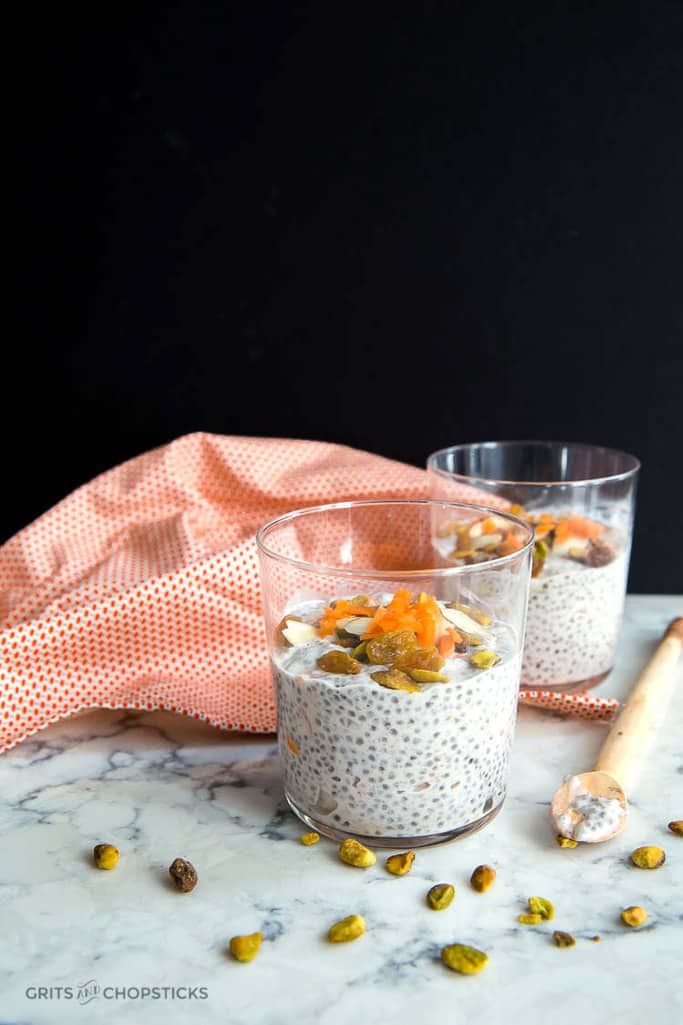 If you're into puddings, this carrot halwa chia pudding is for you. You get crunchiness from the carrot and pistachios, while also lots of sweetness from the coconut milk.
GET THE RECIPE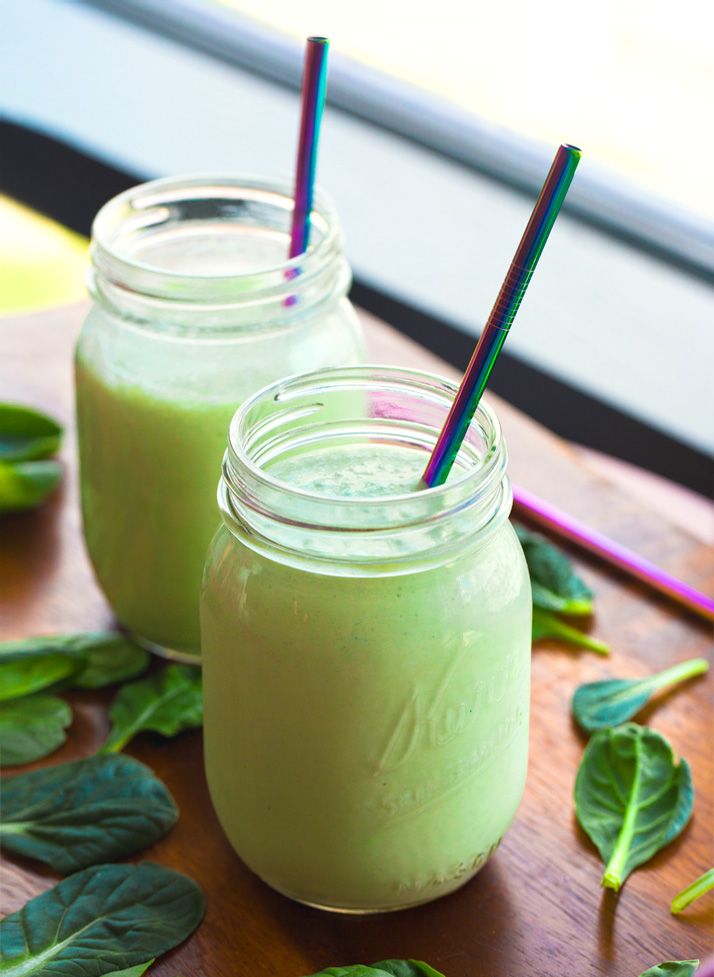 Want a mug packed with all kinds of fruits and veggies? This smoothie is perfect. Pack your blender with raw leafy greens like spinach and kale, add a chopped sweet fruit like pineapple, banana, mango, or cherries, pour in your milk of choice, then combine to your desired consistency.
GET THE RECIPE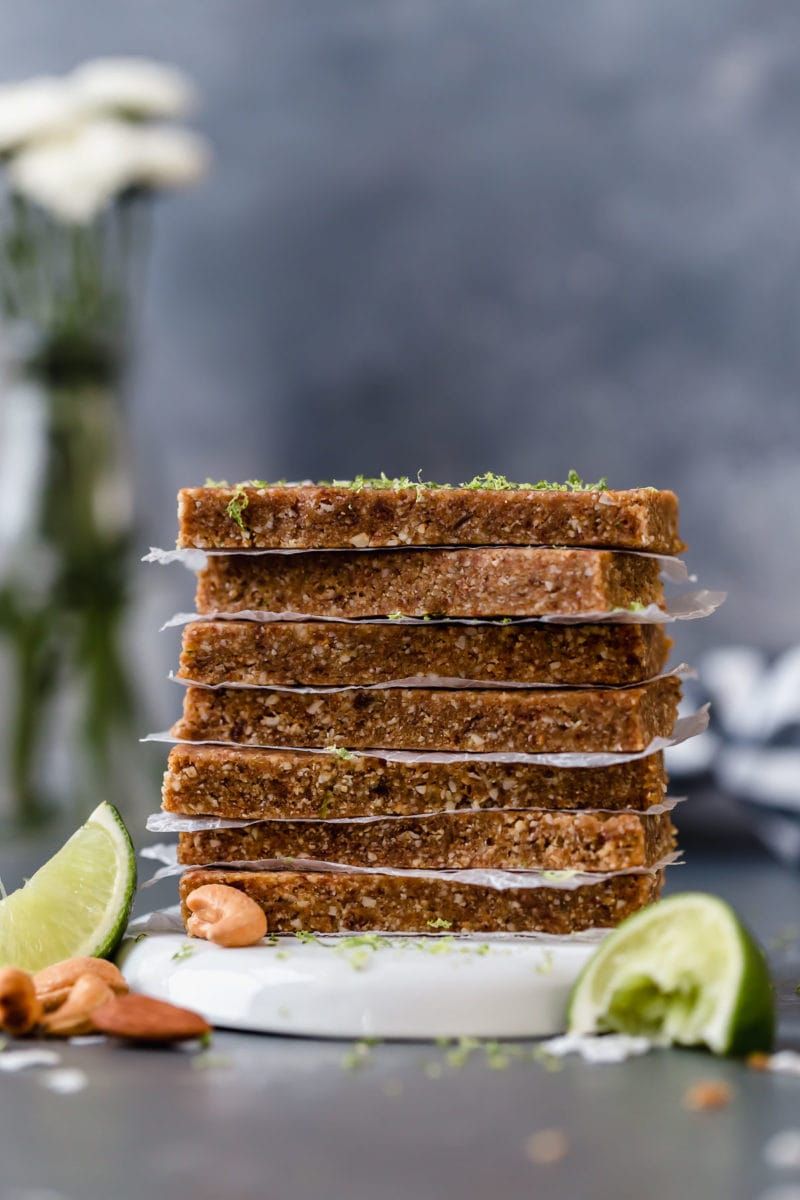 These citrus, sweet, and nutty bars are the perfect snack whether you're on the go or settling in for a night on the couch.
GET THE RECIPE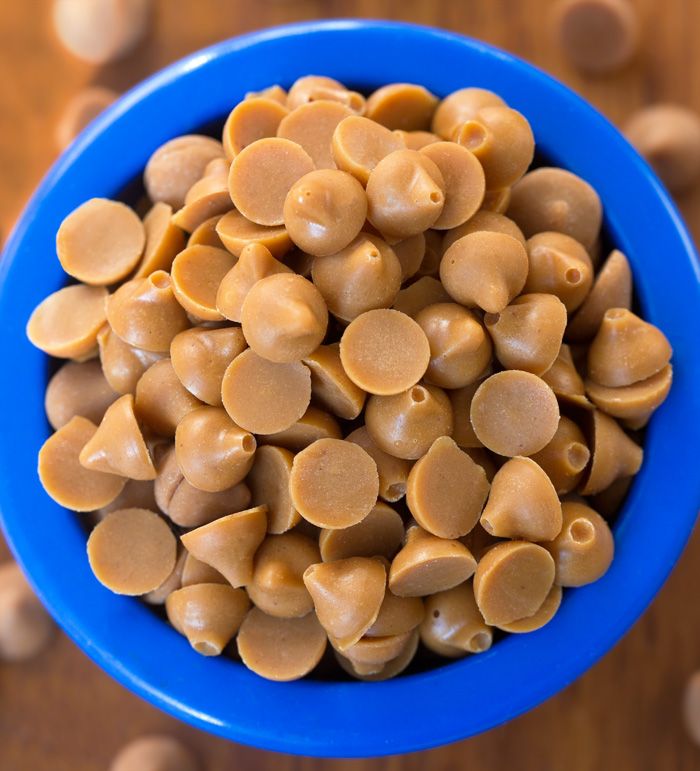 Noshing on chocolate chips is just about the most satisfying and easiest dessert, like, ever. These vegan peanut butter chips have the same vibe, and to make them all you need is peanut butter and coconut oil. (Skip the sweeteners in the recipe to keep these in line with Whole30 guidelines.)
GET THE RECIPE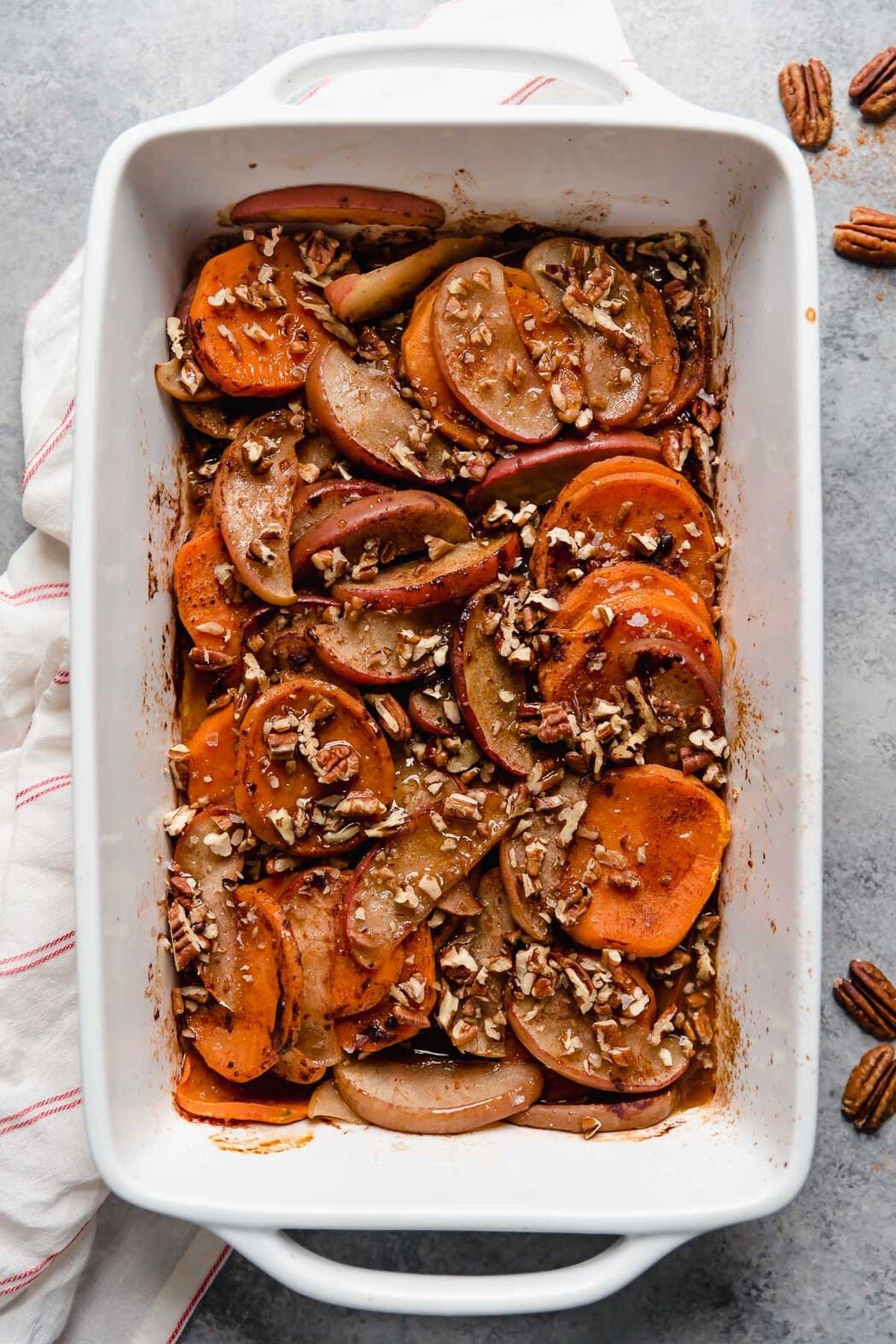 Gather sweet potatoes, apples, cinnamon, sea salt, and ghee, and you're good to start cooking this sweet-savory dish for tonight's treat.
GET THE RECIPE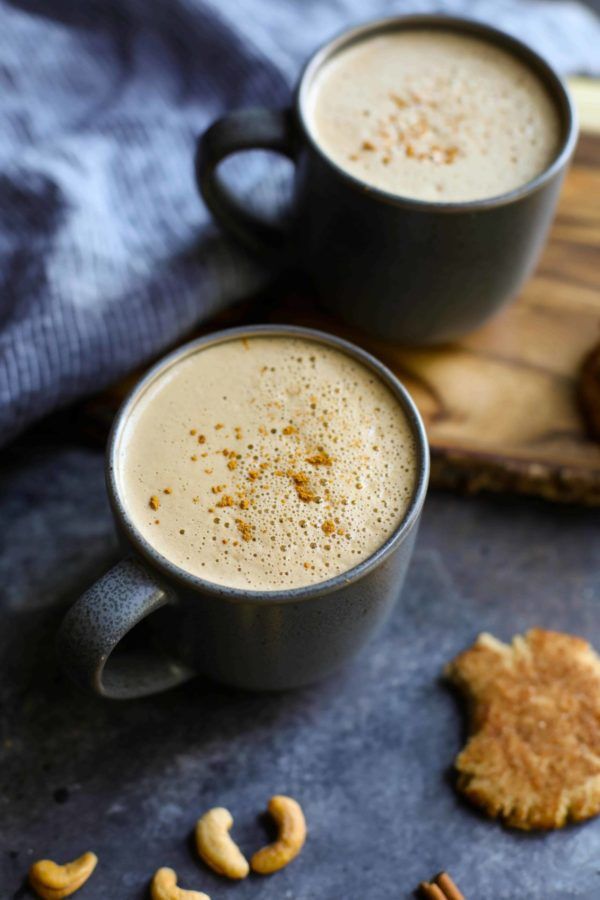 Want to add some ~dessert flair~ to your caffeinated bev? Great. This snickerdoodle cashew coffee creation will satisfy your craving for sweetness while also giving you that boost of morning energy your body (and mind) need.
GET THE RECIPE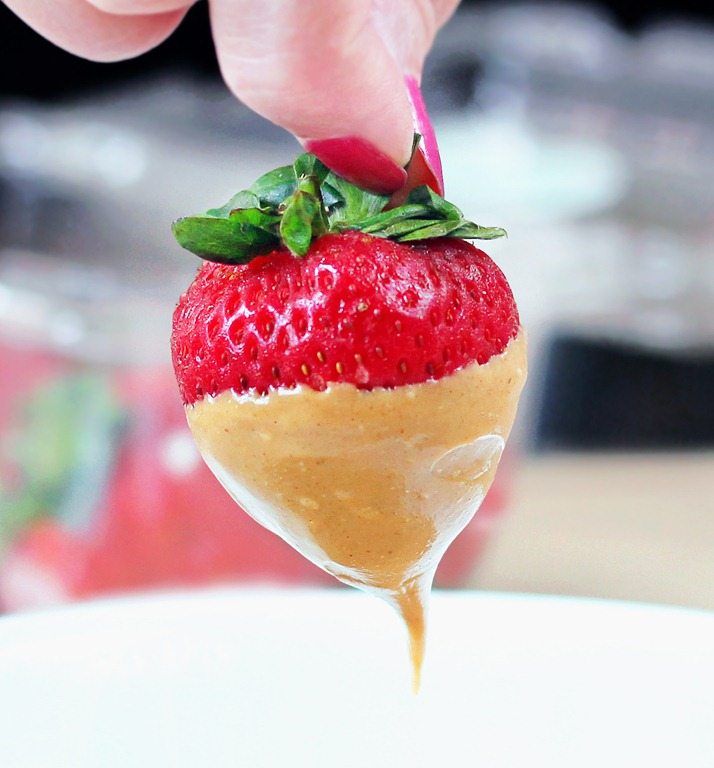 So you've heard of chocolate-covered strawberries, but what about peanut butter-covered ones? Well, they exist, and they're a pretty yummy dupe if you're doing the Whole30 diet. All you need is coconut oil, peanut butter, and strawberries. (You can skip the sweetener in this recipe if you want.)
GET THE RECIPE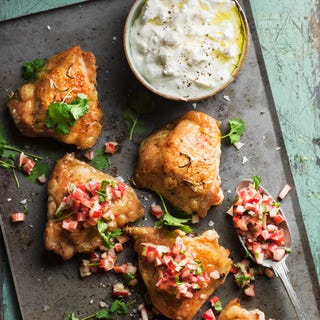 Source: Read Full Article