Nike Leggings Are 40% Off Just in Time for Your 2019 Resolutions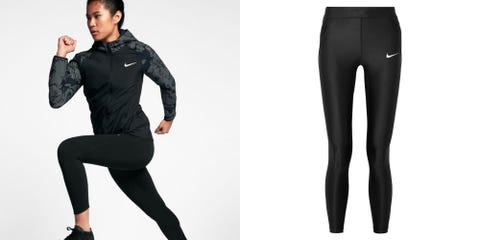 Thanksgiving may be over, but thankfully the memories and the mashed potatoes are still with you. Today marks the beginning of the holiday season, loads of shopping, and reflection on 2018 and what's to come in the New Year…including those resolutions. But your fitness goals don't have to start with the new year. What greater day than Black Friday to stock up on the one thing you always need: Black leggings.
When it comes to picking clothes for intense workouts Nike is an ol' reliable. If it's good enough for the greatest athlete of all time Serena Williams, we're pretty sure they can handle your Tuesday night boxing class. And while we routinely invest in them at full price, a ton of basic Nike leggings are on sale up to 40 percent off at Net-A-Porter right now.
Seriously, their quality is undeniable. Whether you're stepping into the gym for the first time or your burpees involve ungodly activations, there's a pair of leggings for you. Nike offers hyper-specific styles for every level of athletic pursuit, including ones designed for long-distance running, extra-stretchy material made for yoga, and compression gear that can support your muscles mid-squat.
View this post on Instagram
Might go down as G.O.D.(S.O)⚡️✨ Fit to fly today with the @cliniquenz crew! Your turn 🔥💥 #CliniqueFit #ohmygodso #NZ
A post shared by KIRSTY GODSO (@kirstygodso) on
View this post on Instagram
💪🏾👸🏾✨ @naomi Early Sunday work never easy but it gets done Hanging Ab Raisers focused on controlling movement Post Hip Opener, Back Leg Elevated Split Squat with Front Load Sand Bag to solidify control through new found range w/anterior core control Save this and to your arsenal. Tools don't need to be complicated, just used correctly 💥 #Ochosystem #NikeTraining
A post shared by Joe Holder (@ochosystem) on
Prep for New Year's resolutions and add a few to your cart at Net-A-Porter's notorious sale (and maybe throw in a Prada bag while you're at it ) before they sell out.
From: ELLE US
Source: Read Full Article