7 most outrageous royal fashion moments: From Princess Kate's sheer dress to Sophie Wessex's midriff
"Outrageous" isn't an adjective typically used to describe the royal family's sartorial choices. From dignified coat dresses to symbolic garments and spellbinding red-carpet looks, the royals have become professionals at swerving scandalous fashion moments.
Yet before Kate Middleton became the Princess of Wales, she was a typical university student armed with an arsenal of risqué clubbing outfits, including the legendary sheer dress which caused Prince William's head to turn.
Princess Anne's unmatched style has also reigned supreme over the years for its unapologetic boldness, as has Queen Elizabeth II's rainbow wardrobe, which has since become synonymous with her reign.
Despite the royal's efforts to preserve the diplomatic way of royal dressing, there are odd occasions where rebellious royal ladies have turned a blind eye to the rules. Not sure what they are? Remind yourself in the clip below…
WATCH: All the strict style rules royal ladies have to follow
From jaw-dropping dresses to shocking wedding guest outfits, take a look at some of the most outrageous royal fashion moments in history…
Kate Middleton's sheer dress

Princess Kate famously caught Prince William's eye when she rocked a sheer mini dress on the runway of a charity fashion show at St. Andrews University back in 2002.
Prince William paid £200 for a front-row seat and is said to have turned to his friend and whispered, "Wow, Kate's hot!" when it was her turn to walk the runway at St. Andrews Bay Hotel.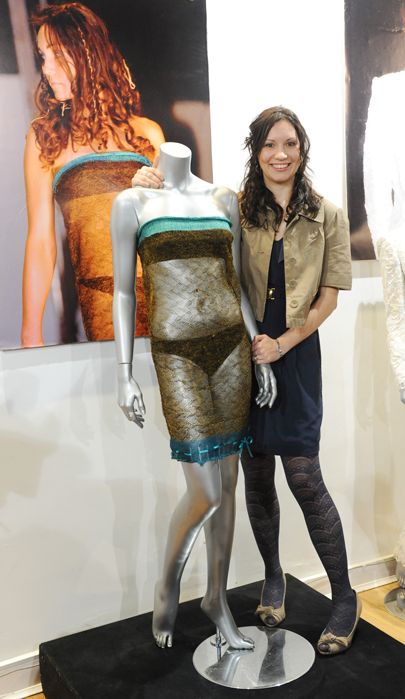 Designer Charlotte Todd, who spent £30 to make the silk dress, went on to sell the iconic number for £78,000 at a Kerry Taylor auction, despite previously saying that she wouldn't put it up for sale.
TRENDING: Princess Kate's most shocking fashion mishaps she handled like a queen
Princess Anne's floral frock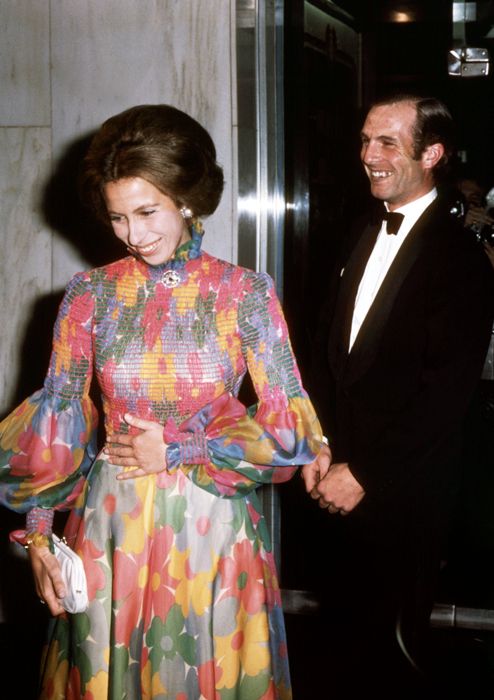 At 72, the Princess Royal's sartorial prowess continues to shine, though we simply can't forget this fun and fabulous fashion moment from 1973. Princess Anne's floral getup may have been conservative in design, but its larger-than-life print and rainbow colouring crowns it one of the royal's boldest outfits of all time.
Queen Elizabeth II's harlequin dress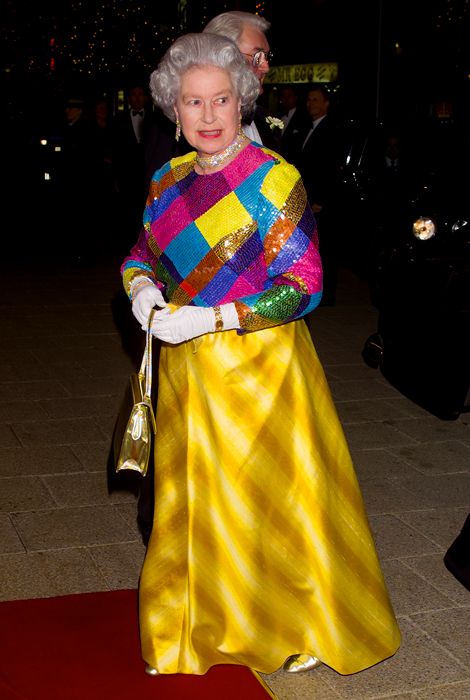 Her Majesty The Queen was no stranger to a colourful outfit, though no look dominated headlines quite like her glittering harlequin ballgown worn to the Royal Variety Performance in 1999.
At the time, The Daily Mirror declared her "The HarleQueen," while the late monarch's dressmaker, Maureen Rose, described the outlandish ensemble as "a complete change," adding, "We are trying to show her off a bit."
RELATED: The Queen's life in fashion: unwavering loyalty, stoic simplicity and of course, unrivalled majesty
Meghan Markle's ripped jeans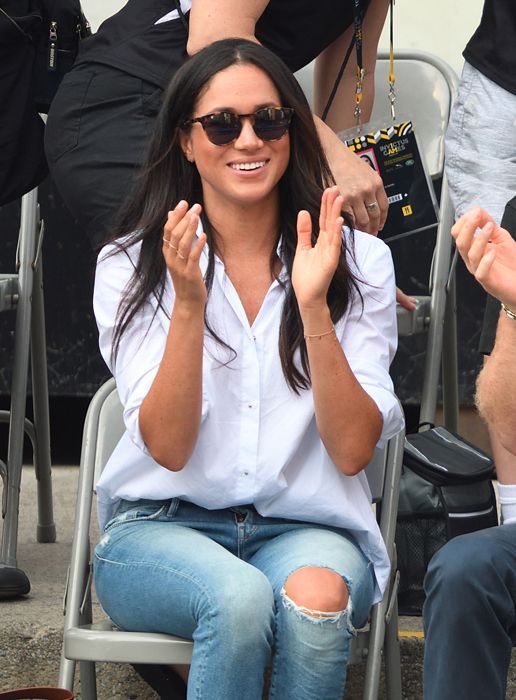 The Duchess of Sussex wasn't officially a royal when she rocked a pair of distressed denim jeans at the Invictus Games, but they certainly caused a stir. Royal style etiquette would have certainly forbade the ultra-casual rips at the knees and light-wash colour, even if they were deemed incredibly fashionable at the time.
Princess Diana's revenge dress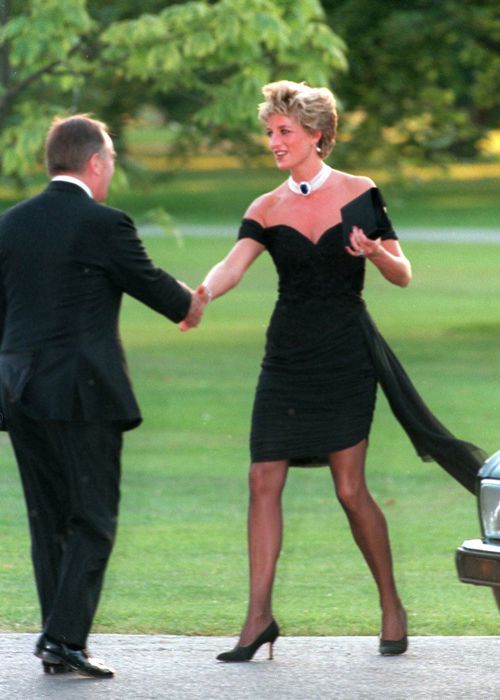 The late Princess Diana's post-divorce 'revenge dress' has gone down in royal history. The newly-single Princess of Wales served up the ultimate scene-stealing moment in a dress which depicted everything a royal woman wouldn't have worn to a public event, at the time.
Low cut, thigh-skimming, and in a hue typically reserved for periods of royal morning, Julia Peyton-Jones, former Director of the Serpentine Gallery, recalled the moment Princess Diana stepped out of the car wearing the iconic midi.
"As she got out of the car, it was impossible not to gasp," she said. Outrageous indeed!
Princess Beatrice & Princess Eugenie's wedding hats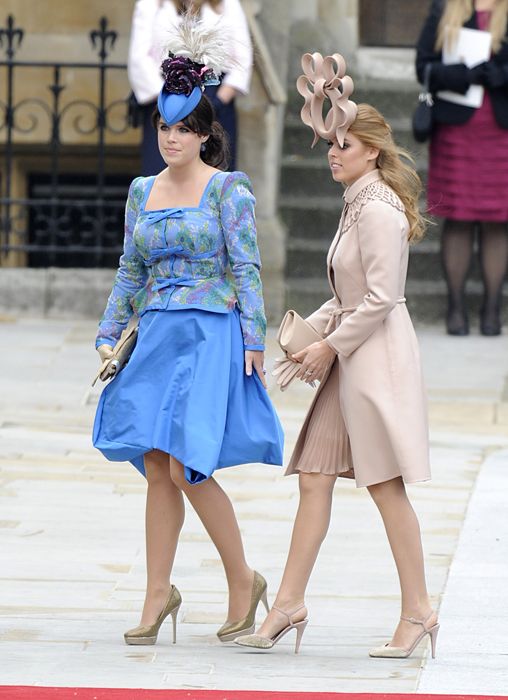 Princess Beatrice and Princess Eugenie dominated headlines at the wedding of Prince William and Kate Middleton, though not necessarily for the right reasons.
The royal ladies' larger-than-life fascinators were certainly a modish take on traditional wedding headwear, though they were quickly dubbed a major fashion fail by royal fans – and even became a popular Halloween costume the following year.
Irish milliner Phillip Treacy, who designed Princess Beatrie's headpiece, spoke about the incident on BBC Radio 2. "There was a moment where I thought I would find myself with my head on a spike outside the Tower of London," he told presenter Kirsty Young.
"But it was a very modern hat and modernity is always unusual things."
Sophie Wessex's sheer midriff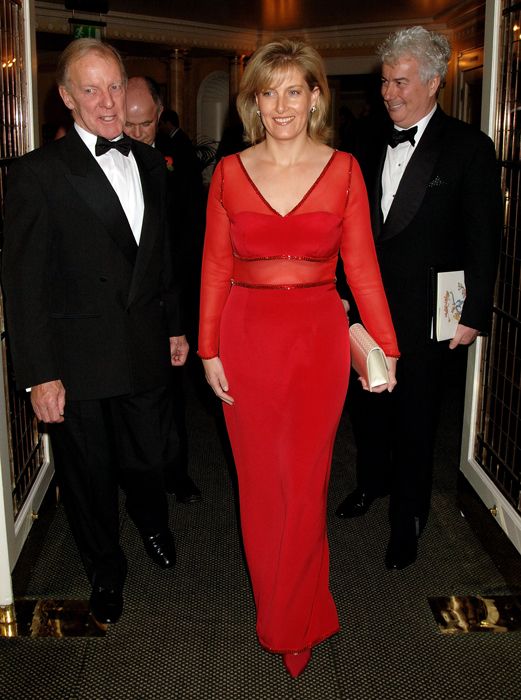 The Countess of Wessex and Forfar is typically an emblem of royal style perfection. Her penchant for feminine fits, elegantly tailored pantsuits and timeless pieces have long dubbed her one of the best-dressed royal ladies.
This red-hot sheer dress moment back in 2005 would have certainly raised some eyebrows, however. We love the royal's risqué sheer midriff and structured bustier design on this figure-flatting frock – though there's no denying it's a rather unroyal ensemble.
Want more royal style? Discover the secrets of Princess Kate's impeccable royal tour wardrobe in HELLO!'s Right Royal Podcast.
Source: Read Full Article