Roger Dubuis Gets Behind The Wheel of Lamborghini Countach With Twin Tourbillon Limited Edition
Lamborghini's watchmaking partner, Roger Dubuis, has just dropped its timekeeping equivalent of the Italian marque's latest masterpiece, the Countach.
Just as the new Countach has been built from scratch, the new 47mm Excalibur Spider Countach DT/X has been built from the ground up, closely following the development of the car.
The RD112 movement which powers the watch – and also references the number of cars being built – includes twin tourbillons, connected by a differential and mounted at a 90 degree angle to compensate for the effect of gravity on two axis.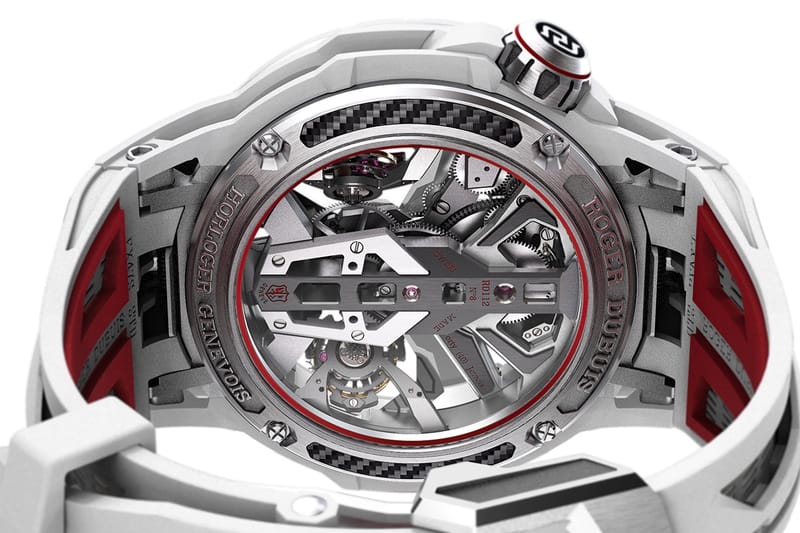 Roger Dubuis
Lightweight titanium tourbillon cages also makes them easier to drive, allowing for a 72-hour power reserve, while Mineral Composite Fibre – color-matched to the Bianco Siderale white used for the car – is used to form the case and decorative elements of the movement.
The Excalibur also reflects the aesthetics of the car, both on its dial between the tourbillons, where the engine bay vents are replicated, and in the skeleton movement reproduces the angular bodywork. The Countach's red and black interior is also referenced throughout the watch, from movement components to the lining of the three-dimensional, mesh reinforced rubber strap.
Just eight pieces of the $720,000 USD watch will be offered via Roger Dubuis.
Elsewhere in watches, the Pink Dial Project gears up for charity auction of unique pieces.
Source: Read Full Article