Pressing Replay: How Artists in 2021 Are Bringing Back That Signature '80s Sound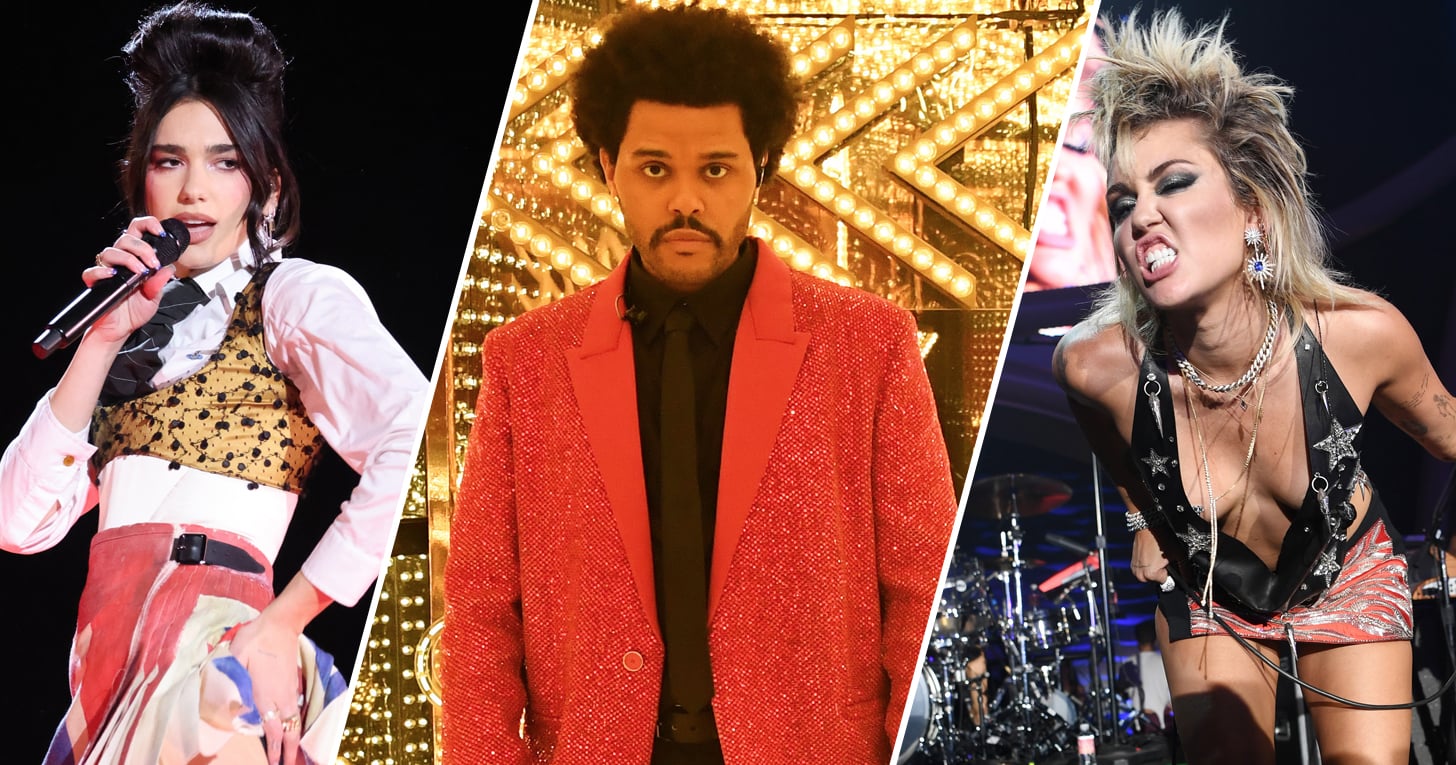 Image Source: Getty / JMEnternational, Getty / Kevin Mazur, Getty / Denise Truscello
Click through your recommended TikTok sounds and you might find Fleetwood Mac's "Dreams" sandwiched between Doja Cat's "Say So" and MGMT's "Little Dark Age." Even for those who weren't alive to hear these hits on the radio firsthand, TikTok has helped resurface dozens of musical gems from decades past that introduce us to new artists, new genres, and lend insight to a time that parallels our own in striking ways.
The return of these hits has even spilled over into pop releases from artists like Lady Gaga, Miley Cyrus, Dua Lipa, and The Weeknd, bringing with them a vibrant energy reminiscent of the '70s and '80s. Maybe it's the guitars shaped like lightning bolts or the shaggy hairstyles, but the retro music era has not-so-quietly slipped its way back into our lives at exactly the right time and with a surprisingly similar effect as the first time around.
Blurring the Lines Between the '80s and the 21st Century
With the release of his After Hours album in March 2020, The Weeknd didn't just debut punchy new melodies. He also had a new look that shook the musical sphere like a snowglobe that turned back time. Sliding into our lives just a week after the first official lockdown orders of the COVID-19 pandemic were mandated, the album unintentionally set the tone for one of the most influential moments in recent world history.
"Blinding Lights" rapidly became a chart-topping hit, making history as the No. 1 song in Billboard Hot 100 history. "['Blinding Lights'] really sort of re-energized the Top 40 in a way that not a lot of songs had in recent years," Andrew Unterberger, deputy editor for Billboard, told POPSUGAR. Unterberger also pointed out that the song's double tempo beat and snappy handclaps create hesitant energy that builds over the course of the song, making heads buzz and emotions explode when that second chorus hits.
Meanwhile, other artists like Lipa, Gaga, and Cyrus have unveiled their own pop-rock albums, laced with heavy guitar solos and guest vocals from some of the top '80s music legends. Gaga's Chromatica revives the urgency of pop, while Jessie Ware's What's Your Pleasure? illuminates what it was like to be alive and in love in a time long behind us. Cyrus's Plastic Hearts features stars like Billy Idol, Joan Jett, and Stevie Nicks, and it follows through with unmistakably '80s songs like "Prisoner," featuring Dua Lipa and "Bad Karma," featuring Joan Jett. Cyrus also interpolated Stevie Nicks's 1982 hit "Edge of Seventeen" with her own "Midnight Sky" for a duet that transcends the divide between old and new.
And like a love letter to the disco-pop era, Lipa's Future Nostalgia immerses people in the funky, upbeat pop culture atmosphere of the time. Her song "Physical," inspired by the 1983 movie Flashdance, marries synth and heavily processed bass into an uptempo track, while "Cold Heart," featuring Elton John, emits the space-age rhythm and dancy drumbeat of a go-to club hit. From "Don't Start Now" to "Love Again" and beyond, the album suspends listeners to a time many look back on fondly and some have never experienced. All the same, we're transported there together.
Blurring the lines between what counts as pop or rock or disco, artists across genres have since replicated the retro sound. It's easy to dub these artists as unoriginal for imitating a sound that has already existed for decades, but each of them has put a unique spin on the winning pop formula of the past. Just look at albums like Justin Beiber's Justice, Coldplay's recent single "Higher Power," Aly & AJ's "Easy," or Carly Rae Jepsen's entire Dedicated album. With a sound so familiar, these new releases invoke a sense of nostalgia in people who remember the birth of synth-pop, while also cultivating a younger audience with fresh opinions and the platforms to share them.
Source: Read Full Article