Netflix's New Fantasy Series, Cursed, Is a Modern Arthurian Legend That's Perfect For 2020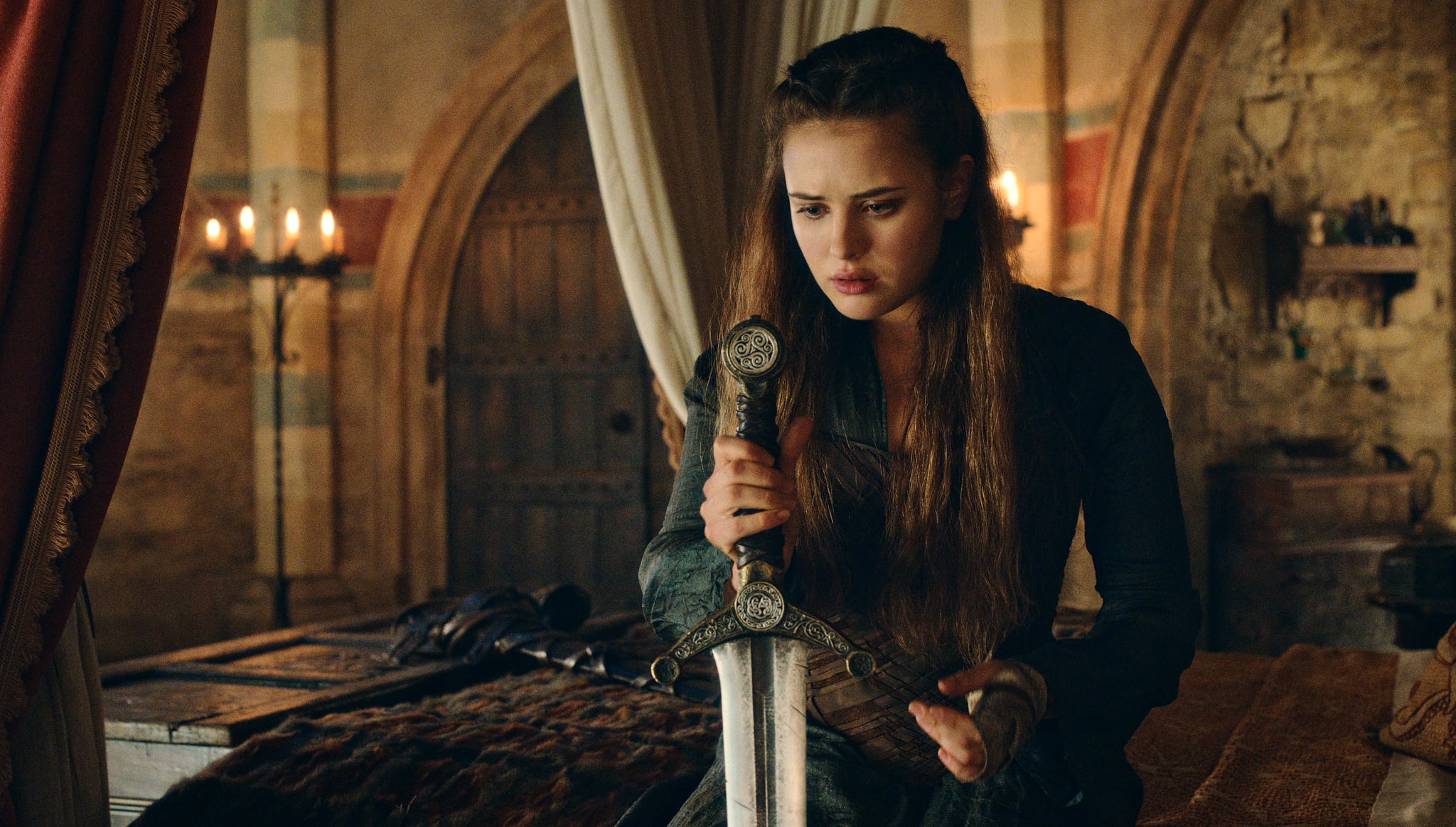 When I met the cast and creators of Cursed last summer, it was clear everyone was proud of the show they were producing. It made sense. As I walked through realistic stone castles, explored a lush, overgrown forest, and poked my head into Merlin's sleeping quarters, it was impossible not to get excited. There we were, in a huge warehouse in Slough — a town an hour west of London — with mythical creatures lounging on plastic chairs as they waited to be called to set, and cast members (like Devon Terrell and Billy Jenkins) casually joking with media between takes, all while smattered with blood, sweat, and dirt. Just an average day on the set of Netflix's latest fantasy series.
I expected to see the incredible costumes, hear about epic fight scenes, and get a glimpse into the world of the talented people who create the special effect makeup. What I didn't expect to find out is that Cursed isn't merely another iteration of the Arthurian Legend, but it's a reimagining that forces the classic story into 2020.
Based on an illustrated YA novel of the same name, Cursed centers around Nimue (played by Katherine Langford) in the years before she becomes the Lady of the Lake, who she's better known as in the legend. Nimue is ostracised by her community all her life because of her magical powers and the dark streak that runs through her. But when the Red Paladins massacre her entire village, she narrowly escapes with a mission from her dying mother: to return a powerful sword to Merlin the warlock. Along the way, she meets a young mercenary named Arthur (more commonly known as King Arthur in other retellings of Arthurian Legend), and Sister Igraine, who becomes Nimue's right-hand woman.
At this point, Cursed sounds like your run-of-the-mill fantasy series, right? Well, it isn't. In the first episode, Langford's character is immediately established as the heroine, which is particularly significant when you consider that every other adaptation of Arthurian Legend has placed Arthur as the protagonist of the story.
The creators of Cursed could have easily fallen into the trope of painting Nimue as an accessory to the male lead, with her arc hingeing on her falling in love and living happily ever after. But Nimue had sh*t to do, okay, like returning the all-powerful sword to Merlin, for starters. And although there is a love story unfurling between Nimue and Arthur throughout the second half of the series, it's certainly not her most important storyline — far from it. Much like women in real life, who have jobs, aspirations, and goals that coexist, romance is only one part of her story. Nimue isn't just the protagonist, or primary love interest in Cursed, she's a determined heroine who's on a mission. Sure, maybe she does have time for love, if she wants it, but it's not her main driving force.
Writer Tom Wheeler explained that when creating Nimue, he and Frank Miller purposely wanted her to be the building block of the mythology. "I think we both felt like King Arthur had been mined pretty extensively, and recently," he said. "I was thinking about it through the eyes of my now 12-year-old daughter, and wanted to broaden the canvas of female heroes in this mythology." Plus, he added, "Frank creates such cool woman heroes and antihero characters."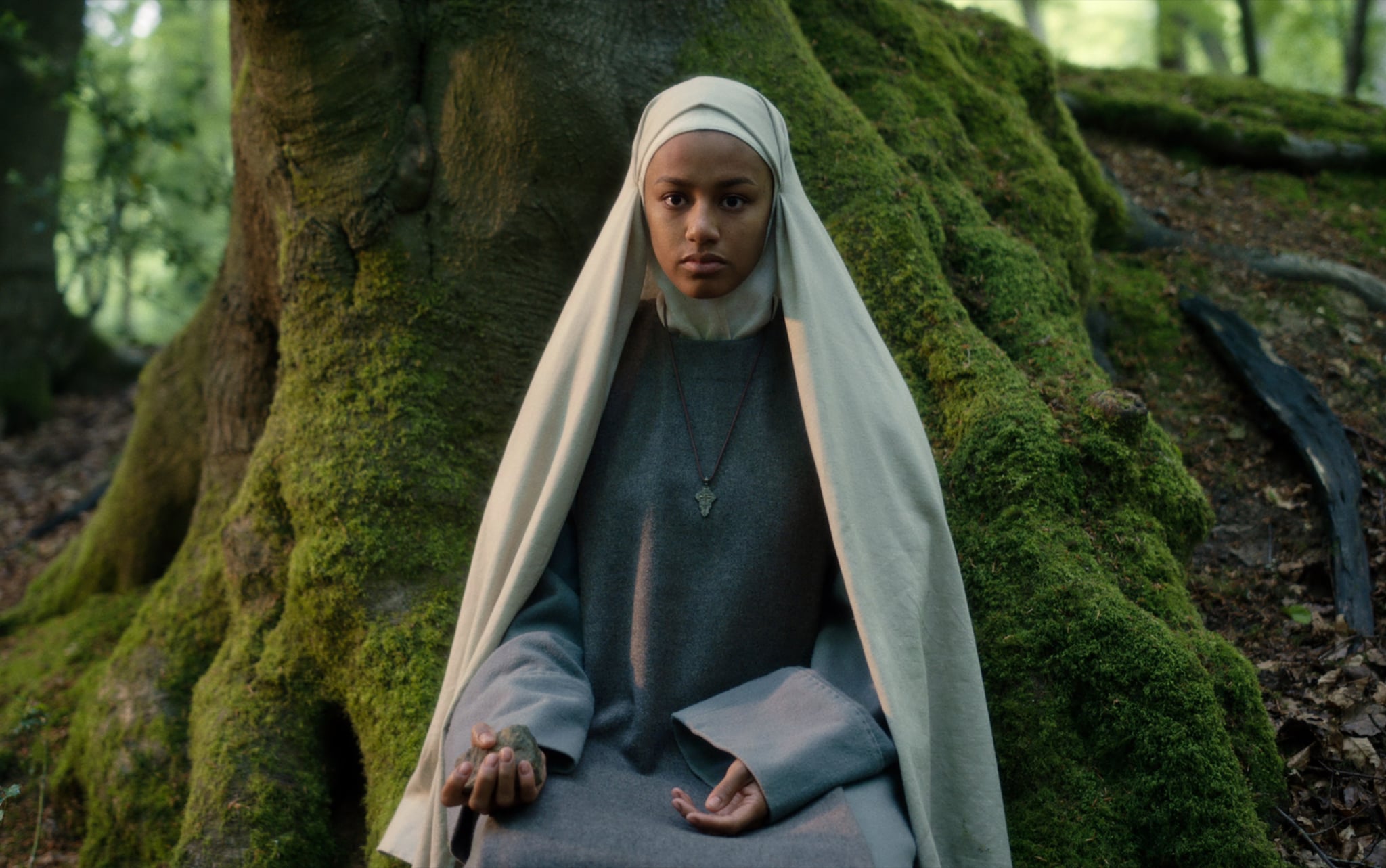 Nimue loves her female friends deeply, cares for her community wholeheartedly, and doesn't shirk the great responsibility given to her by her mother. The story of King Arthur — the Arthurian Legend — is a classic one, but the choice to center Nimue as the lead is not. Katherine Langford admitted that she's incredibly proud to portray Nimue as the sword-wielding badass. "As a woman, and as a girl, you grow up never believing, or never even thinking, that you could be in a position of power," she said. "You never think you could be a king. So, when Nimue first receives the sword, it doesn't cross her mind. One interesting thing is that within this series all the men seek power, but often when they're given it, they destroy or misuse it. Whereas all the women . . . don't seek power, yet they somehow are given that power and that responsibility. I think it's because they don't seek it, they come to power because they're natural leaders, and have pure intentions."
Nimue isn't the only strong, female character in Cursed, and in my opinion, the show has a few female heroines. Sister Igraine (played by Australian actress, Shalom Brune-Franklin) stands up to the only family she's ever known to fight against the Red Paladins, while Nimue's childhood friend Pym (played by Lily Newmark) survives a massacre on her community, against all odds.
When the show champions boys and men, it's done with nuance and in a way that lifts up the people who would traditionally be portrayed as underdogs, and even the "good" men are shown as being flawed. Terrell explained that Arthur starts the series as a mercenary with a lot of family issues, but as the series goes on, he's just trying to figure out who he is as a man. "He's kind of a scumbag," laughed Terrell. "He's got his debts, and he's just trying to pay them. And while he's just trying to make ends meet, he doesn't think too hard about situations." He explained that Arthur has always been the strongest fighter, but when he's thrust into a world of magic, he suddenly realises that he's a great leader, but perhaps not the "best warrior out there."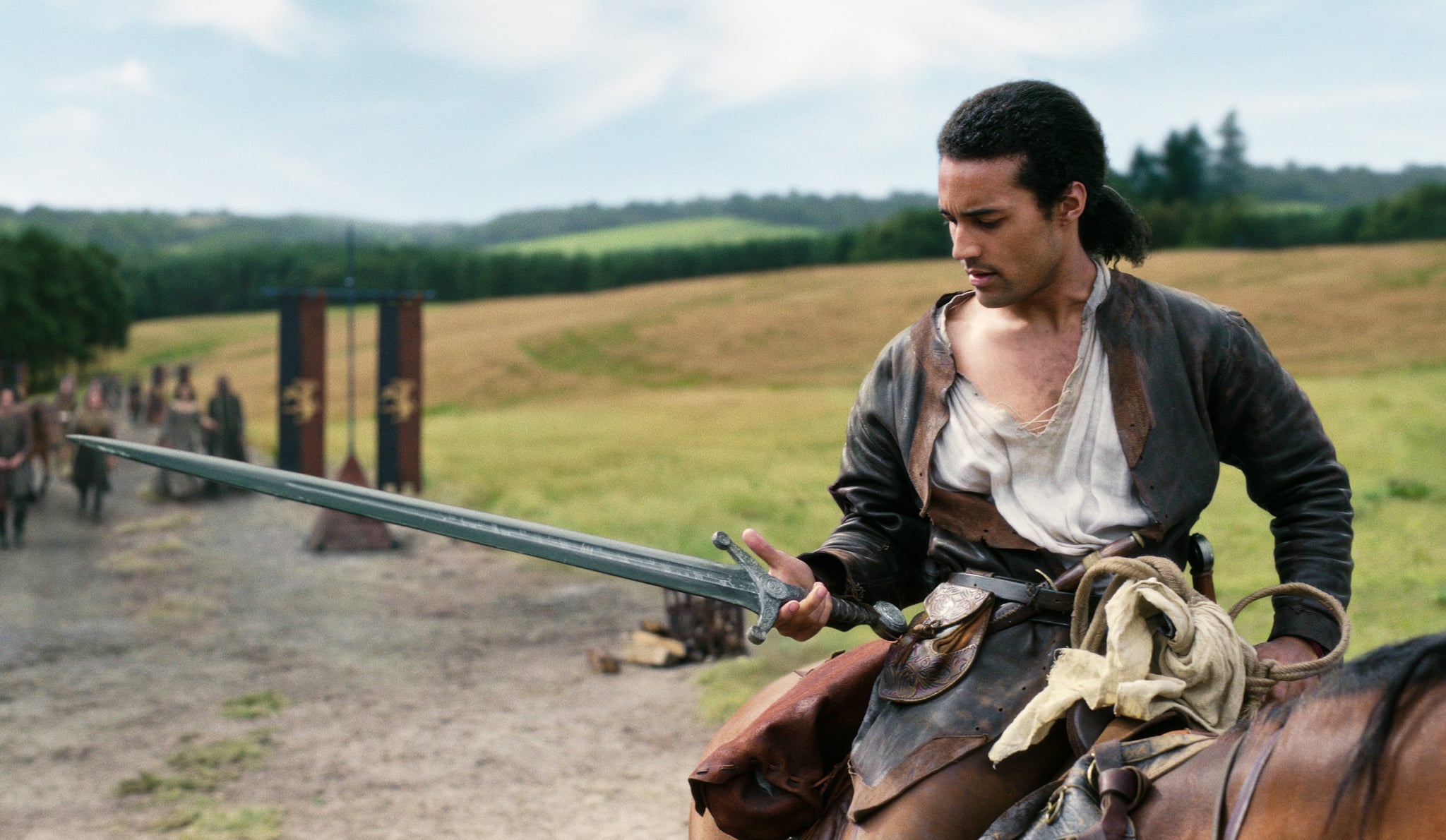 Terrell also touched on what it was like to be the first Black man to portray Arthur — a character who's traditionally portrayed as being white. "Tom's created his own world, and Frank's got all these weird and wacky ideas of where Arthur comes from, so I did all the background research, and then you just have to let go and be free," he said. "Also, being a young, Black man and playing Arthur, that comes with its own weight and understanding. So, we kind of threw that out of the way and just thought, it's Arthur, a guy — we're not really going into the story of him becoming King as of yet."
Race is a topic that underpins the entire story of Cursed, where the terrifying Red Paladins tear through nonhuman villages and kill people purely for being different from them. When he took on the project, Terrell was excited to explore a world that portrays a spectrum of ethnic diversity. "I asked Tom, initially, if the series is talking about race in the world, and he said that, really, it's the Fae versus the humans, or the humans versus the Fae, but the Fae are a really peaceful people," he said. "As a young Black person, it was really exciting to see. There's not many fantasy characters for young, Black people — both male and female. So, it's really exciting for young people to see themselves in this because I'm a young, mixed-race kid, and I would have been so excited seeing myself up on the screen as well."
Cursed might be inspired by an old story, but Wheeler and Miller have dragged the old Arthurian Legend into 2020, in a purposeful way that is both refreshing and empowering. The series is now available to watch on Netflix, worldwide.
Source: Read Full Article