Must-See Booths at The Armory Show 2023
The Armory Show is back for 2023 at New York's Javits Center, solidifying its position as a pivotal art event in one of the most artistic cities worldwide. With impressive exhibitions, diverse events, intricate curation, and interesting collaborations with cultural institutions alongside captivating public art installations, this art fair plays a vital role in enhancing New York's cultural prestige. The VIP preview takes place on September 7th, and it opens to the general public from September 8-10.
The Armory Show features distinct sections, each showcasing unique artworks. 'Galleries' highlights significant pieces from leading contemporary art museums. 'Solo' focuses on one artist's work, be it emerging, established, or from the 20th/21st century. 'Focus' explores unconventional artists, often drawing from cultural influences. 'Presents' showcases emerging galleries under a decade old, while 'Platform' features large-scale installations tied to the theme 'Rewriting Histories.'
From a striking solo presentation of work by German-Iranian artist Cathrin Hoffmann at Public Gallery's booth to Asif Hoque's latest paintings mounted by Yossi Milo Gallery, Hypeart compiled a list of five must-see booths at The Armory Show 2023 now on view at the Javits Center. Get your tickets here and check out our highlights below.
View this post on Instagram

A post shared by The Armory Show (@thearmoryshow)
Cathrin Hoffmann at Public Gallery, Booth P13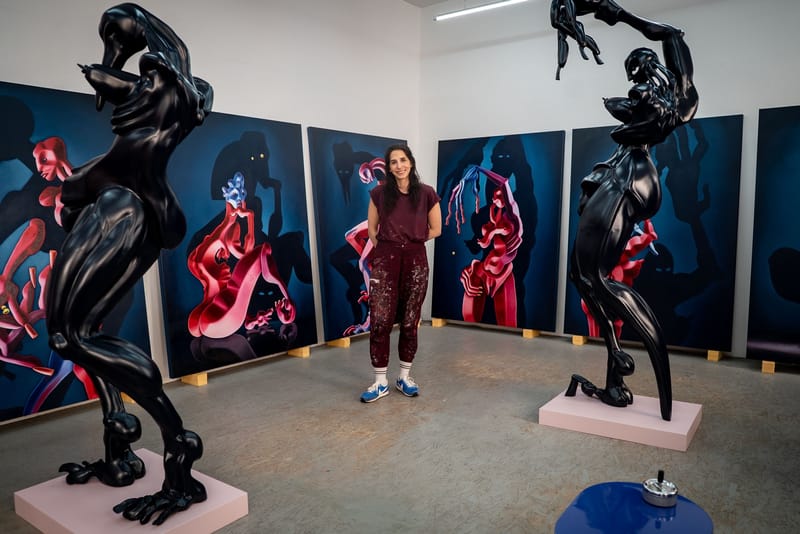 Keith Estiler/Hypeart
London's Public Gallery is currently featuring a solo exhibition by Cathrin Hoffmann, a German-Iranian artist. Through her paintings, sculptures, and installations, Hoffmann reimagines, transforms, and repurposes various physical forms to explore and challenge the concept of human existence in the post-digital future. Her distorted figures, blending sharp angles with curves, defy conventional and stereotypical notions of the human body perpetuated by the media.
While Hoffmann primarily works with feminine shapes, she blurs the lines between gender, human, animal, animal-human, machine, natural, and artificial. Her artistic expression exists in an ambiguous realm where such dualities lose their significance. Hoffmann's work boldly rejects these dualistic ideas, establishing a new foundation for diverse and futuristic body representations.
Narsiso Martinez at Charlie James Gallery, Booth S8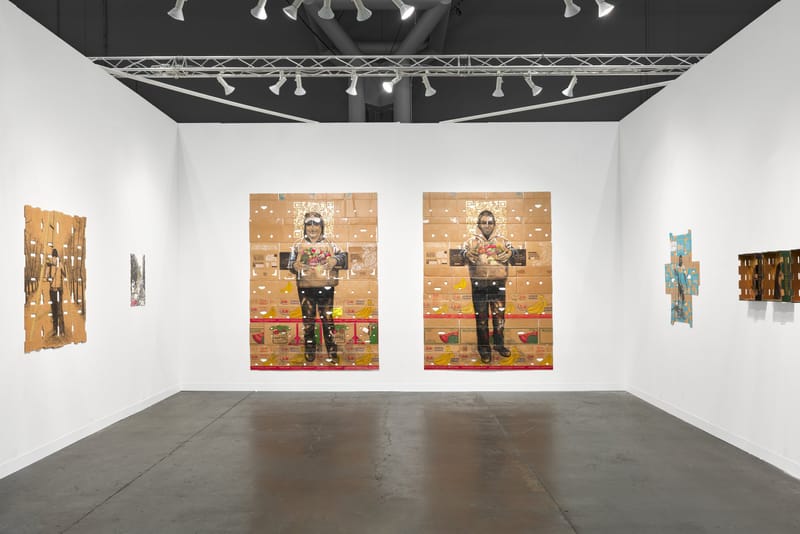 Courtesy Of The Artist And Charlie James Gallery
Charlie James Gallery is hosting Narsiso Martinez's first solo exhibition in New York City as part of The Armory Show 2023 from September 8-10. Martinez's art, encompassing drawings and mixed media installations, portrays farmworkers against agricultural backdrops, drawn from his personal experiences. Using discarded produce crates, he creates portraits of these workers, shedding light on their strenuous labor and harsh conditions. Martinez's work, influenced by 1930s Social Realism, exposes the challenges faced by "American farmworkers," a term complicated by the industry's use of undocumented labor.
Yossi Milo Gallery, Booth 229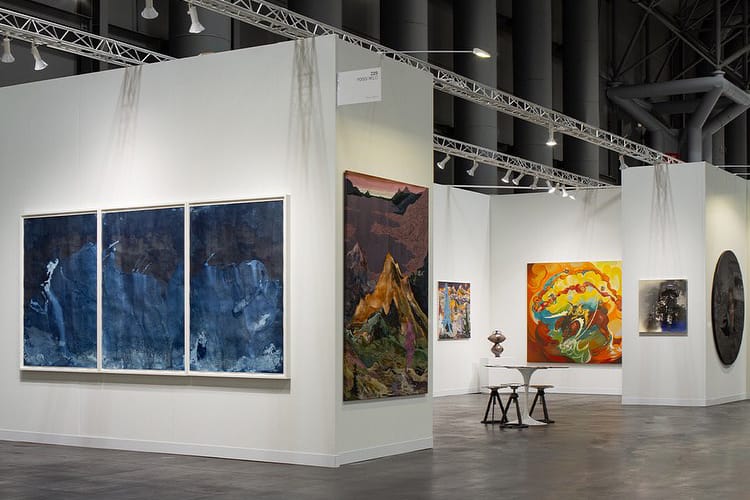 Courtesy Of Yossi Milo Gallery
Yossi Milo is presenting a myriad of works by its dynamic roster of artists at Booth 229. The artists featured in their presentation share a common focus on transformation, whether it be of the body, spirit, or within the realm of narrative and storytelling. Some of the artists include Linus Borgo, Orit Hofshi, Asif Hoque, Jeremy Jaspers, Sarah Anne Johnson, Pierre Knop, Natia Lemay, Kathrin Linkersdorff, Anoushka Mirchandani, Meghann Riepenhoff, Ibrahim Said, Shikeith, and Cameron Welch. Their work collectively explores the concept of change and its various dimensions.
One of the highlights is a new series of work by the New York-based Bangladeshi artist Asif Hoque. The artist crafts his unique mythology through these paintings, drawing inspiration from classical artistic traditions of both Eastern and Western cultures. Growing up between Rome and South Florida to Bangladeshi parents, Hoque's multicultural heritage significantly influences his artistic expression. He skillfully merges the artistic traditions of Rome and Bengal to create compelling narratives of love, happiness, and allegorical victories.
Sara Flores at C L E A R I N G Gallery, Booth F1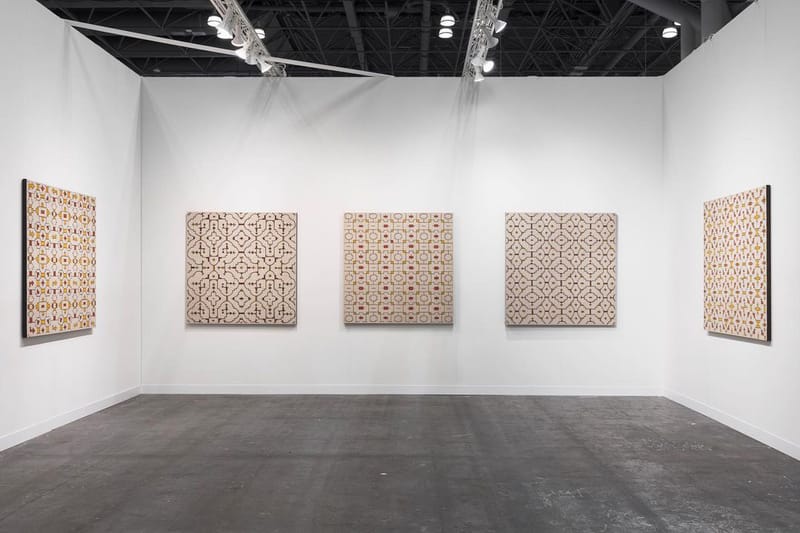 Courtesy Of The Artist And C L E A R I N G Gallery
Curated by Candice Hopkins, C L E A R I N G is currently showcasing a series of artworks by Sara Flores, an indigenous Peruvian artist. Her artistic creations are firmly grounded in the cultural heritage of the Shipibo-Conibo, an indigenous community residing along the Ucayali River in the Peruvian Amazon.
Flores's artistic approach is characterized by intricate designs and remarkable precision, often drawing inspiration from the visual and musical patterns found in ayahuasca shamanism—a centuries-old tradition of the Shipibo-Conibo people. She employs a range of vibrant natural dyes derived from native plants of the Peruvian Amazon, emphasizing a profound connection to the environment, culture, and context in her work.
Tang Contemporary, Booth 122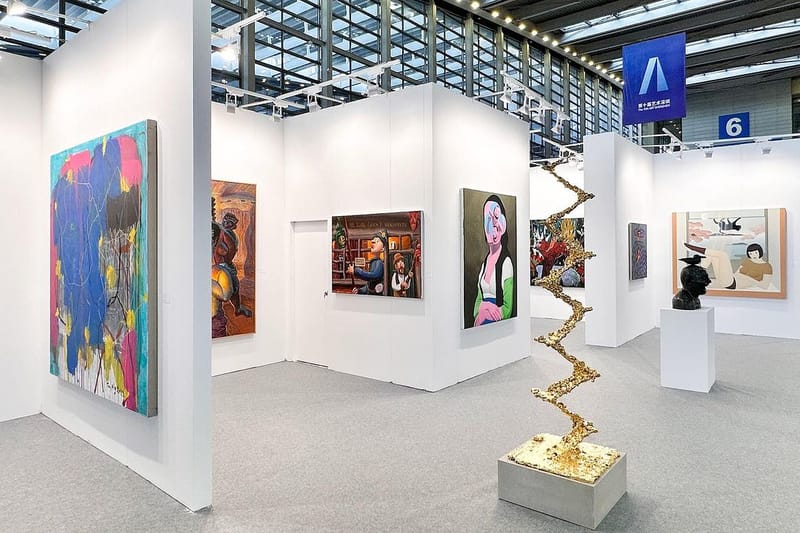 Courtesy Of The Artist And C L E A R I N G Gallery
This year, Tang Contemporary at Booth 122 is thrilled to feature a lineup of five prominent Chinese artists from their main roster, including Yue Minjun, Wang Jianwei, Xiyao Wang, Zhu Jinshi, and Zhao Zhao. Each of these artists offer a unique perspective on the world and its intricacies. Their artworks span various mediums and engage in discussions on a wide range of social phenomena and values in the context of contemporary development. These artworks are not just individual expressions of art but also serve as important records, showcasing the diverse and dynamic nature of contemporary art in a globalized world.
Additionally, the gallery is presenting works by other represented artists, including Chen Yingjie, Etsu Egami, Gongkan, Diren Lee, Guillermo Lorca, Jade Ng, Woo Kukwon, Wu Wei, and Yoon Hyup.
Javits Center
Crystal Palace Entrance
429 11th Avenue
New York, NY 10001
Source: Read Full Article