Lacoste Blends Golf and Art at the Lacoste Ladies Open de France
What happens when golf inspires? This was a central question last week in Deauville, France, where Lacoste celebrated the renewal of its sponsorship of the Lacoste Ladies Open de France with a fresh concept for the tournament to champion not just women's golf, but also art, fashion and culture. It's a move that makes a ton of sense for a brand like Lacoste that has successfully melded performance and aesthetic while balancing streetwear with luxury since it was founded in 1933.
Leveraging a new location, Lacoste revamped the tournament branding, created an art exhibition around the golf course to offer something new to fans both young and old, and extended the playing experience to not just pros, but to amateurs and novices who were outfitted in the latest Lacoste apparel. The event rewrote the rules of what a golf tournament is supposed to be and put Lacoste at the forefront of a new wave in golf that is bringing inclusivity, accessibility and culture.
After hosting Europe's best female golfers at the Golf du Medoc in Bordeaux for four years prior, Lacoste chose to move the tournament to Deauville. Located in Normandy about two and a half hours by car northwest of Paris, it's a town with a population of around 3,500 known historically as a summertime escape for Parisians. Golf Barriere Deauville, the new venue chosen for 2022, sits perched above the town with expansive views of the English Channel.
With a renewed emphasis on art and fashion to appeal to people who might not normally attend a golf tournament, the brand enlisted Jeremie Nassir, founder of Trajectoire Studio. With a motto of When Sport Inspires, the studio partners with brands and events to create 360 degree experiences using art as a focal point, always with an emphasis on interaction and accessibility. Lacoste has worked with Trajectoire in the past for tennis, and fittingly, the name chosen for the exhibition this year was When Golf Inspires.1 of 7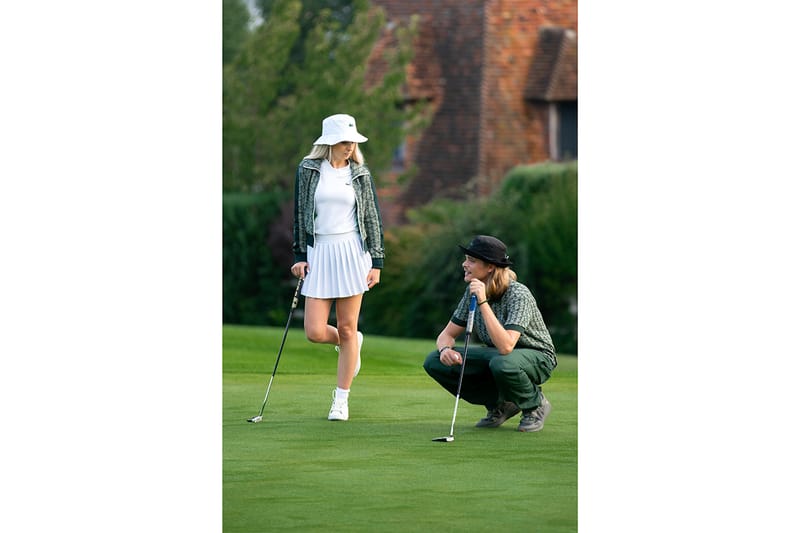 Alex Penfornis/Hypemaker2 of 7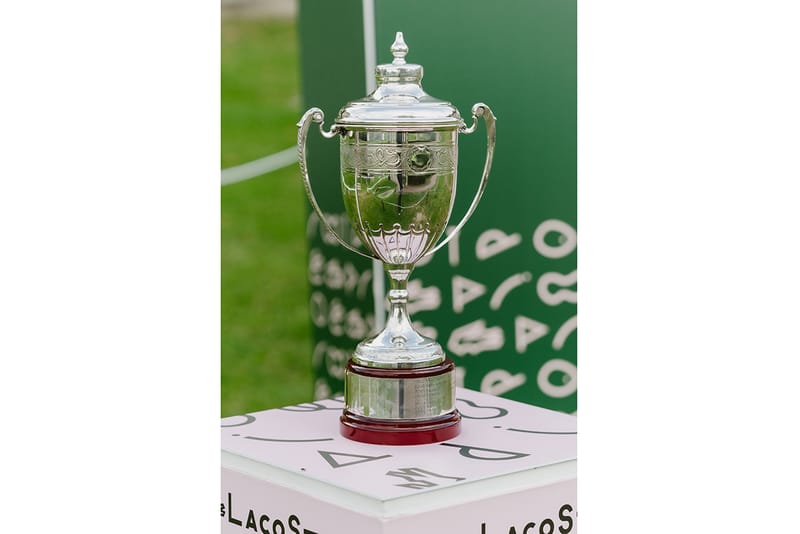 Alex Penfornis/Hypemaker3 of 7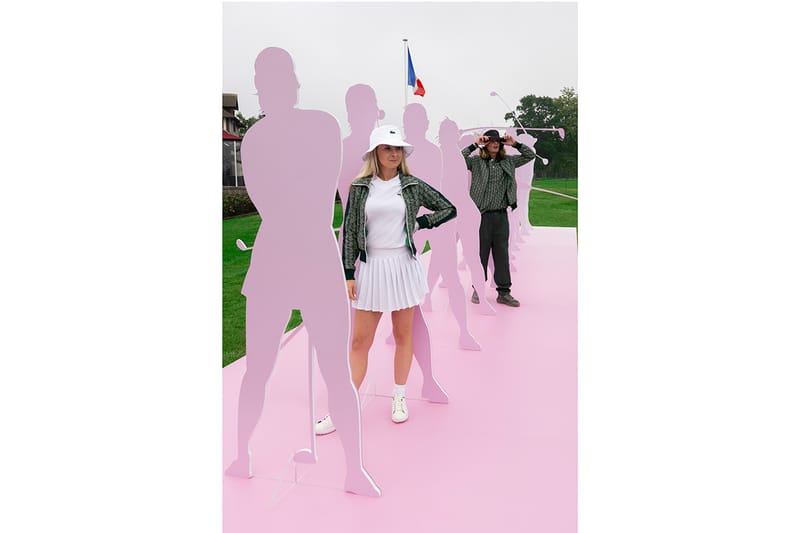 Alex Penfornis/Hypemaker4 of 7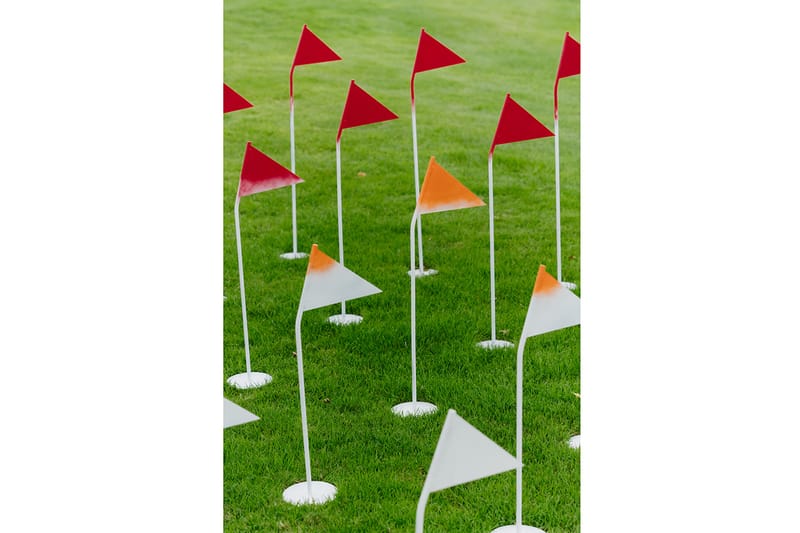 Alex Penfornis/Hypemaker5 of 7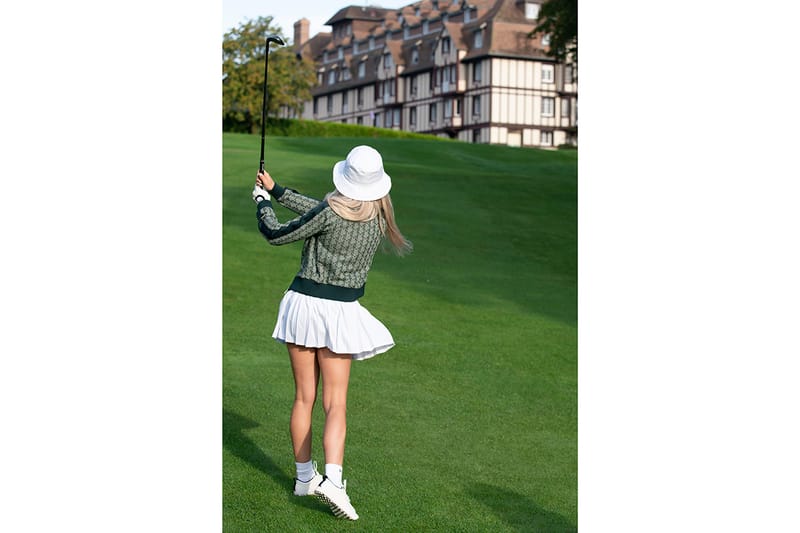 Alex Penfornis/Hypemaker6 of 7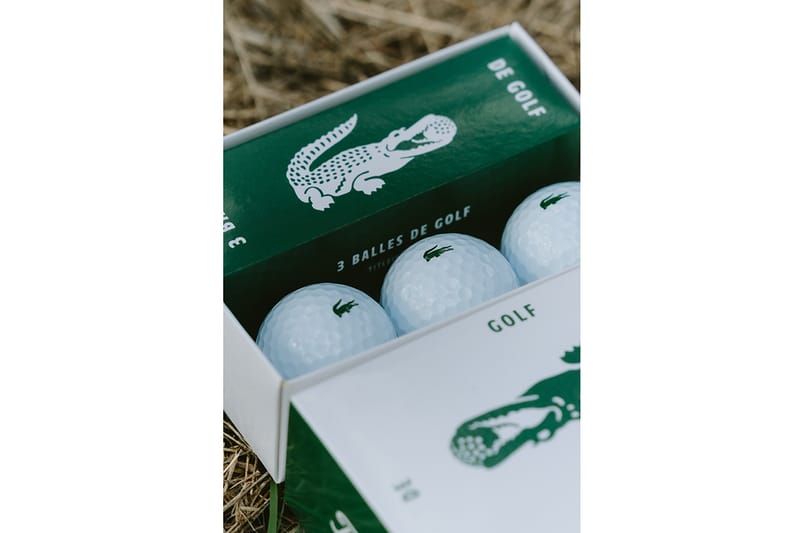 Alex Penfornis/Hypemaker7 of 7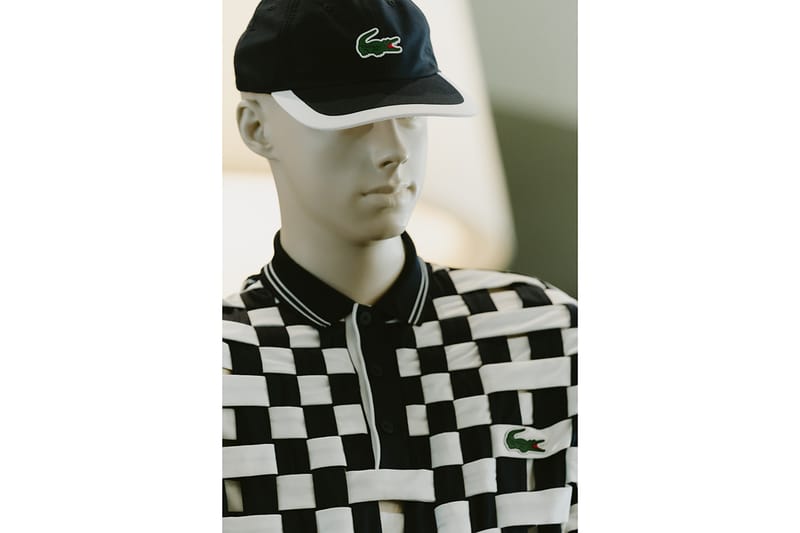 Alex Penfornis/Hypemaker
"Lacoste called me to bring a new, fresh movement around golf," says Jeremie Nassir. "To see how can I bring like a new concept, new experience around this tournament. And my proposition was to do like art exhibition on golf."
Although Nassir has done exhibitions for basketball and tennis on numerous occasions, golf is still very new to him. But often times it takes an outsider to uncover new ideas. "The advantage is that I don't really know much about golf. I just know some things. The swing, the grass, the air, the green, the club…After that I studied a little bit about golf, but not that much. Because I just want to have a fresh perspective."
As a first step, Lacoste re-imagined the tournament branding and promotion materials in a way that would communicate this new, exciting chapter for the tournament. For this, they worked with artist Marie Pressmar, known for her unique style of font and lettering. For the main tournament poster, Pressmar resized and reshaped the tournament title, added golf iconography and a streamlined version of the famous crocodile logo. This new branding was seen not just around the first hole and the hotel, but throughout the entire course on hole information signs and other infrastructure.
This simplified Lacoste logo featured most spectacularly as a backdrop to the first tee box, a raised structure that sat atop the existing first tee. With its semi-reflective outer shell and artificial grass teeing ground, it was unlike anything seen before at a pro tournament. "The first inspiration was not really to change the course that much," says Nassir. "The first idea was to do an art installation with the stairs climbing into the clouds. Like five, six, seven meters high that people could climb, walk, and on the top could do a drive, like practice."1 of 2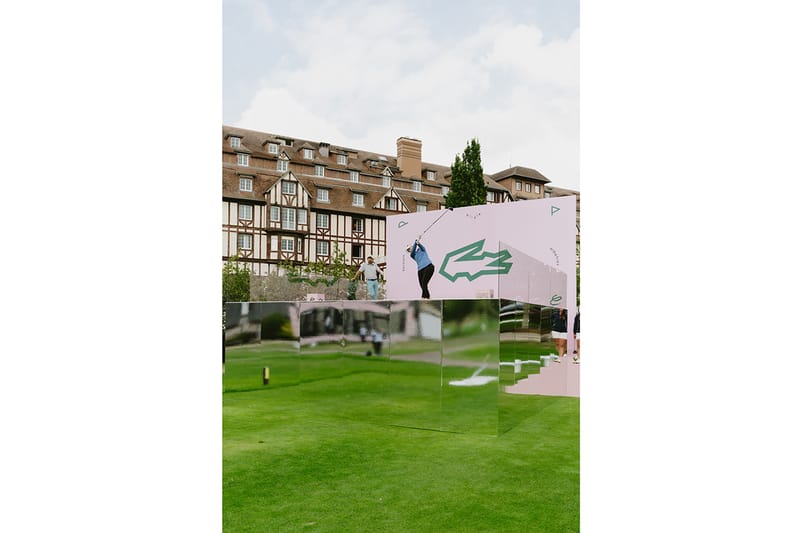 Alex Penfornis/Hypemaker2 of 2
Alex Penfornis/Hypemaker
In order to ensure that this tee box didn't just look impressive, but also maintained the integrity of the competition, Lacoste worked closely with officials from the Ladies European Tour (LET). Nassir again: "We proposed this new idea to the judge. And the LET said 'okay, why not? But minimum six by six meters'…And the grass is a special grass. Very expensive, to be honest with you. But very wide, very dense. The tee has to be in it. So this is what the greenskeeper taught us to take."
It's a cool story of how a work of art became something not just to be looked at, but also interacted with and used as part of live competition. And it elevated what would have otherwise been an ordinary moment, the first tee shot of the day, into something special and unique.
Similarly, across a range of art installations, which formed a nucleus around the 1st, 9th and 18th holes, Lacoste's new venue challenged the spectators to think differently, simultaneously showing a respect for the traditions of art and golf while challenging norms and expectations. This was evident in the installation situated in front and to the left of the first tee, a faithful yet subversive reproduction of the famous Venus de Milo sculpture that resides in the Louvre. In this work, designed by Lauren Perbos, the sculpture's official replicator, Venus stands tall with a golf club in hand admiring her shot. If you're a lover of art, you'll probably know that the Venus de Milo on display in Paris doesn't have arms. So while many may have passed this installation and smiled or had a laugh, others may have viewed it as controversial.1 of 3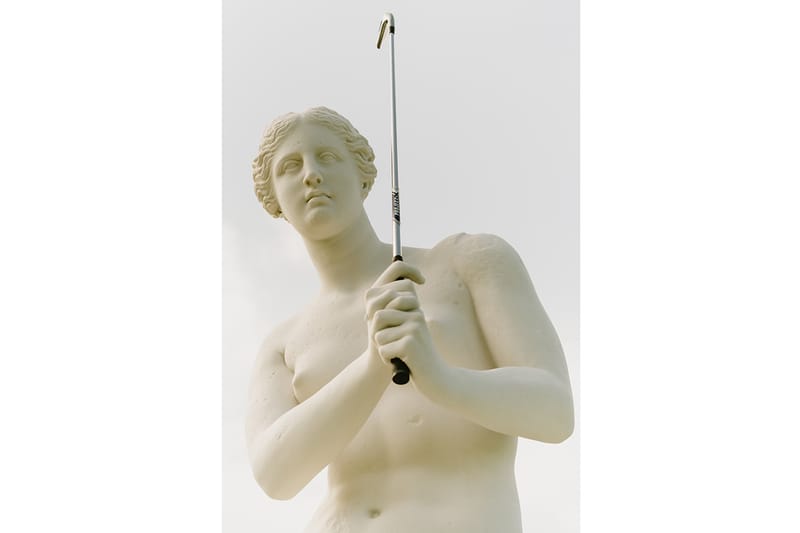 Alex Penfornis/Hypemaker2 of 3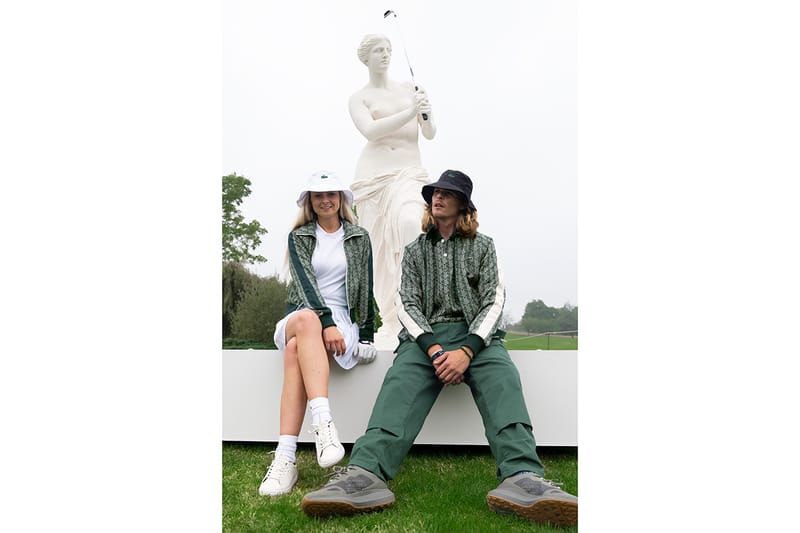 Alex Penfornis/Hypemaker3 of 3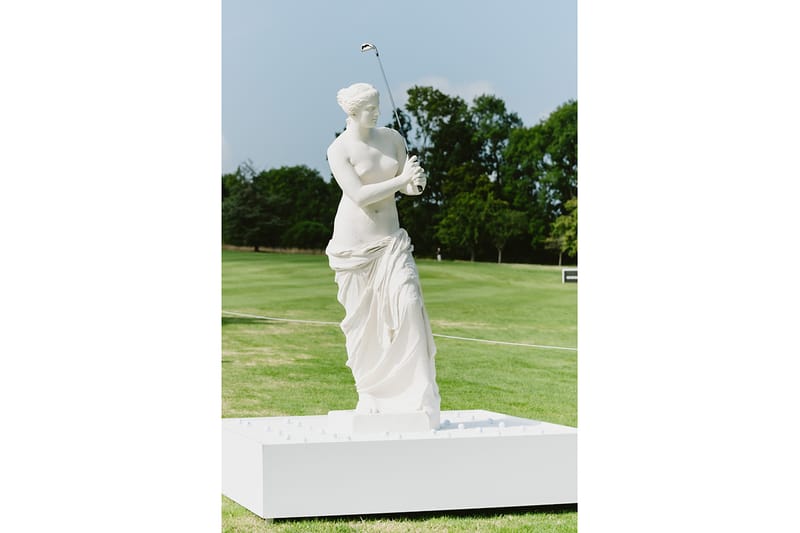 Alex Penfornis/Hypemaker
"I mean, that's why art exists. To make people have their opinion, to make them react. Personally, this is what I want to do. Like break the rules and make people be offended maybe. Or be happy or say 'that's great, that's a big idea.' Doesn't matter. Everybody has to have their opinion," asserts Nassir.
Also take, for example, Guillaume Grando. Known by the alias Supakitch, Grando is a multi-disciplinary artist from Biarritz who started out in tattoo, and evolved his style over the course of ten years to become more expansive. These days, Supakitch's signature element is his pool, an abstracted depiction of water that serves as a study on movement and light refraction. As a self-described adrenaline junky, Supakitch often references sport in his artworks, but similar to Nassir, he never worked with golf. He chose the name Flooded Nine for this first encounter, placing nine pins with nautical flags inside a pool.1 of 2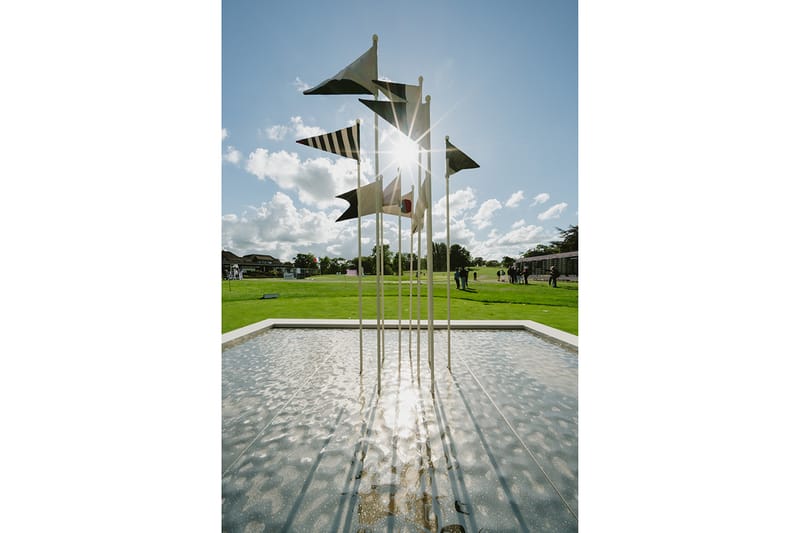 Alex Penfornis2 of 2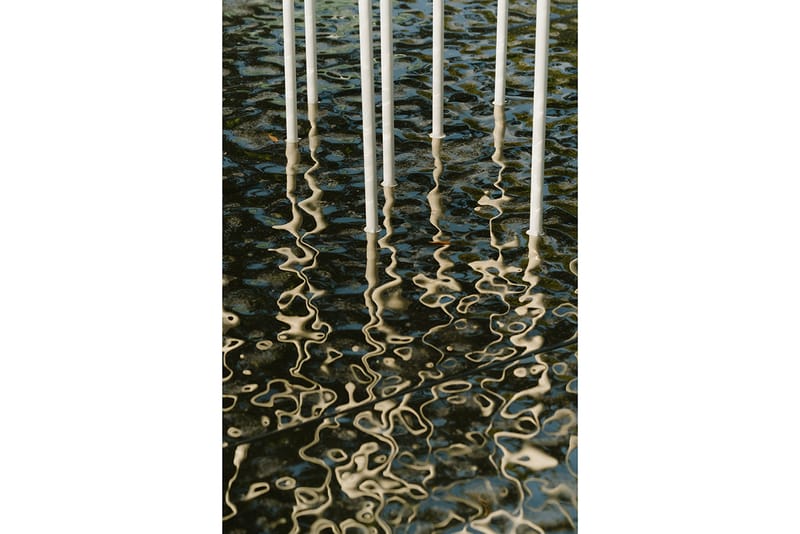 Alex Penfornis
Says Grando: "There are nine holes underneath the water and the water renders the practice impossible actually. I think with art sometimes you turn something useful into something un-useful, you know? So it can be like kind of twisted."
There is also a second meaning behind the work that interests Supakitch even more, a reading that focuses on the environmental impact of golf. With rising sea levels, it's possible many low lying golf courses could be found under water not before long.
For all the exhibitions on display around the golf course, an emphasis was placed on encouraging interaction and moments of reflection. The exposition at the golf course was designed to be experienced, and people were encouraged to get up close and personal with the art. In doing so, Lacoste delivered a truly unique tournament experience that elevated women's golf and appealed to a new generation of golf fans.
Source: Read Full Article