How Sampha Became the Go-To Hook Man for Modern Hip Hop
Even though Sampha prefers to keep a low profile, he's been collecting massive hip hop features like infinity stones. His discography is short for an artist that's been releasing music since 2010 — he's got a pair of EPs (Dual and Sundanza) and one studio album (Process) under his belt — but he's found success through collaborations, namely with Drake, Ye, Kendrick Lamar and, most recently, Travis Scott. Upper-echelon rap figures have gravitated towards Sampha's superpowers: his voice and the heavy subject matters that are baked into his music. Characterized by their inimitable tone, they're a tapestry woven with threads of piano-driven compositions, melancholic melody and emotional depth.
Sampha grew up in London, the child of Sierra Leonean immigrants, and his musical endeavors have been molded by a fusion of his cultures and experiences. While not entirely defined by his past, the British crooner's personal battles have cast a shadow over his creative expression. The loss of his father to lung cancer in 1998 marked the beginning of a series of challenges that would shape his musical narrative. The stroke that his older brother suffered during his late teens and losing his mother to cancer introduced further layers of adversity. These life events have served as a source of inspiration for Sampha's music, who channels the feelings of love and loss into his melodies. When being interviewed by Pharrell and Scott Vener on OTHERtone in 2016, Sampha described the growing pains that influenced his album Process. "The valleys [of creating this album] were realizing the importance of foundational things, the reflection of the depth of caring and the people who have cared for me," he said.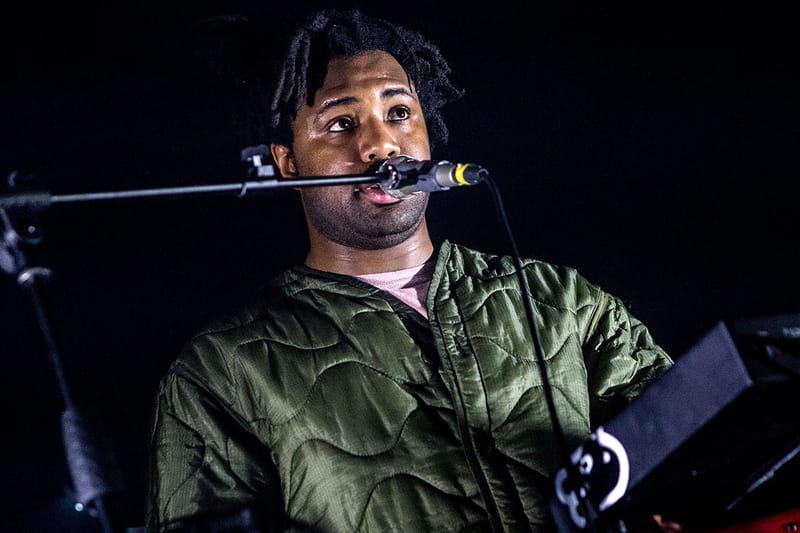 Nurphoto/Getty Images
When Sampha joins forces with hip-hop acts, his emotive hooks allow for an escape from machismo and an opportunity to bring their soft sides to the fore. For a genre where opulence, materialism, hedonism and bravado often take center stage, for better or worse, Sampha's artistic sensibilities give them a license to explore the intricacies of mental health, self-doubt, relationships and existential reflections. On the track "Too Much," Sampha and Drake spotlight the struggles of overthinking, anxiety and the constant pursuit of perfectionism. That same energy can be felt on Ye​'s "Saint Pablo," where Sampha's haunting tones collide with Ye's candid exploration of insecurities and the burden of financial debt. "Yeah, you're lookin' at the church in the night sky, wonderin' whether God's gonna say hi", he sings as if crying for help.
​​Kendrick Lamar tapped Sampha to be featured on "Father Time," a standout track from Mr. Morale & the Big Steppers as well."Early mornin' wake ups, practicin' on day-offs, tough love, bottled up, no chaser, neat", he croons on the chorus, drawing parallels to the feeling that acting hard and suppressing your emotions is comparable to swallowing your drink straight up and dealing with alcohol's effects later. They also reflect on the struggles of father-son relationships and the repercussions of societal expectations on masculinity.
Sampha recently made an appearance on Travis Scott's latest studio album Utopia for the tune "My Eyes."Yeah, it's mad how it gets so deep, it's mad how I get so high, it's mad how you get me by", he says mid-way through the track to express appreciation over a partner that helps him muscle through life's rough patches. His presence is brief, but it goes to show how important Scott felt it was to inject his somber tone on a song that explores the concepts of dealing with love, material wealth, fame and relationships. Given that the Houston emcee's music is often headstrong and replete with pent-up aggression and chaos, the concept of featuring an artist like Sampha on his album creates an interesting contrast. "I don't necessarily think my music starts with me wanting to make something universal", Sampha said in a Fast Company interview from 2017. "It's about wanting to make what I'm feeling understandable, as opposed to making something purely for other people. It challenges me to write something with a little more depth or narrative to it."
Sampha's trajectory is akin to the careers of other beloved hook men such as Nate Dogg and Akon. Dogg's soulful voice was often called for by hip hop legends like Warren G, Snoop Dogg and 50 Cent which earned him the title as the "King of Hooks." Akon's versatile vocal range seamlessly blended in with a vast array of genres and artists such as Nelly, Eminem, Gwen Stefani, Lil Wayne and others. While distinct in their musical styles, they all share a resonance that attracted big time stars seeking to amplify their crossover compositions.
Sampha's collaborators have all executed different strategies for their writing and recording processes, yet he has consistently played the role of the emotional intermediary. His vocals become intertwined with the most delicate and sincere moments of these artists — which means he either elicits these sentiments from within them or he's deliberately tapped to lend form and substance to their creative ideas. It's been a winning recipe thus far, and it'll likely be one that we continue to see down the road. "Sometimes you think certain details are things that only you would notice, so it's a great thing to feel like you're not by yourself and people understand where you're coming from", Sampha said in an interview with Pitchfork in 2013. "When you feel totally alone in your thoughts and feelings, there's someone out there who is going through what you went through, even if it's the strangest, weirdest thing you could think of." And sometimes, that someone might just happen to be one of the biggest stars in the world.
Source: Read Full Article