Feng Chen Wang on Functionality and Deconstruction
After graduating from the Royal College of Art in London, Feng Chen Wang debuted her eponymous label in 2015 at the VFiles runway show for New York Fashion Week. Since then, her standout future-modern designs have warranted her spots on the LVMH Prize and Woolmark Prize shortlists, and recently led to several collaborative projects with the likes of Jordan Brand, Converse, and Levi's. For her latest endeavor, Wang works with luxury winter specialist Canada Goose for a versatile Fall/Winter 2022 lifestyle collection.
For the special-edition capsule, the multidimensional patterns found in contemporary artist Xu Zhen's Under Heaven series are fused into 12 deconstructable garments and accessories by Wang. The collection features Canada Goose's signature high-performance outwear as well as layering pieces, accessories, and footwear. Each piece is modular, with padded blazers and parkas featuring detachable vests and winter boots incorporating removable upper collars at the mid-calf.
Having the chance to experience the Feng Chen Wang x Canada Goose Fall/Winter 2022 collection first-hand at a pop-up event in Hong Kong, Hypebeast takes the opportunity to speak with the Chinese-born, London-based designer. Follow us below as Wang talks about balancing functionality with style, designing with diversity in mind, creating opportunities for personalization, and more.
Could you walk us through the collection? What sort of elements have you brought from FCW and incorporated into Canada Goose?
Functionality and deconstruction. Pieces are not just deconstructed, but also detachable. You can see the connection through the jacket with the blazer inside or the parka with the vest attached outside. I love these features which provide diversity and cater to all customers regardless of gender, body shape, and age. Everyone can have their own way of styling different pieces together which is a core idea of Feng Chen Wang. Canada Goose is really about producing amazing winter jackets, while FCW is constantly thinking about creating new futuristic designs. They come together in one piece, forming one of the highest-quality winter jackets. 
In your past interviews, you've talked about creating clothing that transcends seasons and genders. With Canada Goose typically thought of as a brand that's worn in the winter, was creating cross-seasonal pieces something that you had in mind with the deconstructable elements?
As you can see, the whole collection is very functional. Functionality is part of both FCW and Canda Goose's DNA. In the new collection, every single piece has a detachable element including two or three-in-one jackets that can be worn in a variety of ways. Unisex is also a key point in this collection. As you can see, a lot of jackets can be worn regardless of age or gender. Another thing about the collection is every single piece is interchangeable and can mix and match according to the taste of the consumer. To understand it, I encourage everyone to go into the shops to physically touch the pieces.1 of 6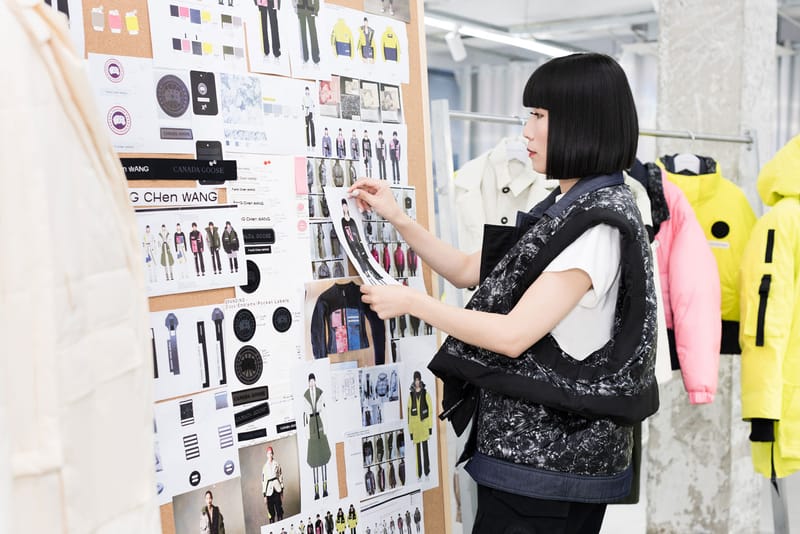 Feng Chen Wang Studio2 of 6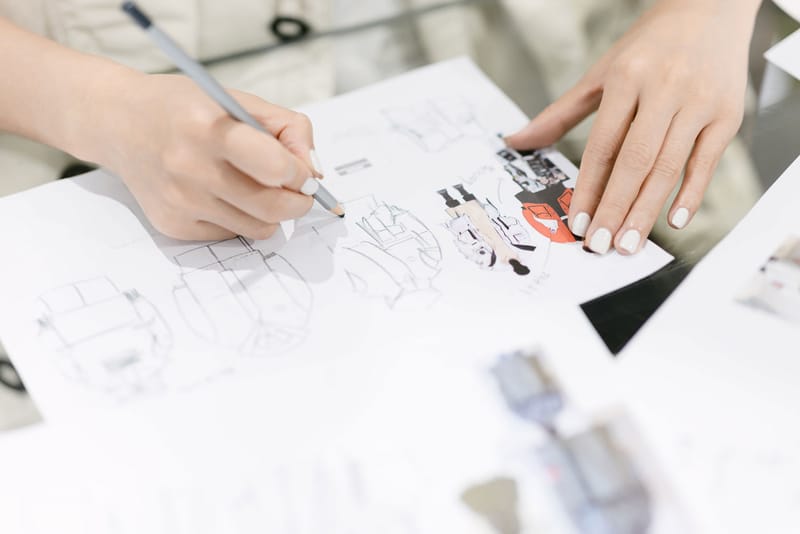 Feng Chen Wang Studio3 of 6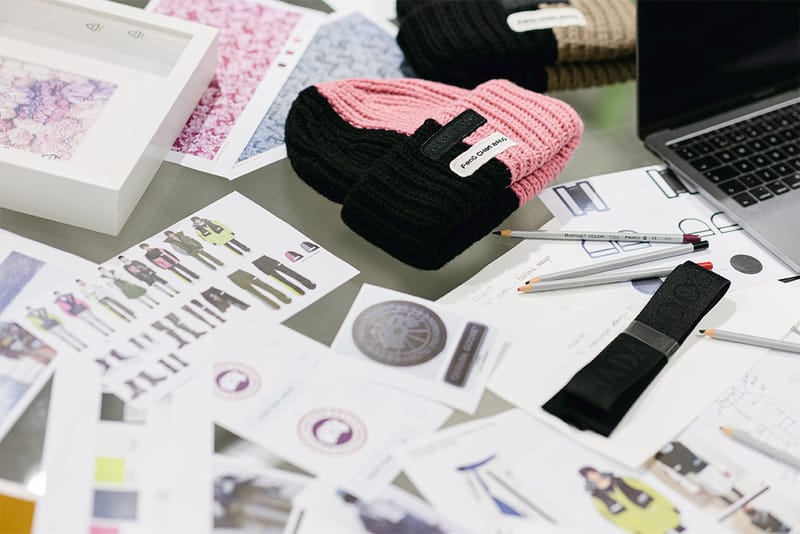 Feng Chen Wang Studio4 of 6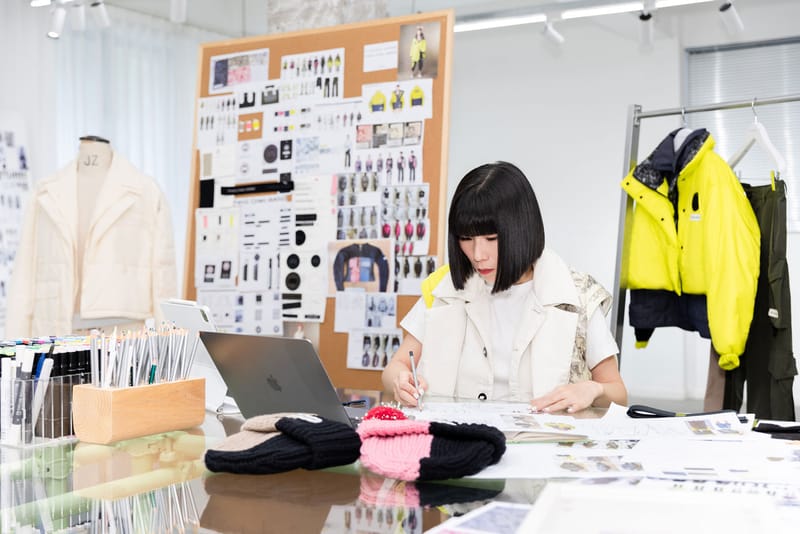 Feng Chen Wang Studio5 of 6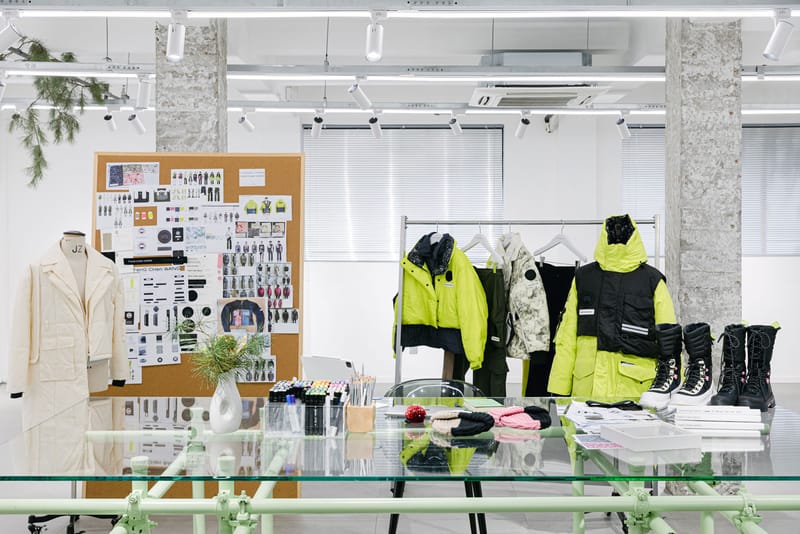 Feng Chen Wang Studio6 of 6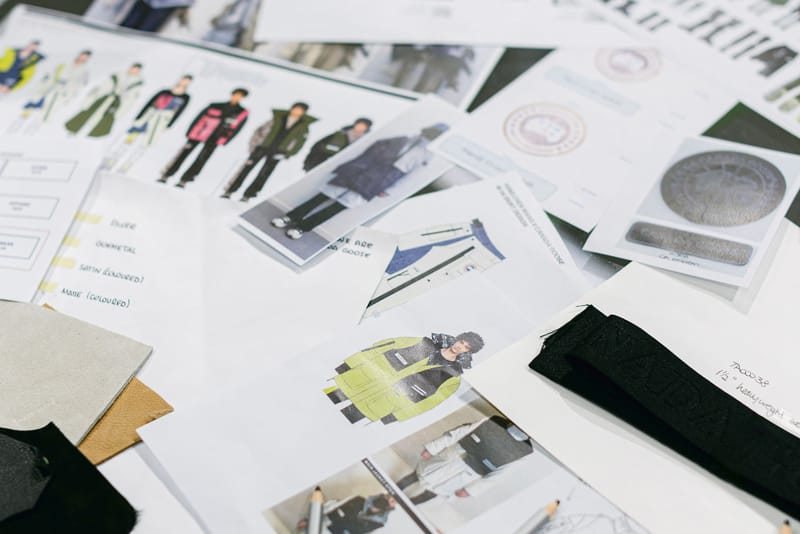 Feng Chen Wang Studio
Keeping in mind that Canada Goose just launched footwear last year, how did you approach the Journey Boot?
Footwear is definitely key to this collection in that we hope to encourage people to style the pieces in their own unique way. For the new Canada Goose boots, you can wear them anywhere outdoors as well as in a fashionable way — paired with other sports garments, tailoring pieces, or other pieces in the collection. It features a two-in-one design, tailored for both male and female consumers. The fabric used looks like denim but is actually a technical material that resembles it. In terms of functionality and technique, everything is well-considered.
When rotating between your studios in Shanghai and London, have you found that the work you produce is different when residing in the two different cities?
There are definitely both differences and similarities. The two studios constantly work together every day. Now that FCW has become an international designer brand, by connecting London and Shanghai together, we can better communicate with our colleagues from everywhere around the world. Our collections incorporate strong Chinese heritage and story but are also futuristic and modern, designed for people from anywhere around the world to wear.
Deconstruction is one of the brand's features and also part of my personal culture and background. I'm a Chinese designer but studied, graduated, and set up my brand in London. Now, FCW exists everywhere and has become multicultural. That partially explains why the design is deconstructed. The pieces all come from different influences but are presented as a whole. I'd say our products are loved by global citizens and it's been essential to have the studios in both cities.
As there is a performance-driven design behind the outerwear of Canada Goose (mainly in keeping the wearer warm) did you have to factor that more in for this collection versus say your own line?
Yes, I think so. It was a great opportunity to work with Canada Goose on pieces that FCW was also developing. Factoring in supply chain and manufacturing processes, Canada Goose is really the best at producing top-notch winter jackets. FCW is a young designer brand, and we also produce a lot of these, but by partnering with Canada Goose we were able to create products with better quality and design while adding an extra element of storytelling. This collection is not only a commercial product but a chance to connect artists together to create a unique collaboration.
Source: Read Full Article