A Short History of Supreme's Greatest Homeware Hits
Supreme's Spring/Summer 2021 collection has been unveiled, bringing its usual array of logo-emblazoned goods, collaborative must-haves and accessories you didn't know you needed. This time, that includes a Sea-Doo jet ski, a Vitra Panton Classic chair, boxes of Wheaties and a Smeg mini fridge.
It's not unlike Supreme to bring out something completely unexpected each season. In fact, some of its best items are ones that are seemingly ordinary, albeit often overbranded in Supreme's moniker and, therefore, destined to become a must-have hype home essential.
Of course, many of them are steeped in humor — like the brand's FW16 brick. Because nothing says homeware more than the item needed to build the home itself, right?The same goes for FW17's toothbrush — another foolproof essential from everyone's favorite irreverent skateboarding brand. 
Supreme's brick and toothbrush were headline makers, because of the in-on-the-joke attitude they commanded. But, when Supreme uses its head and heart combined, it can deliver homeware that transcends hype and becomes a true collector's piece. Ahead of Supreme's SS21 drop, HYPEBEAST has compiled a list of its favorite Supreme homeware goods from the years gone by, which you can still find on the resale market — if your pockets are deep enough. 
Supreme "Hermès" Valet Tray, 2012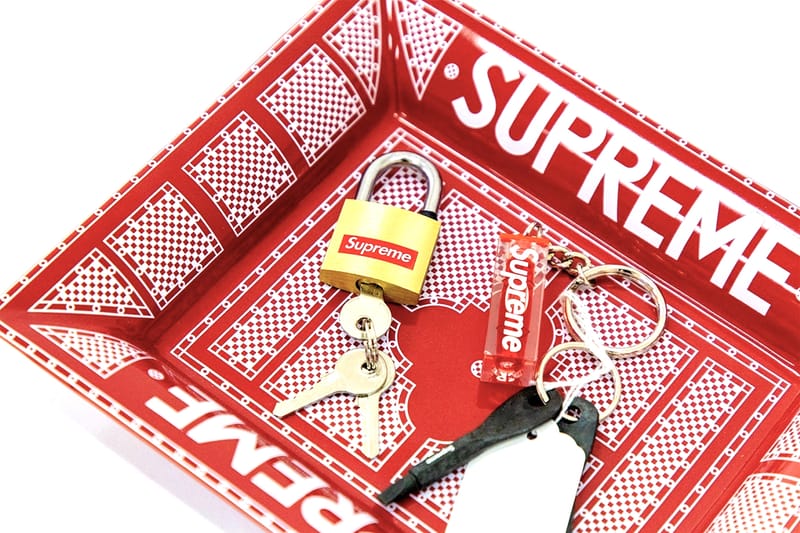 Heison Ho/Hypebeast/Sotheby's
For its SS12 collection, the brand dropped this valet tray, coined the "Hermès" because of its semblance to Hermès' own Limoges porcelain Sellier change tray. While at the time the two's price points were worlds apart, nowadays you'll struggle to find Supreme's version for sale, and if you do stumble across one, be prepared to part with around $1,000 USD.
Supreme x Artek Aalto Stool 60, 2017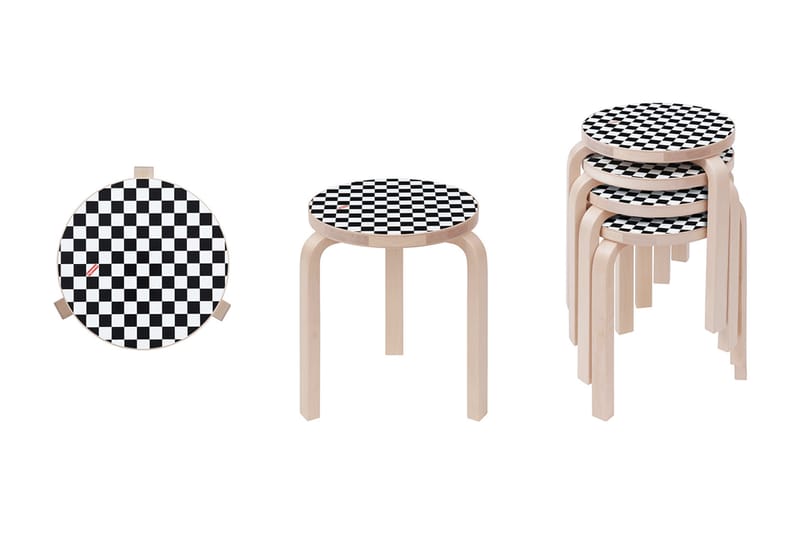 Supreme
The Artek Aalto Stool 60 designed by Alvar Aalto in 1933 is perhaps one of the most instantly recognizable pieces of interior design ever made. When Supreme got its hands on the stool back in SS17, it covered the top in its signature checkerboard motif with the BOGO appearing in one of the white boxes on the circular seat. Alongside this came a complementing Aalto Bench 153A, and subsequently, FW17 saw Supreme team up with Artek once more, this time around on the incredibly rare "F*CK"-covered Aalto Tank 400 Chair — one of these can set you back $30,000 USD.
Supreme Longevity Soup Set, 2016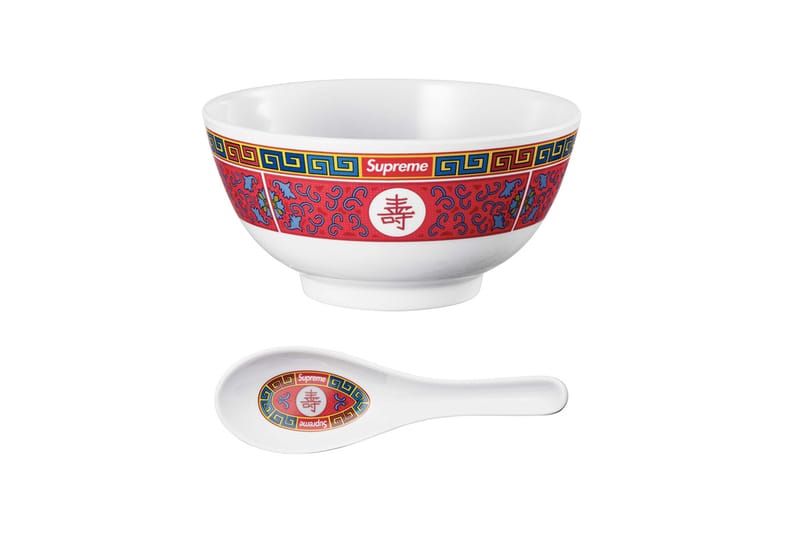 Supreme
Traditionally, Longevity Bowls and an accompanying pair of chopsticks are gifted on special occasions, such as a Golden birthday or anniversary celebrations. Supreme's take, however, became an instant hit for those who line up every Thursday to use in any hype set-up imaginable — think "cereal in the bowl, pour into rare Jordans." Regardless, the soup set is a great piece of Supreme memorabilia, and while it's highly collectible it doesn't command a stratospheric price tag like many of the other pieces on this list.
Supreme Dog Bowl, 2011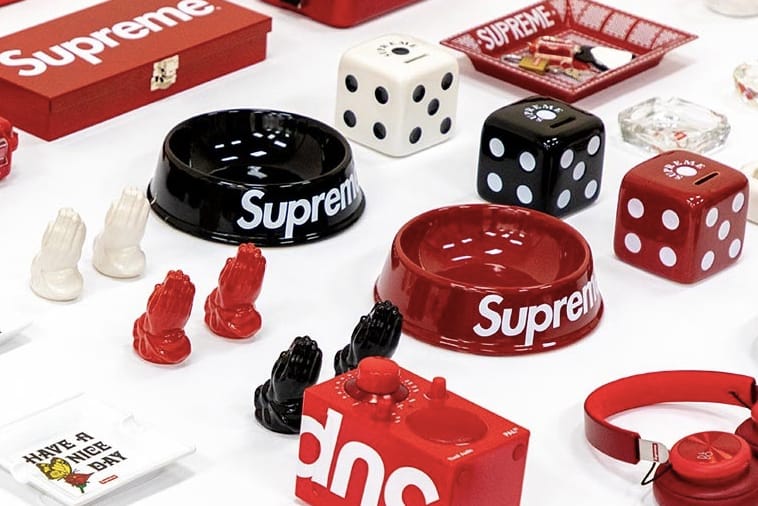 Heison Ho/Hypebeast/Sotheby's
From human bowls to dog bowls, then. For SS11, Supreme released a dog bowl in its classic shade of #ED1C24 red and black. Now heralded as one of the rarest pieces in its line-up of home accessories, it's assumed that few were used for their genuine purpose and instead became an instant must-have display item. Today, the Supreme dog bowl reaches prices of around $800 USD, if not more.
Supreme x Bialetti Moka Express, 2019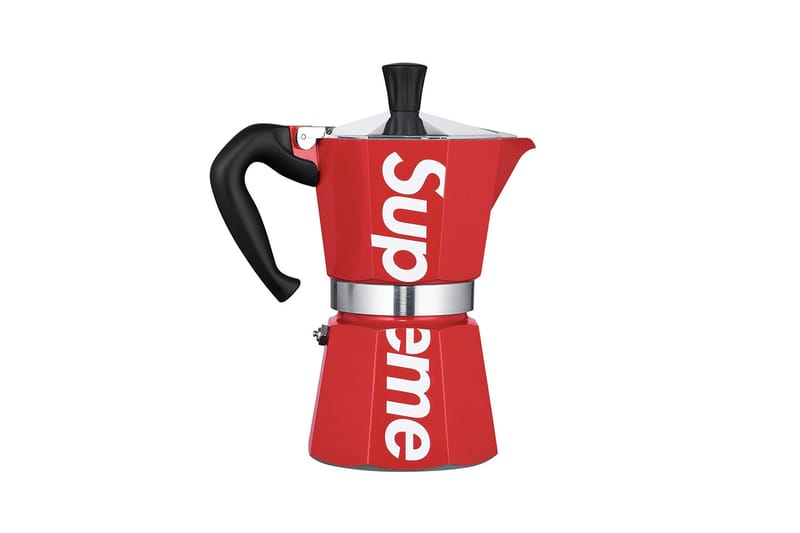 Supreme
Italian engineer Alfonso Bialetti famously developed the Moka Express pot in 1933, and by the 1950s the design had become a kitchen staple. In 2019, Supreme did what it does best: take a classic, and make it even more desirable than ever before. Yet there's no denying that its collaboration with Bialetti is simply iconic. A red coffee pot just makes sense, and after all, you best be wide awake to cop anything from the weekly drops — so what better way to do it than with some Supreme-brewed espresso?
Supreme x Knoll Wassily Chair, 2019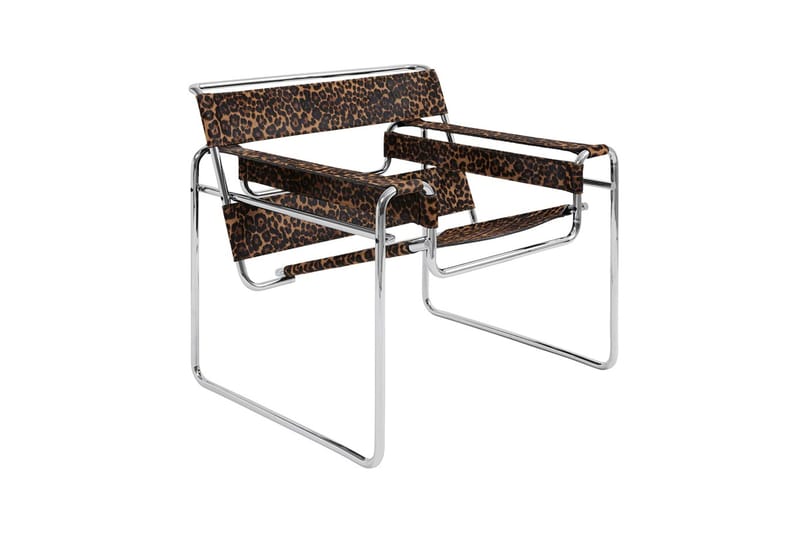 Supreme
As if collaborating with Artek wasn't enough, Supreme had to out-do itself with its take on the Knoll Wassily Chair. Originally designed by the then Bauhaus student Marcel Breuer in 1925, the Wassily is arguably the most iconic chair ever designed. Its simple bike frame-inspired tubular aesthetic serves as a clean base for its belted seat set-up, which was given an overhaul by Supreme in FW19, reupholstered in leopard Edelman hide leather. This brazen update is quintessentially Supreme, and we love it, even despite its resale price.
Supreme x Meissen Hand-Painted Porcelain Cupid, 2019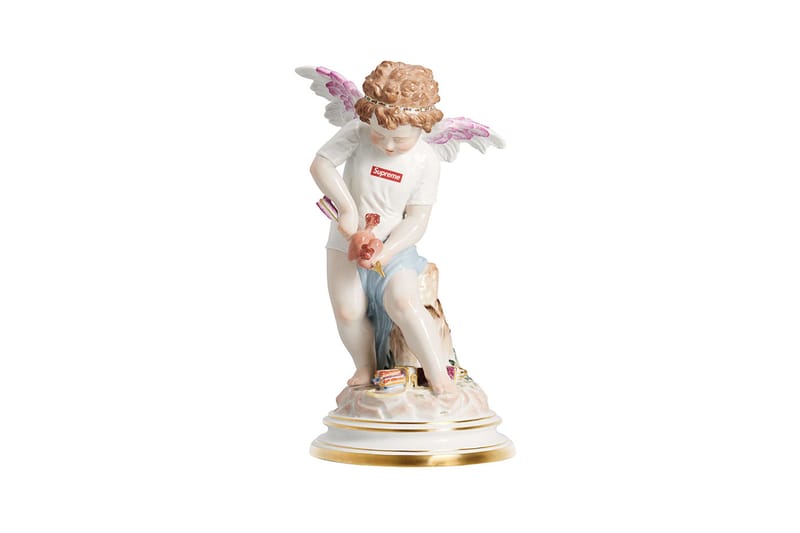 Supreme
One thing Supreme does brilliantly is acting as a history teaching to the younger generation, and nothing says Georgian chic more than the Supreme x Meissen Hand-Painted Porcelain Cupid. The German company started life back in 1708, and in its hundreds of years of existence, it has become the word in fine porcelain production. Art purists might say Supreme's adaptation is a bastardization, we'd say it's genius — spot the BOGO the cupid is wearing? An inspired touch.
Supreme x Louis Vuitton Malle Courrier Trunk Monogram 90, 2017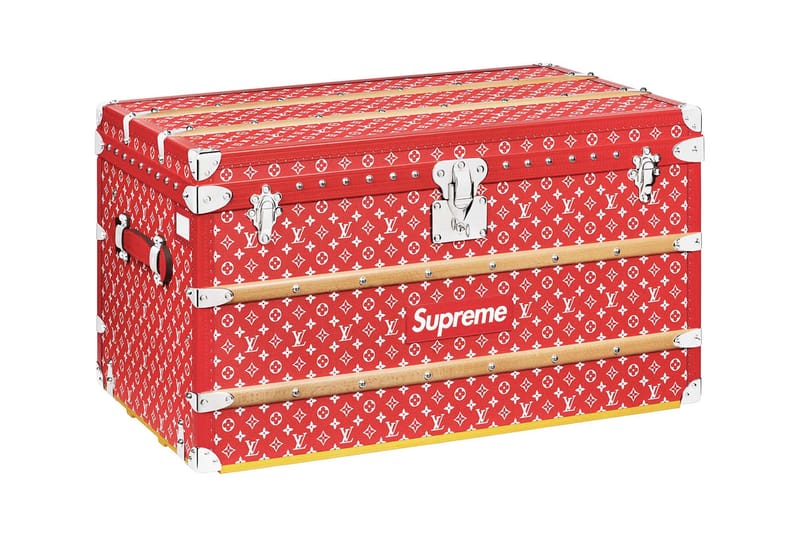 Supreme
Supreme's collaboration with Louis Vuitton will go down in the history books. You could even argue it single-handedly accelerated the luxury resale market thing going on. Its appeal lies in the seeming disparity between the two brands: subcultural hype meets unparalleled levels of luxury, craftsmanship, and legacy. For that, and the fact that very few of these exist, it's an icon we can only dream of.
Supreme Bamboo Beaded Curtain, 2017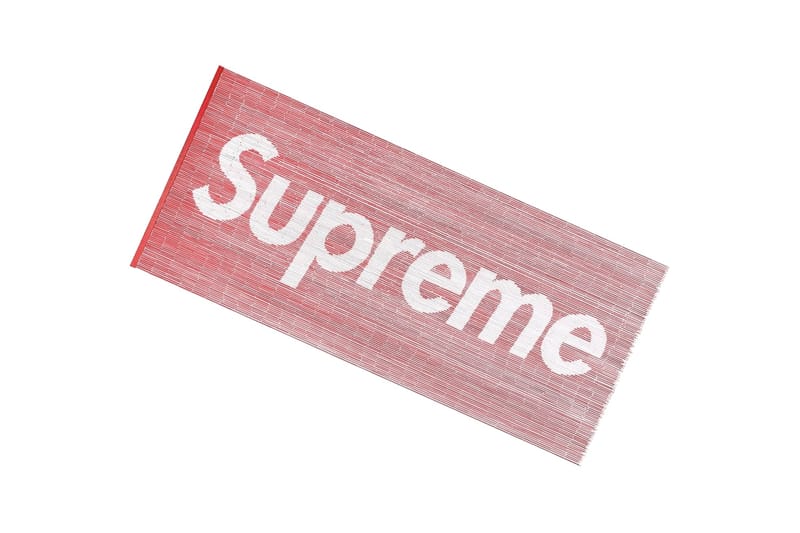 Stadium Goods
If the LV trunk was a bit too much for you, then settle down, align your chakras, breath in and take a step into a serene world separated by the Supreme bamboo beaded curtain. Supreme is known for many things, but being relaxed isn't one of them. While its stores may smell of Nag Champa, hardcore music is often playing at the same time, so bringing back a sense of calm is this SS17 piece. A must-have for any boho BOGO lover.
Supreme x Scarface "The World Is Yours" Lamp, 2017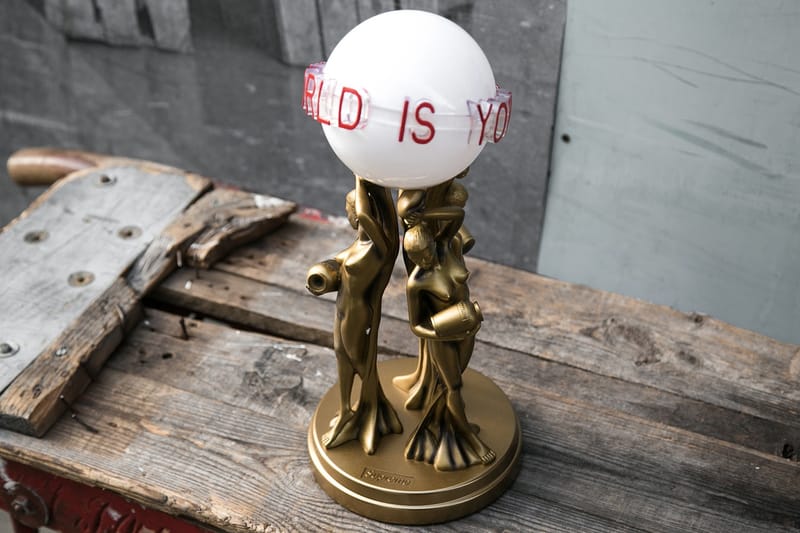 Ben Awin/Hypebeast
Say hello to our little friend, the Supreme x Scarface "The World Is Yours" lamp. This FW17 piece comes from an extensive collaboration with Scarface, paying homage to one of the most iconic movie scenes ever, all centered around the "World Is Yours" fountain. This scaled-down version is less gangster palace and more "tell me you're a hypebeast without telling me you're a hypebeast," as it sits glowing on your Supreme x Artek bench.
Supreme x Kuumba Incense Kit, 2009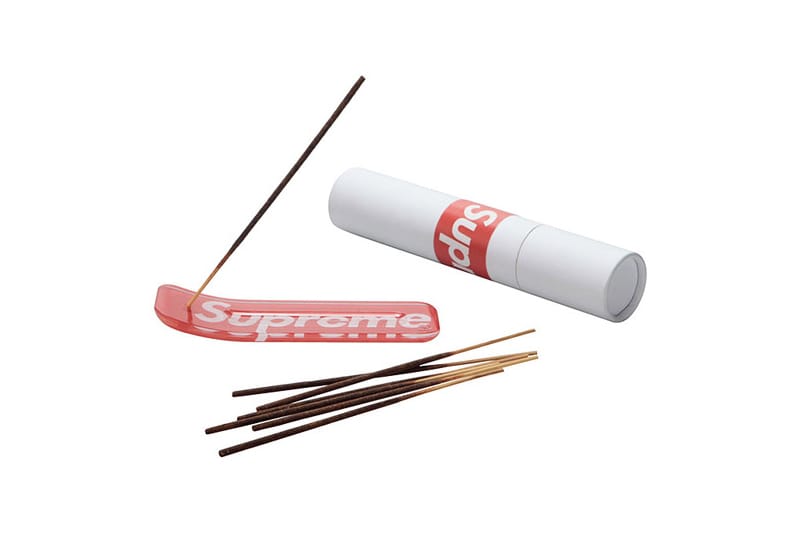 Supreme
As we touched upon earlier, Supreme stores always smell enticingly good thanks to a heavy dose of Nag Champa. However, its SS09 collaboration with the premium Japanese lifestyle brand Kuumba is something that only the OG Sup' heads will remember. Likely impossible to find in an unopened condition (because why wouldn't you burn this?), the Supreme x Kuumba kit came with a branded incense holder and a pot of special incense sticks, and nothing has ever come close since.
Supreme "Praying Hands" Salt and Pepper Shakers, 2013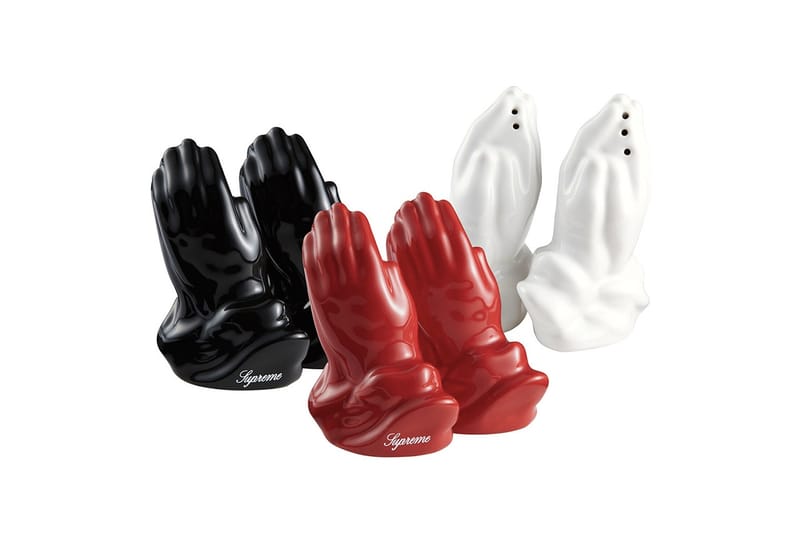 Supreme
Here's another rarity from the mastermind design team at Supreme, this time around presenting the "Praying Hands" salt and pepper shakers from SS13. Supreme is known for its iconoclastic imagery, often subverting religious iconography with its own branding and motifs. However, the salt and pepper shakers served a level of taste, as the branding was cursive and sophisticatedly minimal — a rarity in the Supreme world, which makes this piece even more desirable.
Source: Read Full Article