What You Don't Get To See On RuPaul's Drag Race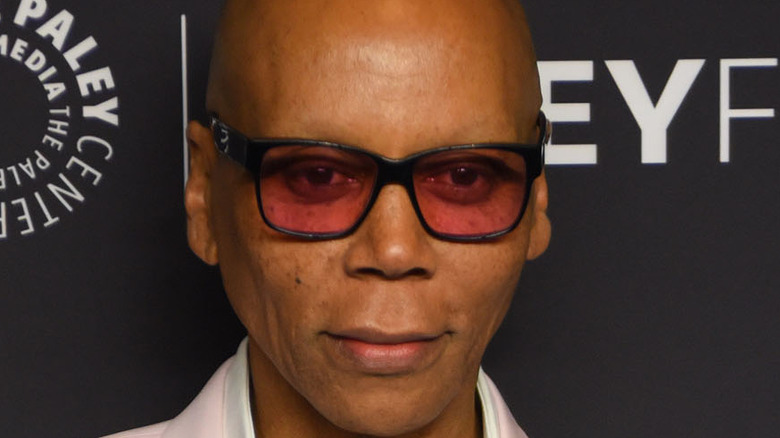 What if we told you there was a show that combines the showmanship of "America's Got Talent," the costume and sewing skills of "Project Runway," and the drama of "Keeping Up With the Kardashians" — you'd think it sounds too good to be true, right? Wrong, because the iconic competition series "RuPaul's Drag Race" continues to impress and push the envelope season after season. Of course, RuPaul is the queen of drag (as Jimmy Fallon now knows wholeheartedly), and every season, Ru welcomes queens from all over to compete for the ultimate title — winner of drag's biggest competition. The show has launched careers, provided iconic scenes and one-liners, and continues to impress on a number of levels, so it makes sense that RuPaul is worth a pretty penny.
But, like all shows, there's a lot that happens behind the scenes that viewers don't get to see. How are queens selected for the show? Where do they stay, and what access do they have to the outside world? Are they given any hints or clues about the competition? Luckily for you, we have all the answers. Here's what you don't get to see on "RuPaul's Drag Race."
The audition process for RuPaul's Drag Race puts hopeful contestants through the ringer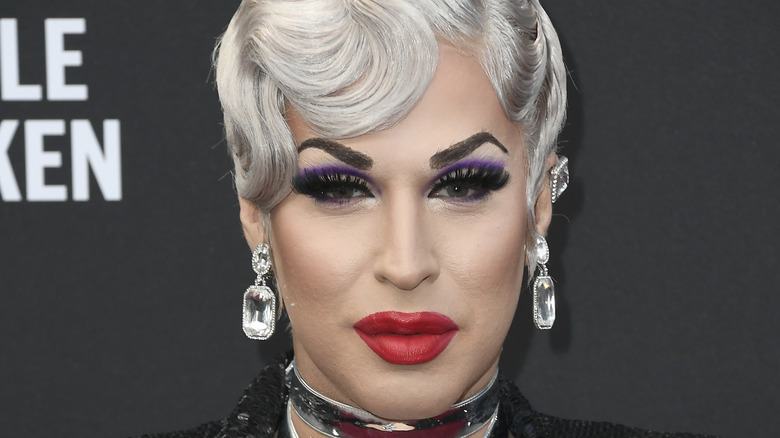 Let's start with the obvious first behind-the-scenes secret everyone wants to know — how do the queens actually get onto "RuPaul's Drag Race?" It probably doesn't come as a huge surprise that there's a lengthy audition process, but it's all a bit more dramatic than you might think. 
The 2019 runner-up of "Drag Race," Brooke Lynn Heights, penned a very expository article for Cosmopolitan and spilled about the show's audition process. She revealed that she auditioned not once, not twice, but three times before snagging a coveted spot on the show. She also noted that there is an extensive video component of the audition, which sounds stressful. "You have to make a video that's no longer than 20 minutes, but in that 20 minutes you have to do two lip sync performances, acting challenges, three snatch games, 14 runway looks, as well as a boy interview, as well as a costume you made out of paper… You had to get them all in there," she wrote. We just can't even imagine how that's even possible, let alone that Heights did it three times. Talk about commitment.
The RuPaul's Drag Race contestants can prep for the Lip Sync For Your Life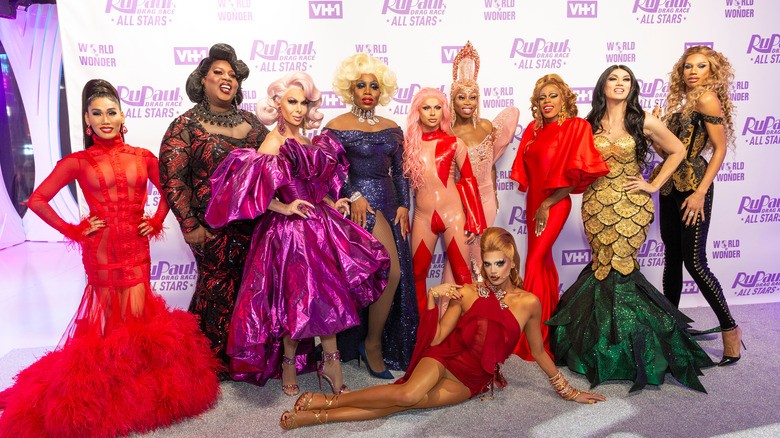 If you've watched "RuPaul's Drag Race" and wondered just how on earth the queens know the lyrics to every single song featured during the Lip Sync For Your Life at the end of each episode, then you're not alone. A lot of us know bits and pieces of song lyrics — almost always the chorus — but what about the intricate bridges or rap breaks that the queens always seem to master? Not to mention the fact that they nail every single word while breaking out in some seriously impressive dance moves — yet, we will say that some of the lip sync performances aren't so great.
Well, one behind-the-scenes component of the show that may come as a surprise is that the contestants are allowed to prep for the lip sync, and they are given iPods with the lip sync song options already downloaded so they can practice (via The Delite). Of course, with any competition, there's a catch: The queens do get the iPod of songs provided to them, but they aren't told exactly what song they'll face during the lip sync challenge. But what better excuse is there to master an Ariana Grande chart topper than prepping for the biggest competition on television, right?
This queen revealed she was blindfolded during this behind-the-scenes Drag Race moment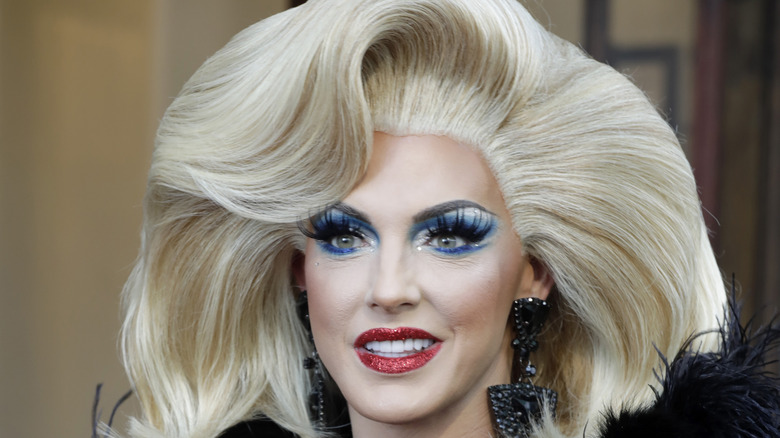 "RuPaul's Drag Race" has a flair for the dramatic, but what if we told you that contestants undergo a blindfolding experience? We were just as shocked as you probably are, but some of the queens took to YouTube to tell all. Specifically, Alyssa Edwards shared during a YouTube video that she and other "All Stars" contestants were blindfolded once they got off their plane in order to mask the location of the hotel where they were staying. "They took us off the plane and blindfolded us and got us here to the hotel so nobody could know where the girls are," she said, which sounds a bit like an elaborate kidnapping plot, if you ask us. 
Another queen, Alaska, went on to share in the same video that she was not allowed to open up her hotel room's curtains, as production didn't want her or any other contestants to know who else from the show was staying close by. If we were in a hostage situation, we would definitely want Adore Delano there with us providing her Libra star power, so this behind-the-scenes tidbit is seriously wild.
The time between auditions and filming for RuPaul's Drag Race is super short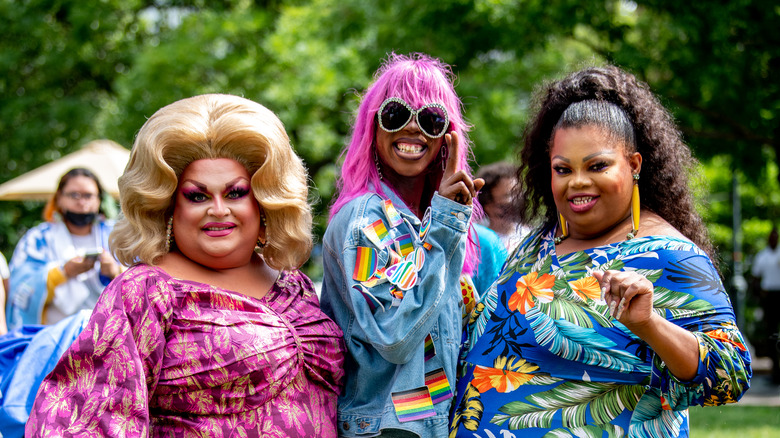 If "RuPaul's Drag Race" seems like a huge commitment on camera, then you can just imagine how much dedication it takes to make it through the show off camera. As noted by RadioTimes, contestants on the United Kingdom version of "Drag Race" revealed that production only gave them three weeks to prepare for the show if they got cast, which sounds like a slim amount of time to get all your affairs in order before competing on a show that can last for quite some time. 
Scaredy Kat revealed to RadioTimes that the time between getting cast and appearing on the show was incredibly hectic, and we can certainly understand why. "I had no idea what I was doing. It was like, 'OK, f**k uni, I've got to do all this now!'" she said. One of the worst parts of the casting-to-production experience, however, is that the queens can't tell their families that they've been cast. "That's the hardest part — your family isn't even supposed to know," queen Blu Hydrangea said. That just seems brutal.
When the RuPaul's Drag Race cameras aren't around, the queens rarely see the show's star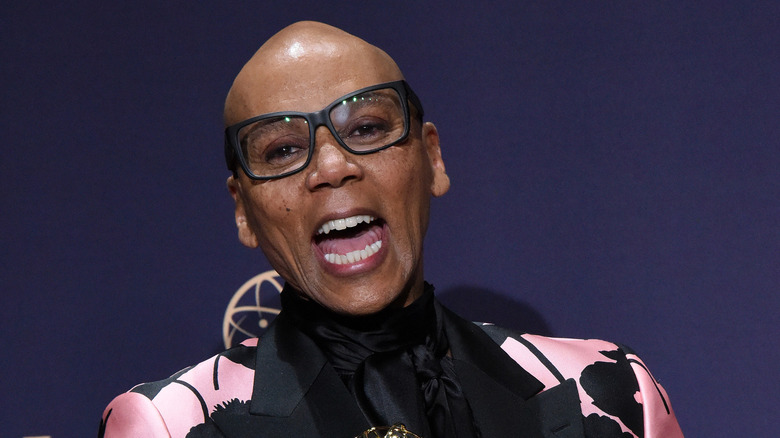 When you watch "RuPaul's Drag Race," you can't help but feel as though Mama Ru is there watching over the queens like an amazing drag fairy godmother. Ru seems to be consistently in the werkroom, engaging with the queens and giving them advice along the way. That is a recurring dream that we have, and, no, we're not going to apologize for it. 
But in an article penned by queen Brooke Lynn Heights for Cosmopolitan, she revealed that during filming, Ru isn't really seen all that much by the queens competing for ultimate glory. "We'd probably see him once or twice a day," Heights revealed. "He's very professional, and I think it's important that people realize that there has to be kind of a separation from the judge and the contestants." The iconic queen revealed that RuPaul is "not chumming it up" with the contestants during the show, but, instead, keeping his distance. "When the cameras aren't rolling, he doesn't speak to us really," Heights wrote. "Because we're making a TV show, it needs to be kept for TV. But he was never cold."
We love the Drag Race queens' intros, but there's a catch to what we see on camera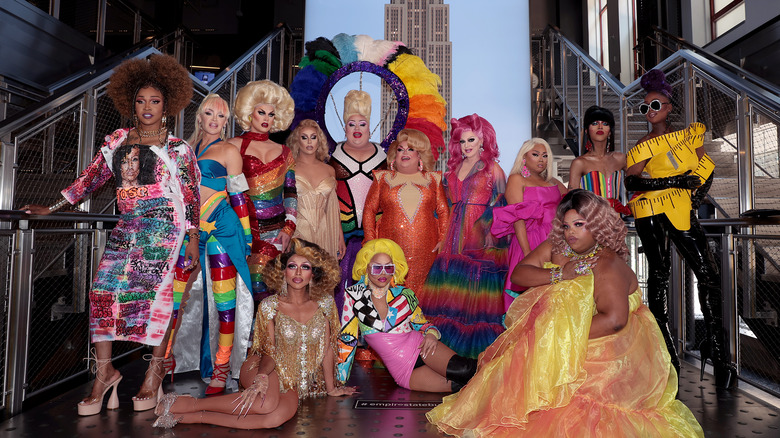 One of the best parts of "RuPaul's Drag Race" is the queens' entrances. Some come in their well-known attire, while others make a huge scene with outlandish outfits — whatever they so choose, fans of "Drag Race" everywhere will tell you that the entrances stand out among the episodes. But a behind-the-scenes detail that you might not know is that the queens don't know who else is competing on the season until they enter the werkroom. That's right. 
As noted by The Delite, the queens are "secluded" not only from the world outside of "Drag Race," but also from the other contestants until the cameras are rolling. That in and of itself is what makes the entrance sequence so entertaining — the queens have no idea who could show up next. As for "All Stars," production watches the queens and their careers after they leave their regular seasons to find out who should come back, as noted by Entertainment Weekly. But, even so, while "All Stars" contestants might know each other better, there's no finding out who the competition is until they show up.
This is how long the RuPaul's Drag Race queens have to get ready during filming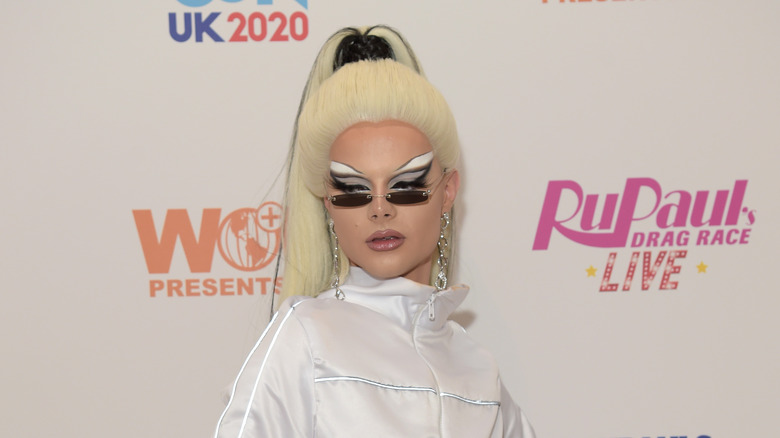 If you've ever found yourself down the YouTube rabbit hole and have come across a drag queen's makeup tutorial video, you're not alone. The skill that goes into each queen's makeup look is amazing, but the time commitment to the craft is pretty intense. But here's something that you might not know about "RuPaul's Drag Race": Despite the amount of time needed to perfect a queen's makeup and full drag look, the show's contestants only have about 90 minutes to put their looks together — which, if you know anything about drag makeup, is literally no time at all.
The Vivienne told RadioTimes that getting ready for the show in just 90 minutes was one of the most stressful times of her life, and we can absolutely see why. "Imagine working until the early hours of the morning, having two hours sleep, then having to get up, film other stuff, and finally having an hour-and-a-half to get in drag," she said. That truly sounds wild. To add even more stress to the situation, Gothy Kendoll revealed that the werkroom conditions aren't super ideal — hot lights and other queens and camera crews make for a pretty hectic situation.
The queens are given catwalk runway clues before filming for RuPaul's Drag Race even begins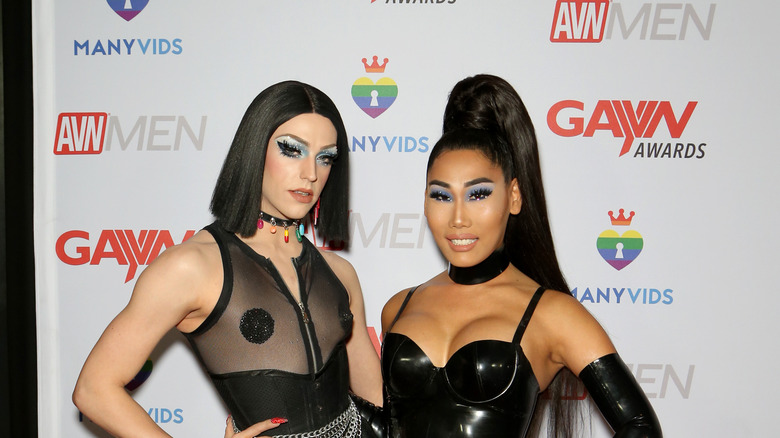 When we watch "RuPaul's Drag Race," we're constantly in awe of the costumes and wardrobe choices that each queen makes on the runway. Some of the ensembles are truly sickening (shoutout to Laganja Estranja), while others are just hands-down beautiful. But what you don't get to see on "Drag Race" is that all the queens bring their catwalk wardrobe choices with them from day one, meaning that even if a queen goes home during the first week, chances are she brought all the clothes necessary to take her to the final. 
Brooke Lynn Heights, 2019's "Drag Race" runner-up, shared with Cosmopolitan that the contestants are told the catwalk themes before the show starts, allowing them to prep accordingly. "We're sent a list of looks to bring for the runway in advance of filming. We don't know what order they're going to happen in, but we have an idea of what to bring," she wrote. "You find out what the exact theme is a day before the runway." Can you imagine just how many amazing outfits we haven't gotten to see?
Viewers don't always see the tight friendships that are formed on RuPaul's Drag Race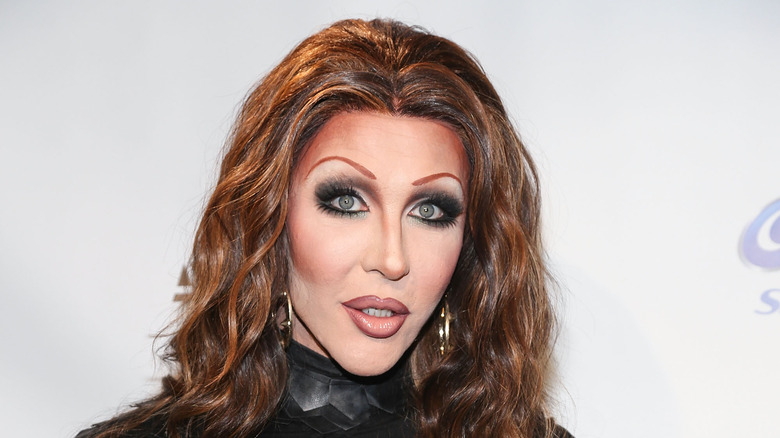 A lot of viewers love "RuPaul's Drag Race" because it brings the glitz, performances, and star quality. It also brings the drama, and a good chunk of the show relies on some petty backstabbing and natural competition. But what a lot of viewers don't see on "Drag Race" are the close relationships that can form between the queens, and many of them go on to have lifelong friendships. 
For example, iconic queen Chad Michaels and Britney Spears drag impersonator Derrick Barry share a very special bond. According to ScreenRant, Michaels was the first queen that Barry met in her drag career — ever since, Barry has referred to Michaels as her "fairy drag mother." "Drag Race" has also fostered some amazing professional friendships. Take Milk, for example, who slayed in Season 6. Milk left the show and went on to have a stunning career in modeling and, as such, bonded with none other than designer Marc Jacobs. The show undoubtedly opened so many doors for Milk, and a friendship with an iconic designer is just icing on the cake.
RuPaul's Drag Race avoids spoilers with this clever trick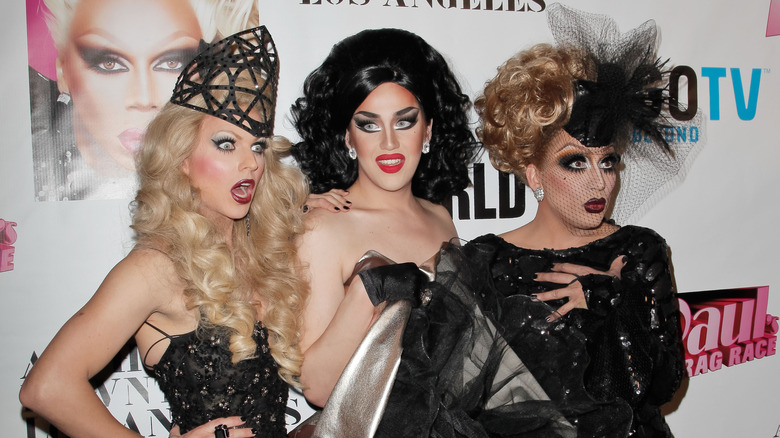 We're banking on the understanding that you, lovely reader, are a fan of reality television. With the likely chance that you watch reality shows other than "RuPaul's Drag Race," such as "Keeping Up With the Kardashians" (R.I.P.) and "The Bachelor," we think it's safe to say that spoilers are your thing. A lot of us can't get through a season of "The Bachelor" without combing through articles for season-ending spoilers. But "Drag Race" takes spoilers very seriously, so much so that the show's producers have a sneaky way of avoiding a season-ruining leak. 
As noted by PopBuzz, the queens who make it to the finale all shoot a scene walking as the winner of the show. While this might sound a little brutal, especially for the queens who don't win, this is to ensure that if anything does leak to the audience, it can be dispelled. This, honestly, is a very smart way to address the fever that is reality television spoilers. Of course, filming on "Drag Race" can last as long as 12 hours a day, and, as noted by PopBuzz, much of that time is spent in heels, makeup, and tucked status. But getting a chance to walk as the winner? Priceless.
This part of RuPaul's Drag Race is filmed twice for a specific reason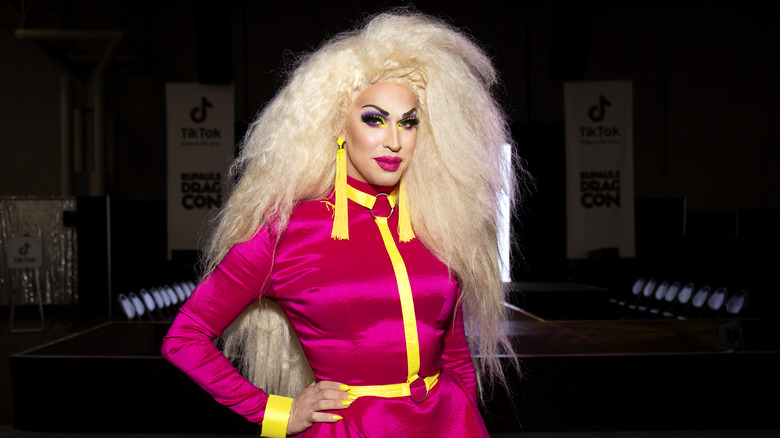 Some catwalk moments during "RuPaul's Drag Race" are too good to be true. For example, when Brooke Lynn Heights hit the main stage during the "Sequins on the Runway" catwalk and went from Diana Ross goddess to blonde bombshell in a single turn, RuPaul let out a (very appropriate but very loud) scream. So did we, not going to lie. 
The queen was right when she said that RuPaul was "gagged," but if you watch the clip back again (conveniently linked for you, darlings), then you'll notice that the screams and hollers from the judges' panel don't fluster Heights at all. Of course, you could assign that to her superstardom, but what people don't see on "Drag Race" is that the main show runways are filmed twice.
As noted by PopBuzz, each display from the queens on the runway is filmed over again, as to have footage both with music and with the judges' comments. So even our most outlandish main stage performances are typically done over again to make sure there's enough footage without RuPaul screaming, "You better motherf***ing work, b**ch." That's all.
When the Drag Race contestants all stay in a hotel together, the situation isn't all fun and games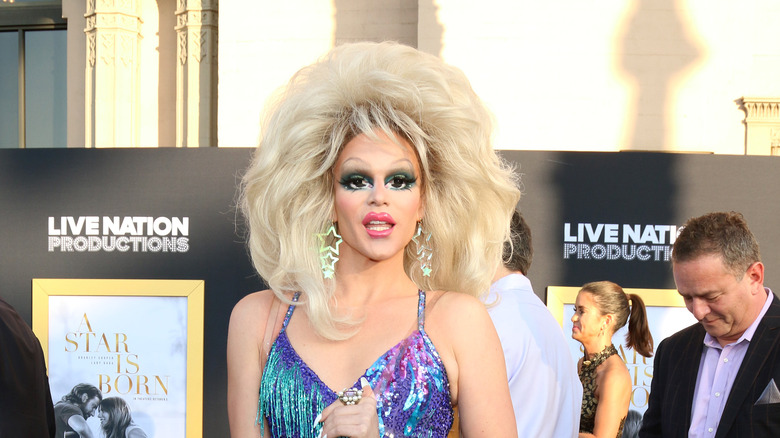 One of the biggest aspects of "RuPaul's Drag Race" that viewers don't get to see are the accommodations. After contestants are taken through their kidnapping sequence (still can't get over that), the queens all stay in a hotel together. As Brooke Lynn Heights penned for Cosmopolitan, all the contestants stay together and are not allowed to have visitors or access to their phones. "The further you got on in the process, the more worn down you got, and wanted your home back and to talk to people," Heights wrote. "I missed my cats a lot, so that was hard." 
Apparently, the no-visitors rule is very strict, too. Contestant Willam Belli was allegedly disqualified because her husband came to visit her at the hotel where she was staying during filming, as noted by The Delite. She later refuted that report, telling In Magazine, "I would have … told people the real reason why I got kicked off. Get me drunk enough and I will in person." Either way, all staying in a hotel together without phone access sounds pretty brutal.
This is how RuPaul's Drag Race maintains the interview portion aesthetic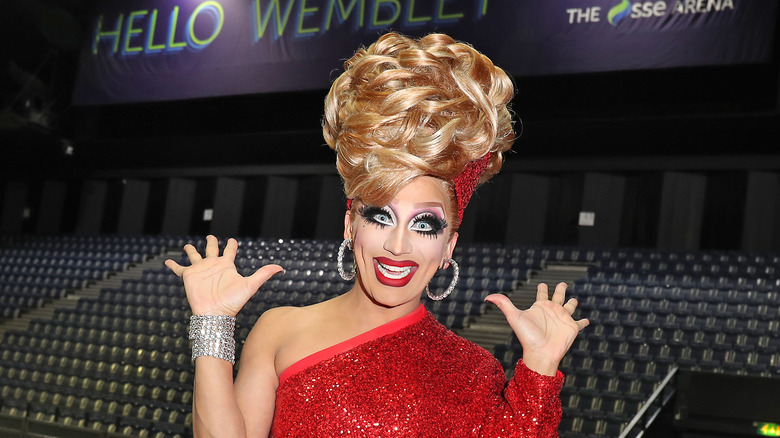 "RuPaul's Drag Race" has some amazing standout moments, but it also features some fantastic editing. Just think of all of Bianca Del Rio's amazing facial expressions and reactions whenever another queen would say something stupid — or anything at all, really. The camera would always cut to a shot of Del Rio in the interview room, giving her riff on the situation at hand. 
But what you might not know about "Drag Race" is that while the interview sessions are filmed throughout the series, queens have to wear the same clothes for each on-camera appearance so the look stays consistent, as noted by PopBuzz. Before this rule was implemented in earlier seasons of "Drag Race," a queen could show up for an interview in one outfit, only to appear in another ensemble later on in the show. Production must've not liked the ever-changing aesthetic, so the contestants have since had to rewear their same clothes each time they speak directly to the camera.
No word on whether or not they can wash their interview clothes during the duration of the show — we certainly hope so.
This is how long it takes RuPaul to get ready for each Drag Race show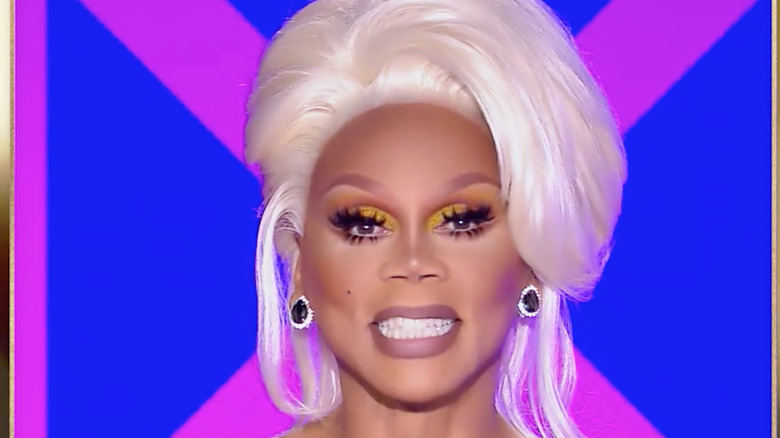 While the queens only get about 90 minutes to get ready, RuPaul actually takes about six hours to perfect her runway look. Every episode of "RuPaul's Drag Race" sees Mama Ru in a stunning ensemble, with a face beaten to the Gods. But Ru has about four times the amount of time that contestants have to get ready. And while we wish we could see her entire primping-and-prepping time, we also know that she probably wouldn't want us hovering over her while she's getting her makeup done. 
Speaking about her drag makeover experience, Ru shared with "Hollywood Today Live" that she and her makeup artist, Mathu Andersen, get together early in the day and make a whole experience out of the process. "Mathu and I, we get back there, we start at six in the morning, we have tea, we eat, we dance … we look at the outfits, we just get into it," Ru said, as noted by Insider. Of course, we would love to see what each of the queens could come up with if they had six hours of prep time, but the speed and competition is what makes the show so spectacular.
Source: Read Full Article