What Derek Chauvin's Life Will Be Like In Prison
Capping a historic criminal trial, former Minnesota police officer Derek Chauvin was sentenced on June 25 to 22.5 years of prison for the murder of George Floyd, ABC News reported. As of this writing, the Minnesota Department of Corrections has yet to determine where Chauvin will serve his time, but during the trial, he was held at Minnesota Correctional Facility-Oak Park Heights.
Floyd's brother, Philonise Floyd said post-sentencing, "The legend will still live on. George isn't here, but his spirit is still here. Breonna Taylor is not here, but her spirit is still here. Eric Garner isn't here, but his spirit is still here," listing other Black individuals who died as a result of police violence. Meanwhile, Floyd's nephew Brandon Williams argued Chauvin deserved a life sentence. "What kind of message are you sending to our country? … That you can kill a man in cold blood and get a slap on the wrist? " he said. 
But whether it's 22.5 years or a lifetime, Chauvin won't have it easy in prison. Here's what his life inside might look like.
Derek Chauvin will likely not be in general population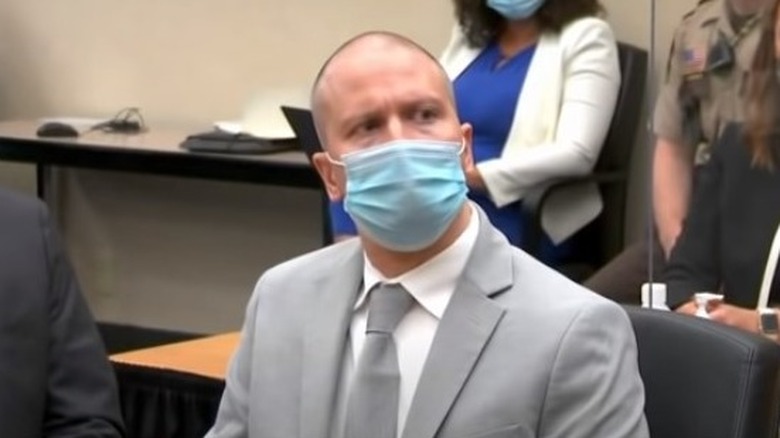 We don't know exactly what Derek Chauvin's experience in prison will be like, but it's highly likely he won't be placed in general population due to safety concerns. As prison inmate Hannabal Shaddai, who is serving a life sentence at the maximum-security prison where Chauvin was being held during the trial, told Paradox, the ex-cop isn't "safe in any prison population." Shaddai theorized to Paradox in an early May phone call, "First of all, he's a cop. Then he did what he did… Best case scenario for him is he's going to get beat up a lot." 
Shaddai also claimed Chauvin was "complaining about people messing with his food." However, as Shaddai pointed out, "There's a camera in his cell… so I don't think someone would risk their job to do something to his food. Maybe a few correctional officers are sympathetic to him, but man, anybody who's human is going to be upset about what he did."
Chauvin was held in "a restricted housing unit separate from the general population" during the trial, per CNN. Minnesota Department of Corrections spokesperson Sarah Fitzgerald told the outlet in late April, "He is on 'administrative segregation' status for his safety… Administrative segregation is used when someone's presence in the general population is a safety concern." It seems like Shaddai's speculation about Chauvin's safety was on the money. 
Source: Read Full Article