Wait, It Looks Like Jordyn Woods Actually *Did* Take a Lie Detector Test After Her 'Red Table Talk' Interview
Morning, friends! Please grab the nearest shovel and join me in digging up some old Kardashian drama. And of course, if you read the title of this article (which I assume you did, cause here we are), you'll know that I'm talking about the Tristan Thompson/Jordyn Woods scandal, and more specifically, Jordyn's infamous Red Table Talk interview.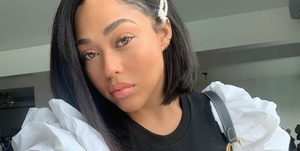 As you most likely recall, after news that Jordyn and Tristan kissed came out, Jordyn went on Jada Pinkett Smith's Facebook show to clear a few things up. During the 30 minute interview, Jordyn dropped a lot of truth bombs, including that she and Tristan hadn't hooked up before, that she told Khloé she'd been at the party, and that she "knows" she's not the reason why Khloé and Tristan ultimately broke up.
Jordyn also denied sleeping with Tristan and said that she'd take a lie detector test to prove it, which is where our update comes in. In a preview for the next episode of Red Table Talk, Jada says that they will be answering viewers' burning questions, and then shows a fan asking if Jordyn actually did take a lie detector test after saying she would during their interview. The preview then cuts to Jordyn being strapped into a test and an administrator asking, "So are you ready to do your polygraph?"
Obviously, Jada knows a good cliff hanger when she sees one, so she leaves it there without revealing what questions Jordyn answers or why the footage wasn't previously aired. And it works, cause I know that I'll be tuning in because I NEED answers!!
Source: Read Full Article