Tragic Details About Sha'Carri Richardson
The following article contains references to suicide and mental health struggles.
When Sha'Carri Richardson made history with a 100m dash record of 10.86 seconds — just a second short of Usain Bolt's legendary record (via The Cut) — America seemed to instantly fall in love with the orange-haired track titan. The young star had qualified for the Olympic team, and she did so while offering heartfelt thanks to her girlfriend who helped her to choose her signature hair color as it's as "loud and vibrant" as she is (via USA Today). Richardson brought the track alive and America anticipated greatness in the soon-to-be-Olympian. However, life intervened — as it does for so many of us at the least convenient moments — and her dreams were put on pause.
After a race in 2019, Richardson told reporters (via MileSplit USA), "As an athlete you have to take your losses just as well as your wins." The sage words apply to the intense world of competitive sport of which Richardson thrives, but they also apply to life. And as the tragic details about Richardson prove, she's more than capable of taking her losses just as well as her wins. 
Sha'Carri Richardson's mother 'abandoned' her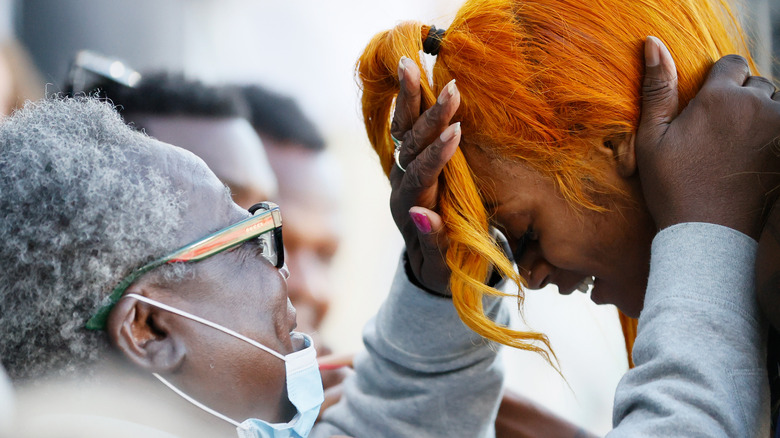 When Sha'Carri Richardson flew through the 100 metre race that earned her a place on the Olympics team, the young sprinter moved sports fans when she ran up to the stands to hug her grandmother. "My grandmother is my heart," she told reporters, according to The Washington Post. "My grandmother is my superwoman." It was a touching moment, and one that resonated with fans across America: Who doesn't adore their grandmother? But there was much more going on beneath the surface of the endearing moment.
According to The Guardian, Richardson "was abandoned by her mother" as a child and was subsequently raised by her grandmother (via Us Magazine). The bond she has with her family — in particular the relationship she shares with her grandmother — is clearly a powerful one. In a post-race interview with NBC Sports, she said, "My family is my everything … till the day I'm done," and praised the love and support of her family matriarch by saying, "without my grandmother, there would be no Sha'Carri Richardson."
The death that shocked Sha'Carri Richardson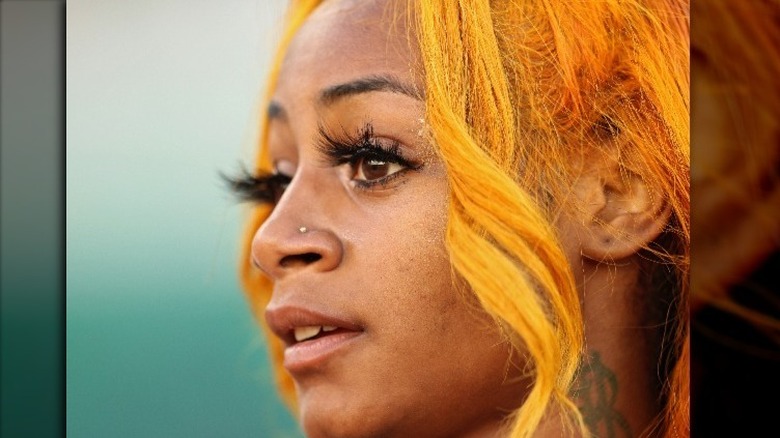 There are few things more indicative of a true Olympian than an athlete who conjures the strength to triumph against the tumult of some of the worst hardships life can throw at them. This was unfortunately true of Sha'Carri Richardson who discovered that her biological mother had died just a week prior to the Olympic track and field trials, and had found out in a devastating manner.
The athlete confirmed to Today that she first learned about her mom's death from a reporter. "I was just thinking it would be a normal interview, " she said. "And then on the interview to hear that information come from a complete stranger? It was definitely triggering, it was nerve-shocking, because it's like who are you to tell me that?"
Richardson appears to be reasonably guarded about sharing information pertaining to her biological mother and the circumstances surrounding their relationship, or lack thereof. When NBC Sports asked about her mom, the sprinting star declined to give further details but said, "I want to thank her for bringing me into this world. I respect her and I love her. I know she loves me." Impressively, Richardson managed to keep focus and stay on assignment in spite of her grief, and smashed the Olympics trials to make the team. But sadly, another obstacle awaited her.
An Olympic disqualification and suspension quickly followed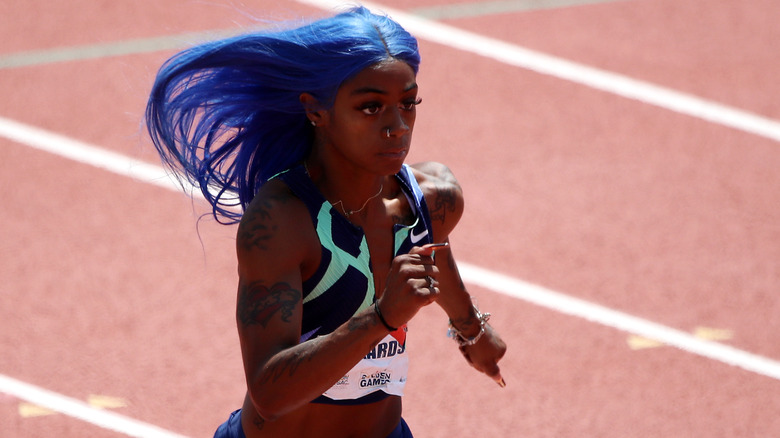 The U.S. Anti-Doping Agency (USADA) announced that Sha'Carri Richardson had received a month-long suspension from the U.S. Olympic team after testing positive for THC, the main psychoactive compound in marijuana (via CNN). Although the suspension would be over in time for the scheduled date of the women's 4×100-meter relay — which Richardson was to compete in — she was not selected for the relay pool, according to the roster released by USA Track & Field (USATF) (via ESPN).
The decision was met with controversy due to a number of factors. For starters, Richardson had suggested she'd used marijuana during the Olympic trials to help her cope with the news of her biological mother's death. For another, as The New York Times noted, "marijuana is legal for recreational use in more than a dozen states, including Oregon, where the trails were held." A founder of the World Anti-Doping Agency (WADA) even freely admitted to The Washington Post that they don't consider marijuana to be "performance-enhancing" and that the drug's inclusion as a banned substance is instead due to it being "prohibited by criminal law" in much of the world.
Regardless, as President Joe Biden shared in a statement on the decision, "The rules are the rules … whether they should remain the rules is a different issue" (via The Guardian). Richardson's Tokyo dreams were sadly dashed for 2021, but she promised to "be your World Champ next year" instead.
Sha'Carri speaks out, and so does the world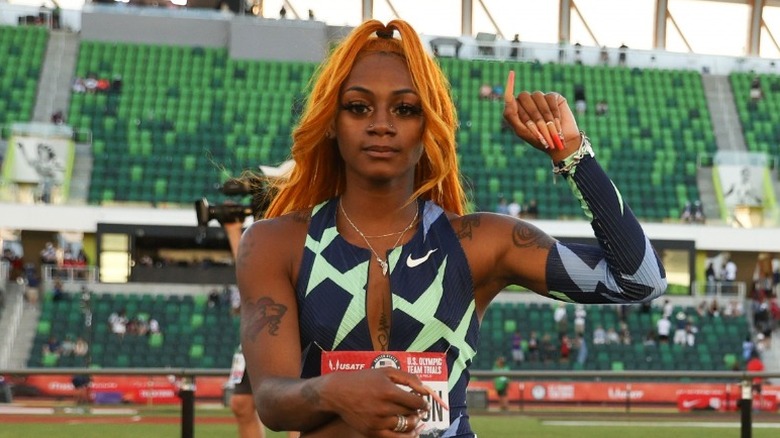 Sha'Carri Richardson accepted the one-month suspension sanction from USADA, who further confirmed that the penalty extended to the sports superstar also forfeiting her impressive Olympic Trials results. She then offered a public apology on NBC's "Today" show for using marijuana whilst she was in mourning. "I apologize for the fact that I didn't know how to control my emotions or deal with my emotions during that time," she said. 
However, she also remained positive about her future. "I'm 21, I'm very young," she noted. "I have plenty of Games left in me to compete in and I have plenty of talent that backs me up, because everything I do comes from me naturally. No steroid, no anything." An official statement from USATF shared that the team was "incredibly sympathetic" towards the disqualified athlete's "extenuating circumstances" and also applauded "her accountability" in being so honest and open about her marijuana use (via CNN). 
The general public also appeared to be on Richardson's side. Days after it was set up, over 500,000 people had signed a petition to reinstate Richardson to the US Track and Field team, according to Forbes. Meanwhile on Twitter, Rep. Alexandria Ocasio-Cortez expressed her opinion that the decision "lacks any scientific basis," and is "rooted solely in the systemic racism that's long driven anti-marijuana laws" when sharing an official letter submitted by herself and Rep. Jamie Raskin calling upon the U.S. Anti-Doping Agency to reverse its decision.
Sha'Carri Richardson's incredible story of success was interrupted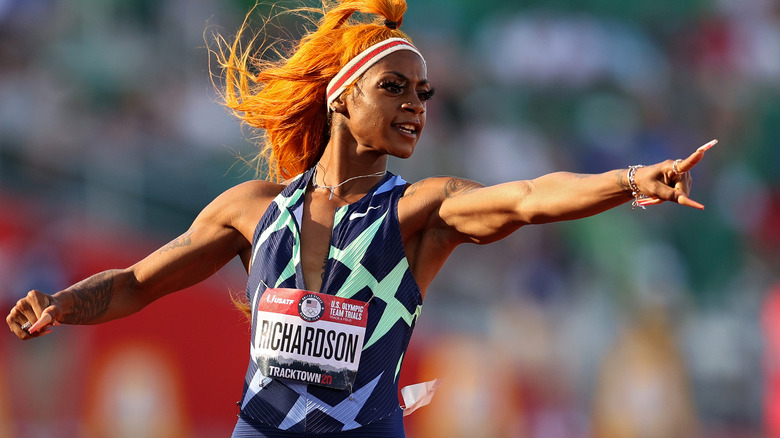 The true tragedy of Sha'Carri Richardson missing out on competing at the 2021 Tokyo Olympics is just how exciting her potential as an Olympic competitor was, as proven by the young star's already phenomenal track record. According to D Magazine, Richardson ran away with the Texas State Championship in 100m, "earning the title of 'fastest girl in Texas.'" Like any champion, however, she wasn't content with simply being the fastest girl regionally: Richardson had set her sights on the world.
In 2018, Richardson went to Louisiana State University. There she set a record at the 2019 NCAA Track and Field championships when she clocked in at 10.75 seconds, making her "among the 10 fastest women in the world" at the young age of just 19, according to First Post. Keeping the ball rolling, Richardson announced her decision "to pursue my life long dream and become a professional athlete" via a note on Instagram, making the emotional decision to finish her "journey" with LSU track and field in order to do so.
It's devastating to consider these facts about her potential as a young Olympic competitor, particularly in light of her athletic sanction. It also makes Richardson's disqualification following her triumphant achievement at the 2021 Olympic Trials all the more difficult to digest (via NBC Sports) — especially when you take into account what it took to even reach this point.
Her 2019 USA championship disappointment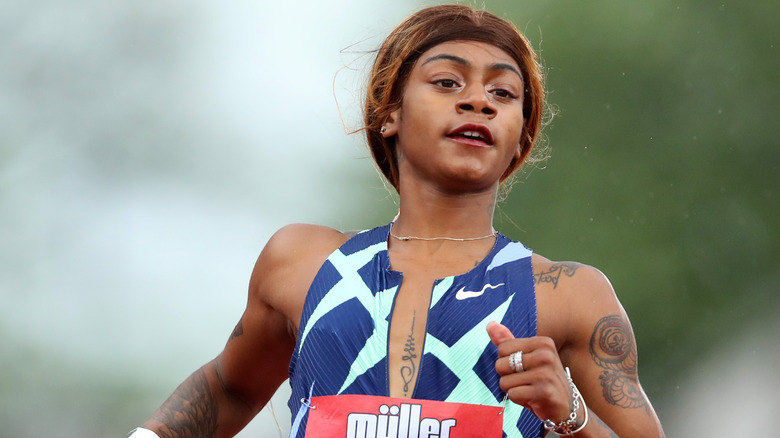 At the end of a hugely successful and unexpectedly long season that took over the first half of 2019, Sha'Carri Richardson was being hyped up to break even more records at the women's track and field events at the USA championships. However, as The Advocate reported, the young sprinting star "had a disappointing run," and failed to win a major title in either the 100m and 200m, and Richardson "needed to finish in the top three to represent the USA in the World championships." In a post-race interview (via FloTrack), Richardson seemed especially let down by her 100m performance in which she came eighth and recorded a time of 11.72 seconds. However, she wasn't to be defeated.
"I take it as a lesson," she said. "I know what I'm capable of just as well as everyone else knows it as well, so this is definitely not a reason to count me out." Her reasoning for not quite achieving her best was also understandable, as the athlete explained that the extended season had put her body under extraneous stress. "The times that I've hit are outstanding times," she said, referencing her record-breaking NCAA Track and Field championship time. "So my body's probably kind of telling me to slow down … It don't matter what you want to do physically, if your body's not on board, then nothing's going to happen."
Sha'Carri Richardson has experienced mental health struggles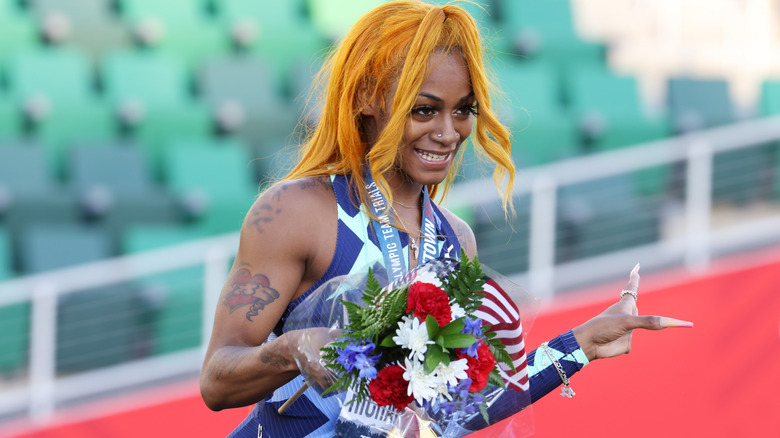 It isn't just the understandable physical exhaustion that can come with being an Olympics-level athlete that Sha'Carri Richardson has to contend with, however. The sprinter has also been open about her own mental health, with The Guardian reporting she attempted suicide while she was a high school student. In 2020, Richardson also drew support when she opened up about her struggles on Twitter: "So much pain in me I hope it don't end me."
During an interview with D Magazine, she made it clear that she wants to continue to be an advocate for mental health awareness based on these lived experiences and difficulties. Noted as having "aspirations to one day become a sports psychologist," the athlete opened up about why the mind is just as important as the body, "I feel like mental health in sports is ignored a lot," she said. "I definitely know that your mental health directly correlates to your ability to achieve your physical goals."
Whilst discussing why she used marijuana when her biological mother died on "Today," Richardson explained the difficulty of having to "put on a face and go in front of the world" whilst juggling the difficulty of poor mental health with the "pressure" of people still expecting her to achieve "a record-breaking time." We might not all be able to relate to her incredible talents as an athlete or the pressure that comes with, but as she put it in the interview, "I'm human, we're human."
If you or anyone you know is having suicidal thoughts, please call the National Suicide Prevention Lifeline​ at​ 1-800-273-TALK (8255)​.
If you or someone you know is struggling with mental health, please contact the Crisis Text Line by texting HOME to 741741, call the National Alliance on Mental Illness helpline at 1-800-950-NAMI (6264), or visit the National Institute of Mental Health website.
Source: Read Full Article