The Untold Truth Of Khaby Lame
The year 2020 marked the beginning of Khaby Lame's lightning fast ascent to stardom. For those not on TikTok, Khabane Lame is now the second-most followed person on the platform (at the time of writing, at least). If the numbers continue to grow as they have, he is projected to overtake Charli D'Amelio and her 122 million followers in a matter of months, per The New York Times.
Unlike the videos of some of his peers, Lame's TikToks are low-budget, mostly silent videos. His schtick involves stitching a video of an absurdly complicated "how to" with a video of himself performing the same task in a much more straightforward way. For example, one clip depicts someone demonstrating how to open a box of milk by cutting into the tab multiple times… only to spill the liquid all over their stovetop. Lame responds by giving the box one quick snip and easily pour the contents into a glass and hitting the camera with a deadpan expression. He has what The New York Times calls a "universal exasperated everyman quality."
There's a lot more to Khaby Lame than his wordless comedy, though. Read on to find out everything you need to know about the man who is on his way to become the biggest influencer on TikTok.
The humble beginnings of Khaby Lame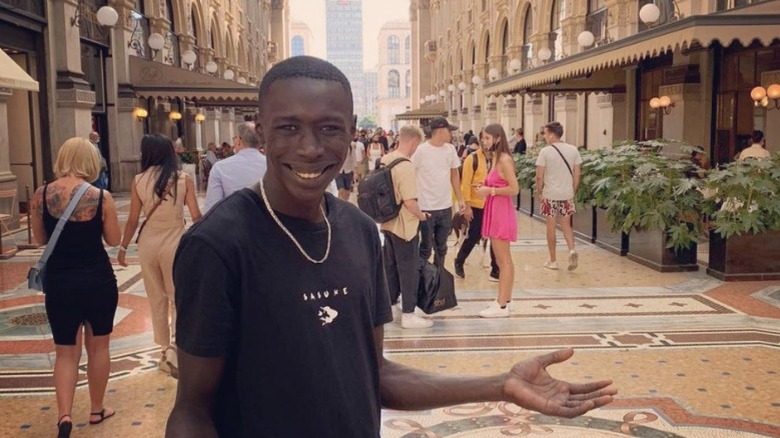 Before he became a TikTok supernova who, as Yahoo Finance noted in August 2021, "has amassed more than 1.5 billion likes," Khaby Lame came from the humblest of beginnings. Lame was born in Senegal but immigrated to Northern Italy along with his parents and brother at the age of one. He grew up in public housing in a small industrial town called Chivasso, located northwest of Milan. Lame still lives with his parents in the same small apartment, and he even continues to share a room with his brother, per The New York Times.
Lame's upbringing wasn't lavish, but he isn't resentful. In fact, he credits his success to where he was raised. "[Public housing is] a place to which I owe everything," he said when speaking to an Italian newspaper in 2021. "They taught me education and allowed me to cultivate many bonds." And as he shared in a Fanpage.it Q&A for Google (via Italy24News), "My blood family is made up of 7 people, but in the extended one, that of public housing, we are 40."
Khaby Lame's path to success was unconventional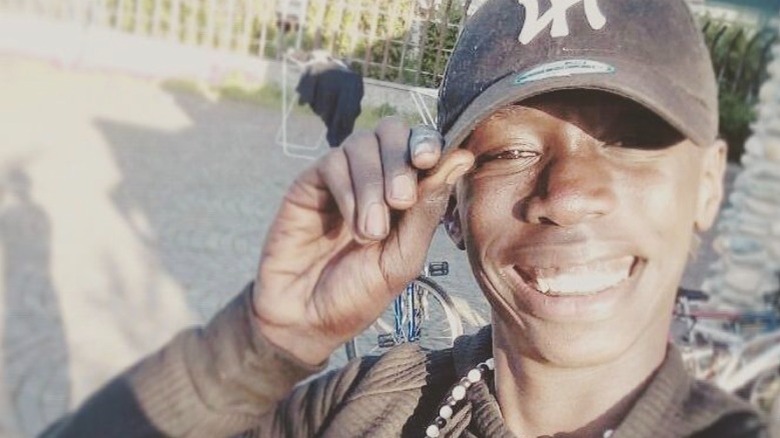 Khaby Lame ultimately found celebrity on a whim. Before he became a social media sensation, he took on a wide assortment of gigs — but those gigs were not related to the entertainment industry. As he told la Repubblica (via Ruetir), "I started doing a thousand jobs. Waiter, bricklayer, window cleaner, I did everything to make money."
Eventually, he landed at a factory in his hometown of Chivasso, Italy. But much like the rest of the world, 2020 and the onset of the COVID-19 pandemic brought on a lot of change for Lame. As The New York Times noted, at the beginning of 2020, when rising COVID numbers began to shut down most of Europe, he was laid off. After that, the soon-to-be-famous social media star holed up in his room and created TikTok after TikTok, and the rest is history. Lame told the outlet he wasn't seeking fame and success when he started producing his videos.
As the saying goes, do what you love, and you never work a day in your life. Now Lame is a full-time content creator who's found wealth and fame from simply doing what he loves to do.
Khaby Lame hopes to use his 'influence' to make a change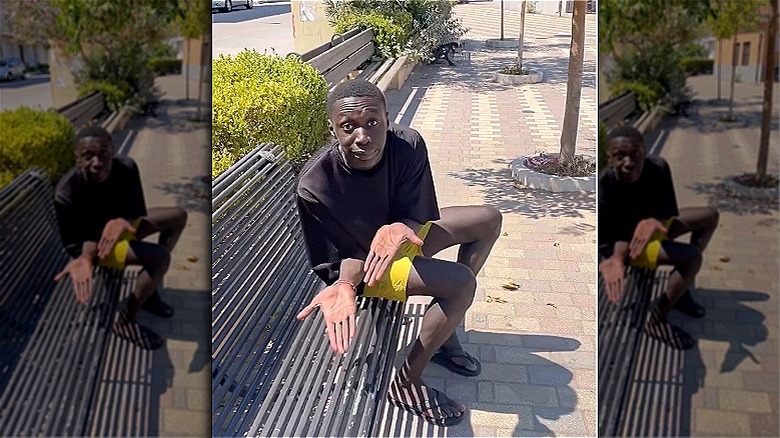 In her 2020 documentary "Miss Americana," pop culture juggernaut Taylor Swift opened up about feeling obligated to keep her political beliefs to herself so as not to alienate members of her fan base. In the flick, we see her decide to go public with her views — a move that she'd shied away from for most of her career — and saying, "I need to be on the right side of history."
Opening up about your views when you're an immensely famous musician is one thing; speaking about social or political matters when you're an up-and-coming star is a totally different hurdle. But Khaby Lame has addressed a hot-button issue that impacts him personally: citizenship. 
Lame fully identifies as Italian, having spent every year but one of his life there. However, he is not officially an Italian citizen, as he was born in Senegal and has no generational connection to Italy. That means that he cannot become an Italian citizen without extensive paperwork and petitioning. "Sincerely, I don't need a piece of paper to define myself as Italian," he told The New York Times in 2021, adding that the law is "definitely wrong." In the same feature, he noted that while he's "not a mayor" and "can't change the laws," he does have a useful platform. "Maybe I can change it with the popularity. With the influence," he said.
Some of Khaby Lame's content has raised eyebrows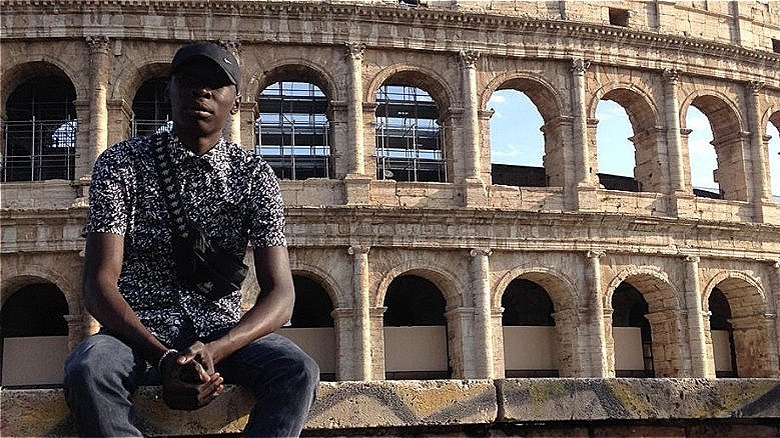 Khaby Lame is now sitting comfortably atop an empire of 100 million TikTok followers —103 million at the time of writing, to be exact. With all that fame comes increased scrutiny, though. He has recently come under fire for some resurfaced videos that fans are calling sexist and offensive, per Dexerto.
In one video posted in January 2021 that has since been made private, Lame stitches a clip of an attractive woman walking through a mall with a video of himself smirking and nodding. As soon as the woman passes the camera, his expression changes to a frown when he sees her from the front. 
Fans were quick to condemn the video. "Wow I can't believe I supported you," one disappointed follower commented on the post, according to Dexerto. Another wrote, "Body shaming at its peak." Lame has yet to address the criticism at the time of publication, though this isn't the first time he's come under fire for sexist content. According to The New York Times, Lame also faced backlash for a stitched video showing a woman asking, "If you had 24 hours with me, what would you do?" He responded to the apparent sexual innuendo by stitching a video of himself listing the various parts of the house he'd like her to clean. Yeesh.
Will Smith and Eddie Murphy are Khaby Lame's idols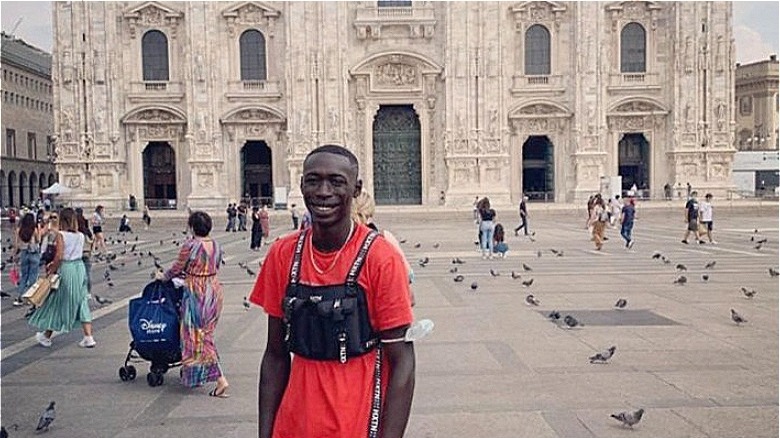 Social media apps like TikTok, Vine, and Instagram have launched many careers, and Khaby Lame sure is on such a trajectory. That said, as he told The New York Times, Lame "doesn't treat TikTok like a competition," adding, "I'm happy to be the first in Italy and all, but I didn't start TikTok for this." While he may not be competing with his fellow content creators, it does sound like he has dreams of Hollywood stardom. He said in the NYT that while he did launch his TikTok account "to make people laugh," he would like to be as famous as his comedic idols Eddie Murphy and Will Smith. Considering that Lame already has about 40 million more TikTok followers than Smith, we'd say he's off to a great start.
Additionally, Lame has more international followers than Italian followers, something he credits with this unique and universal style of comedy. He dubbed his silent overacted facial expressions a "global language," which anyone could understand and relate to. "It's my face and my expressions which make people laugh," he said to the NYT. 
He may not be hanging out with Smith or Murphy just yet, but he is already being compared to other comedic performers. For example, in 2021 Insider likened Lame's deadpan faces and timing to the "Are you serious?" look that John Krasinski regularly hit the camera with in "The Office."
Khaby Lame's net worth has skyrocketed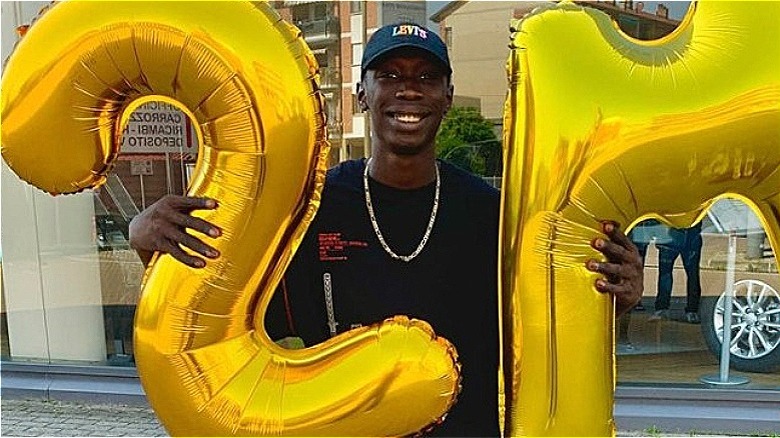 Khaby Lame has come a long way since losing his factory job at the start of the pandemic. As of July 2021, he was able to make content creation his full-time career, and is now the most followed influencer in Italy, per the Daily Mail. It's got us wondering, what exactly is Khaby Lame worth?
By some estimates, the former factory worker and current TikTok superstar may very well be worth somewhere around $2 million, per LadBible. That's impressive, and not only because that's an almost unfathomable amount of money to make in such a short time; Lame has become that wealthy while managing to maintain the simplistic style of video that made him famous in the first place.
According to Influencer Marketing Hub (via LadBible), a website that monitors influencers and estimates how much they are making, Lame "can earn between $50,461-$84,102" for a single post. Not a bad haul. 
Khaby Lame's girlfriend also has an internet following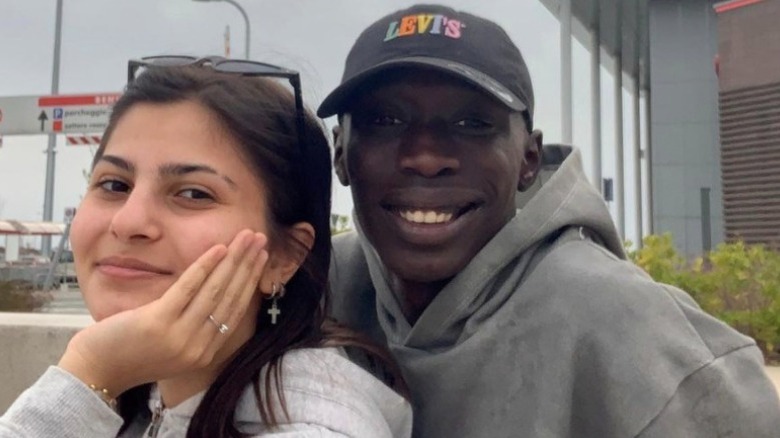 In the style of literally every other mega influencer on TikTok (looking at you, Charli and Dixie D'Amelio), the person Khaby Lame is linked to happens to be a fellow internet personality: Italian social media influencer Zaira Nucci. Lame even has a saved highlight reel on his Instagram page dedicated to her, and a quick scroll through reveals the off grid moments of happiness the two share. They evidently enjoy shopping, hiking, and wearing semi-matching outfits. In his 2021 New York Times write-up, Nucci was only mentioned casually as Lame's girlfriend, but other outlets claim the pair is engaged.
Like Lame's comedy, his relationship with Nucci is endearingly simple. According to Ruetir, he once said that they initially connected over social media, but things didn't get started until they "met by chance in Chivasso" and hit it off. "We got back to talking until I asked her out," he recalled. "The first time was beautiful and simple at the same time." As for their first date, that was understated too. "We went to McDonalds. We've been together for almost two months now," he shared.
Khaby Lame has a tight-knit group of friends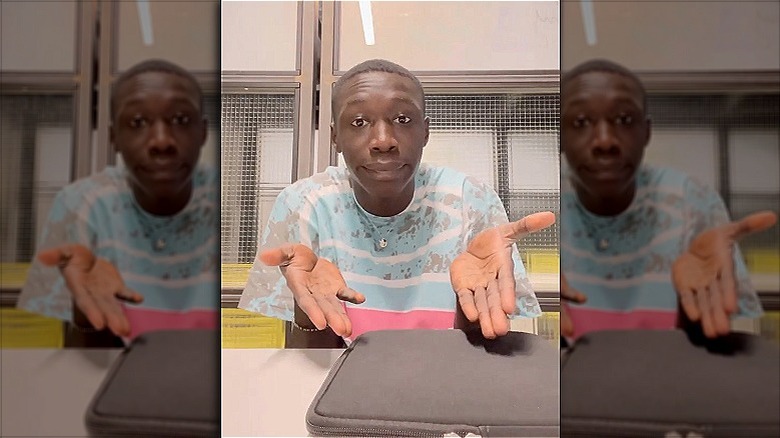 Any famous person will tell you that the key to staying grounded in the face of celebrity is a good roster of friends, and Khaby Lame has made sure to surround himself with a solid group. Lame credits his buddies with keeping him humble and describes them as the most supportive and accepting group of pals anyone could ask for.
In recent years, there has been an increased amount of press coverage concerning issues of racism in Europe, especially Italy. Italian soccer star Mario Balotelli spoke openly about the topic on "Quelli Che Il Calcio" in 2019 (via ESPN), describing the racism he'd experienced in Italy as worse than anything he's seen in either France or England. "In Italy, it is really extreme," he said. And in 2021, the Daily Beast wrote, "Italy stands out in the football world for its racial ignorance."
Lame, however, told The New York Times "he has had a different experience" — a testament to his close buds, he says. "My friends have always been protective of me," he shared. "I've never had such a problem. No one has ever dared insult me because we were a united group and had a lot of respect."
Fans think Khaby Lame is refreshingly relatable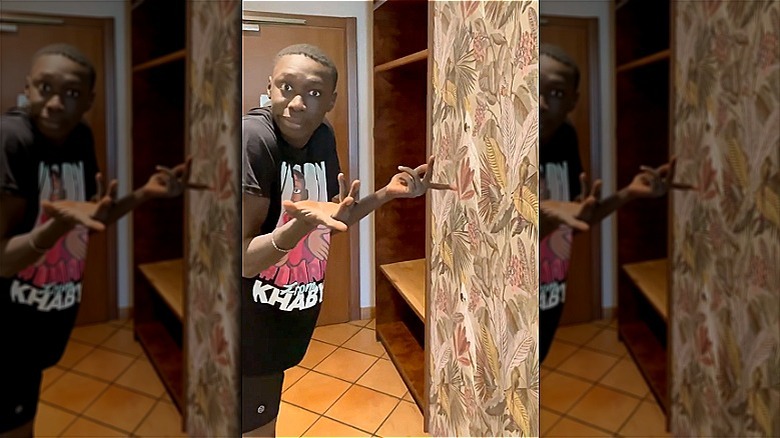 Khaby Lame's friends may have provided the supportive foundation for his success, but a lot of credit should go to his simplistic TikTok videos, which represent a significant departure from the hyper manicured and choreographed clips of other prominent content creators.
"I think that the problem that people are starting to see with big influencers is that they set certain standards of how to look, what's cool and what's not," a teen TikTok creator told The New York Times. "Then, Khaby comes and he's just a normal dude. It's been refreshing to see. It's a lot easier to relate to him than most big influencers."
If you need proof of this hypothesis, look no further than the fact that Lame is now the most popular influencer in Italy. As the NYT noted, he "surpassed Gianluca Vacchi … a fabulously wealthy scion of a plastics magnate." Speaking with the outlet, an industry expert said of Lame's fame: "This opportunity to connect with someone who is unaffiliated, underproduced, and feels very real is a juxtaposition of what we're seeing in the social media space."
Khaby Lame wants to help his parents out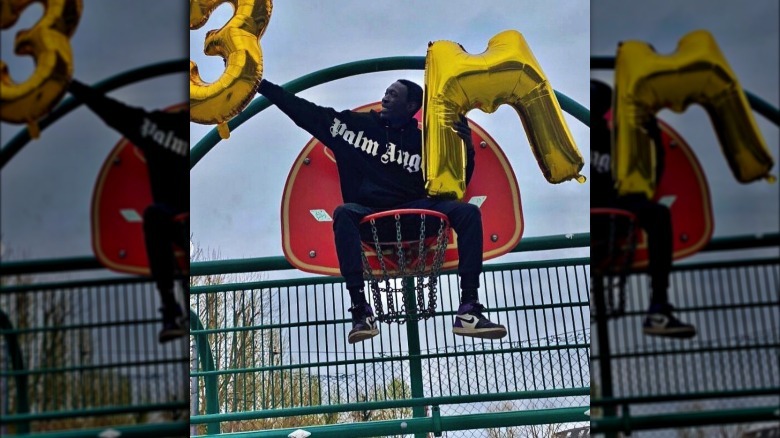 Much has been said about Khaby Lame's humble lifestyle and his international fame. After growing up in public housing, working in a factory, and then becoming famous at such a young age, you'd think he would be eager to spend his ducats on flashy cars or luxury condos, but not so. When speaking to The New York Times, Lame shared that he's been growing his income "steadily" and hasn't been shelling out on big purchases. "The secret is endurance above all," he told the outlet, crediting his achievements to his unparalleled work ethic.
Lame still lives in the small factory town of Chissovo, still resides in his parents' apartment, and still shares a sparsely decorated bedroom with his brother. His money isn't exactly burning a hole in his pocket, but he did tell the NYT that there is one thing he's eager to blow some cash on: a house for his mom.
As for his parents, they couldn't be prouder of their son for turning something crappy (losing his job during COVID) into a comedy empire. "Like me, my parents did not expect all of this and are delighted. I hope to continue like this," he said in the Corriere del Sierra.
Source: Read Full Article