The Untold Truth Of Emma Raducanu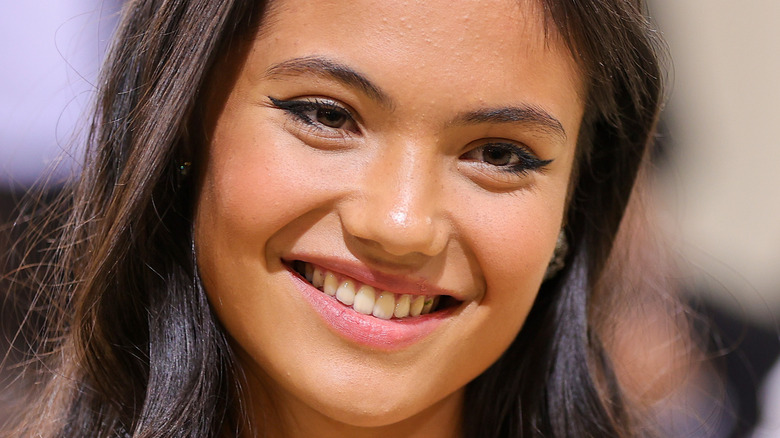 Until 2021, the vast majority of the world had never heard of Emma Raducanu. However, at the Wimbledon Tennis Championship, that all changed. Raducanu was just 18 years old when she wowed the world with her amazing tennis at Wimbledon. The British tennis player reached the fourth round, before withdrawing from the competition after struggling to breathe. She later said (via The Guardian), "The experience caught up with me." Despite her premature departure from Wimbledon, the breakout tennis star came back stronger than ever, winning the U.S. Open just a few months later without dropping a single set. She was the first qualifier ever to win a Grand Slam title and the first British female to win a Grand Slam in 44 years. She shot up through the rankings from 150th to 23rd in the world and 1st in Britain (via Sky Sports).
Raducanu's success story may seem like a fairy tale, but in reality, the young champion has been working hard at her sport for years. It wasn't just luck that got her where she is today — it was her perseverance, determination, and work ethic. Curious to learn more about this up-and-coming young star? Here is the untold truth of Emma Raducanu.
Emma Raducanu has learned a lot from her tough parents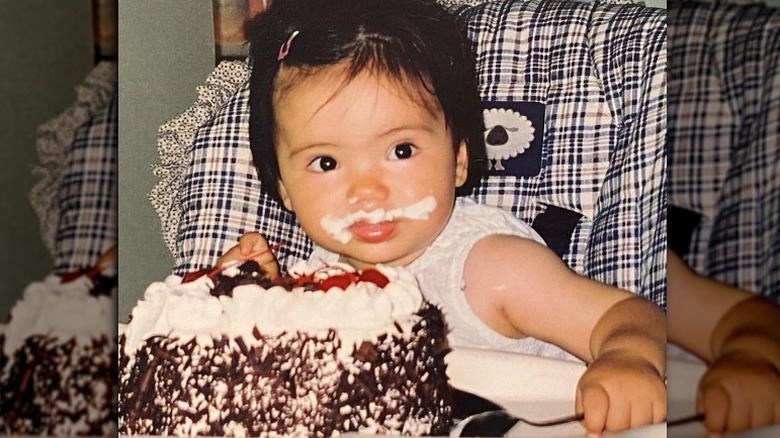 Emma Raducanu was born in Toronto, Canada to Renee, originally from China, and Ian, originally from Romania, who, according to the Daily Mail, both work in finance. As one family friend explained, Emma got her famous calm stoicism from her parents. "Emma's parents never liked negativity and would quickly snap her out of any hissy fits as a child," he recalled. Emma herself once said, "My mum's side of the family are so mentally resilient. … I would say I take a big part of my inspiration from her."
In an interview on "Good Morning America" shortly after her U.S. Open win in 2021, Raducanu went into more detail about how she had gotten her mental strength from her parents as a child: "They were pretty tough on me when I was young, but they kind of shaped the way and I think now it's helping on the biggest stages of the world." It sounds like Raducanu owes a big part of her success to her strict, resilient parents — no wonder she can now face some of the biggest tennis stars in the world without batting an eye.
The tennis pro struck up an online friendship with this celebrity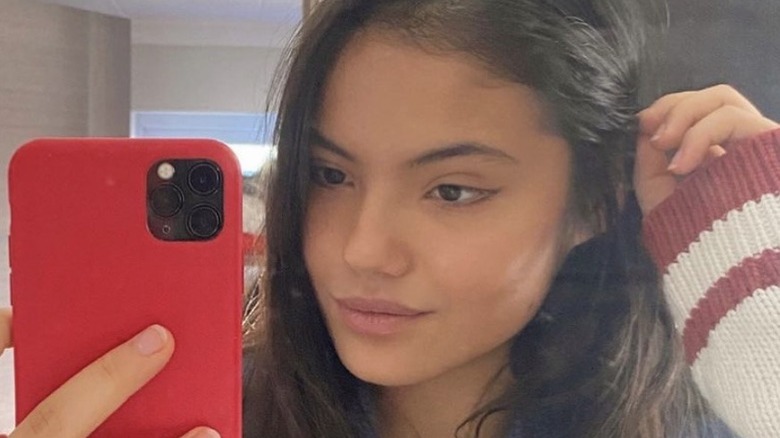 Shortly after Emma Raducanu burst onto the scene with her stunning display at Wimbledon 2021, she appeared to strike up a friendship with Harvey Leigh Cantwell, known as HRVY, the star from "Strictly Come Dancing." According to The U.S. Sun, the pair may even be romantically involved. Apparently, HRVY connected with Raducanu on social media after the tournament, and the pair soon became friends. A source told The Sun, "HRVY watched Emma play at Wimbledon and thought she was stunning, so he decided to get in touch with her." Apparently, Raducanu was "flattered" and keen to get to know him better. "It's very early days for them but they do seem to get on well," the source went on.
The two haven't spoken about their new relationship publicly, but they do follow each other on social media and occasionally comment on each other's posts. Who knows — this could be the beginning of a beautiful romance for the digital age!
Emma Raducanu was very shy as a kid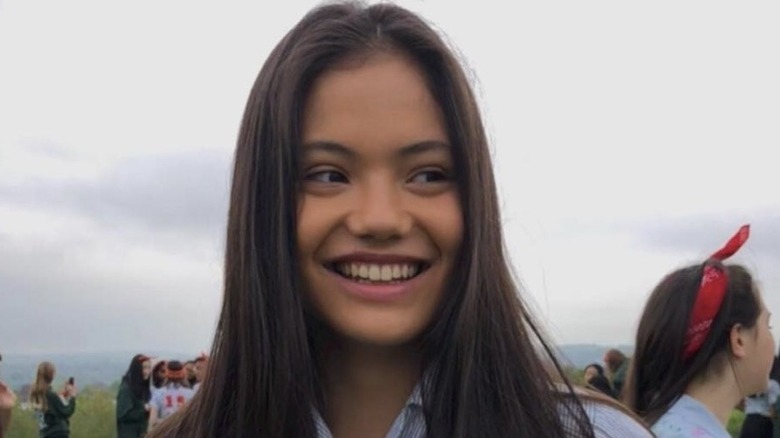 If you've seen Emma Raducanu on the court, she's anything but timid — with her explosive serve, her thundering forehand, and her unwavering focus, she's a bold powerhouse. However, as a child, she was actually excruciatingly shy.
As Raducanu explained to Vogue, in high school, she was seen by classmates as the "​​quiet one who didn't really raise her hand." Even though Raducanu is naturally reserved, she does admit to having a bolder side — and it's on the tennis court that this side can really come out. "I was a very shy little girl who didn't talk much at all," she said. "And through playing sport, and having to be bold on the court and fearless and fight, it's given me inner strength." It sounds like tennis really has given Raducanu the means of expressing herself in ways she couldn't at school among her peers.
Emma Raducanu started playing tennis at 5 years old in Bromley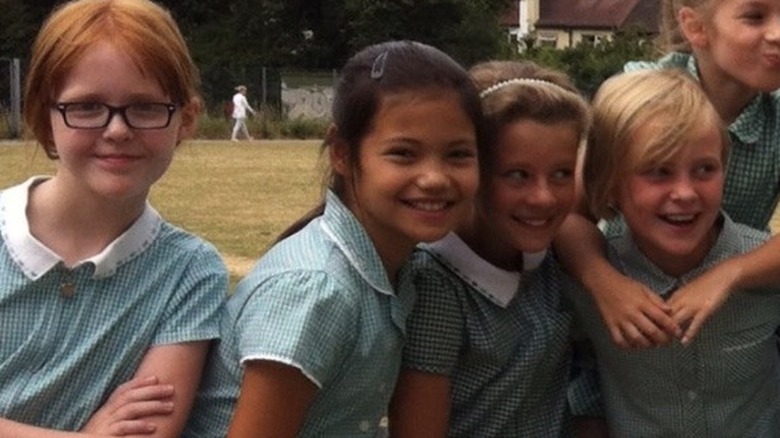 Emma Raducanu's family moved from Canada to the United Kingdom when she was 2 years old and settled down in Bromley, a suburb of London. She was only 5 years old when she first picked up a racket at her local tennis club, the Bromley Tennis Center, and at her school, Bickley Primary. As she explained to Vogue, it was her father who had encouraged this sportier side of her. Although she tried numerous other sports, tennis stuck, and soon enough, she was spending most evenings and weekends playing and competing.
Even though Raducanu has come very far since her days as a 5-year-old tennis player, she still holds a soft spot in heart for her old haunts. In fact, in July 2021, the star returned to her old school to hand out medals at their sports day. "Amazing visit to my own @BickleyPrimary, such a warm welcome and many sweet memories of this place!" she wrote on Twitter.
Emma Raducanu's first Wimbledon run ended prematurely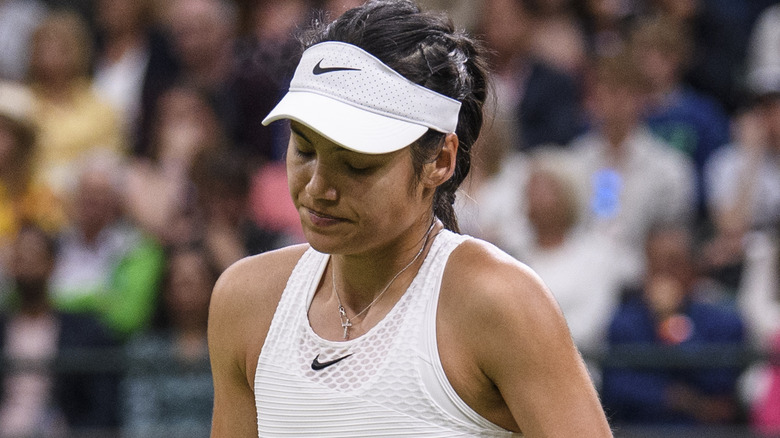 Emma Raducanu shot to fame during the 2021 Wimbledon tournament. Previously unknown, the young tennis player quickly amassed tens of thousands of fans in just one week after she beat numerous big names in the game. However, in the fourth round, Raducanu withdrew from the match after experiencing breathing difficulty. As she later told the BBC, the medical team had advised her to stop. "I think that it was a combination of, you know, everything that has gone on behind the scenes in the last week and the accumulation of the excitement, the buzz," she said, "and, you know, I think it's a great learning experience for me going forwards." Despite her early exit, Raducanu said, "It's been the best week of my life, honestly."
In a later interview with "Good Morning America," Raducanu spoke about her withdrawal again. As she explained, it may have been something that needed to happen. "It was, for me, more of a physical issue. … Physically, I've still got a lot of work to do, because I'm still very new to the game and I haven't really had that time to really develop," she said. However, as she explained, the more she plays at a professional level, the better her endurance gets. It sounds like we haven't even seen the best of Raducanu yet!
She did loads of extracurricular activities as a kid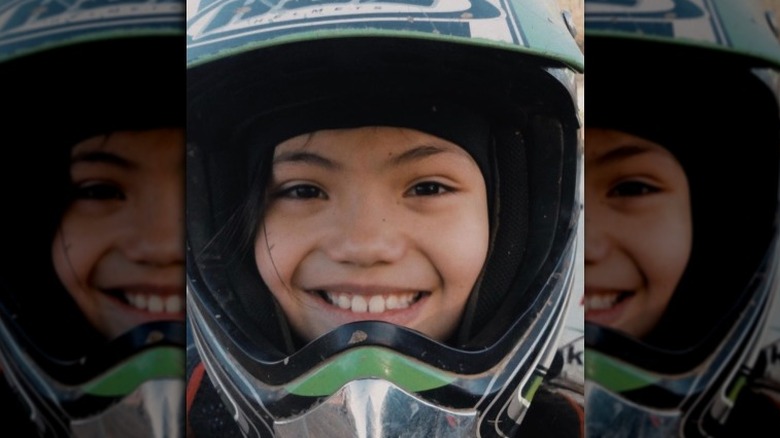 In order to become a Grand Slam champion at 18, you have to dedicate a lot to tennis — and that's exactly what Emma Raducanu did as a child. However, it turns out, she also took part in numerous other extracurricular activities on the side.
As Raducanu told Vogue, her mother encouraged her in several artistic endeavors, such as ballet and tap, while her father got her into sports. In addition to tennis, she did karting and dirt biking. While these may seem like odd sports for a young girl, her father didn't mind. As Raducanu put it, "He's all about being different and not caring what other people may have thought at the time." She went on to explain that she was the only girl in her group karting class, which she thought was interesting.
Even though tennis became Raducanu's sport of choice, she still holds a soft spot for motor sports. She's a dedicated Formula 1 fan, and she even has plans to become a licensed motorbike rider in the future. And, in 2021, she got to experience a Pirelli Hot Lap. She posted on Instagram at the time, "I had the most fun … what a treat."
Emma Raducanu has received praise from many big names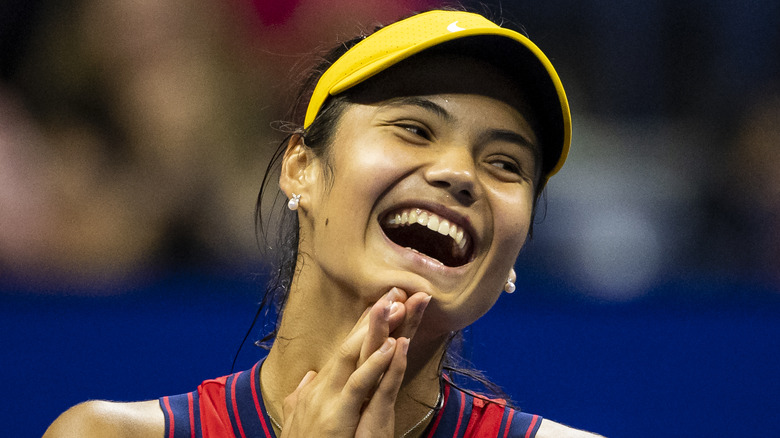 Since winning her first Grand Slam title at the 2021 U.S. Open, Emma Raducanu has received letters, tweets, and messages from quite a few familiar faces, both in and out of the tennis world. One of Raducanu's most impressive fans is none other than Her Royal Majesty herself, the queen of England. Shortly after Raducanu won the U.S. Open trophy, she received a letter from the queen, which acknowledged her "remarkable achievement at such a young age." Raducanu said on "Good Morning America," "It meant everything to me. I mean, I'll probably frame that letter and keep it in my room."
Raducanu also received plenty of praise from the rest of the royal family. Prince William and Kate Middleton posted on Instagram, "Huge congratulations @EmmaRaducanu on your stunning performances and historic Grand Slam victory!" and Princess Beatrice tweeted, "Congratulations to @EmmaRaducanu that was a remarkable game of tennis and what a journey over these last three weeks."
Soccer star Marcus Rashford has also been public about his support. After her withdrawal from Wimbledon, he tweeted that the same breathing problem had happened to him. "You should be very proud of yourself," he wrote.
Here is some of the training Emma Raducanu does to get ready for matches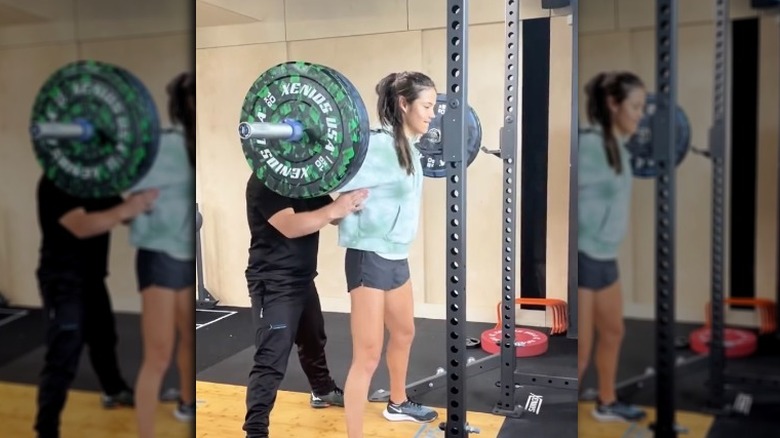 Being a professional tennis player certainly isn't easy. By the looks of things, Emma Raducanu has to do a lot to get her body ready to perform on the court. A March 2021 video showed Raducanu performing sprint tests in a gym, and in a video posted in April 2021, Raducanu could be seen performing pull-ups on the rings.
In a video from June 2021, Raducanu showed off her heavy lifting skills in the gym. That July, she posted a different video that showed her doing a Vo2 test on an "Assault" bike with a personal trainer close at hand to test her endurance. "'Assault' bike living up to the name," she wrote in the caption.
It's pretty clear that this athlete has a complicated, hardcore fitness regime — and based on her recent performances on the court, it seems to be working!
Emma Raducanu is fluent in this language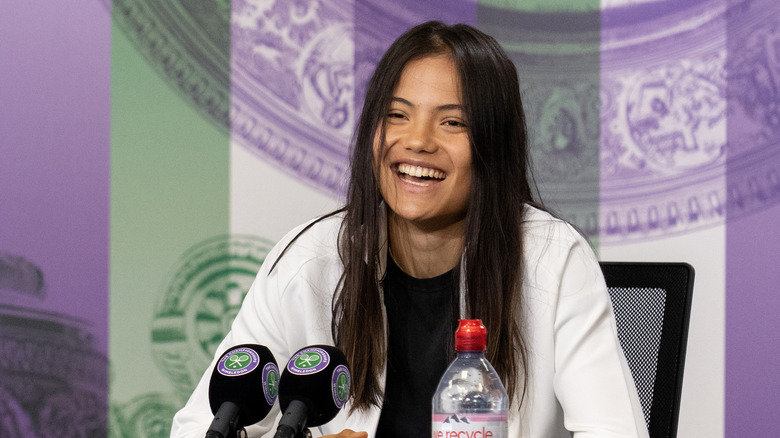 As if Emma Raducanu wasn't already impressive enough, it turns out, this young tennis star is actually fluent in Mandarin. After winning the U.S. Open in 2021, CGTN Sports Scene posted a video that showed Raducanu saying thank you to her Chinese fans in perfect Mandarin. "Hi, everyone. I wanna say thank you to you guys and I hope you could enjoy my tennis. I'm thrilled to win. Love you all, see you," she said. Apparently, Raducanu learned Mandarin thanks to her mother, who is from Shenyang in China.
It seems that Raducanu's relationship with her heritage has seriously impressed the Chinese media. One report from the Xinhua News Agency complimented her on her Chinese roots and noted that she had actually spent some time training in her mother's old town when she was younger. Apparently, one of her favorite players is also Li Na, who was the first Chinese player to nab a Grand Slam title. In a report from the BBC, it was revealed that Raducanu keeps up with her Mandarin by watching Taiwanese TV shows.
Here's what Emma Raducanu said she would buy if she won the U.S. Open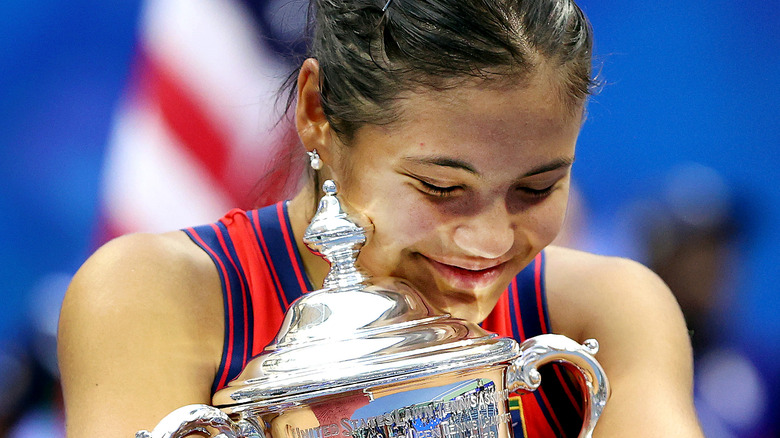 Emma Raducanu won a staggering $2.5 million dollars when she won the 2021 U.S. Open — for an 18-year-old from a London suburb, that's obviously a huge sum (via CNBC Make It). After her win, she revealed how she planned on spending the money. It turns out, her plans were pretty humble — all she really wanted was a pair of AirPods, as she'd lost her pair before the tournament!
When asked on "Good Morning America" if she'd purchased the AirPods yet, she replied, "Not yet, I think I'm going to do it before I leave New York before, for sure, though." She went on to explain that she had originally lost her AirPods in a changing room at the beginning of the tournament. Then, two and a half weeks later, the day before her semi-final, her AirPods were found. "It was like a great omen, a great start to the day, and I knew it was going to be a great day," she laughed.
She completed her final high school exams before shooting to fame at Wimbledon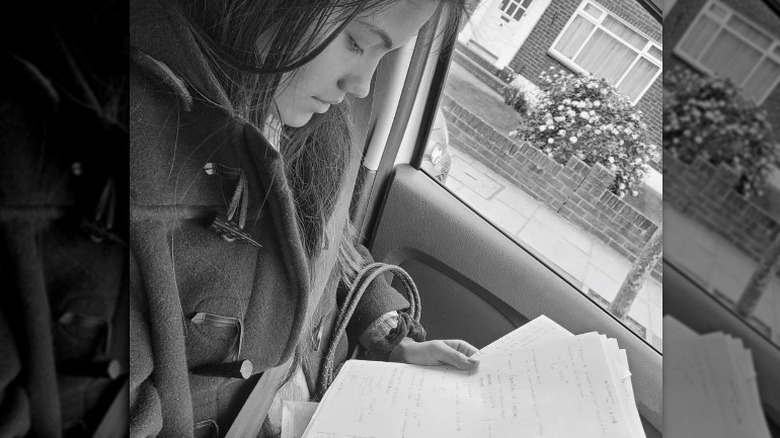 Emma Raducanu's story is pretty impressive — she went from being an unknown teenager to a tennis superstar at Wimbledon in a matter of days. Then, months later, she went from being a qualifier to being the U.S. Open champion. What makes it even more impressive is the fact that, while Raducanu was preparing to play at her first-ever Grand Slam, she was also preparing to take her final exams for high school, which are called A-Levels in the U.K.
As her former coach, Matthew James, told the BBC News, Raducanu took her A-Levels very seriously, which meant she had to split her time between studying and training. "We did sessions around her school, it was amazing she still linked up with school and went to her lessons because a lot of girls her level would probably have left and focused on tennis," he said. They even planned tournaments around her school from the age of 12. Apparently, Raducanu was aiming for top marks — although, her results will hardly matter much now! Wow, we are seriously impressed.
Emma Raducanu's parents had to watch their daughter win her first Grand Slam from home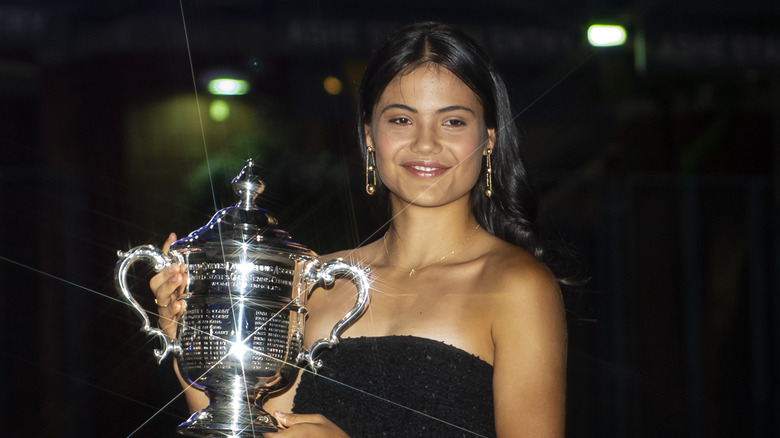 Emma Raducanu won the U.S. Open in 2021 — sadly, this meant that her family and friends couldn't travel from the U.K. to America due to travel restrictions caused by the COVID-19 pandemic. So, when Raducanu won the title, the only person in her box was her coach. Her parents, on the other hand, had to watch the event from thousands of miles away.
Even though her parents couldn't be there in person, they couldn't have been prouder. "They're definitely proud and happy," she told "Today." "I mean, they're my toughest critics and so hard to please, so yeah, I got them this time, though."
As inews.co.uk reported, the five weeks that Raducanu spent in the U.S. for the U.S. Open was the longest she had been away from home. And, while she couldn't be with her parents, she did have the support of her coaching team. "Right now I've just got such a great support team around me and a smaller tight-knit group of people that I really trust," she said, "and they are really helping me through these moments."
Here's how Emma Raducanu felt right before playing the U.S. Open final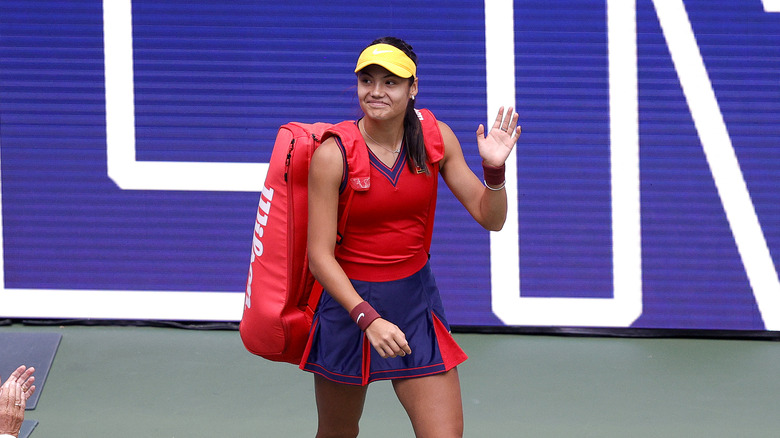 Emma Raducanu is fairly new to professional tennis. Even though she's been playing since she was 5, Raducanu still gets nervous for big matches. As she told "Today" after her U.S. Open win, "I think before the match there were a little bit of pre-match nerves in terms of something just didn't feel quite 100% and I couldn't quite put my finger on it." She explained that the feeling was probably down to the anticipation and press surrounding the final.
Even though Raducanu felt a little off, she quickly got her head in the zone. "As soon as I got out onto court and was just doing what I've done a hundred times before … I felt completely normal." As Raducana explained, she simply focused on each point and each game, rather than letting the pressure get to her. Clearly, her mental approach worked!
Emma Raducanu made history when she won the U.S. Open in 2021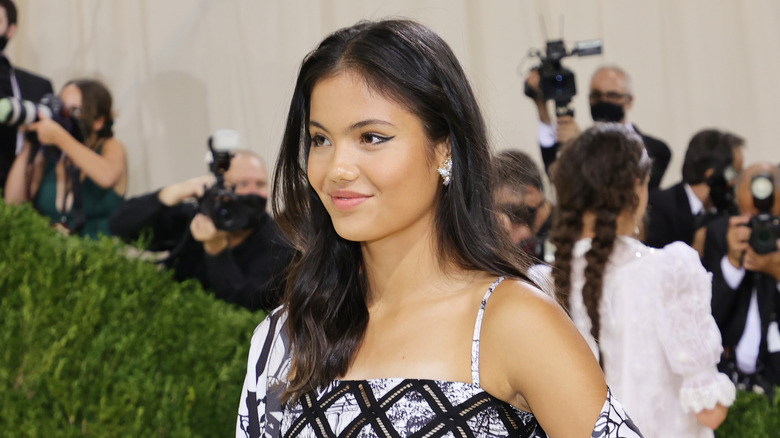 When Emma Raducanu won the U.S. Open in 2021, she made history in a number of ways, as noted by "Good Morning America." First of all, she was the first woman in history to ever win a Grand Slam title after coming through the qualifier stages. The tournament was also Raducanu's second-ever Grand Slam event. Plus, Raducanu was the youngest Grand Slam winner since Maria Sharapova won Wimbledon at 17 years old in 2004. And, as if all of this wasn't enough, Raducanu was the first British female to win a Grand Slam in 44 years. It's undeniable that Raducanu's name will go down in tennis history.
As the star's former coach Suzanne Williams told "Lorraine," making history as a tennis star didn't happen overnight for Raducanu. "She started so young, she worked so hard, but she loved it. She loved the hard work," she said. Williams added that she had always known that Raducanu was special. Even though Raducanu shocked us all with her historic win, it seems that those who knew her weren't surprised in the least.
Source: Read Full Article