The Stunning Transformation Of Amy Adams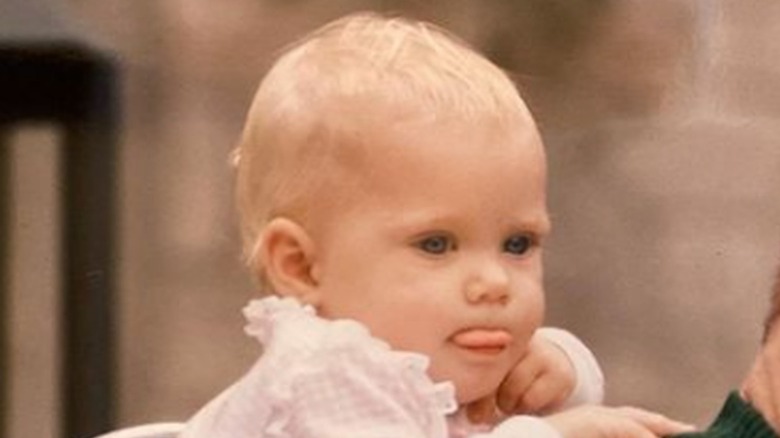 Few actors these days really compare to the movie stars of old Hollywood, but Amy Adams is, in many ways, the exception. Adams is famous for her impeccable acting, her timeless beauty, and her understated demeanor off the screen.
Since beginning her career with a role in the cult classic "Drop Dead Gorgeous," Adams has gone from being seen as a silly comedic actor to being one of the most respected, serious actresses around. After a series of comedic roles, Adams matured into more serious roles with her turn in "Junebug." She went on to appear in countless successes, including "Enchanted," "Charlie Wilson's War," "Doubt," "Julie and Julia," "The Fighter," "American Hustle," and "Arrival." It seems that pretty much every director in Hollywood is anxious to work with Adams — and as fans of the actress will know, it's easy to see why.
However, Adams wasn't always the most obvious candidate for a career as an actress (via Parade). In fact, as a child, she couldn't have seemed more poorly suited to Hollywood. Curious to find out how she became a six-time Oscar nominee? Here is the stunning transformation of Amy Adams.
Amy Adams grew up in a big family in Colorado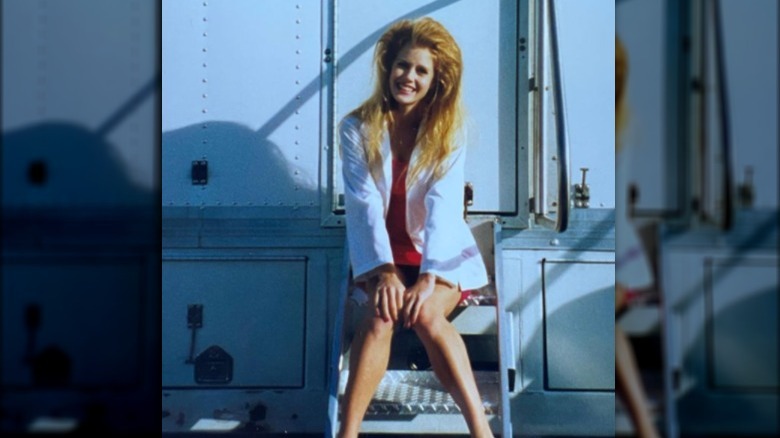 Amy Adams certainly didn't have a quiet childhood. After moving around with her family due to her father's job in the U.S. Army, Adams and her family settled in Castle Rock, Colorado. Adams was the fourth of seven children, which, as she shared on Late Night with Stephen Colbert, taught her how to stand out. "It means I got away with a lot," she revealed. "We were all desperate for attention."
In her early years, Adams was brought up in the Mormon church. As she told the Telegraph, her only memories of the religion are pretty general. "The basic, 'Do unto others …' — that was hammered into me. And love," she recalled. However, Adams' parents divorced when she was 11 years old. After that, she gave up Mormonism and moved in with family friends during high school as her father had sole custody of the children. As one source told the National Enquirer, "Amy was heartbroken and cried herself to sleep at night."
Amy Adams was a timid, scared child who found solace in books and ballet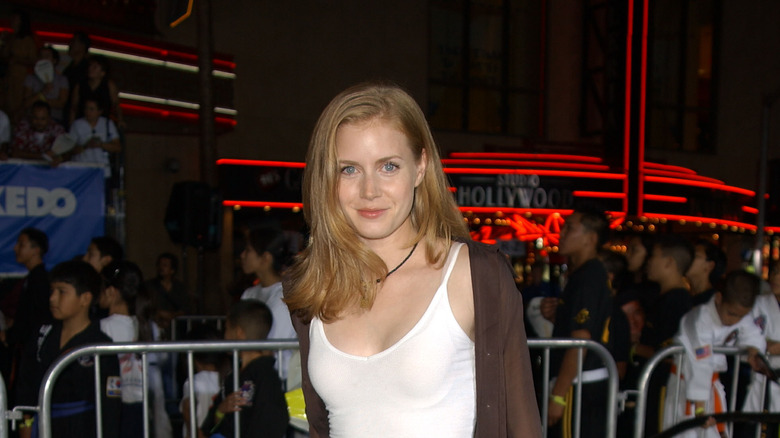 Unlike many famous actors, Amy Adams wasn't exactly a show-off as a child. In fact, she was pretty private and timid. As she told Parade, "I was not a brave child. Everything scared me." She even refused to ride a bike and gave up gymnastics because of her fear of injury.
Instead of these adventurous pursuits, Adams turned to the world of books. Apparently, her siblings called her "the dreamer." Adams began with kids' books by Judy Blume, then moved onto more risqué material — like a series by John Brenton about people with substance addictions who found themselves doing sex work, which she read when she was only 12.
Adams also became obsessed with ballet, and at one point she even wanted to become a ballerina. However, she soon found it was "too disciplined and too restrained," as she told Express. And as Adams explained in a chat with Elle, "I'm too muscley, and I didn't have great turnout, you know?"
Amy Adams began to think about becoming an actor when she saw Grease and Hitchcock movies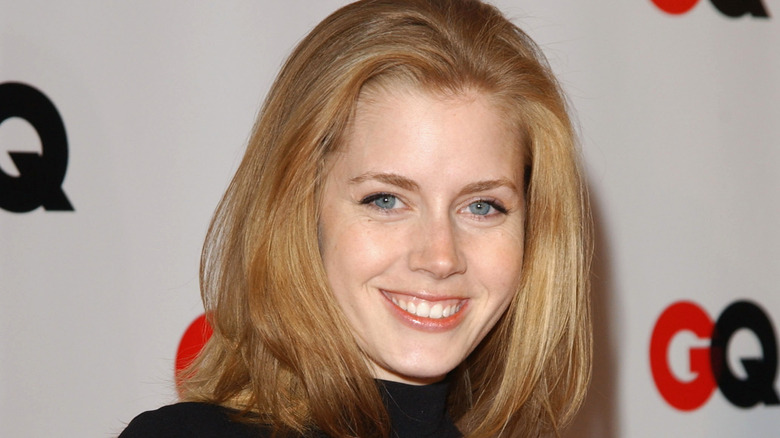 Eventually, Amy Adams discovered her true passion: acting. However, it was until she saw "Grease" that it really clicked. As she told Parade, "I wanted to be Sandy pretty bad." Funnily enough, one Adams' first acting jobs was a "Grease" inspired bank commercial!
Adams continued to become more and more interested in acting as time went on. Her childhood favorites were the musicals. And as Adams told Vanity Fair, she used to love "A Chorus Line" and all of the works of Andrew Lloyd Webber. "I was so entrenched in the high drama," she shared. Additionally, as Adams told Parade, she later saw famous Hitchcock films and was blown away by the performances of people like Kim Novak. Then, in 1998, Adams was inspired by Cate Blanchett's performance in "Elizabeth." "She sort of set the bar, the way that she owned the screen," Adams opined.
Amy Adams moved to Los Angeles to pursue acting at the age of 24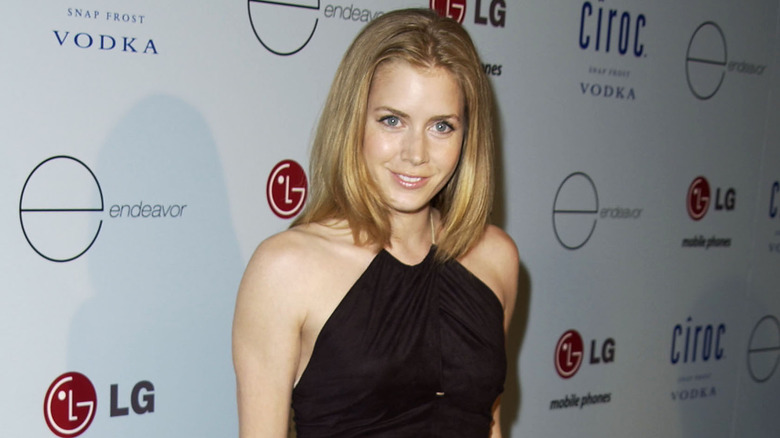 After spending her childhood immersing herself in dark books and musical theater, Amy Adams finally took the plunge to pursue her dream of embodying her own characters. At 24, she moved to Los Angeles.
At first, it wasn't exactly easy, as Adams' first few roles were few and far between. "To this day, [it] gives me perspective," she told Vogue. "But going through it was painful, to say the least." Adams added that she panicked in auditions and meetings and lost the confidence of producers. "I actually almost quit because I was starting not to like who I was," she continued. In fact, she was even fired from two different shows.
And as Adams told The Times, one particularly traumatizing audition was for the musical "Rent." "I was off pitch, didn't remember the song and pretty sure that I did the 'Dirty Dancing' [dance]," she confessed. It sounds like Adams' early career was anything but easy!
Amy Adams dyed her hair red and her casting type changed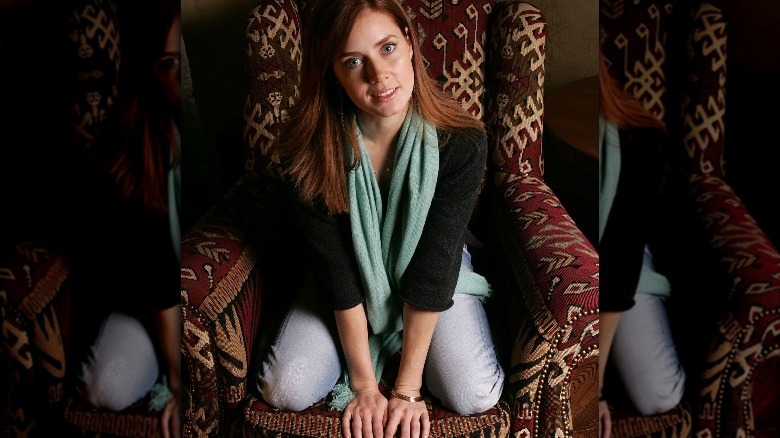 Although Amy Adams struggled with self-esteem in her early career, she did have some notable successes. She starred in "Drop Dead Gorgeous" in 1999 alongside Kirsten Dunst and Denise Richards, and she subsequently appeared on "That '70s Show," "Buffy the Vampire Slayer," "Smallville," and "The West Wing." She even starred alongside Leonardo DiCaprio in "Catch Me If You Can" (via IMDb).
As Adams told the Independent, she now thinks of this period as her "naughty girl" phase. Of course, these roles weren't exactly right for Adams. It wasn't until 2004 that she started getting viewed as a more serious actor — and the change only came when she happened to dye her hair for the show "Dr. Vegas." As she said at the TimesTalk in 2016 (via People), "Based on roles that I was getting called in for, people were responding to certain types of characters with me as a blonde and the minute I went red, it was quirky and fun instead of flirtatious and dumb." She added, "It was really fascinating to see just one element of yourself change people's perception and that became a very powerful tool for me even in my acting."
Amy Adams got her first Oscar nomination in 2005 at 31 for Junebug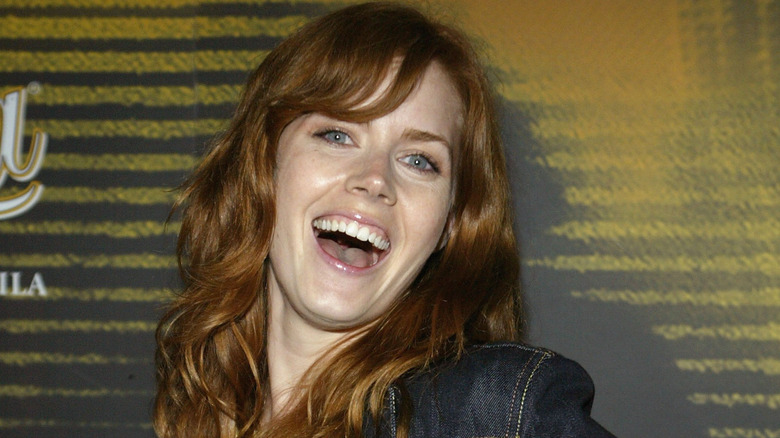 After her hair color change, Amy Adams landed the role that would transform her career: In 2005, she played the expectant mother Ashley in "Junebug." At the time, Adams thought this may be her final role. As Little White Lies noted, the part imbued Adams with an aura of otherworldly innocence.
Fortunately for Adams, the movie finally brought her into the limelight. She received an Oscar nomination for her work in "Junebug," and she was suddenly one of the most sought after actresses in Hollywood. As Adams put it to So It Goes, "I think for me, it really started to change after 'Junebug.' … That is when I really started seeing a difference and opportunity started availing itself in a different way."
As for the Oscar nomination, it was a dream come true for Adams, who had waited a long time to be recognized. As she told Cinema.com, "Going to the Oscars was definitely [a fairytale moment], walking down that red carpet and realizing that the moment was actually happening and I did not lose my shoe."
Amy Adams landed role after role in what she calls the "innocents" phase of her career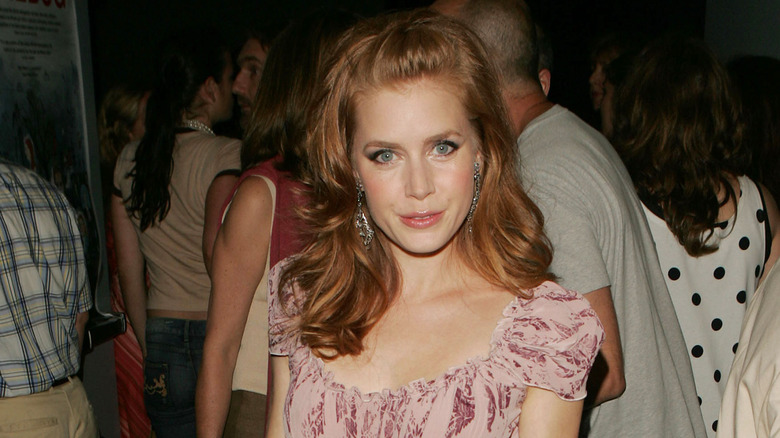 After her turn in "Junebug," the offers started rolling in for Amy Adams. In the next five years, she played a lost Disney Princess in "Enchanted," the sweet, ditzy nightclub singer Delysia in "Miss Pettigrew Lives For a Day," and the naive Sister James in "Doubt" — a film that earned her another Oscar nomination. This phase of Adams' career saw her playing more roles like Ashley in "Junebug" — young, wide-eyed ingenues. As Adams told the Independent, this is what she calls her "innocents" phase.
Eventually, playing the ingenue got a little boring for Adams. As she told The Sydney Morning Herald, "As I was getting deeper into my 30s, I really wanted to play people who were more confident and who have experienced more and I've been able to — it's kind of grown as I've grown." Luckily, Adams also got the chance to try some darker roles, with "The Fighter" in 2010, "American Hustle" in 2013, and "Nocturnal Animals" in 2016.
As Amy Adams became more experienced, she got more confident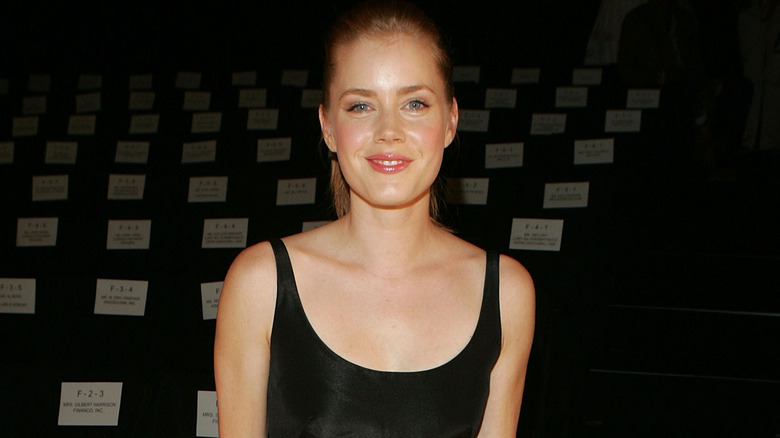 As Amy Adams appeared in more and more big-budget films, she found that she had evolved as an actor and that she had managed to let go of some of her anxieties. "I realized you can still be a human being and have flaws and still be in movies, and that your flaws are what make you beautiful," she mused in an interview with The Hollywood Reporter. "I just wanted to do a good job." 
When Adams had first moved to L.A., she had been afraid and self-conscious, bombing multiple auditions. But by 2013, she was far more self-assured. "I look back sometimes, and I've missed her from time to time," she continued. "There's something to the hunger that informs you and drives you."
As Adams explained to the Los Angeles Times, this transformation happened during the filming of "Her" in 2013. "I'm a harsh critic of myself," she admitted. "I see when I stopped needing to be perfect. I stopped carrying the weight of criticism. I really was so tired of giving a [expletive] cause I just gave so many all the time."
Becoming a mother changed Amy Adams' approach to acting and work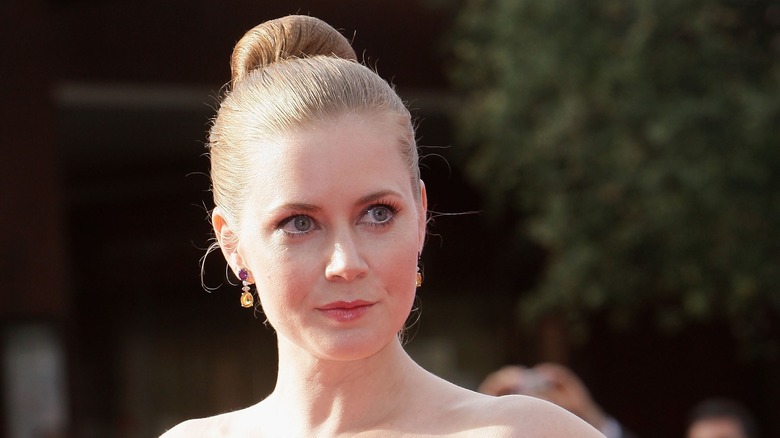 Amy Adams gave birth to her daughter, Aviana Le Gallo, in 2010. Unsurprisingly, her daughter's birth changed a lot about her life, both personally and professionally. "I definitely feel more raw and more open to empathy, and that helps," she told The Guardian. She went on to explain that Aviana also forced her to learn to separate work life from home life. "I used to have a dysfunctional relationship with my work, where I was bringing home all my insecurities and expectations, and if I felt a director didn't love what I did, it would just plague me," she continued. "That had to change."
And, as Adams explained to Little London, her daughter made her re-evaluate her approach to work. "It's made an impact in the kind of projects I choose and wanting to play characters that make me happy," she shared. "I look at things differently now … My perspective has changed completely." It sounds like becoming a mother meant that Adams had to think more about how her work affected her when she was back at home — and that's probably a pretty healthy change.
Amy Adams married her husband in 2015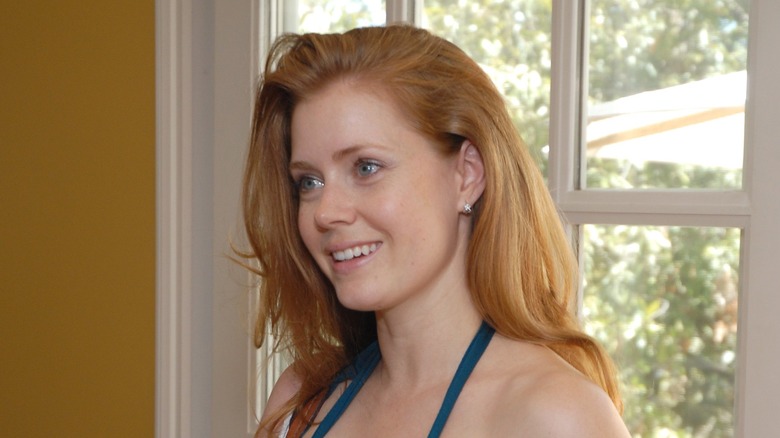 Amy Adams first met Darren Le Gallo at an acting class in 2001. While Adams eventually became a star, Le Gallo is himself a little-known actor with a few bit parts to his name. He later became an artist. 
Adams and Le Gallo didn't marry until 2015 (via The Times). As Adams told Elle back in 2008, they hadn't been in any hurry. "Let's just say he's not ready, and I'm not in a hurry, so that's our philosophy," she explained. "I don't know if it's just from wearing so many costumes in my life, but I don't have any fantasies about a wedding day. It's not important to me." 
In fact, it took Le Gallo's sister to step in and convince the reluctant couple to marry. As Adams told the Independent, "She was like, 'It's enough already, you guys are just being stupid." After being together for so long before tying the knot, nothing much changed for the couple when they married. As Adams told The Times, Le Gallo continued to be an important support for her. "[His support has] allowed me a certain amount of focus and comfort," she revealed.
Amy Adams planned on taking a break from acting but couldn't turn down Arrival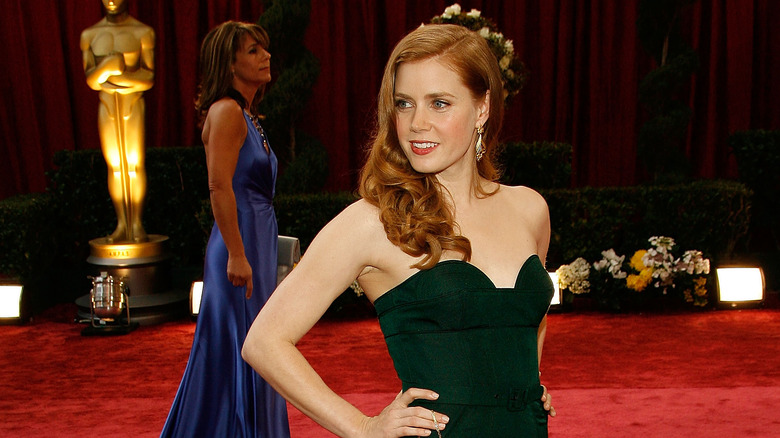 A few years after the birth of her daughter, Amy Adams was offered the lead role in the 2016 Denis Villeneuve film "Arrival." As she explained to Female.com.au, she was initially hesitant to accept the part. "I didn't know what I was going to be doing next and it was at a time where I really wanted to take a break and just be a mom for a while," she recalled. However, once she read the script, she was hooked. "It spoke to me really deeply in the core of who I am and I felt that I really had to do it," she continued. "I was really drawn to it."
"Arrival" ended up being one of Adams' biggest successes to date. As one critic wrote for The New Yorker, "Her gift for sorrow, her strength, and her instinctive sweetness of temper are rolled into one."
Amy Adams got her first real TV role in 2018 with Sharp Objects — her darkest role yet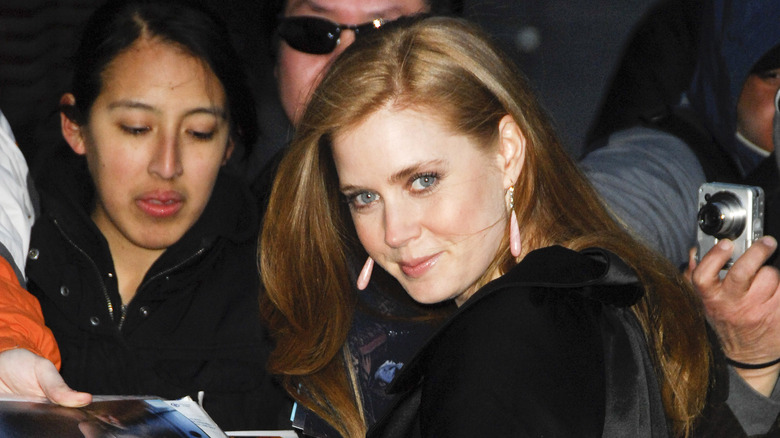 Aside from a few TV roles in her early career, Amy Adams is best-known for her work in films. However, this changed in 2018 when she starred in "Sharp Objects," an HBO mini series about a troubled crime reporter. As the Independent noted, the role marked yet another transition for the actress: With "Sharp Objects," she was firmly positioning herself as someone who could tackle truly dark and twisted roles. For Adams, this role was peak of her "moody and introspective" phase. As she told the publication, there is a part of her that connects to these roles. "I don't have the same darkness and depth of internal anger, but that sort of sadness that drives you to be unkind to yourself? I think I have that," she confessed.
Playing such a part certainly wasn't easy, either. As Adams told Backstage, her character was covered in self-harm scars in the form of words like "injury" or "wrong." This meant standing in her underwear for up to three hours a day while the scars were applied to her body by the makeup team. "It really fed the character," she shared.
If you or someone you know is struggling with mental health, please contact the Crisis Text Line by texting HOME to 741741, call the National Alliance on Mental Illness helpline at 1-800-950-NAMI (6264), or visit the National Institute of Mental Health website.
Amy Adams has developed a particular acting technique over the years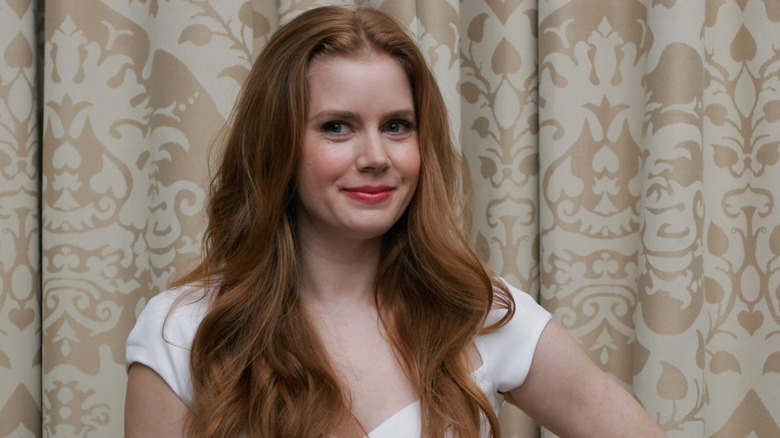 One thing that Amy Adams is well-known for is her specific approach to each role she plays. As she explained to So It Goes, she really began to learn about acting while on the set of her first film, "Drop Dead Gorgeous." "I would sit behind the sound cart and they were very generous, they gave me some headphones so I could hear how the director was," she revealed. "I learned all the terminology by hanging out on set, out of the way."
Since then, Adams has developed her own unique approach to acting. As author Gillian Flynn told the Independent, Adams "completely immersed herself physically, bodily, mentally into Camille" during the filming for "Sharp Objects." Adams said her process was like "catching a virus." In other words, she completely transforms and is even a little unrecognizable in between takes. It sounds like this actress likes to dive in headfirst into her roles.
Amy Adams is ready to try new, darker roles and prioritize feminism in her work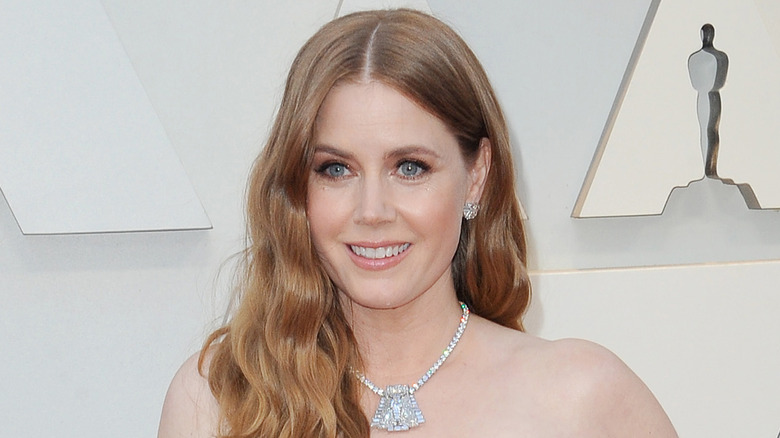 After exploring her sad, dark side with "Sharp Objects," it seems that Amy Adams is ready to keep experimenting with darkness in her work. As she told the Independent, her days of being an ingénue are long behind her. "I don't feel any sense of pride of accomplishment if I'm not being pushed, so I'm interested in anything that will push me," she explained. "I may succeed, I may fail, but I'll try anything."
It's this bold attitude that has led to some of Adams' most interesting projects. In fact, she's even set up her own production company called Bond Group Entertainment, which, as she told The Sydney Morning Herald, will prioritize female stories. "It matters to me because I have a daughter, and to see how strong she is in the moment and how outspoken, I would hate to see that voice get quieter," she revealed. "It's the female experience and that point of view that I was to present." It seems like Adams isn't anywhere near slowing down — in fact, in many ways, she's just getting started.
Source: Read Full Article