The Iconic 'Wednesday' Moment Jenna Ortega was Responsible for
It's safe to say we're pretty much obsessed with Netflix's Wednesday. The new series about a teenage Wednesday Addams dropped on the streaming site last week and has remained firmly in the Top 10 ever since.
The eight part series sees Wednesday (Jenna Ortega) attend Nevermore Academy, a school for outcasts. There, she grapples with getting to know her fellow classmates, mastering her psychic abilities and solving the mystery of an unknown monster plaguing the school.
We've already finished the series and have been rewatching some of the season's most iconic moments (and there's a lot) on repeat. And it turns out Jenna Ortega was actually responsible for creating one of the most iconic scenes in the whole series. We are of course talking about that dance scene.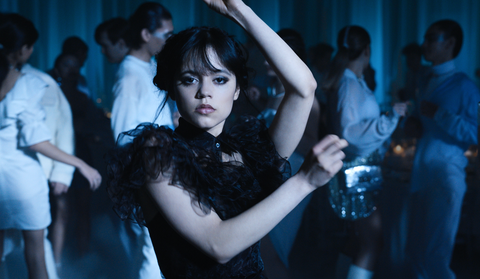 In episode four "Woe What A Night" Nevermore Academy hosts the annual Rave'N Dance. Wednesday attends the dance with Tyler, where she proceeds to show him her impressive dance moves. They're a little different to everyone else's, but it's Wednesday, what do you expect?
And now Jenna Ortega has revealed she choreographed the entire routine herself. In an interview with Netflix she said: "I actually felt really insecure about this.
"I choreographed that myself, and I think it's very obvious that I'm not a dancer or choreographer."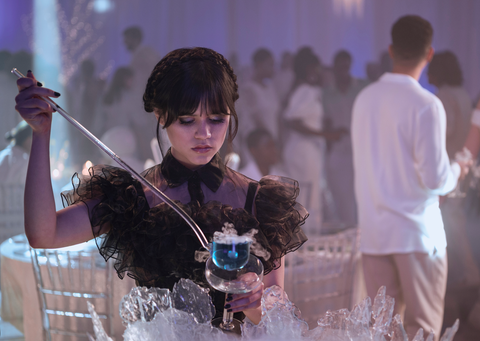 Speaking more about the dance routine in an interview with Vulture, Jenna revealed she worked with director Tim Burton to decide the song "Goo Goo Muck", by the Cramps, for the scene. Then a few days before filming she created the routine.
She said: "I just pulled inspiration from videos of goth kids dancing in clubs in the '80s. Lene Lovich music videos, Siouxsie and the Banshees performances, and Fosse.
"I feel like I gained a new level of respect for that line of work."
Addams Family fans have also pointed out on Twitter that many of Wednesday's dance moves are reminiscent of early clips of the Addams Family 60s TV show.
In certain clips you can see the similarity between Jenna Ortega's Wednesday and Wednesday in the 1964 series played by Lisa Loring.
One fan tweeted: "Props to the original Wednesday dance. Blink and you'll miss it!"
Now, how do we master those iconic dance moves?
Wednesday is available on Netflix now.
Source: Read Full Article