Scarlett Johansson Explains Why Her Wedding To Colin Jost Was Weird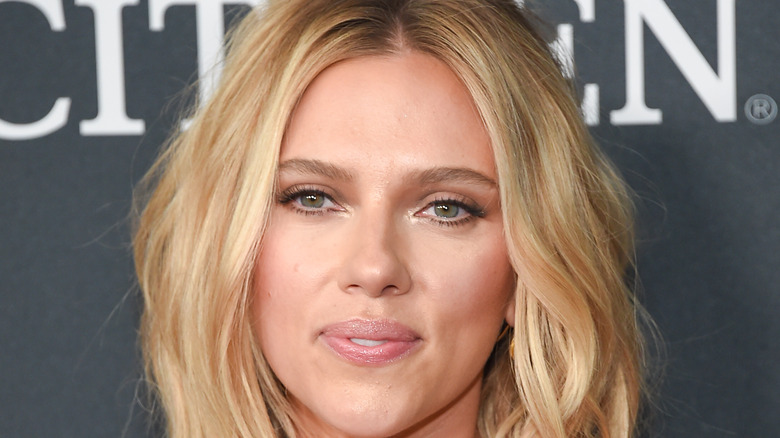 Back in 2010, "Black Widow" star Scarlett Johansson met "the love of [her] life" comedian Colin Jost on the set of "Saturday Night Live" (via Page Six). Their introduction took place when Johansson hosted the show and Jost wrote a sketch for her to perform. Johannson told The Hollywood Reporter that the "SNL" head writer made a good impression on her but it wasn't until 2017 that their romance sparked. The 36-year-old returned to 30 Rock to host "SNL" again and were spotted making out at the episode's afterparty (via The Cut).
Johansson and Jost have been inseparable ever since and announced their engagement in May of 2019 (via Elle). Unfortunately, the couple had to postpone their wedding because of the Coronavirus pandemic but were finally able to make things official in October of 2020. The stars announced their nuptials on The Meals on Wheels Instagram account with a photo of a Staten Island Ferry with the phrase, "Jost Married." Despite Johansson's preference for keeping her personal life private, she decided to open up about the intimate ceremony on Late Night with Seth Meyers (via People).
Scarlett Johansson and Colin Jost's wedding favors were unexpected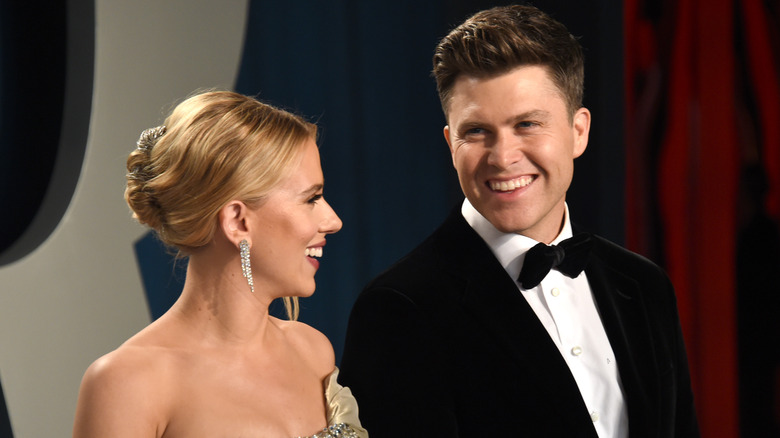 During a recent appearance on Late Night with Seth Meyers, Scarlett Johansson revealed details about her wedding to Colin Jost (via People). She shared that the ceremony, which took place at Johannson's home in Palisades New York, was "a little stressful" and that everyone had to be very careful because of the pandemic. She explained, "Obviously we wanted to take all the precautions that we could, so we had the masks … and everybody had to get [COVID] tests like 100,000 times,"
She also added that all of the wedding guests were gifted face masks that had "Jost 2020" written on them. Johansson remarked, "I mean, it's just weird. Looking back at the photos … it definitely was a weird party favor that could only happen now, but you just gotta go with it." Though the couple was concerned because Jost has many family members in their 90s, Johansson said that the wedding was perfect. She concluded, "Even though it was small and intimate, it was beautiful and we were so happy to see people that we hadn't seen in such a long time. We just felt very fortunate to be able to get together like that."
Source: Read Full Article