Please Watch Dr. Shola Mos-Shogbamimu School Piers Morgan on Royal Racism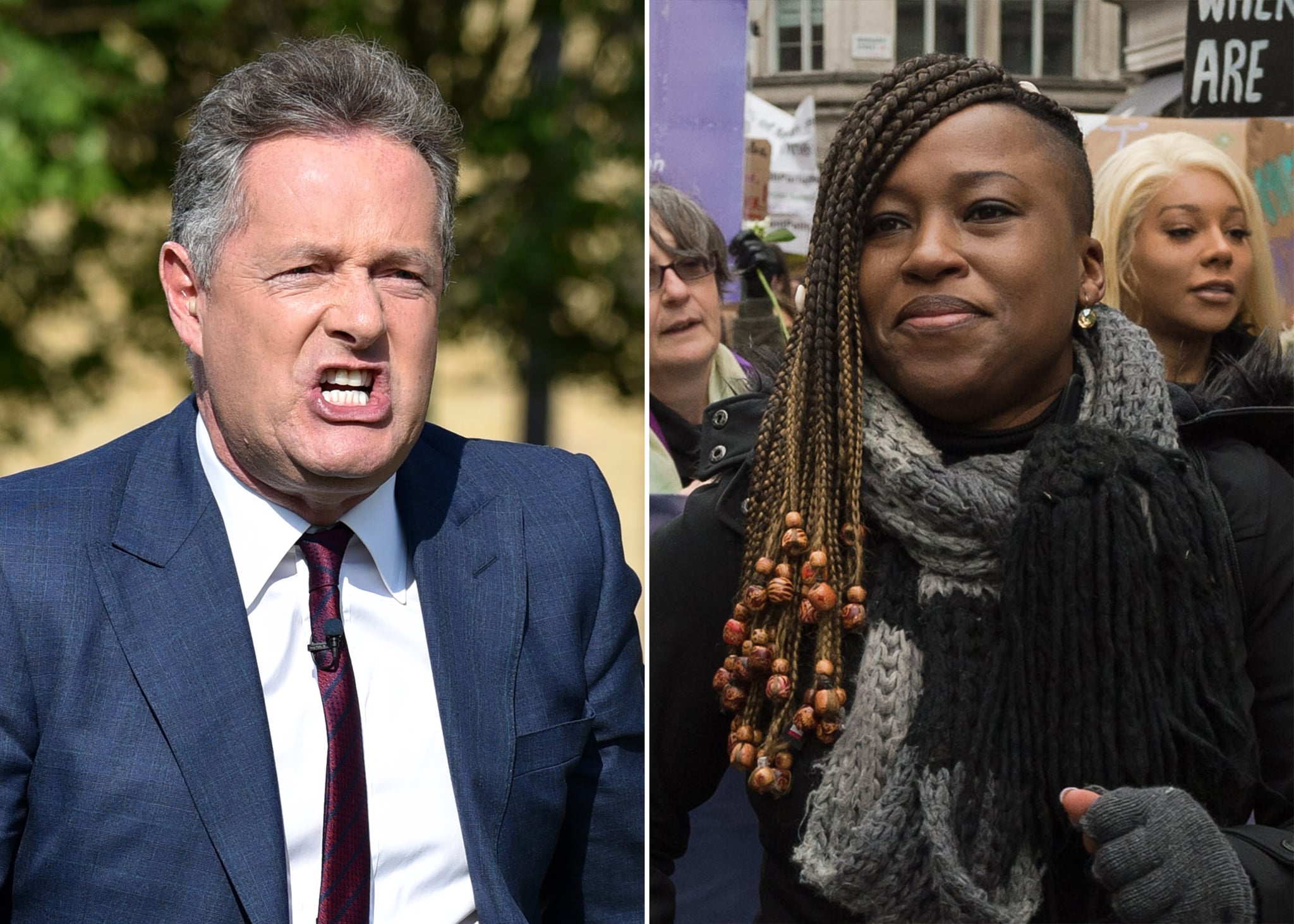 Image Source: Getty / HGL / Wiktor Szymanowicz / Barcroft Media
Getting a word in edgewise with Piers Morgan is a feat in and of itself, but South London activist and author Dr. Shola Mos-Shogbamimu held her own during a Good Morning Britain appearance on Monday. While discussing Prince Harry and Meghan Markle's Oprah interview on Good Morning Britain, Shola went toe-to-toe with Piers, schooling him each and every time he tried to paint Meghan in a negative light. "I think it's piling hurt on the Queen who is already suffering greatly from her husband's illness," Morgan stated in response to the timing of the Oprah interview. The hostile reaction Piers immediately resorts to is representative of how the UK media has treated Meghan throughout her time as part of the Royal family. Everything is Meghan's fault and what Meghan does, is done with malicious intent; at least so far as the UK media is concerned.
"You constantly use your platform as a wealthy, white privileged man, with power to influence, to aggravate and escalate the bigoted, sexist, racist, and misogynist attacks on Meghan Markle," Shola countered as Piers called it "race-baiting nonsense." Piers continued to get louder throughout Shola's appearance, speaking over her as she tried to get her point across. "What kind of grandmother would be so close to her grandson, Harry, but then not use her power and influence as Queen to protect them from the racist media coverage," Shola questioned in another clip. "The royal family, as an institution, is rooted, listen you might learn something, is rooted in colonialism, white supremacy, and racism. The legacy is right there. So you're now surprised that comments would be made by the royal family about how dark Archie's skin is?" How did Piers react? He certainly didn't listen. Instead he tried to cut Shola off because she was saying something he didn't like.
Later, Shola tweeted about her experience on the show, saying, "The Queen is not above reproach. She & the Royal Family are neither faultless or perfect. They have a case to answer for the failure to support #HarryandMeghan from racism/ hate media which led to them stepping back royal duties." She also called out Piers for his double-standard when it came to covering Harry and Meghan, using certain titles from the media to portray the narrative HE wanted to. "Piers didn't like me calling him a liar and disgrace for using coverage of paper headlines of #MeghanAndHarry Engagement and Wedding while conveniently ignoring the headlines BEFORE the Engagement and BETWEEN it and the Wedding," she tweeted. Just like Meghan during her interview with Oprah, Shola is setting the record straight about what is happening when Meghan makes headlines in the UK. As Meghan said in an exclusive clip from CBS This Morning, the UK tabloids "don't report the news, they create the news."
Source: Read Full Article