Logan Paul Threatens Legal Actions Against Coffeezilla Following Crypto 'Scam' Accusations
The CryptoZoo founder reacts to the allegations by YouTuber Coffeezilla in a seven-minute YouTube video in which he also threatens legal actions for allegedly spreading misinformation.
AceShowbiz –Logan Paul has responded to the crypto "scam" accusations that are leveled at him by YouTuber Coffeezilla. On Tuesday, January 3, the CryptoZoo founder addressed the allegations in a seven-minute YouTube video in which he also threatened legal actions.
"You have used my name for views and money," Logan said of Coffeezilla in the said video. "Your addiction to clicks has clouded your judgment and you've made very real errors with very real repercussions. [Coffeezilla has continued] to morph from an investigator to a gossip channel. He is a lopsided journalist with an agenda."
Later, Logan clarified claims about CryptoZoo's lead developer whom Coffeezilla referred to as "Z" in his videos. Logan revealed that the name of the engineer is Zack Kelling, an individual that's been arrested multiple times.
Zack allegedly "lied" about the scope of the crypto project in his conversation with Coffeezilla. According to the older Paul brother, the CryptoZoo team "only had 3 engineers" working on it, not 30.
In the video, Logan additionally shut down claims that his crypto project never actually worked. "One second of research would prove that to be false," he claimed, adding, "You can definitely hatch eggs and even breed your animals." He also showed footage from the project itself and others streaming their reactions to the egg openings.
The YouTube personality also threatened to sue Coffeezilla for spreading misinformation. Not stopping there, Logan accused Coffezilla of an "illegal recording" as it featured an alleged private phone call with Logan's manager Jeff Levin. He said, "I suggest you use the money from your Patreon to hire a good lawyer, you're gonna need it. See you in court."
Shortly after the video was posted, Coffeezilla responded to the video in a tweet which pointed out that Logan didn't apologize and address the victims. "I will reply in full when I organize my thoughts, but for now, Logan accuses me of not reaching out to him directly until Dec 24, 2022…but doesn't mention I reached out over a year prior on Instagram," he wrote alongside a screenshot of his DMs to Logan dating back to October 2021 which were left unreplied.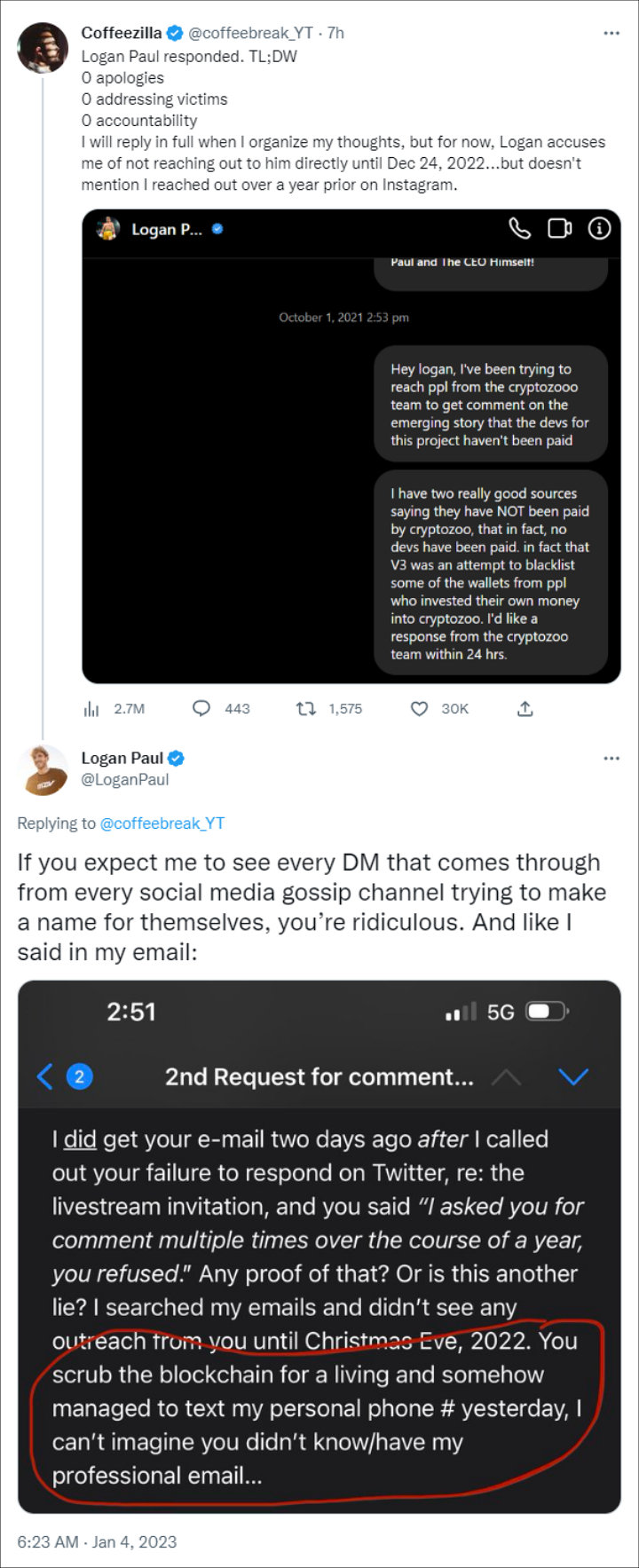 Logan Paul and Coffeezilla continued their back-and-forth following Logan's clarification.
The tweet didn't go unnoticed by Logan. In his response, he said, "If you expect me to see every DM that comes through from every social media gossip channel trying to make a name for themselves, you're ridiculous."
You can share this post!
Source: Read Full Article