Kim Kardashian Was Surprisingly Wearing Makeup Under Her Full Masked Met Gala Look
One of the best parts of the Met Gala is seeing what all the stars are wearing when they step onto the red carpet. One of the outfits that people can't stop talking about this year is Kim Kardashian West's faceless look in her iconic Balenciaga ensemble that didn't show one inch of skin and made headlines almost immediately.
There was so much speculation about the outfit, with some fans saying that it might not even have been Kardashian West herself to others who wondered how she was able to see as she made her way up the famous stairs to the event.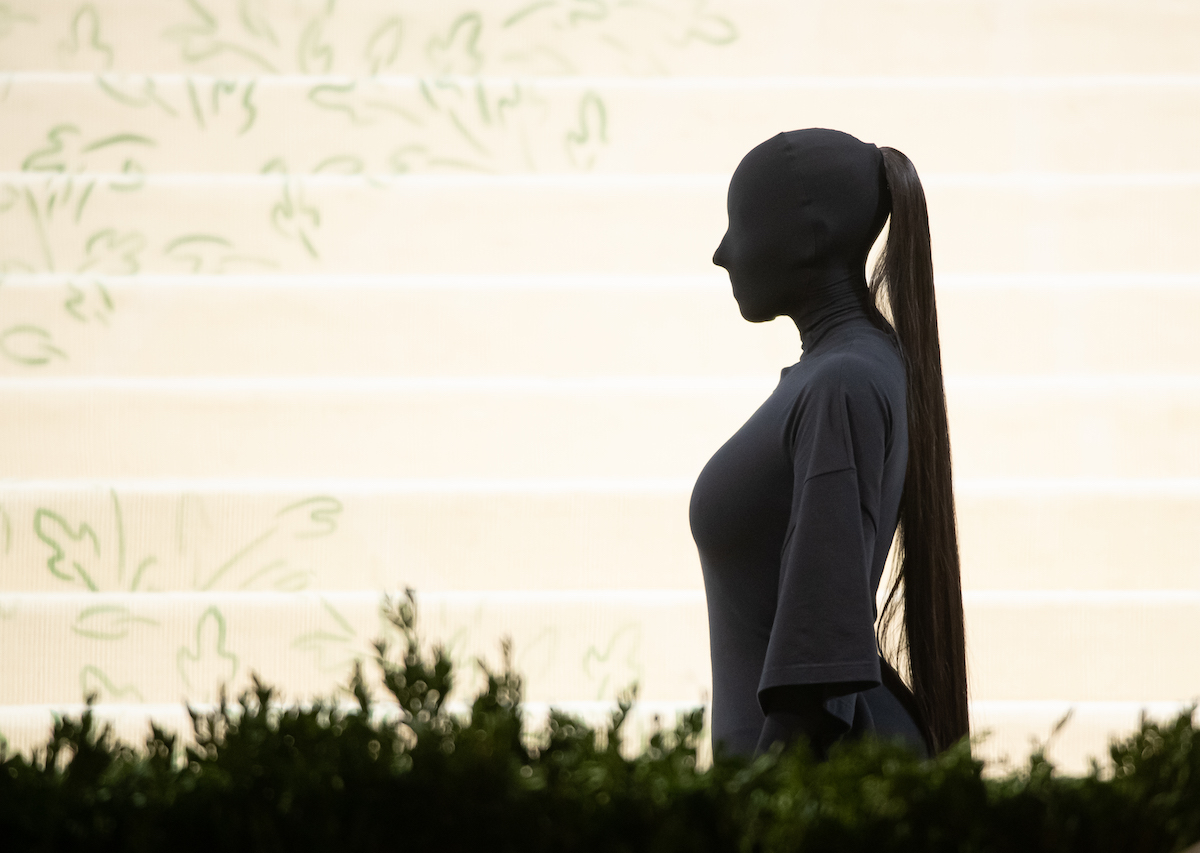 One thing is for sure — for the average person, a look like that wouldn't take long to do. After all, the only thing that is required is to simply put the clothes on, since no extras are required.
However, in true Kardashian West fashion, it turns out that the reality star did, indeed, go all out. Let's talk about how Kim Kardashian West was surprisingly wearing makeup under her full masked Met Gala look. 
Kim Kardashian West was surprisingly wearing makeup under her full masked Met Gala look
Kardashian West is known for her love of makeup, and only on very rare occasions is she seen without it. It was easy for fans to assume that on the night of the Met Gala, she didn't have to worry about having her makeup artist create a stunning look, but it turns out that was not the case.
She didn't keep it a secret for long, either, with her makeup artist, Mario Dedivanovic, posting on Instagram a photo of her all glitzed up, with the caption "Behind the mask." He used products from La Mer, KKW Beauty (of course), and his own Makeup by Mario brand, ensuring that Kardashian West was fully prepared for the big night – even if no one could see!
Kim Kardashian West's unique Met Gala look
In case you somehow missed it, the queen of reality television had a one-of-a-kind look this year at the Met Gala. According to BuzzFeedNews, Kardashian West arrived at the event in an all-black outfit by Balenciaga that obscured her entire face and was in keeping with this year's theme "American Independence."
The outfit was pretty over the top, featuring tights, a short skirt, long sleeves, and a matching mask and train. Most people were stunned at her fashion choice, and Kardashian West herself even admitted that she couldn't see a thing.
In fact, she couldn't even recognize her own sister, saying that "Kendall was calling my name and I couldn't see who it was, but I saw the outline of her sparkly dress." As if the faceless outfit wasn't bold enough, Kardashian West sported a 75-inch ponytail, that trailed behind her, and cost a whopping $10,000, according to Vanity Fair.
What did everyone have to say?
Naturally, with a look like that, no one could keep quiet. So, what was some of the feedback regarding Kardashian West's Met Gala look? According to Harper's Bazaar, there were some mixed opinions. Some people called the outfit "distasteful", while others fully supported Kardashian West for her originality. 
Even the reality star was quick to take to social media to post her feelings, saying "What's more American than a T-shirt head to toe?!" while others were quick to post that the outfit was downright "bizarre."
Some fans even went so far as to compare Kardashian West to Harry Potter in his invisibility cloak, while one of the most positive statements from TikTok was:
"The silhouette that was created was one that we are so familiar with pop culture and Americanised culture".
Source: Read Full Article