JoJo Siwa: How Did She Come Out As Part of the LGBTQ Community?
While JoJo Siwa has made her brand as a singer, dancer, and content creator one filled with rainbows, glitter, and fun, people stayed away from speculating on the 17-year-old child's sexuality. But between different TikTok videos and Twitter pictures, the triple-threat entertainer made it known that she did come out as part of the LGBTQ community — and she's proud of it. Read on to find out how JoJo Siwa came out.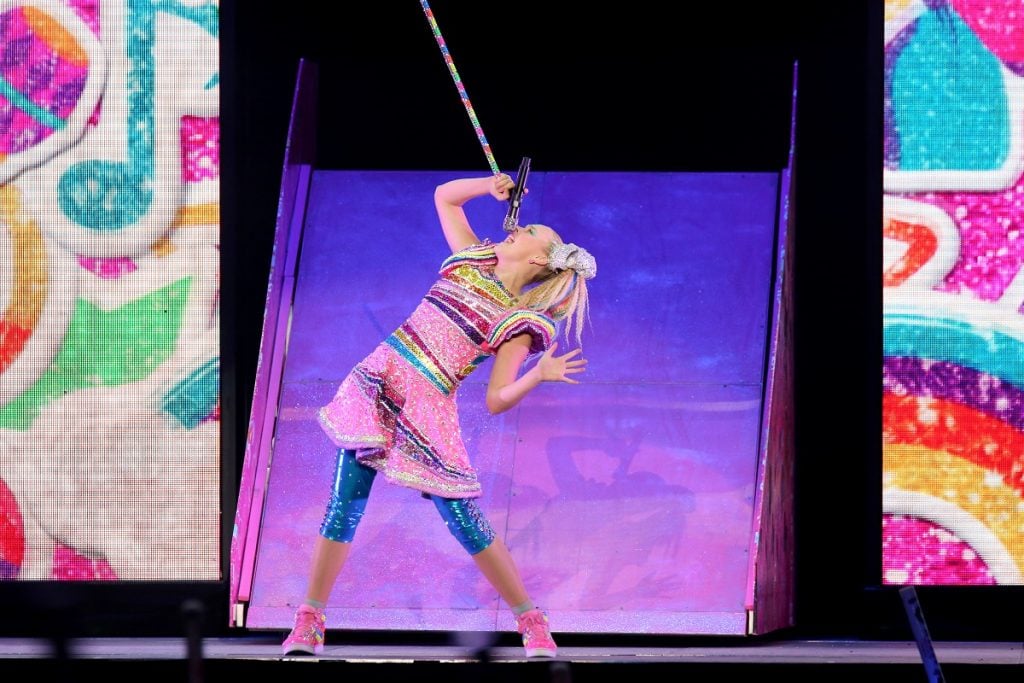 Who is JoJo Siwa?
Siwa started her career as a dancer on Abby Lee Miller's Abby's Ultimate Dance Competition and Dance Moms. Siwa parlayed her dancing fame into a singing career by releasing songs "Boomerang" and "I Can Make U Dance" soon after her appearances on the television shows.
Siwa began her career partnership with kids' network Nickelodeon in 2017. She has also had a prosperous career on YouTube, frequently collaborating with other known stars such as North West, Colleen Ballinger, and James Charles.
The young star further solidified her value as a brand by making a merchandise empire for children, selling bows, furniture, and toys at huge retailers such as Target and Walmart.
JoJo Siwa posted a video on TikTok lip-syncing to 'Born This Way'
On Jan. 20, Siwa posted a video on TikTok of her singing along and dancing to Lady Gaga's 2011 LGBTQ anthem, "Born This Way." Siwa wore her usual outfit of an oversized sweatshirt, sweatpants, and a tightly-pulled ponytail finished with a bow. Her room was illuminated with rainbow lights.
Siwa lip-synced to Gaga's lyrics: "No matter gay, straight, or bi, lesbian, transgender life, I'm on the right track baby, I was born to survive." She continued dancing as Gaga's lyrics said: "I'm on the right track baby, I was born to be brave."
Furthermore, a day later, Siwa participated in Pride House LA's video on TikTok, dancing with other LGBTQ creators on the app.
This led to speculation among fans if Siwa had just come out. Later in the week, Siwa confirmed what people thought in an announcement post.
JoJo Siwa came out as part of the LGBTQ community in a tweet
Two days after Siwa's TikTok, on Jan. 22, she wanted fans to know that she wasn't just singing along to a fun song. Siwa confirmed that she is part of the LGBTQ community by sharing a picture of her in a new t-shirt that she said her cousin got for her.
Siwa posted a selfie of her in the shirt that read "Best. Gay. Cousin. Ever." and proceeded to "pin" the tweet at the top of her Twitter profile, wanting everyone to see the important announcement. That seemed to be Siwa's way of concluding speculation that she did indeed come out as part of the LGBTQ community.
Her announcement led to others congratulating her and welcoming her. "Old Town Road" singer Lil Nas X jokingly tweeted: "If [you] spell 'swag' backwards, it's 'gay.' Coincidence?" Rachel Zegler, star of Steven Spielberg's upcoming West Side Story remake, also showed her support by replying to JoJo showing love.
We're so proud of JoJo and can't wait to see what she does next with her large platform — surely inspiring kids along the way.
Source: Read Full Article