Jessica Alba: 'When I'm feeling anxious, I hold on to a crystal'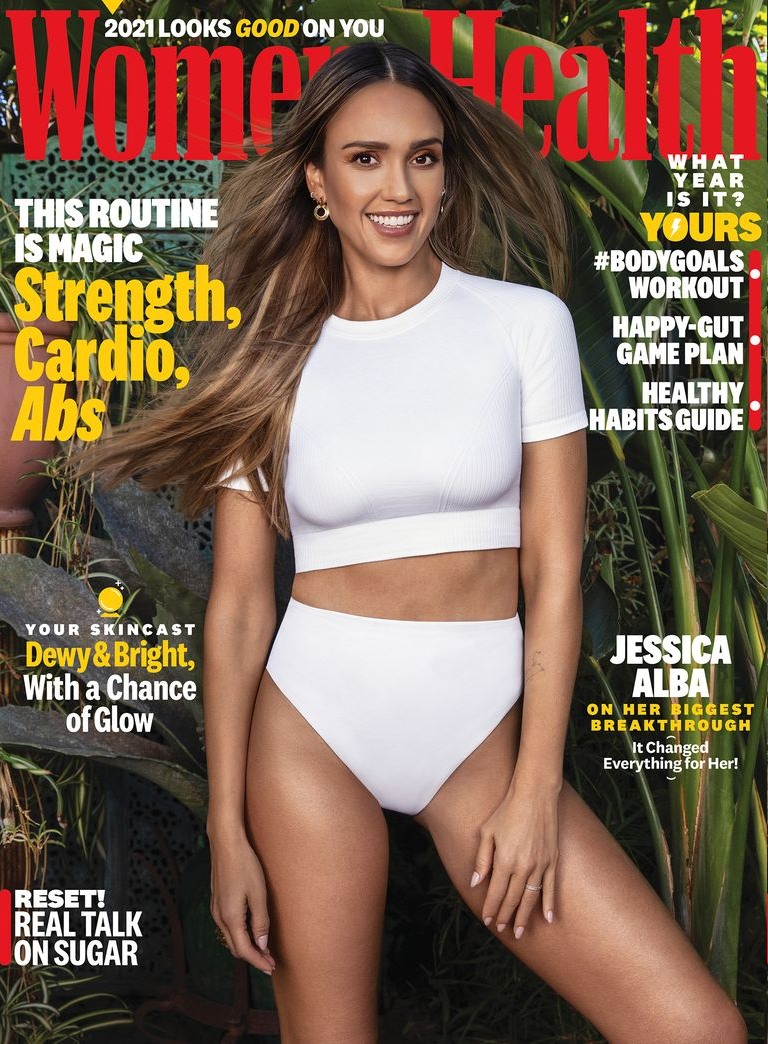 Jessica Alba covers the latest issue of Women's Health, mostly to promote The Honest Company, but really she's not specifically promoting one big project (she has some stuff in the pipeline though). We can go months without hearing anything about or from Alba, which is kind of okay with me? At best, she's kind of boring. At worst, she's the kind of person who thinks she's too beautiful to work consistently in Hollywood. Alba chatted with Women's Health about The Honest Company, how the pandemic changed her perspective, her diet and fitness and a lot more. It's just kind of a chill interview. Some highlights:
She's been working from home, in her closet: "This is where I take my meetings. Total privacy. I don't need to hear my kids, and they don't need to hear me."

She would have sleep-anxiety about work: "I often would wake up in the middle of the night with that heart-beating-fast, drenched-in-sweat, three-in-the-morning panic. That was something I just accepted. I like to execute with excellence. I remember every small, dumb detail. It all stays in this brain, and it's really hard to shut off. I think that's common, especially for women. And it's just not okay."

What the pandemic has taught her: "The pandemic has forced me to be comfortable with things not being completely buttoned up, with allowing myself to not always have the answer, for mistakes to kind of stay as is. It's also reinforced that real joy comes from the moments when, you know, we're playing a game with the kids at dinner, or when [son] Hayes wants to show us his latest trick on the scooter, or from our family walks. That's the stuff that truly matters."

She's really into crystals: Amethyst, pyrite, selenite, citrine, rose quartz—you name 'em, Jessica's probably got 'em. "This is just a regular quartz…you know, standard issue." She named a line of Honest lip glosses after different crystals, and she recently bought a crystal grid—a sunburst-shaped art piece meant to distribute energy—on Etsy. (It hangs on the wall of her closet office.) "When I'm feeling anxious, I hold on to a crystal and do breathing exercises and try to focus on the energy of love, kindness, and calming."

Early-morning self-care: "In the mornings, I put on a face mask and a thick swipe of lip balm so I can be under this layer of hydration while I'm getting my coffee. My son is always like, 'Mommy, what's that?' Every time he looks over at me when I've got the mask on, it's like he's seeing me for the first time," she says, laughing. "But it reminds me that I'm allowed to take care of myself as well. It's a little bit of tender loving care to start the day."

Fitness: "I always thought, I need to sweat out my weight in water, I need to have muscle failure, I need to feel like I just ran a marathon—that's how hard I needed to work out… I've learned to mix it up and not feel like a failure if I'm not, you know, killing myself," she says. Lately, she works out two to four times a week. She recently discovered reformer Pilates (in a COVID-safe environment) as well. "I feel every muscle in my core. I never even knew I had those things."

She's not completely vegan: "Four days a week, I try to eat plant-based, and I don't drink alcohol," she says. "Friday, Saturday, and Sunday, all bets are off. That feels like moderation to me."
[From Women's Health]
I'll admit to rolling my eyes at a lot of the crystal stuff, just in general, with anyone. But to me, "thinking crystals have healing powers" is one of the more harmless rich-person things. I mean, they're just holding rocks and praying, or doing breathing exercises while holding a geode. It's fine. And some of those crystals are very pretty! And I'm glad Alba figured out – during the pandemic – that she doesn't have to work out until she has organ failure, my God.
https://www.instagram.com/p/CJHIG0DsXYz/
A post shared by Women's Health (@womenshealthmag)
Cover & IG courtesy of Women's Health.
Source: Read Full Article