Gavin Rossdale Looks Down in First Pic After Ex Gwen Stefani's Wedding to Blake Shelton
The 55-year-old Bush singer and the No Doubt songstress, who share three sons together, were married in 2002 before ending their marriage of 13 years in 2015.
AceShowbiz –Gavin Rossdale was spotted in an outing just days after his ex-wife Gwen Stefani remarried. In the first public appearance after the wedding, Gavin seeemed to be downcast while walking his Pomeranian dog Chewy through a park.
In a picture that circulated online, the 55-year-old dressed casually in a white T-shirt that he paired with black pants which had floral pattern. The Bush singer completed his style with gray sneakers and black shades.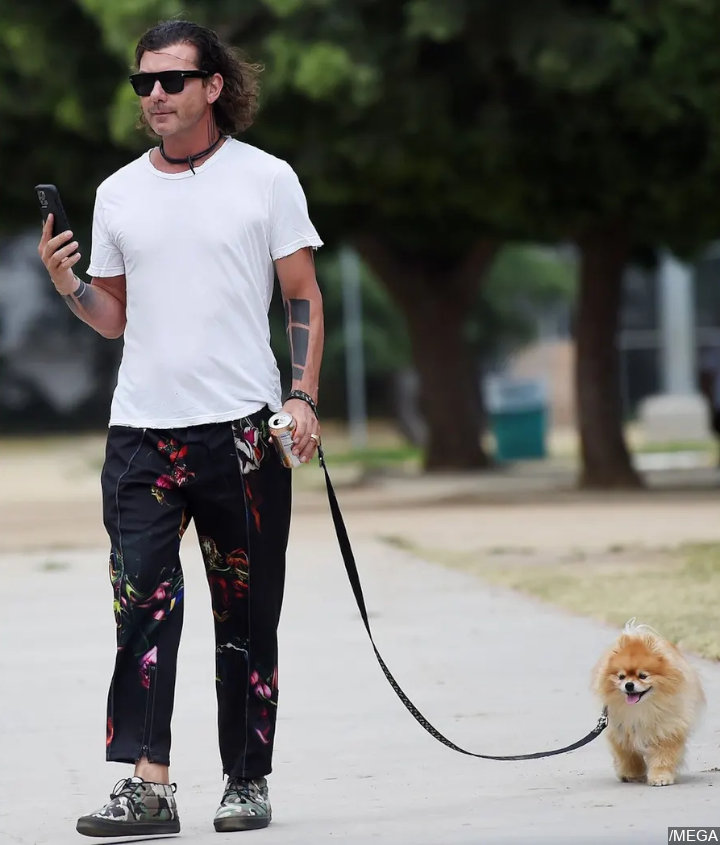 Gavin Rossdale spotted in public after Gwen Stefani married Blake Shelton.
Gavin and Gwen were married for 13 years before ending their marriage in 2015. Back in 2016, Gwen, who shares three sons together, Kingston (15), Zuma (12) and Apollo (7), addressed their divorce after it was said that Gavin cheated on her with their nanny.
"I don't think you'll talk to one person who didn't make it in a marriage who's not gonna feel that way," she admitted. "The intention of being married is the vow, right? You want to put everything into it to make it a success. [Marriage] was the one thing I didn't want to fail at. People can say whatever they want to about me, and I don't get too affected. But I didn't want them to think I was a failure."
As for Gavin, he said of their divorce, "Well, if you divorce America's sweetheart, you're in trouble. Or rather, if she divorces me. So … I don't read [headlines], but I know I've been portrayed as a bad guy." Despite that, Gavin claimed that his priority was their kids, noting, "She's the mother of my children and one of the most incredible girls in the world. I wish her all the happiness in the world, and that's the true sign of love. As I'm sure your favorite artist Sting said, 'If you love someone, set them free.' "
Gwen married Blake Shelton on Saturday, July 3 in a small and private ceremony at his Oklahoma ranch with "The Voice" host Carson Daly officiating the nuptials. They exchanged vows in a chapel which he built on the estate. According to Page Six, Gwen's parents Dennis Stefani and Patty Flynn were among those in attendance at the nuptials.
Source: Read Full Article