Apparently Kylie Jenner Is "Sending Positivity" to Jordyn Woods, Whatever that Means
It's been five months since the Jordyn Woods-Khloé Kardashian-Tristan Thompson cheating scandal happened (um, wow), and things are still pretty shaky between Kylie Jenner and her former bestie, Jordyn. Hasn't it felt like a LIFETIME?
Since then, Kylie and Jordyn have seemingly gone their separate ways: Kylie's started focusing on her new best friends, working on her skincare line, and posting an endless reel of unsolicited bikini pics. Jordyn, on the other hand, has also been posting bikini pics (it is summer, after all), getting acting gigs, and modeling as per usual. Considering how separate their lives seem now, it's hard to believe they'll ever be the enviable best friend duo they once were. Regardless, though, sources say Kylie still wants the best for Jordyn.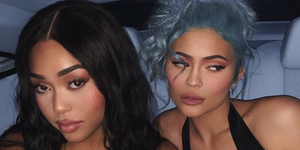 "She'll always care about Jordyn and she only wants the best for her," a source told Us Weekly. "She's only sending positivity to Jordyn, but it's too soon to say [if] they'll be able to fully reconcile. But time heals a lot of wounds, and the Kardashian/Jenners are a forgiving family."
Once all the drama unfolded, Kylie allegedly took a lot of time to reflect on her relationships—valid, considering...well, you know. "[Kylie] realized there were moments in her life that it was just her family and Jordyn [and] she had become codependent," the Us source added. "She has a great network she wasn't seeing."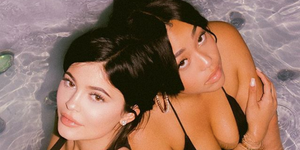 Even though their friendship will likely never be the same, "She [Kylie] will always care about Jordyn and she only wants the best for her," the source said. "She's only sending positivity to Jordyn, but it's too soon to say [if] they'll be able to fully reconcile. But time heals a lot of wounds, and the Kardashian/Jenners are a forgiving family."
And as for Jordyn? Well, she's pretty much just eating her food, trying to keep her skin clear, and minding her business, really. "Jordyn has been trying to show the world that she isn't riding on the Jenner-Kardashian coattails any longer and that she's doing her own thing and living her life comfortably."
Source: Read Full Article