All the Wild Moments You Forgot About in Jennifer Lopez and Ben Affleck's Relationship
In case you missed it, we've traveled back in time to 2002, an iconic era when Ben Affleck and Jennifer Lopez were together and starring in the critically-never-acclaimed-not-even-once film Gigli together. And by that I mean: Bennifer has staged a zombielike return from the ashes of their relationship, gotten MARRIED, and can't stop making out on yachts and random street corners.
It's all just frankly HAPPENING, and obviously no one is okay, not even close, but in order to fully understand how meaningful this reunion is, we have to go back. Back to the beginning. Because lest you forget, these two have a lot of history! Behold, a hefty timeline of Bennifer's relationship—plus the relationships they've had in between—in reverse chronological order (so all the juiciest updates are at the top)!
November 2022
J.Lo opens up about her 2004 split from Ben during a lengthy interview on Apple Music 1's The Zane Lowe Show. "It was so painful after we broke up," she said, via ET. "Once we called off that wedding 20 years ago, it was the biggest heartbreak of my life, and I honestly felt like I was going to die."
Oh, also Ben and Jen have a cozy Thanksgiving with their families!
A post shared by Jennifer Lopez (@jlo)
October 2022
After a couple months of wedding bliss, Ben and Jen make their first red carpet appearance since getting married, showing up (in matching fits!) at Ralph Lauren's show in California. Cute pics incoming: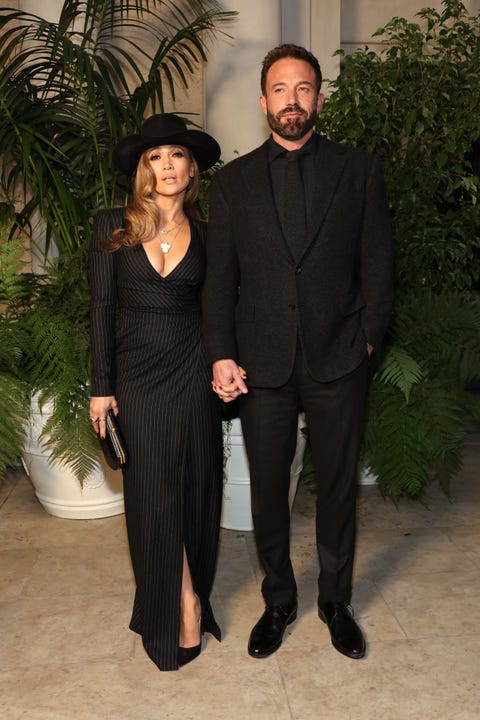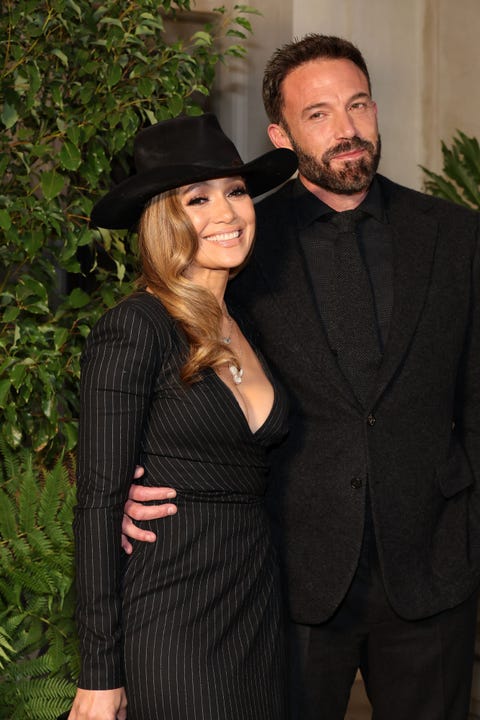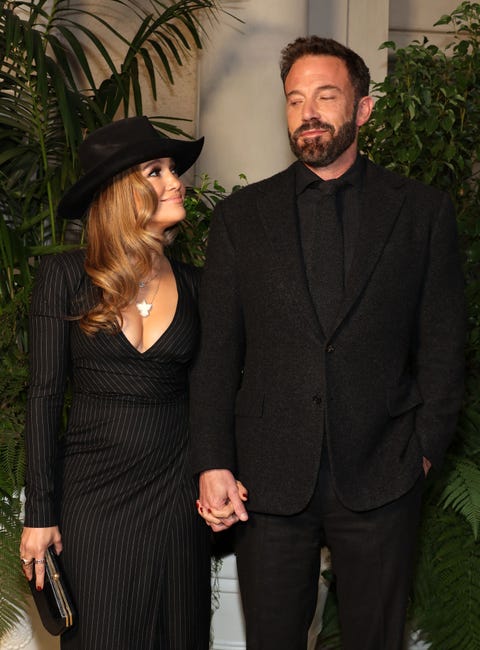 August 2022
Ben and Jen are married! Again! The couple say "I do" for round two in front of friends and family at Ben's Georgia home, and Jen dishes all the details in On the JLo.
https://www.instagram.com/p/Ch-vvi_L6ni/?utm_source=ig_embed&utm_campaign=loading
A post shared by Ralph Lauren (@ralphlauren)
"Nothing ever felt more right to me, and I knew we were finally 'settling down' in a way you can only do when you understand loss and joy and you are battle tested enough to never take the important things for granted or let the silly insignificant nuisances of the day get in the way of embracing every precious moment," she writes. "We find ourselves in that long-desired time of life: having gratitude for all that life has shown us, even its trials and tribulations. That night really was heaven…."
July 2022
Jen and Ben start the month holding hands and looking in love and whatnot while shopping for luxury cars, as ya do.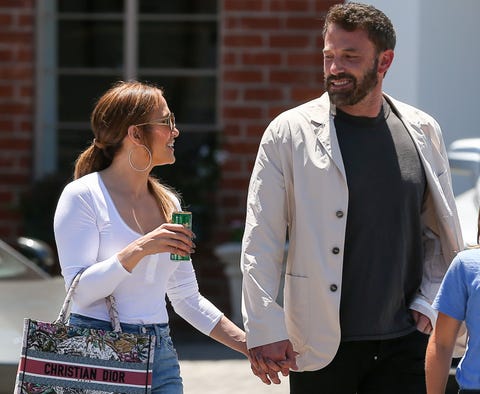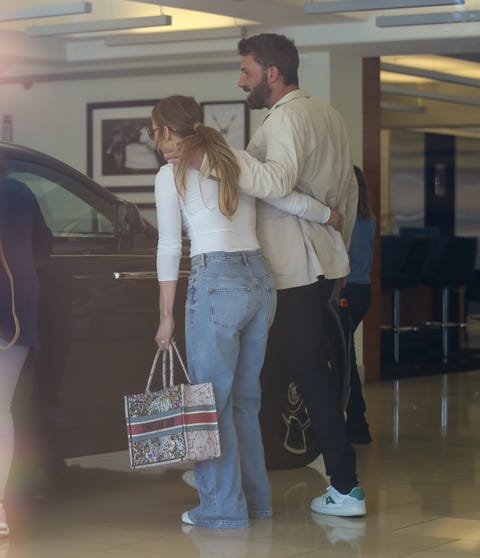 And then, surprise! They get married in Vegas.
J.Lo also changes her name, officially becoming "Mrs. Jennifer Lynn Affleck," and two seconds later, the couple goes on honeymoon in Paris, where they're photographed looking all kinds of in love: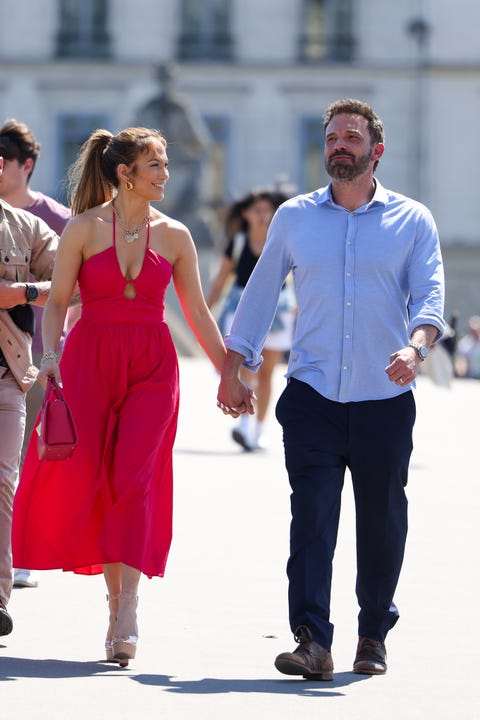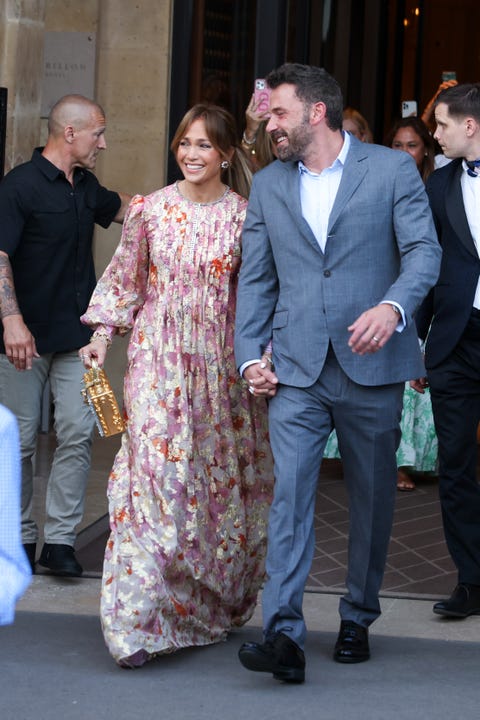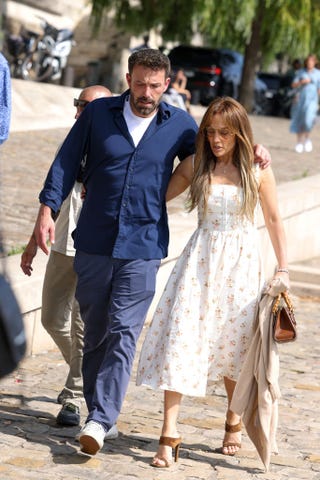 June 2022
J.Lo gets a super-cute manicure in honor of her and Ben's 'ship. Celebrity manicurist Tom Bachik completed the set and posted it to his Instagram with the caption, "If you know…then you know. 🏹 Jen and Ben forever #couplesgoals for the boss @jlo #nailsbytombachik. 💅🏼🔥"
https://www.instagram.com/p/CeOwJS4L8EW/?utm_source=ig_embed&utm_campaign=loading
A post shared by 𝙏𝙤𝙢 𝘽𝙖𝙘𝙝𝙞𝙠 Nails (@tombachik)
Ben also makes a cameo appearance in Jen's doc Halftime. The film took us back to the early 2000s, when beyond cringeworthy and oftentimes racist media coverage of the singer was standard throughout the entirety of her relationship with Ben. As Ben puts it in the doc, "I said to her once, 'Doesn't this bother you?' And she said, 'I'm Latina. I'm a woman. I expected this. You just don't expect it. You expect to be treated fairly.'"
Shout-out to Ben, who has been J.Lo's supporter since day one! And clearly she appreciates him because she posts this cute video in his honor on Father's Day (it's full of BTS moments):
May 2022
An insider tells Us Weekly that J.Lo "wants the formalities out of the way so they can start their journey as man and wife sooner rather than later." The source said she also wants to have a "spectacular celebration" and mentioned she and Ben are "committed to making this work and taking all the steps necessary to respect each other's boundaries and learn from their mistakes the last time around."
Another source shared similar sentiments to Entertainment Tonight. "Ben and Jen want to get married soon," said the insider. "They are talking about having a destination or tropical wedding. They can't wait to spend the rest of their lives together forever, happily in love."
April 2022
Bennifer get engaged—again!!!!!!! Jen breaks the news in her newsletter that we're all now subscribed to, On the JLo:
And then Jen's sister Lynda shares a glimpse at the ring on her Instagram Story: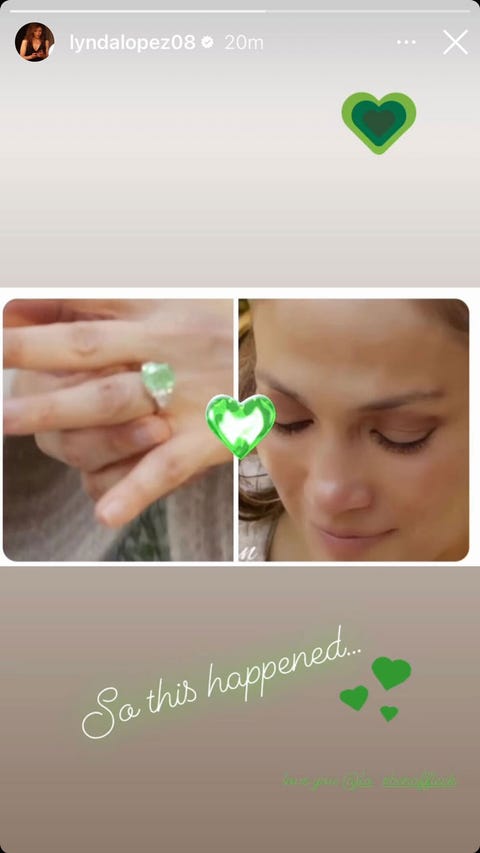 So, what does J.Lo have to say about the proposal? Ahem: "Did you ever imagine your biggest dream could come true?" she writes (per CNN). "Saturday night while at my favorite place on earth (in the bubble bath), my beautiful love got on one knee and proposed. I was taken totally off guard and just looked in his eyes smiling and crying at the same time trying hard to get my head around the fact that after 20 years, this was happening all over again. I was quite literally speechless and he said, 'Is that a yes?' I said, 'YES, of course that's a YES.'"
In non-relationship news, Bennifer's $50 million house falls out of escrow, so they once again start touring mansions in Los Angeles, as one does.
March 2022
Ben and Jen buy a house together! And by "house," we mean enormous $50 million mansion estate with four (!!) kitchens. The home is nestled in a quaint little area called Bel-Air (lol), and they will be blending their families in it since "the entire brood from both sides will be living there."
December, 2021
Bennifer are spotted being cute at a Lakers game:
Source: Read Full Article