Winter 2018 Sweater Trends Will Make You Feel All Kinds Of Warm & Fuzzy
This year brought out some seriously wacky and wild fashion. Head-to-toe animal prints, holographic everything, a revival of all thigns 80s. But when it comes to winter 2018 sweater trends, they're pretty standard and are probably what you might expect—but that doesn't mean they're boring. In fact, the ways in which printed sweaters, oversized chunky knits, turtleneck sweaters, and those boasting cool silhouettes thanks to balloon sleeves and more are being reimagined are more covetable than ever before. If you love to be extra cozy during super cold months but don't want to sacrifice your style for comfy and warm pieces, this is your lucky season.
Below are ten incredible sweaters that are sure to turn heads. Pair any one of them with simple black skinny jeans and the black boots of your choice and voila, your everyday work and play outfit is taken care of. Dress them up with tights and a miniskirt or down with boyfriend jeans and sneakers. No matter how you wear them, they'll keep you feeling warm and fuzzy and, most importantly, not frumpy. From turtlenecks and cropped silhouettes to super fuzzy textures and ultra bright patterns, there's something for every style.
Fringe Benefits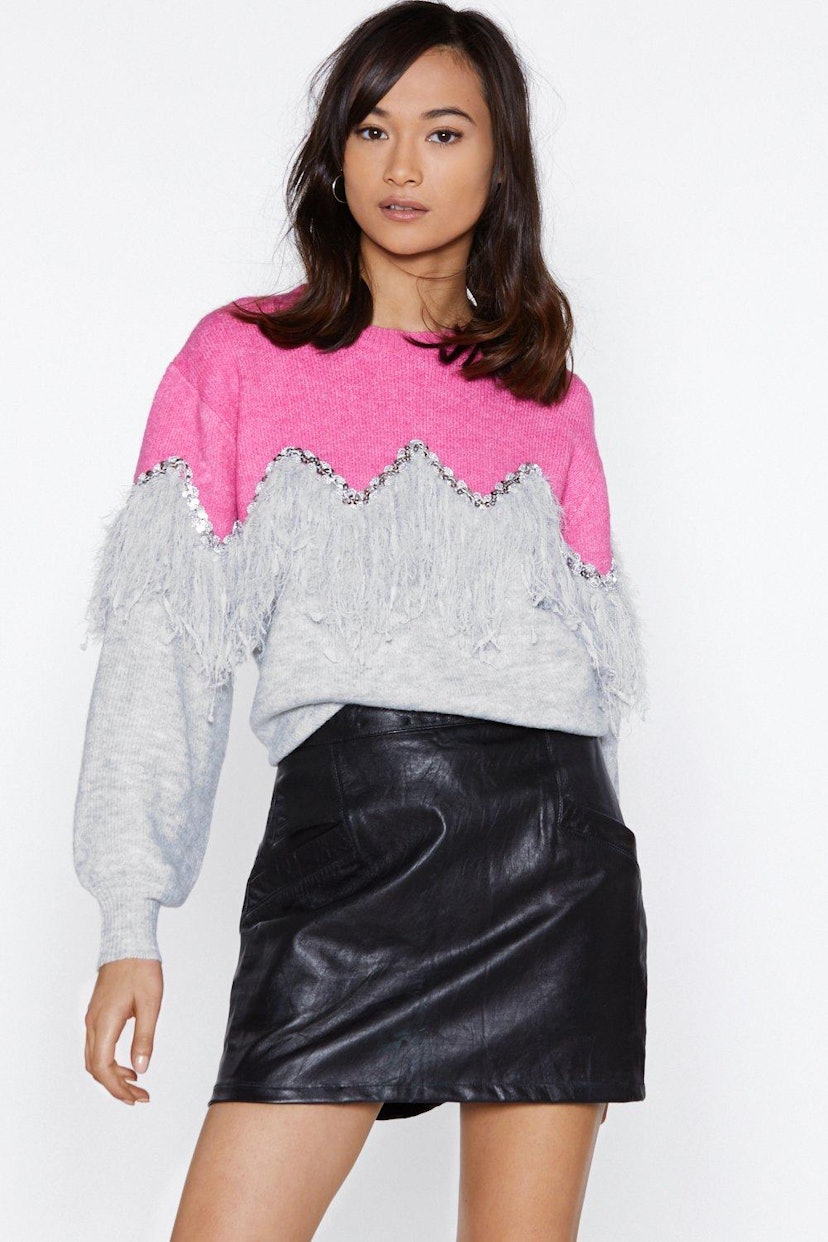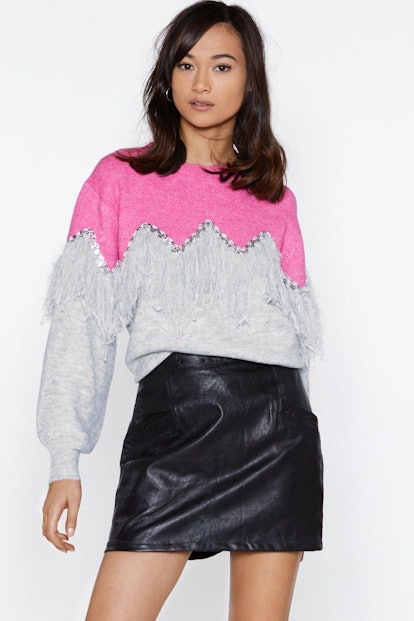 Sway of Life Fringe Sweater
$40
NastyGal
Not for those who prefer a more subdued style, this sweater boasts fringe, hot pink, and a silver sequined zig zag. It'll make you the life and light of the party.
Blocked Off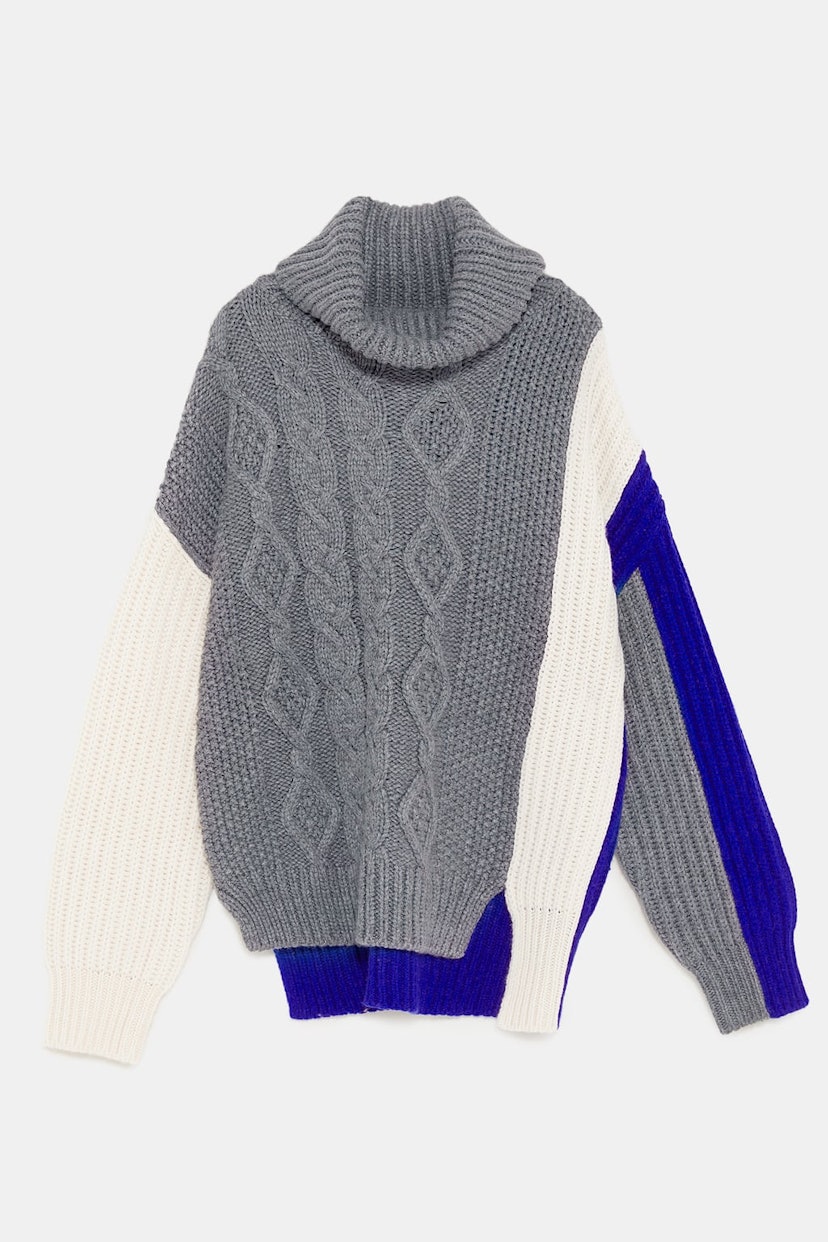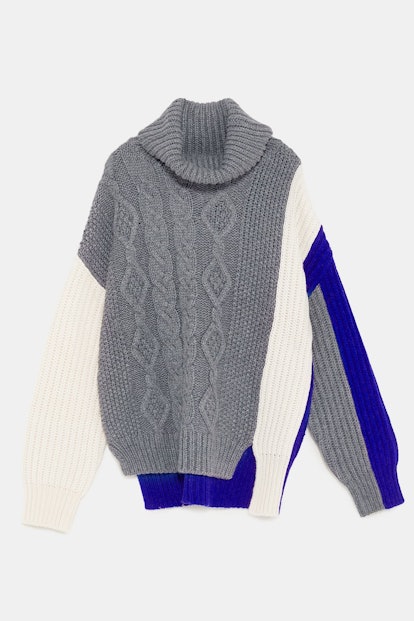 COLOR BLOCK CABLE KNIT SWEATER
$70
Zara
I love this color blocked take on the classic knit turtleneck sweater. It's indigo blue shade renders it the perfect complement to denim, while its knit pattern adds a more classic design detail.
Criss Cross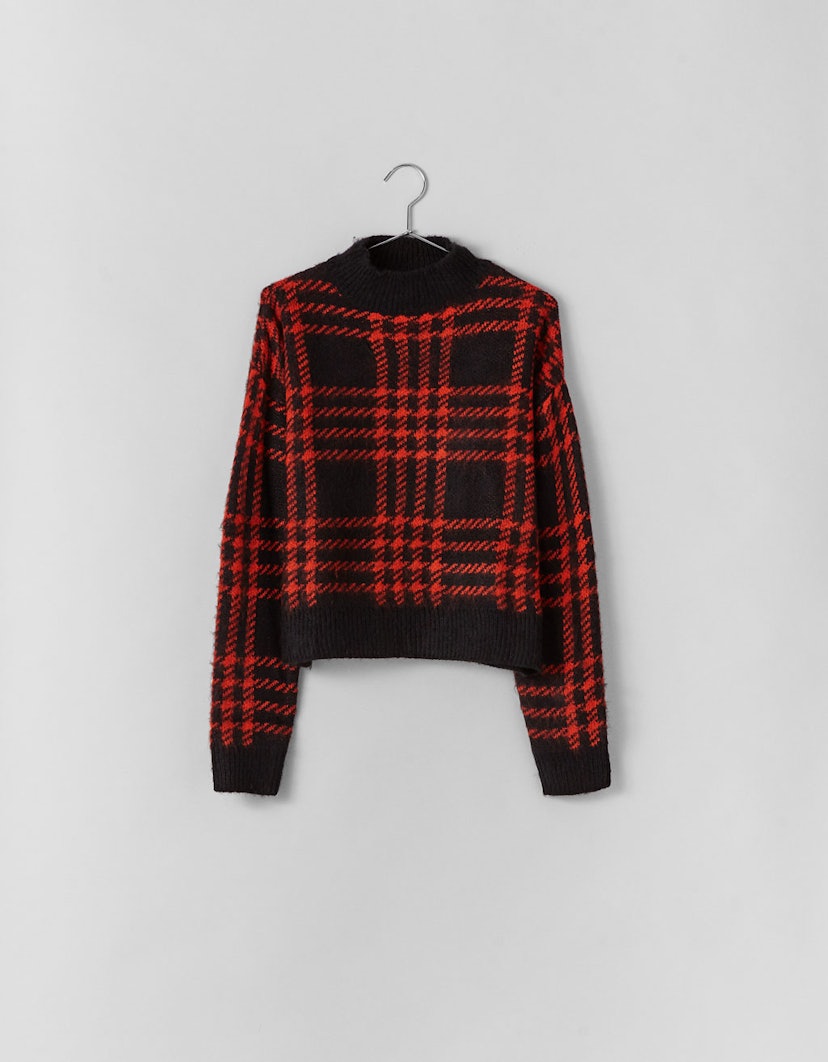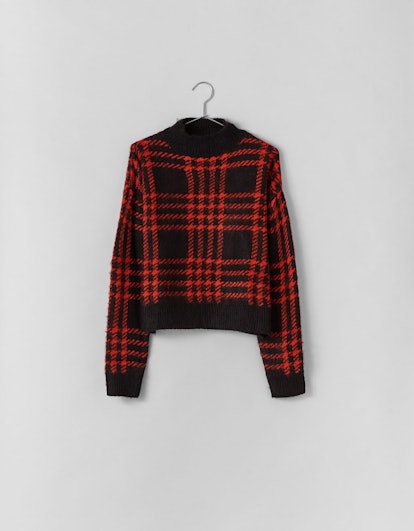 Plaid sweater
$40
Bershka
Plaid is huge this season, so you might as well get it in sweater form!
The Cutoff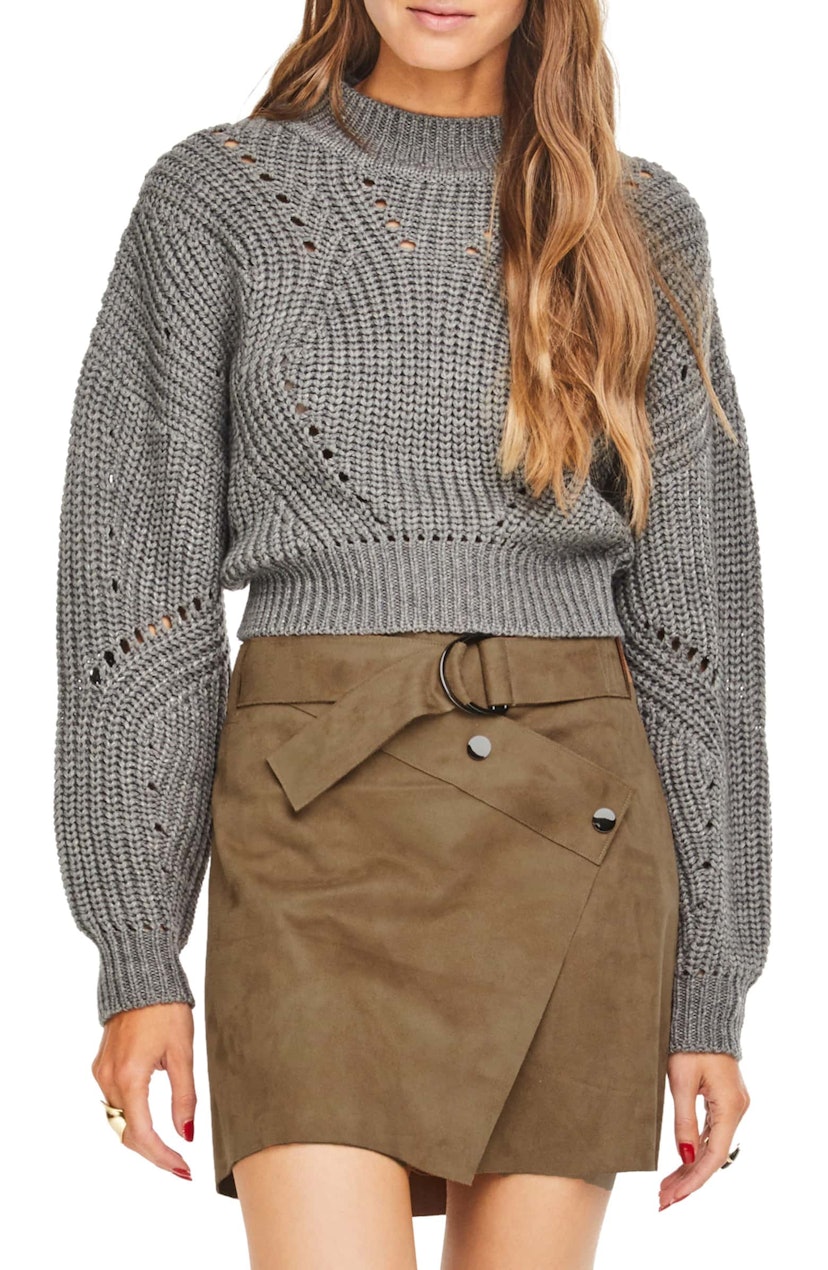 Carly Crop Sweater ASTR THE LABEL
$98
Nordstrom
This sweaters cropped silhouette and exaggerated balloon sleeves balance one another out perfectly.
Wild Thing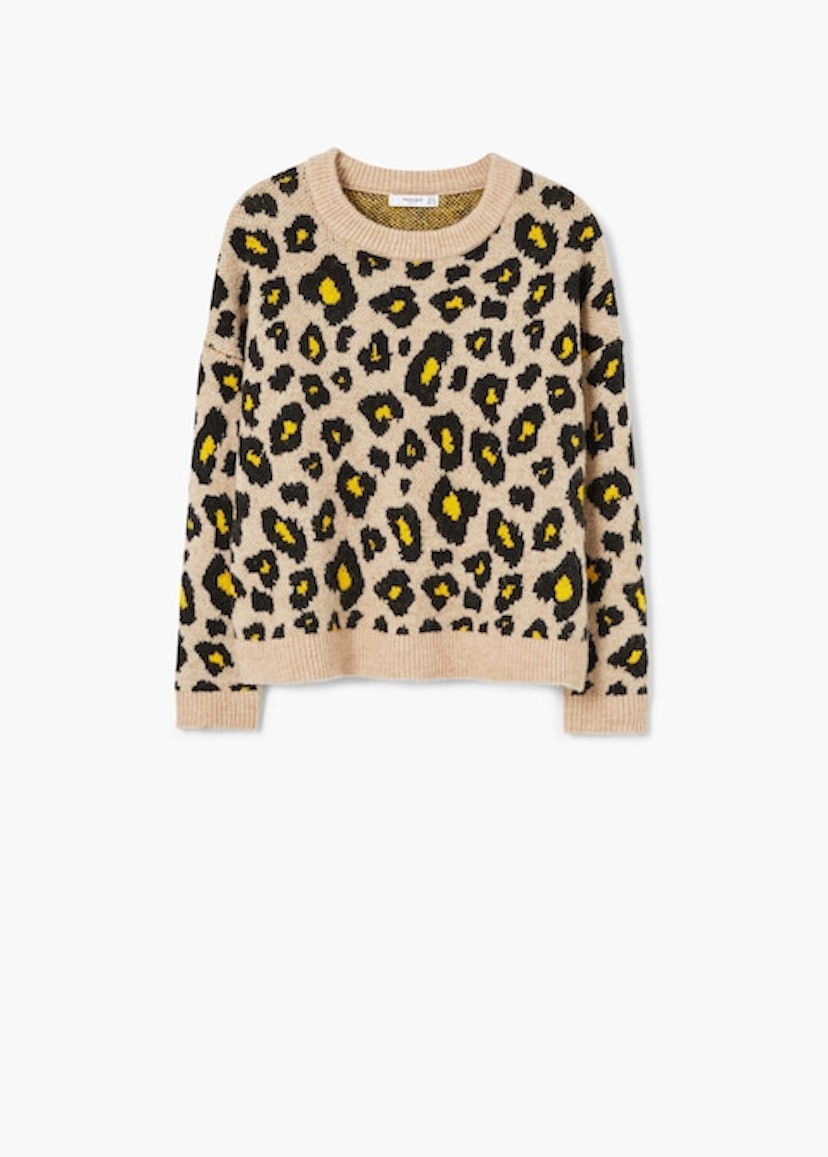 Leopard print sweater
$60
Mango
Animal print is also having a huge moment and this oversized leopard print is a cooler take on the classic. Plus, it features shocks of bright yellow.
Warm & Fuzzy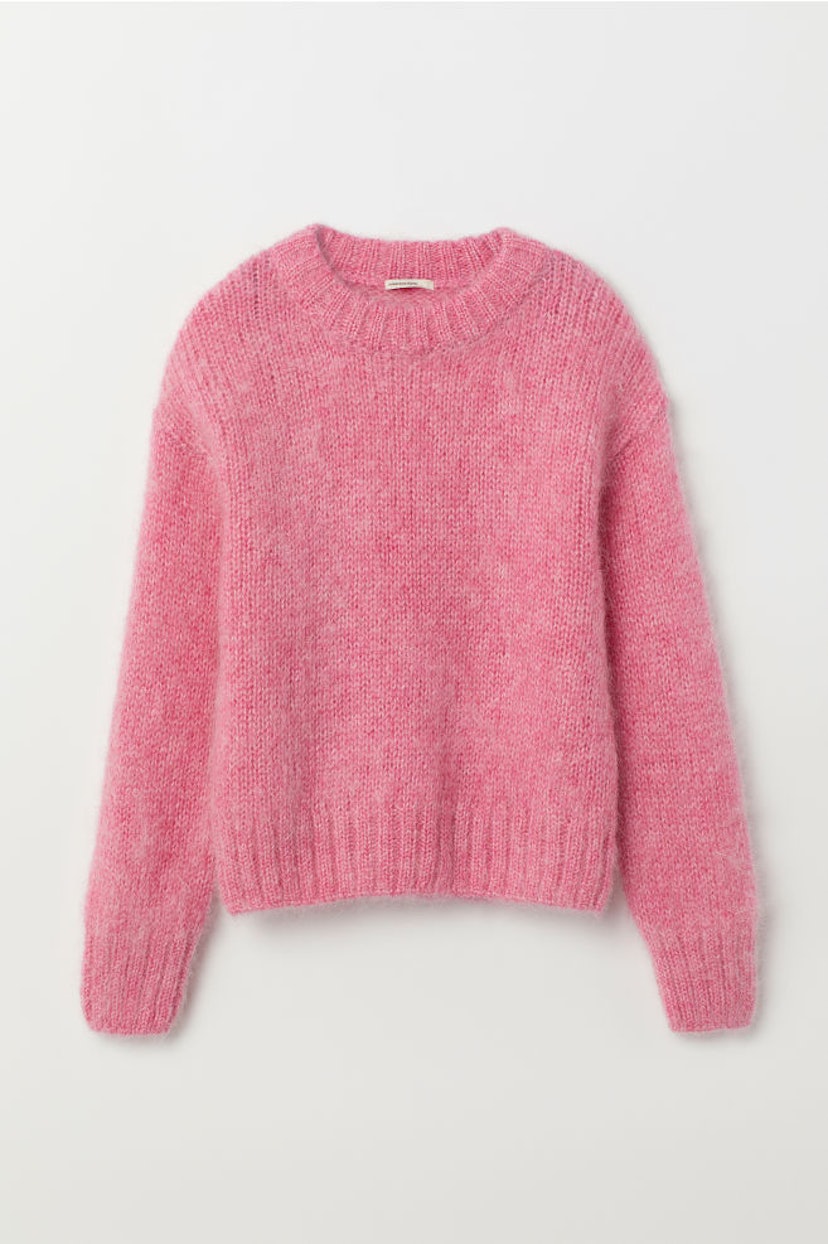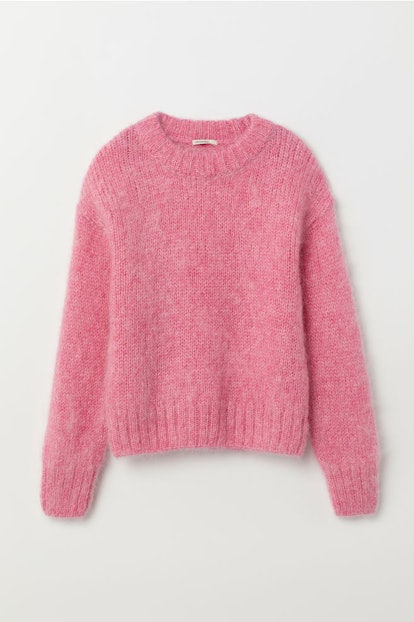 Knit Wool-blend Sweater
$60
H&M
Pastel pink in uber soft form? What else could you ask for.
Penny Lane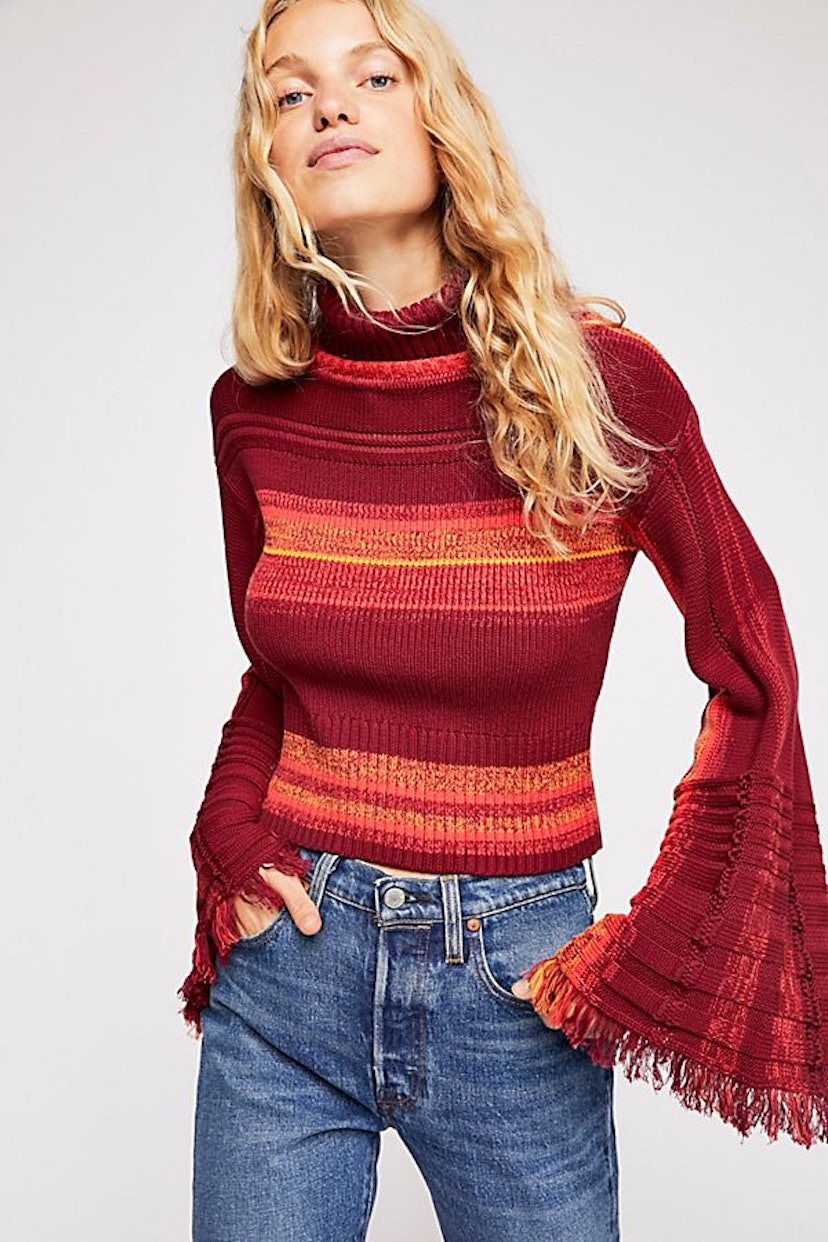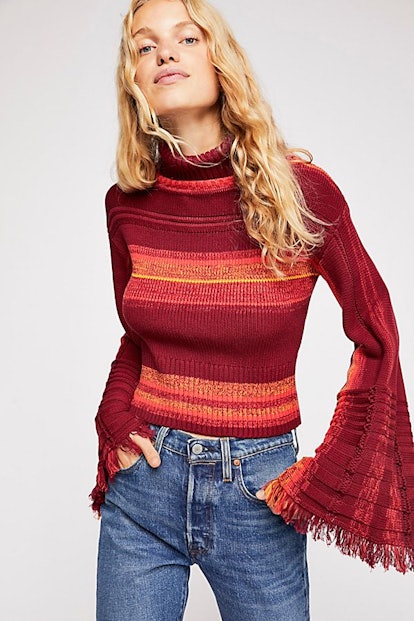 Close To Me Pullover Sweater
$98
Free People
She would definitely approve, don't you think? Borrowed-from-the-70s bell sleeves are also a cool throwback style and will add a unique silhouette into your winter wardrobe. Pair them with hoop earrings for an especially groovy effect.
50 Shades Of Grey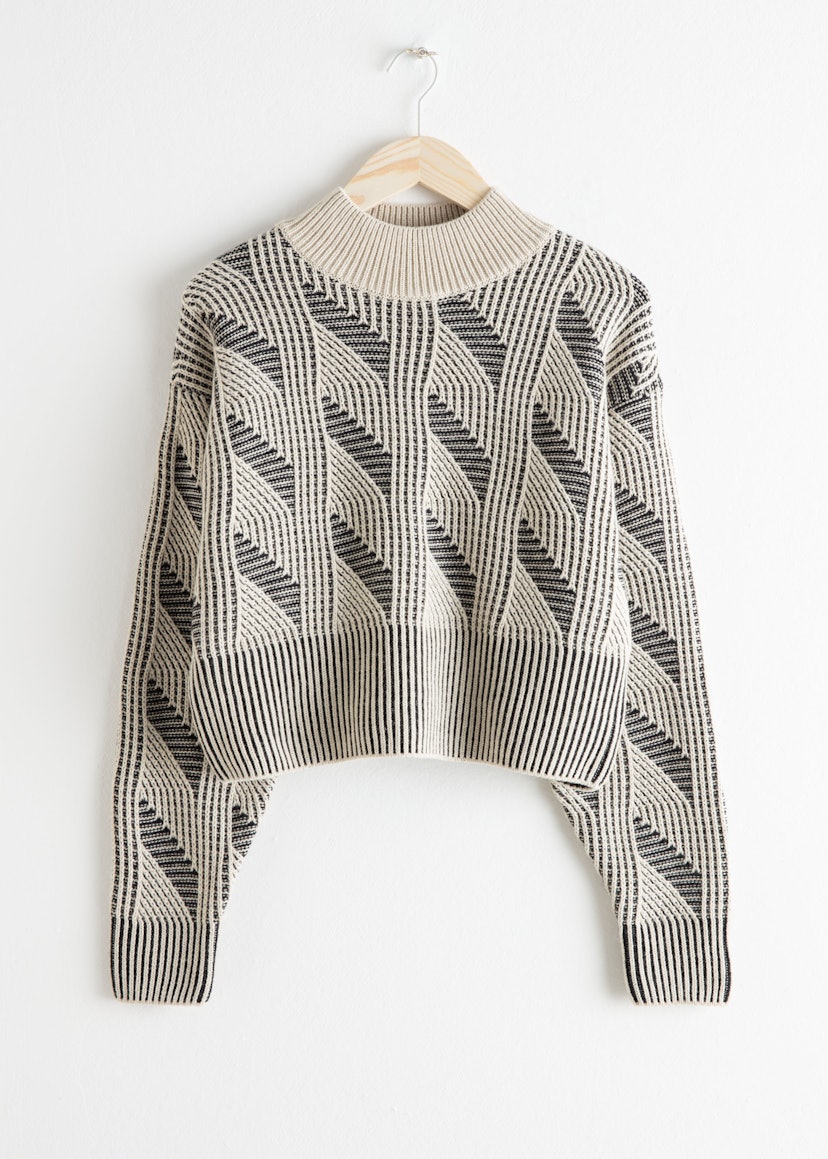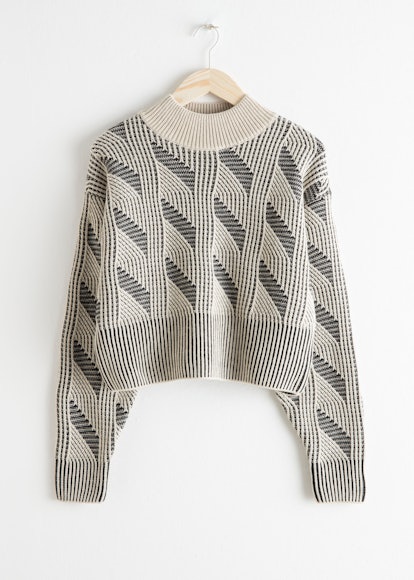 Contrast Knit Sweater
$89
& Other Stories
This sweater is basically a wearable optical illusion. A really, really cool one.
Juicy Details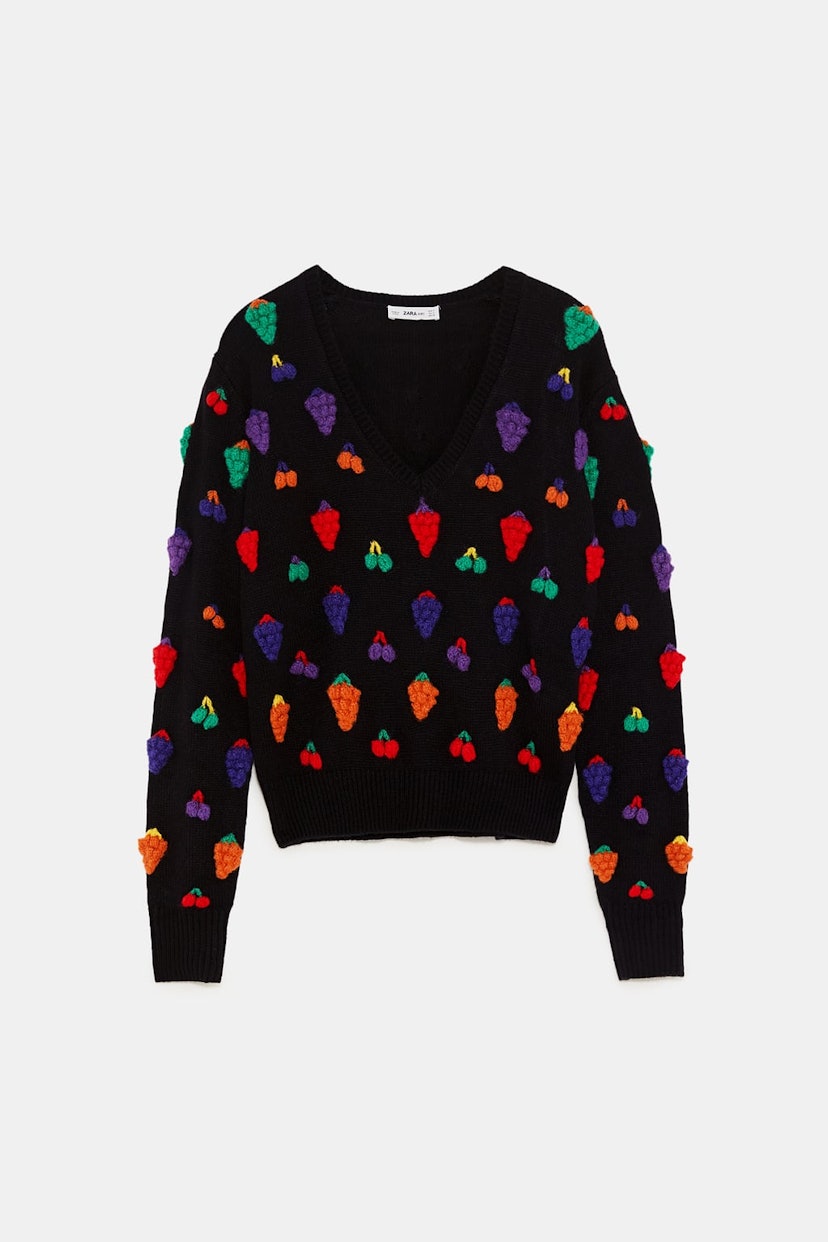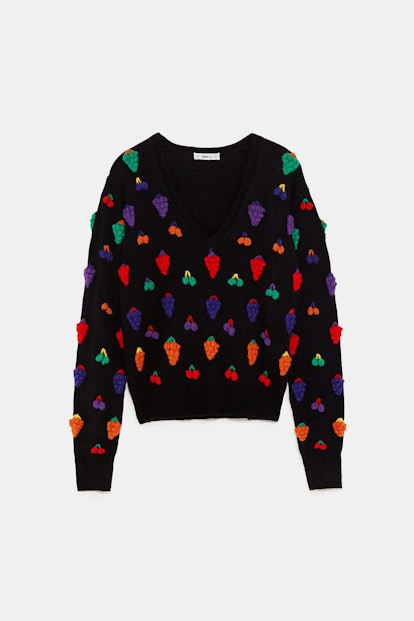 CROCHETED FRUITS SWEATER
$70
Zara
If this doesn't scream 80s at you upon first glance then I don't know what would. Covered in a rainbow of little knitted fruits, this sweater is kitschy and bright in the most playful of ways. Pair it with those cherry earrings you probably bought this summer for an especially whimsical look.
Green Machine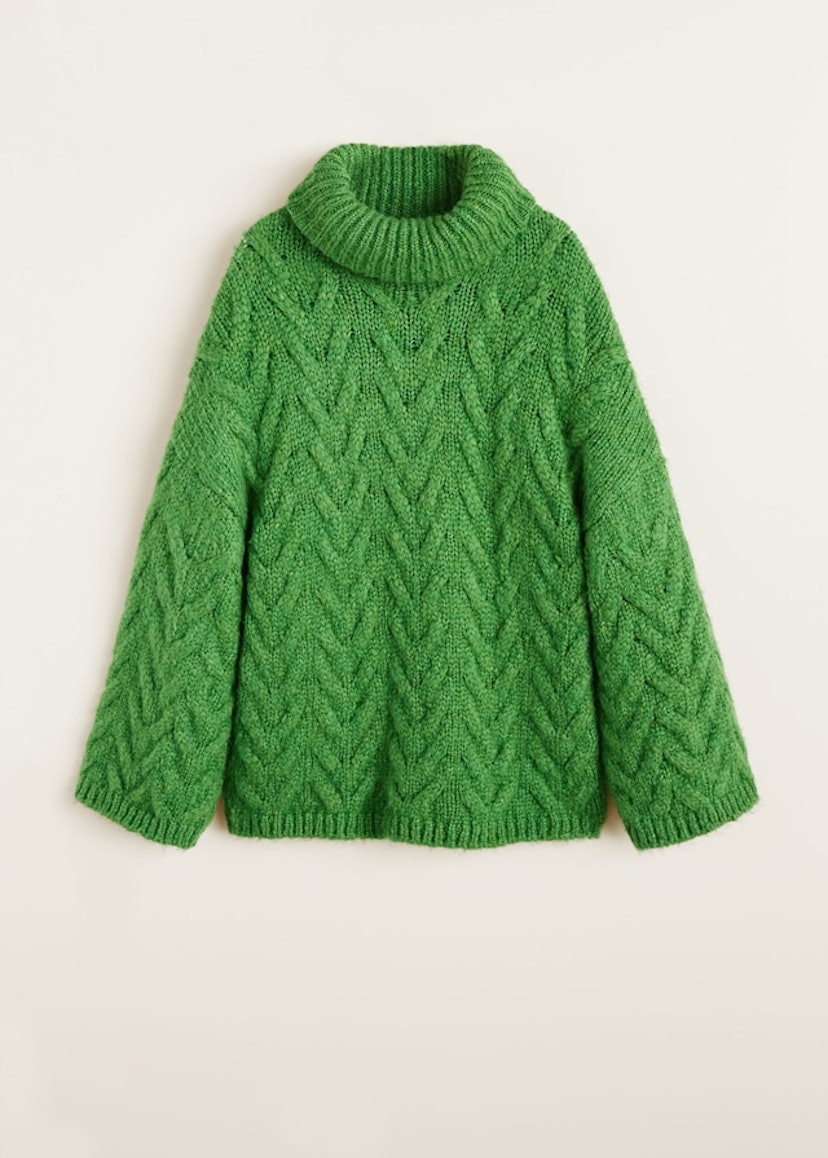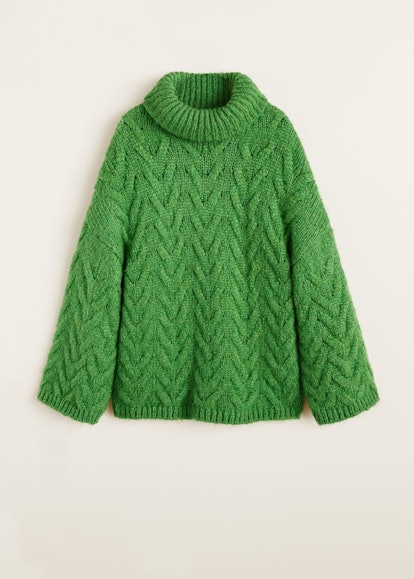 Chunky-knit sweater
$80
Mango
This sweater is literally the color of Kermit the Frog, and as cuddly as him too. On-body it boasts an oversize shape with super wide arms. It's the perfect thing to pair with dark wash jeans and a pair of white and brown snakeskin boots.
Source: Read Full Article