This New Baby Oil SPF Will Change How You Think About Tanning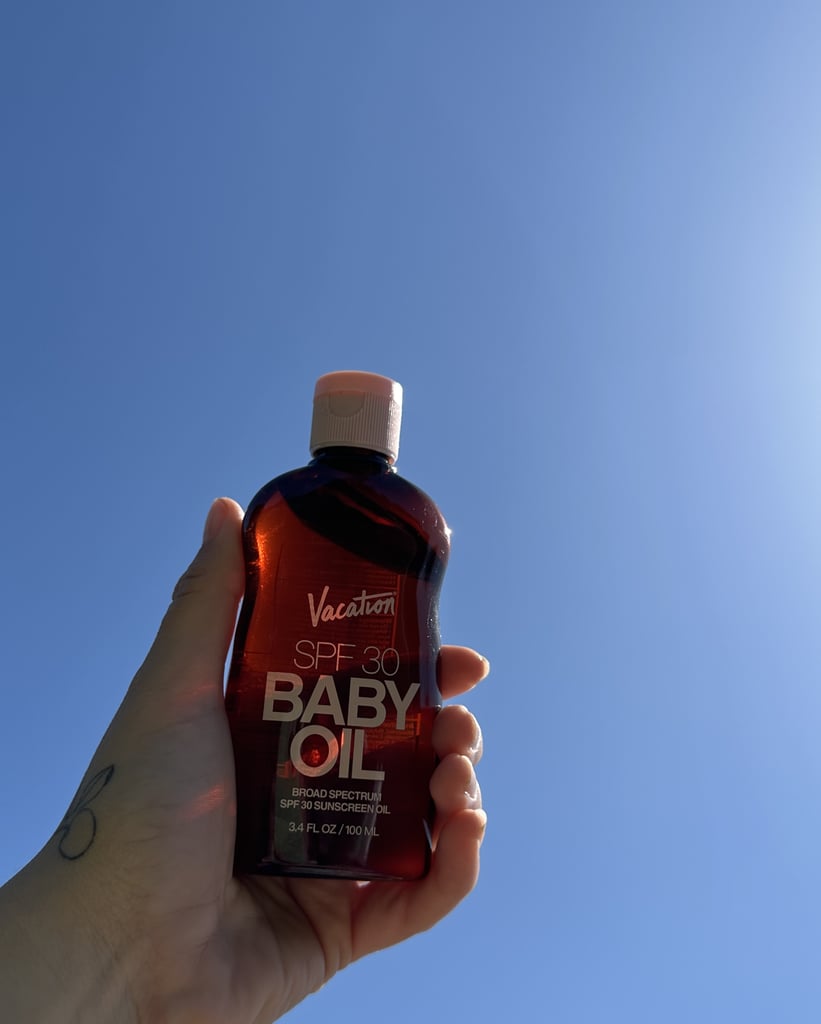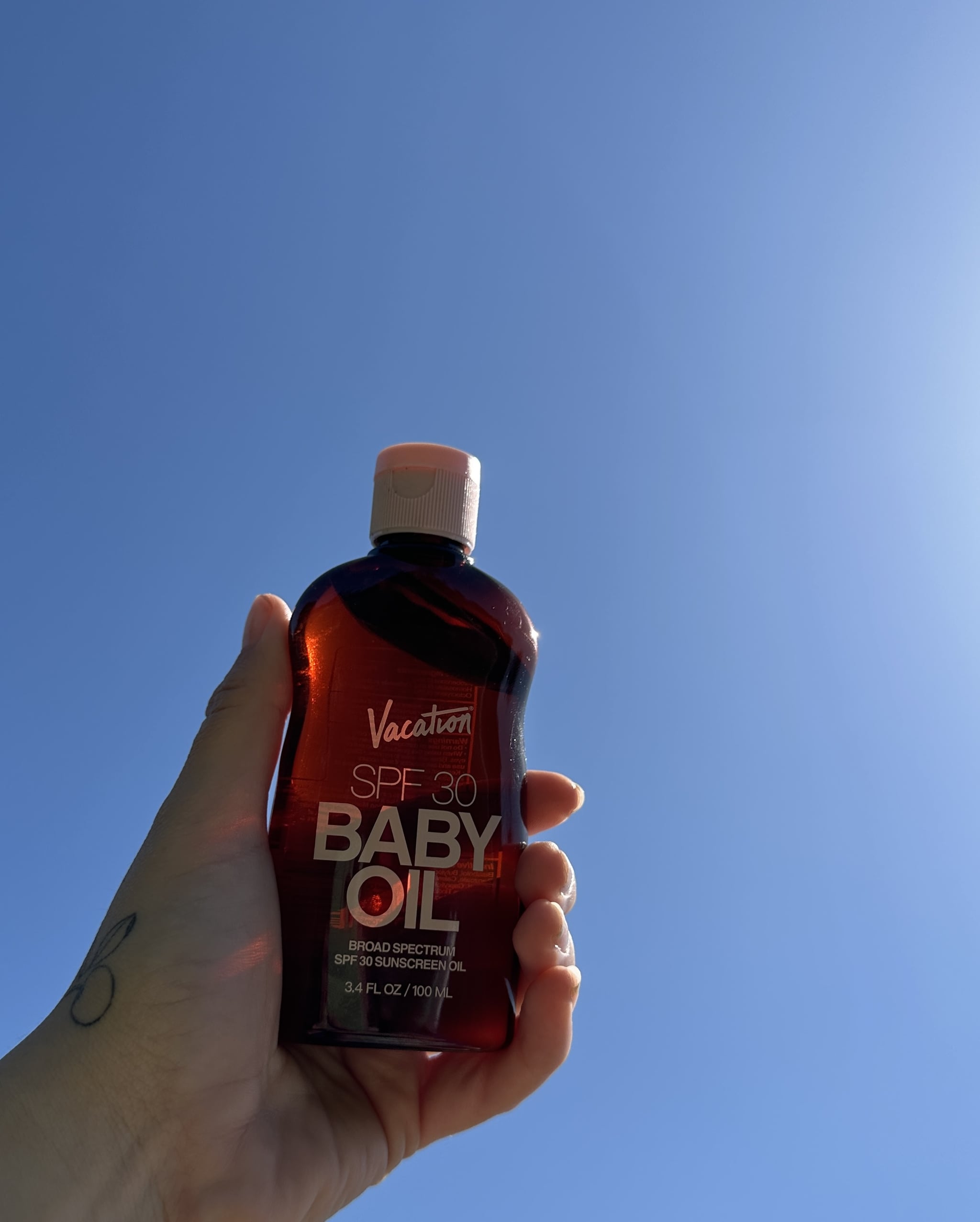 I'm not afraid to admit it: I love tanning. While I would do almost anything to maintain a year-round just-walked-off-the-beach glow, what I don't love is the possibility of skin cancer, wrinkles, tattoo fading, and dark spots. So with that in mind, whenever I'm in the sun (which is pretty much every day since I live in Los Angeles) I slather a whole lot of broad-spectrum sunscreen on my face and body.
For a sunscreen to make it into my daily rotation, it has to meet a few key criteria. First, it needs to be physical rather than chemical — meaning it sits on top of the skin to block UV rays rather than absorbs into the skin. Second, I have chronically dry skin that is prone to rashes, so the formula must be hydrating and suitable for sensitive skin. Third, it needs to not leave a cast or a sticky residue behind on my face or body. Finally — and most importantly — it needs to prevent me from getting a sunburn.
I have been a big fan of the sun-care brand Vacation since it launched. Not only is the nostalgic branding oh so on point and the fragrance immediately evocative of, well, a vacation, the formulas have also met all my above criteria, even on the sunniest summer days. The newest launch, the Vacation SPF 30 Baby Oil ($22), taps into that same nostalgia, this time flipping the "tanning with baby oil" practice (regrettably) made popular by boomers on its head.
Keep reading for my full review of the Vacation SPF 30 Baby Oil and how I use it in my routine.
About the Vacation SPF 30 Baby Oil
Rather than use mineral oil, which is typically the main ingredient in baby oil, the Vacation product features naturally derived oils like soothing bisabolol oil, calming and hydrating calendula and chamomile oils, replenishing vitamin E oil, smoothing and softening jojoba oil (which also adds shine), and aromatic rose and jasmine oils.
The formula was created with the help of dermatologist Elizabeth Hale, MD, who's also the brand's chief medical advisor and a senior vice president of The Skin Cancer Foundation.
The light fragrance, called Baby Oil Accord, was developed by Carlos Huber from Arquiste Parfumeur and is an elevated take on the classic baby-oil scent.
The formula was made to mimic the look, feel, shine, and glisten of classic baby oil.
What I Like About the Vacation SPF 30 Baby Oil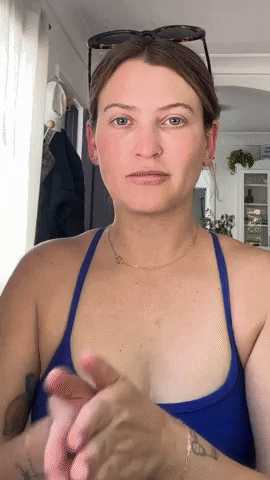 What I like the most about this product is the hydration it provides, and the fact that even after sweating it didn't cause my legs to break out into a rash or become just generally itchy. My second favorite aspect might kind of go against the brand's intention for this product — yes, it did leave me with a slight shine, but it actually absorbed into my skin pretty quickly and didn't leave me feeling too oily or slick. There was a nice sheen left behind, but it wasn't that high-gloss effect left behind by traditional baby oils, and I'm happy about it.
I also have to say that each time I used it, my tan came out looking very even and without any blotchy spots. I also didn't have any of the telltale redness around the edges of my bikini, which makes me think that it spreads on the skin nicely to give ample coverage. Honestly I was a little worried that it might not be strong enough to contend with the California sun, but I was happily proven wrong.
And yes, if you were wondering, the Vacation SPF 30 Baby Oil does in fact smell like baby oil, just not as overwhelmingly so. It has a hint of that well-known powdery scent, with a tinge of orange peel, but it's pretty low-key. Meaning it won't make you feel like you smell like your grandma while trying to scope out the cuties on the next blanket over.
How to Use the Vacation SPF 30 Baby Oil
Like with any SPF, it's important to remember to apply it 15 minutes before going in the sun and to reapply at least every two hours. This particular sunscreen product isn't water- and sweat-resistant, so make sure to reapply appropriately. The brand recommends that you not use the baby oil on any broken skin. Since it is (obviously) more oily than cream-based sunscreens, I suggest skipping it on days when you're dressing in nice clothes or sitting on nice furniture, since it may leave some residue.
What to Consider Before Trying the Vacation SPF 30 Baby Oil
For me, the biggest thing to note is that while it doesn't include oxybenzone (the main controversial ingredient in chemical SPF), the formula does use avobenzone, homosalate, octisalate, and octocrylene for the SPF actives. These ingredients are not considered reef safe and can cause damage to ocean ecosystems, so if you're planning to take a dip in the ocean, you should probably stick to a zinc-based formula. These ingredients are also readily absorbed into the skin, and some have claimed they can be hormone disruptors in certain quantities, although studies are still being conducted on the long-term effects.
That being said, the benefits of applying sunscreen far outweigh the risks of not (at least considering the current research), so you'd be smart to still reach for the Vacation Baby Oil when you're heading outside.
Rating: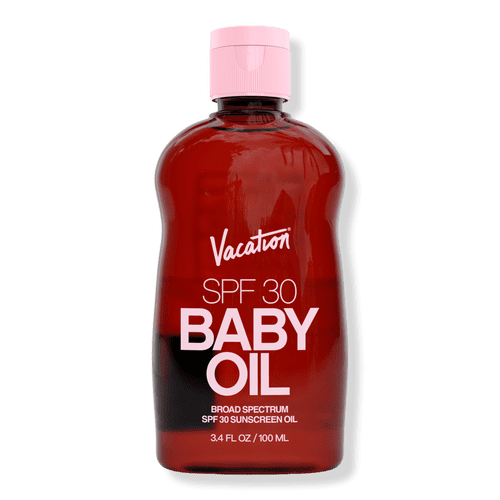 Source: Read Full Article