Heather Hardy: 'Boxing Saved My Life—And Now I Want To Be World Champion'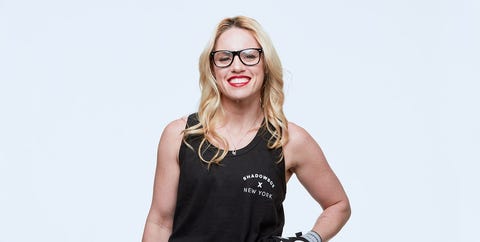 Eight years ago, when I was 28 years old, I hit a really rough patch. My husband left, I was working odd jobs to support my daughter, and I was just trying to survive. My sister was also a single mom at the time, so we stuck together and tried to make it work—she was like the mom and I was like the dad.
All I was doing at the time was working and then coming home to take care of my daughter. So when a gym opened up in our neighborhood, my sister bought me a gift card and insisted I go. She told me I needed to make some kind of life for myself, outside of my responsibilities. So I took her up on the gift and checked out this studio.
View this post on Instagram
A post shared by Heather Hardy (@heathertheheat) on
The first class I took at the gym was a boxing class—in fact, that was the first fitness class I ever took, period. I'd competed in baseball, soccer, and other team sports when I was younger, but I'd never tried something that really forced me to push myself individually the way boxing did. It took me to my absolute limit, and showed me how strong I really was. It felt incredibly empowering, and I immediately fell in love.
I kept taking boxing classes at that studio, and soon after, I was approached by the coach of a fight team. She told me that there was a fight coming up, with an opponent who was about my weight, and asked if I wanted to give it a go. At the time, I wasn't in an emotionally great spot, and there wasn't a lot going on in my life—so I decided to go for it. I knew I could use something positive in my life. And it paid off.
I won that first fight—and it was the first time I ever felt truly good at something. I've survived sexual assault, a rough childhood, and a failed marriage. It felt great to work really hard and finally win.
View this post on Instagram
A post shared by Heather Hardy (@heathertheheat) on
I spent a couple of months playing around in that gym, and then I went to Gleason's in Dumbo, Brooklyn, which is one of the most famous boxing gyms on the planet.
When I got to Gleason's, I met up with a coach named Devon, and he taught me everything I know today. He told me he'd help me get to my first World Title. (And eight years later, I'm getting ready for my World Title fight on October 27th.)
Since I turned pro in 2012, I've never lost a fight (I'm still undefeated 20-0). I became the first female to get signed with a long-term promotional contract at DiBella Entertainment. And I was the first female to fight at Barclays center, in my hometown of Brooklyn. In fact, they now call me the "First Lady of Brooklyn Boxing."
View this post on Instagram
A post shared by Heather Hardy (@heathertheheat) on
The road to success is never straight. There's a million struggles that you face, and doors that get slammed in your face.
When I first started fighting, people laughed at me and told me that I'd never fight on TV, that I'm too old, that no one would be interested.
After my first pro fight, Hurricane Sandy hit New York, and our home was under eight feet of water. So my daughter and I were homeless for a stretch. I was living in the gym, my parents were living in a church basement, and my daughter was living with family in Long Island, where there was power and water.
At the time, I was working like six or seven jobs just to pay the bills.
Unfortunately, there's a big pay gap in boxing. So, the men in my position are making a living out of this, while for me, it's still a part-time job.
View this post on Instagram
A post shared by SHADOWBOX (@sbx_boxing) on
I was recruited to coach boxing at Shadowbox, a fitness studio in New York, in 2017. They wanted to have a gym that taught true boxing, but in a space that wasn't intimidating. So what better person to help than a mom in her mid-thirties? I was hired to teach the teachers, and I also teach some classes when I can.
Since then, I think teaching has become my passion even more than fighting. There's nothing better than giving someone the gift that saved my own life.
Maybe that sounds dramatic, but boxing gave me an outlet where I could just be Heather. I was always someone's mom, or someone's employee, and boxing allowed my to just be myself.
And I see that same struggle with many people that come to class—whether they're doctors, lawyers, etc. I realized as a coach, most people who train with me want to feel empowered, not just physically strong. It's really satisfying watching people grow and become more confident thanks to boxing.
View this post on Instagram
A post shared by Heather Hardy (@heathertheheat) on
I do an hour and a half of boxing training every day—whether it's pad work or bag work.
Three times a week, I also do strength and conditioning training, led by my coach. For our 50-minute sessions, I just do what he tells me. We'll do resistance band training, or sled push and pulls. Sometimes we deadlift. Sometimes we do plain free-weight exercises. Basically, he focuses on helping me tone the muscles I need for punching.
Then, four days a week I run three and a half to five miles, to help keep up my endurance. And I'll also spar four days a week. Plus, I'm teaching throughout the week. It evens itself out to three sessions a day.
View this post on Instagram
A post shared by Heather Hardy (@heathertheheat) on
I feel like, if you have a microphone, it's your responsibility to speak out for those who can't.
Women's boxing is really coming around, though. HBO televised their first female fight in May 2018—in over 45 years of broadcasting boxing.
In my next fight, at Madison Square Garden on October 27th, I will be the only female to be on HBOs very last boxing broadcast. I convinced HBO to televise my fight—they weren't originally going to—so, I'm pretty proud of myself for that.
View this post on Instagram
A post shared by Heather Hardy (@heathertheheat) on
Outside of that, I'd like to have my own space to teach boxing. I'd love to bring kids off the street and teach them the disciplines of life through the discipline of boxing.
Boxing in its most dramatic form really can change someone's life if it hits the right chord. It certainly did for me. I'd like to keep using my passion and knowledge of boxing to do more of that.
Source: Read Full Article