Conor McGregor's Most Iconic Physique Changes, from the Khabib Bout to The Money Fight
If you've been confused about Conor McGregor's recent whereabouts in relation to UFC, you're not alone. The brash, flash poster boy of UFC has had—to put it lightly—an interesting past few years, both in and out of the Octagon. In 2016, McGregor stunned MMA fans after a Tweet saying, "I have decided to retire young. Thanks for the cheese. Catch ya's later," but returned just 48 hours later, blaming promotional disputes with UFC bosses.
Fast forward to March 2019 — the MMA star (and one-time boxer) announced his 'retirement' once again, but started dropping hints about a UFC return date in 2020. Sure enough and, not to Dana White's surprise, the rumors materialized and The Notorious stepped back into the Octagon against military veteran Donald 'Cowboy' Cerrone in UFC 246, which took place in Las Vegas on Sunday 19th January 2020. McGregor won in just 40 seconds.
As of June 7th 2020, McGregor announced his official retirement via Twitter, five months after his bout with Cerrone in Vegas. The announcement comes after divided opinions within camp McGregor, where detractors accused him of fighting for relevancy in an rapidly expanding sport, while others want to see him fighting for as long as he can, where he brings 'gates' of $10m and upwards. Currently, it's the latest chapter in a book that's rife with controversy, bold claims and even bigger personality clashes.
There is one element, however, that is more storied than any other in McGregor's professional lifespan — his ever-changing body shape. Here, and because the world clearly needs it, Men's Health dissected every transformation and body change The Notorious, Fighting Irish and (to some) UFC's GOAT has experienced. Strap in.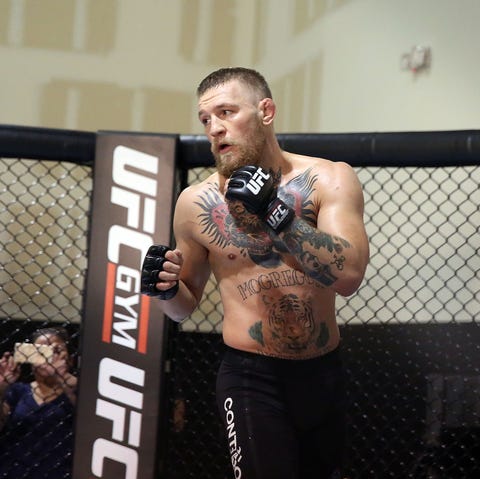 Conor McGregor trains during an open workout at his gym Las Vegas

Isaac BrekkenGetty Images
"My greatest strength is my work ethic. And my greatest weakness is my work ethic." – October 2016
We'll be the first to admit that fitness can quickly become an obsession. To keep getting results, your life needs to be balanced in both diet and training, especially when you are starting to see improvements. Knowing when to ease off the gas can be an art form and can be more beneficial than pushing through pain.
"I didn't lose [to Diaz] on skill; I lost on stamina," said McGregor about his 2016 defeat to Diaz in Las Vegas. "My greatest strength is my work ethic. And my greatest weakness is my work ethic. Leading up to Diaz, I was fucked from overtraining."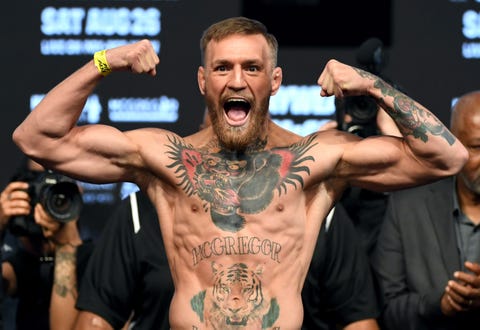 McGregor poses on the scales during his official weigh-in before his boxing match against Floyd Mayweather Jr.

Ethan MillerGetty Images
"I mean, who would not like to dance around the ring for $180 million?" – August 2017
Despite his storied success in UFC, few sporting moments received as much publicity as Conor McGregor transitioning into boxing to fight Floyd Mayweather Jr. in a super welterweight boxing match in August 2017. With a prize purse that, unbelievably, was larger than the participants' egos, Mayweather Jr. walked away with $275m and McGregor with $85m. The bout — which he lost — also saw the Irishman leaning down to a wiry 69g (153lbs). After all, someone's 'O' had to go…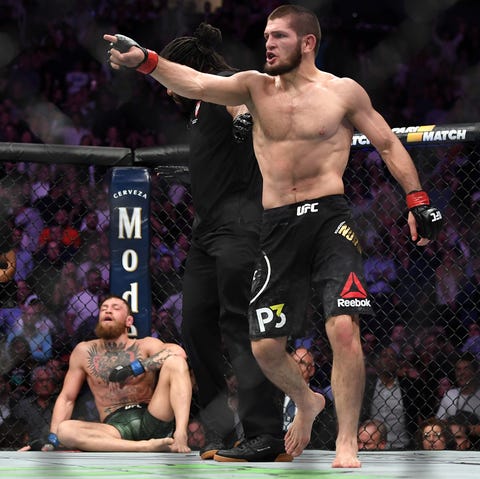 Khabib Nurmagomedov after submitting Conor McGregor during UFC 229 in Ireland

Jeff BottariGetty Images
"We're not just here to take part — we're here to take over" – October 2018
Reeling in $17,188,894, Khabib Nurmagomedov and Conor McGregor's fight in UFC 229 was the sport's highest-grossing event and saw the Russian defeat McGregor in the fourth round via submission. Considered to be a dominant performance in an otherwise 'ugly' match, Khabib's involvement in UFC 229 saw him enter the sporting notoriety after he scaled the Octagon and tried to attack McGregor's teammate Dillon Danis.
Generally, it's thought that McGregor's weight made him tire quicker, helping Khabib finish the match by administering a rear-naked choke to remain unbeaten in 27 MMA bouts and give McGregor's lightweight belt a new home.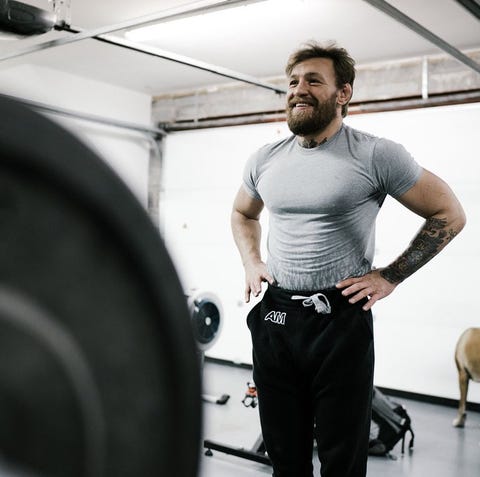 McGregor has been ramping up his workouts to get back in champion shape
"Surprise, surprise, motherfuckers! The king is back!" – September 2019
At the time of posting, it's been a year since Conor McGregor had clashed, but he was keen to let the world know that he was gearing up for another bout. Documenting his training in an Instagram post, McGregor was seen to be working his squats, bench presses, leg raises and lower-body work in a 10-picture gallery. "Building!" he wrote in the Instagram post. Plus, he had a dog by his side, which seemed relevant at the time.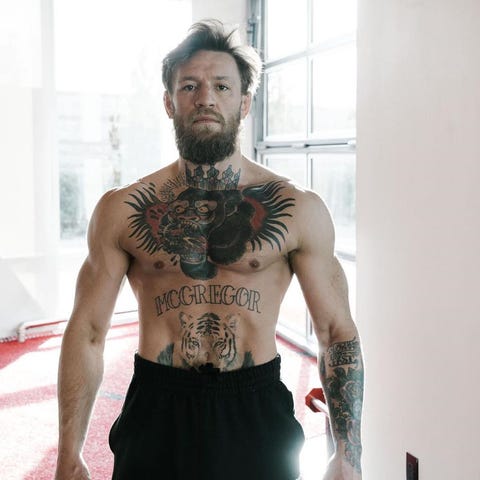 He will gas out real quick with those muscles," said one worried fan
"Who the fook is that guy?" – January 2020
It's a new decade, but that doesn't stop McGregor pumping out the topless selfies on his Instagram. Captioning a post "11 days ☘️", the Champ Champ gave followers an insight into the physique that he was planning to bring to the fight. For some fans, however, his strong and bulky frame warranted concern. "More muscles aren't going to help his gas tank," said one fan.
"Really hope he doesn't gas out at this weight," said another ahead of the fight. It was thought that McGregor weighed approximately 77kg (170lb) for the UFC 246 bout, which saw McGregor winning by technical knockout in just 40 seconds. McGregor's win saw him become the first UFC fighter to hold knockout finishes in featherweight, lightweight, and welterweight divisions and was the third time he had fought at this weight, with the most memorable event being his loss to Nate Diaz in 2016.
"What a ride it's been!" – June 2020
On 7th June 2020, McGregor announced his retirement from fighting via social media.
"Thank you all for the amazing memories! What a ride it's been! "Here is a picture of myself and my mother in Las Vegas post one of my World title wins!" he wrote on Twitter "Pick the home of your dreams Mags I love you! "Whatever you desire it's yours."
It is, of course, not the firs time McGregor has publicly announced his 'retirement' from the sport, with similar announcements in both 2016 and 2019: he returned from both.
From: Men's Health UK
Source: Read Full Article