Channing Tatum Dyed His Hair Blond, and Now He Looks Exactly Like Eminem
If we ever roll out a drastic new hairstyle, the last thing we'd want is for people to compare us to an early-2000s Eminem. But Channing Tatum, buddy, you kinda walked into this one.
In a recent Instagram story, Tatum revealed a new bleached-blond buzzcut—a shocking departure from the darker hair we all recognize from the Magic Mike and 21 Jump Street movies. Tatum put the new 'do to a vote, asking fans: "Bad idea? Haha."
Here's a screen grab of the selfie Tatum shared with his followers: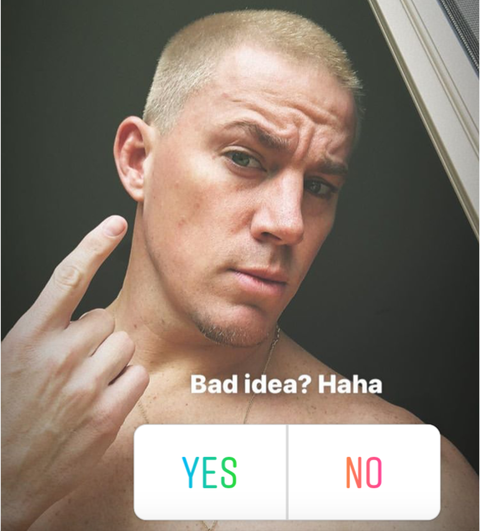 Instagram/@channingtatum
Fans who saw the Instagram story were quick to compare the actor (and stellar dancer) to rapper Eminem, because, um, they kind of look exactly alike now. Will the real Slim Shady please stand up?
For reference, here's Eminem with the signature blond hairstyle he used to sport: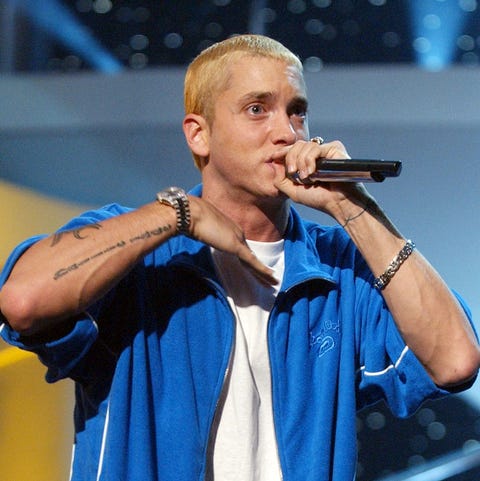 KMazurGetty Images
WHY DID CHANNING TATUM DECIDE TO LOOK LIKE EMINEM WILL THE REAL SLIM SHADY SIT THE FUCK DOWN

If you're wondering about Channing Tatum and his new haircut, he is playing Eminem in a prequel bio pic: 4th Mile.

So what inspired Tatum's new look? For one thing, he's just the latest in a line of famous guys dying their hair blond.

The guys-gone-blond trend is nothing new, but it seems to be the biggest Hollywood grooming movement for 2019. First, Jonah Hill surprised viewers at the Game Awards back in December with a full platinum 'do. One month later, Chris Messina made a bold red carpet grooming statement with blond hair at the Golden Globes with some speculating it could be for an upcoming movie role. Zac Efron debuted his light locks at the Sundance Film Festival later—no reason, just because he felt like it. Pete Davidson tried it, and much like his engagement to Ariana Grande, it was an epic fail.

It's possible that the trend is linked to the resurgence of the '90s everything. Sportswear, TV shows…basically everything and anything that ties back to the last decade of the 20th century is seriously hot right now. Naturally, '90s grooming looks would follow. Maybe this is an attempt to see if blonds really do have more fun, but as an upgrade from the frosted tips look made popular by Justin Timberlake. So many guys idolized Marshall Mathers back in '99, it wouldn't surprise us if Tatum decided to lose himself with some bleach and color toner.

Page Six also pointed out that Tatum could be taking after girlfriend Jessie J, who sported a similar bleach-blond buzzcut in 2013. Maybe she gave him some styling tips?

Dave M. BenettGetty Images

There are a few things to keep in mind if you decide to go platinum, including keeping your hair short like Eminem and Tatum for a quicker and easier color change. We're not going to lie, the upkeep for staying blond might take all the fun out of switching up your hair color. But if this trend continues to grow, there might be enough Hollywood bros to re-create the rapper's 2000 MTV VMA's performance with an army of lookalikes—and we're here for that.

Source: Read Full Article