Jenelle Evans Got Her Tubes Tied, Says She's 'Happy With The Number Of Kids' She Has!
Fans of Jenelle Evans may have gotten a little scare Friday night.
The Teen Mom 2 star shared a video on her Instagram Story of yet another hospital room, captioned with a sad face emoji and:
"Hate being here ALONE."
But fear not, Jenelle fans, as it was not so much a health scare as health care.
Jenelle was suffering from polyps on her uterus and cysts on her ovaries, so she chose to go in and have it taken care of. The polyps were removed, along with her entire left ovary. And while she was there, she decided to get her tubes tied.
She also posted on Facebook:
"And just like that her tubes were tied and she didn't want anymore babies."
Her rep confirmed the procedure to Us Weekly over the weekend, saying:
"She's healing properly and focusing on her business ventures."
In the procedure, called tubal ligation, a surgeon goes in and bands, clamps, or even actually ties the fallopian tubes shut. Since Jenelle was already going in for the polyps and cysts, this was a second bird with one scalpel.
She told E! News later:
"I decided to do it because I had constant pain on my left side and I get extremely sick when pregnant."
She explained:
"Being back on my regular cycle was very important for me. I was on the IUD for birth control and thinned out my lining. In the end I had my left ovary and polyps removed. They tied my right one though so I still have hormones."
Bit it wasn't just for health reasons? She added:
"I'm also happy with the number of kids I have now."
Jenelle is mom to three kids: 9-year-old Jace, whom she had with Andrew Lewis — the entire reason she was on 16 & Pregnant in the first place, 4-year-old Kaiser, whom she had with Nathan Griffith, and 2-year-old Ensley, whom she had with current husband David Eason.
She is also stepmom to Eason's two children from a previous relationship.
Despite the "alone" IG video, Jenelle's rep also assured Us Weekly that Eason "was by her side during the procedure."
He even posted a pic of her leaving the hospital in a wheelchair on Saturday, writing:
"Got my babe a get well soon gift to encourage her to get back on her feet! It sucks you had to go through this but at least we got some answers and you should be all better in no time! I love you so much!"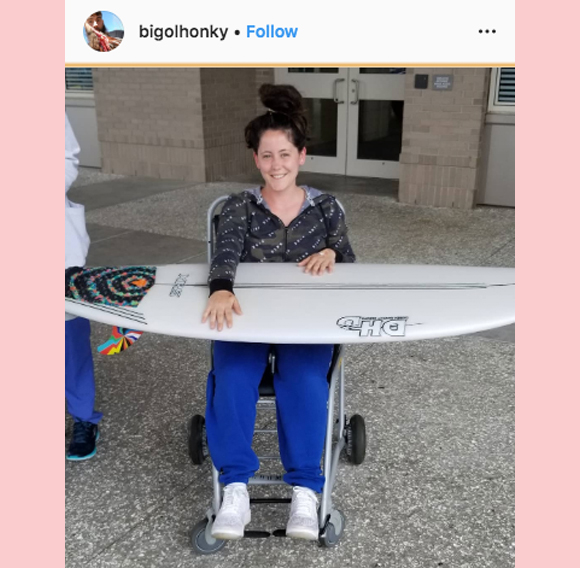 David's presence will of course give some Teen Mom fans more comfort than others.
Even among Teen Mom baby daddies, his gun fixation and threats of violence have been a constant source of concern for both fellow cast members and crew.
Frankly, knowing no more children will be in his care will give a lot of folks solace.
What do YOU think of Jenelle's choice??
Source: Read Full Article